Cabo is known as the land of luxury to many. But this tropical desert oasis is much more than all-inclusive resorts and private pools. Mountain peaks with panoramic views. Heart-pumping thrills soaring through the skies. Mouthwatering bites of culture-infused delights. If you're wondering what to do in Cabo San Lucas, you need only step outside to discover the true spirit of Cabo. But don't worry—you don't have to do it alone. Between the land, sea, and adventure, here's your guide to curating your trip with the best things to do in Cabo San Lucas.
Table of Contents
The Best Things to Do in Cabo San Lucas
Whether you're a certified beach bum, self-proclaimed thrill seeker, well-documented foodie, or none of these things, there's something for you to do in Cabo. So, don your walking shoes, swimsuits, or spa robe, and discover the best things to do in Cabo San Lucas.
Watersports and Adventures
Live for the thrill of being out on the water? Cabo's glittering sea holds something for everyone, from epic views to epic marine encounters.
Visit El Arco de Cabo San Lucas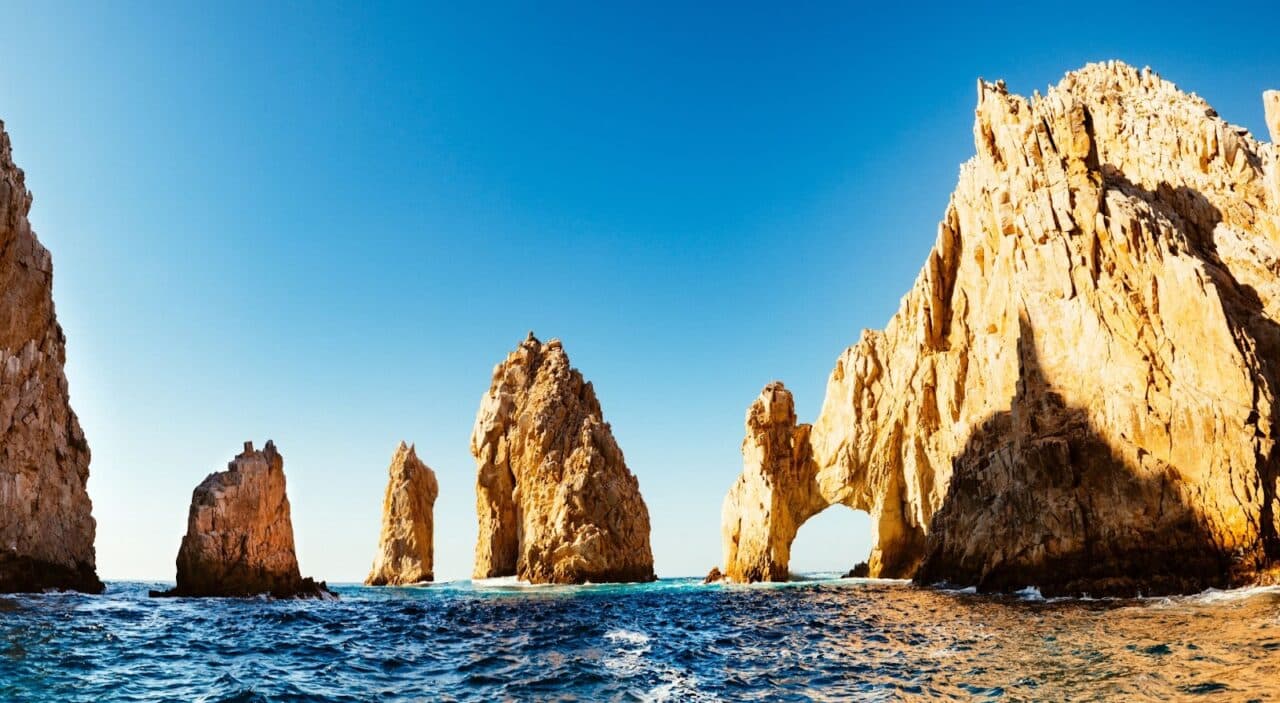 Formed over millennia by the crashing waves, the natural Arch of Cabo (El Arco) is a picture-perfect encapsulation of the beauty of the region. Not to mention a classic symbol of Los Cabos. Located at the very tip of Land's End, the Arch sits between the meeting of two seas: the Pacific Ocean and the Sea of Cortez.
It's not really a visit to Cabo San Lucas if you don't plan a trip to view this must-see attraction. The best way to experience the Arch is via boat tour. Glass-bottom boats allow you to spy the marine marvels of the Sea of Cortez, while sunset cruises will keep your eyes on the sky as it's painted in beautiful shades of fiery gold. Still, others elect to paddleboat or kayak out to the Arch, which puts its massive size into perspective like nothing else.
Pair a visit to El Arco with a snorkeling tour around Neptune's Finger or a chill day of sun and sand at Lovers Beach.
Whale Watching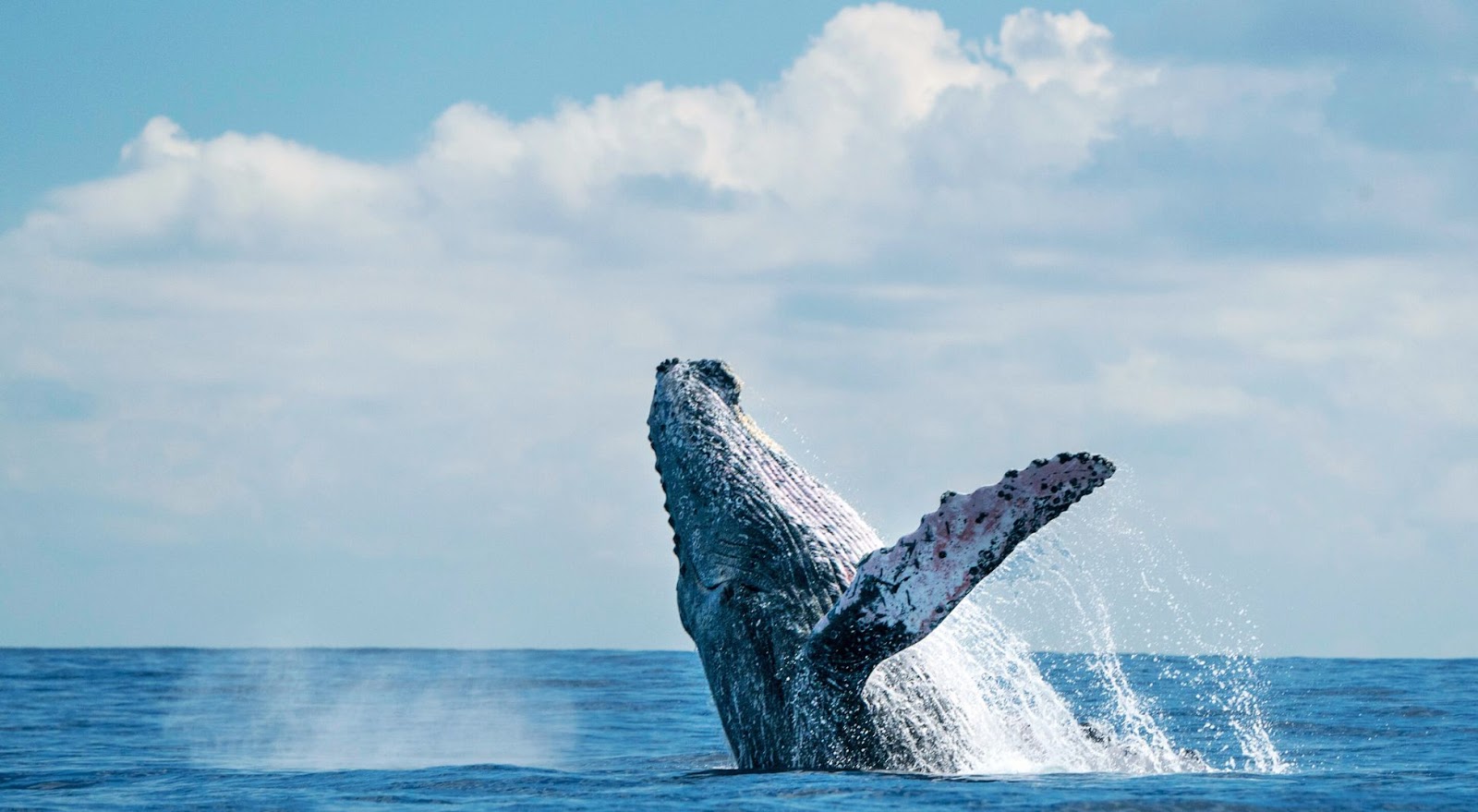 Whale watching is an absolute must of the winter season. Few things will compare to the magical experience of seeing these majestic creatures breach the waves or listening to their enchanting songs. In wintertime, several species of whales migrate to the waters off the coast of the Baja Peninsula to mate and give birth, including blue whales and humpbacks. While visiting any time from December to April allows visitors to see these creatures in action, the months of January to March promise the treat of seeing baby whales frolic and play in the waters.
Though you can often spy them from the shore, the best way to experience the magic is with a boat tour that takes you up close to the action. Multiple tours operate out of Cabo San Lucas, including Whale Watch Cabo, which has been in business for over a decade and offers bilingual marine guides and guaranteed sightings. Another favorite is Cabo Adventures, which boasts experienced staff and a hydrophone, perfect for listening to the whale sounds happening below.
Kayaking and Paddleboarding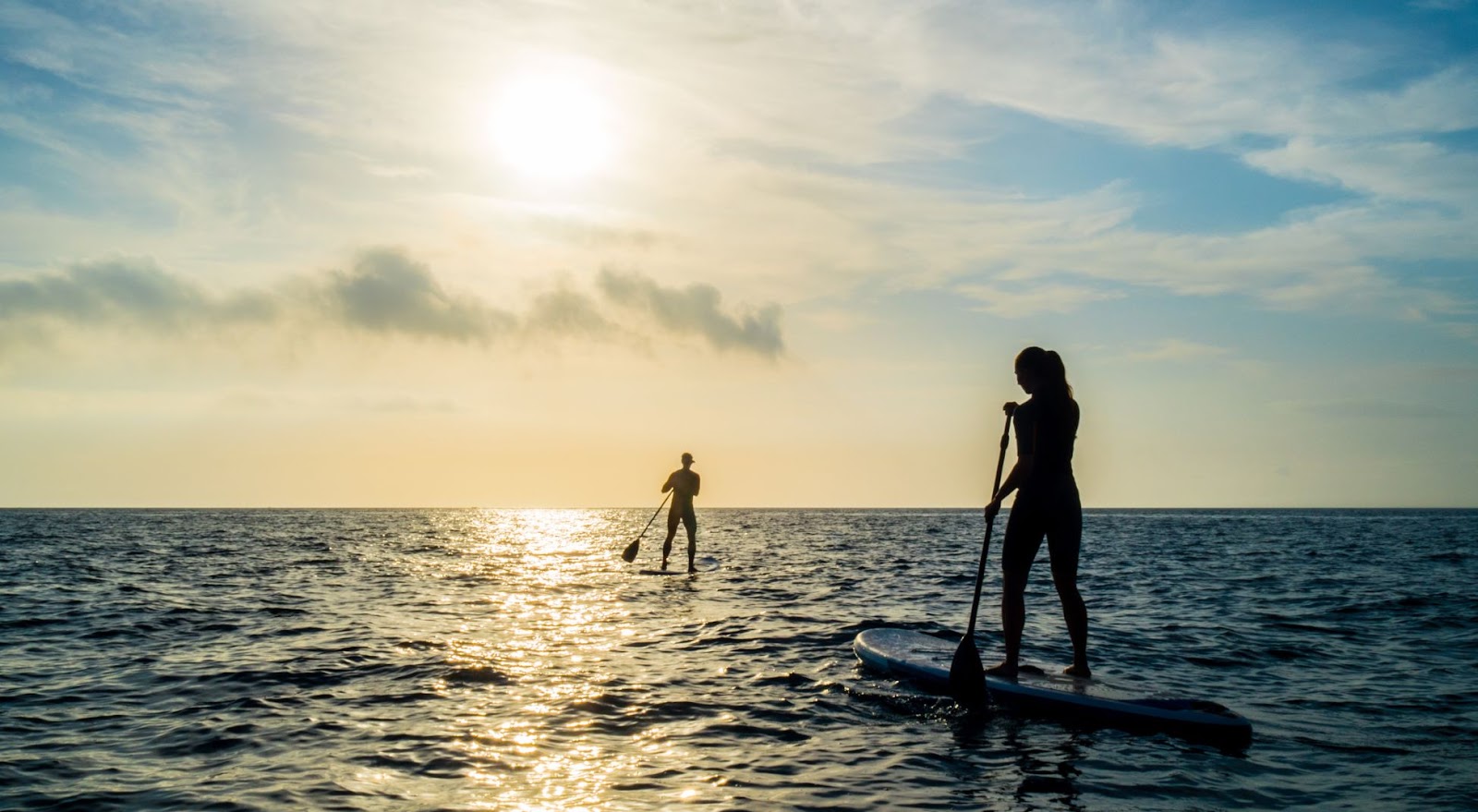 Enjoy kayaking and paddleboarding along the pristine coast of the Sea of Cortez. Though there are many spots to enjoy, the calm waters of Cabo's swimmable beaches stand out for your water-based adventures. Beat the crowds and head to Santa Maria Beach in the early morning light to have the bay all to yourself and take in the beautiful granite cliffs that encompass Santa Maria Beach. Or take a trip to another picturesque shore, Chileno Beach, and paddle along the crystal blue waters teeming with bright tropical fish.
For a unique and unforgettable experience, catch a stunning sunrise by waking in the wee hours of the morning and heading down to Medano Beach well before the clock strikes eight. Paddle out to Land's End, where you'll find paradise in turquoise waters, orange and pink skies, and the striking image of El Arco at dawn.
Swim with Whale Sharks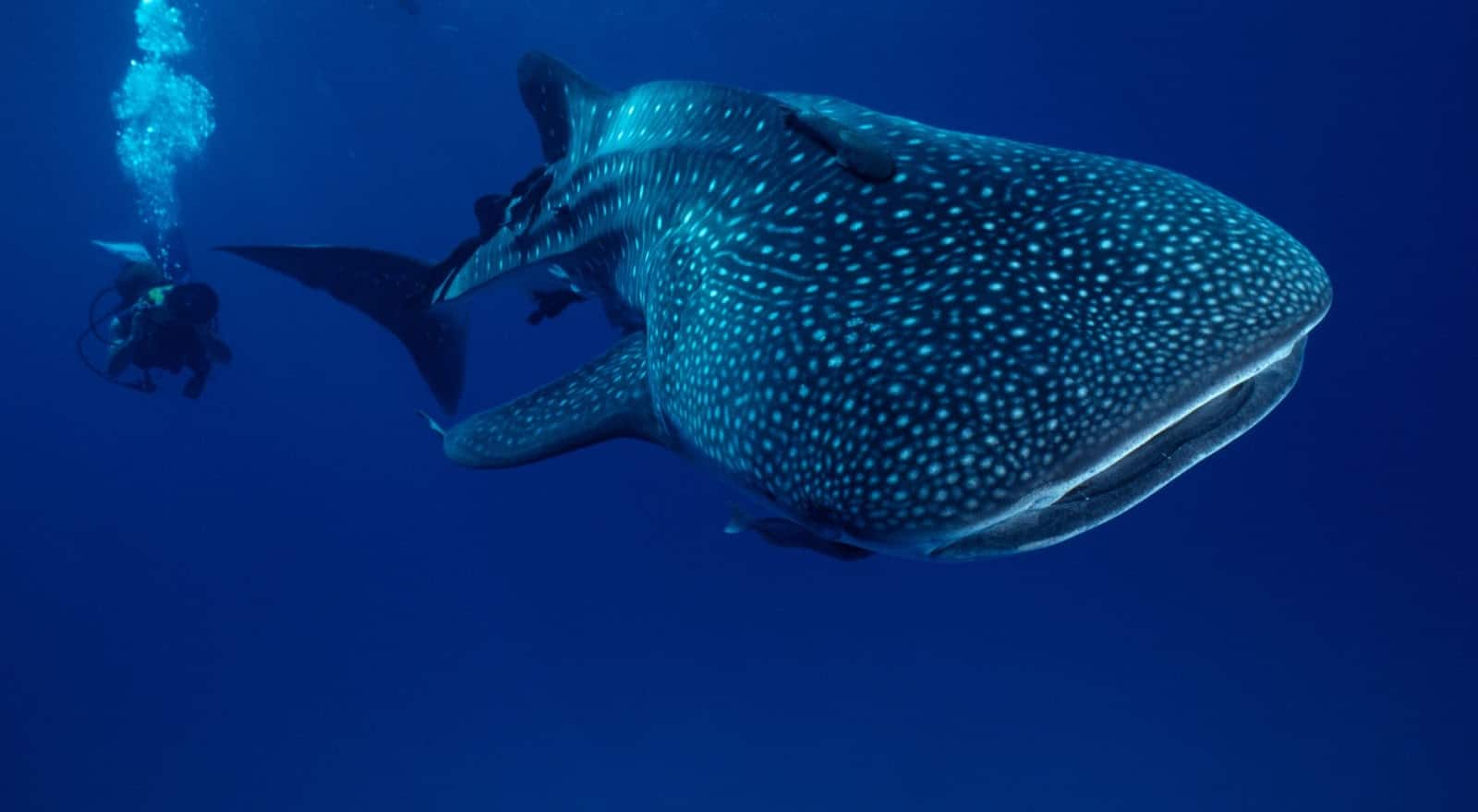 One of the most unique events you can experience in Cabo is swimming with whale sharks. Known as the largest fish in the world, they can grow up to 40 feet long, a scary thought when you consider they're actually sharks. But fear not—their size and docile demeanor have led many to christen them the "gentle giants" of the sea.
Every year, from October to February, whale sharks travel to feed in the warm waters of La Paz, roughly two hours from Cabo San Lucas. All-day tours are available from the city to take visitors to the Bay of La Paz for an unforgettable experience of snorkeling and swimming with these gorgeous creatures.
Whale sharks tend to feed near the surface, meaning you can swim close with ease—just remember not to touch—and get a true appreciation for the beauty and size of the gentlest creatures in the sea.
Land-Based Excursions
If you're looking for what to do in Cabo San Lucas, you needn't look far for the answer. From scenic day trips visiting sister cities to soaring through the skies on a zip line, Cabo's land-based excursions don't disappoint.
Visit San Jose del Cabo: Cabo's Sister City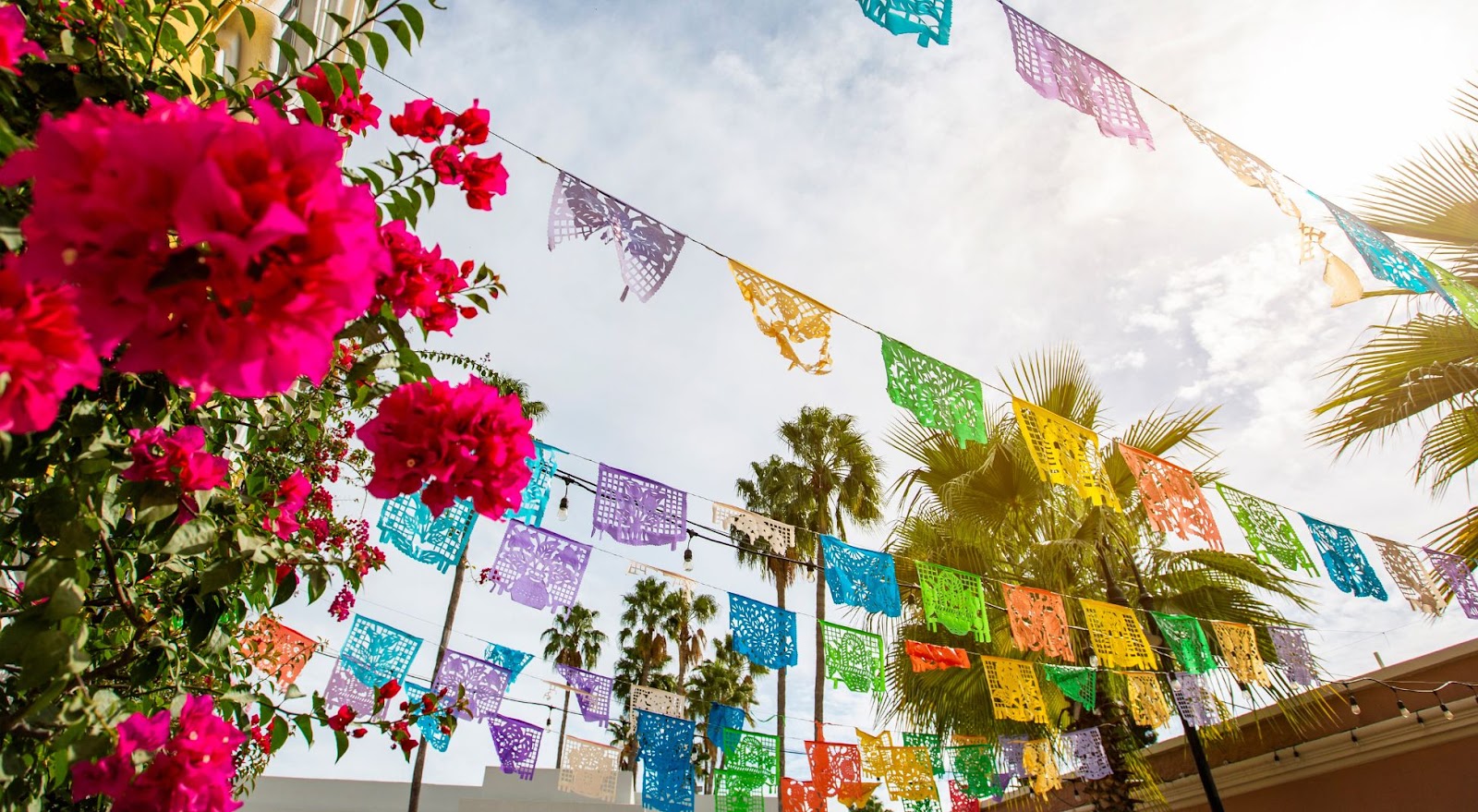 For those looking to take it easy, Cabo's sister city awaits. Beyond the lights and glamour of Cabo San Lucas, San Jose del Cabo is a quieter, less assuming destination, offering an opportunity to delve into Cabo's art, beauty, and local culture. With its multitude of charms, San Jose del Cabo is perfect for everyone.
Get a taste of the local culture with a food tour around the city. Boasting top-rated restaurants, small eateries, and bustling street vendors, San Jose del Cabo promises a smorgasbord of sights, sounds, and, most importantly, tastes to thrill your senses.
Though you'll find the heart of the city in the beautiful main square, you'll find its lifeblood in the streets of the Art District. Galleries galore and creative shops line the streets, turning life into a true picture-perfect painting. November through June hosts a weekly Art Walk, but you don't need to wait for a planned event to enjoy this thriving art scene.
If you're in the mood for something to get your blood flowing, San Jose del Cabo also has its opportunities to get active. Hiking trails around the city promise scenic views, while a nearby estuary and bird sanctuary offers a picturesque spot to take it easy while taking in the unique sights and sounds of San Jose del Cabo.
Explore the Desert: Off-Roading and Camel Riding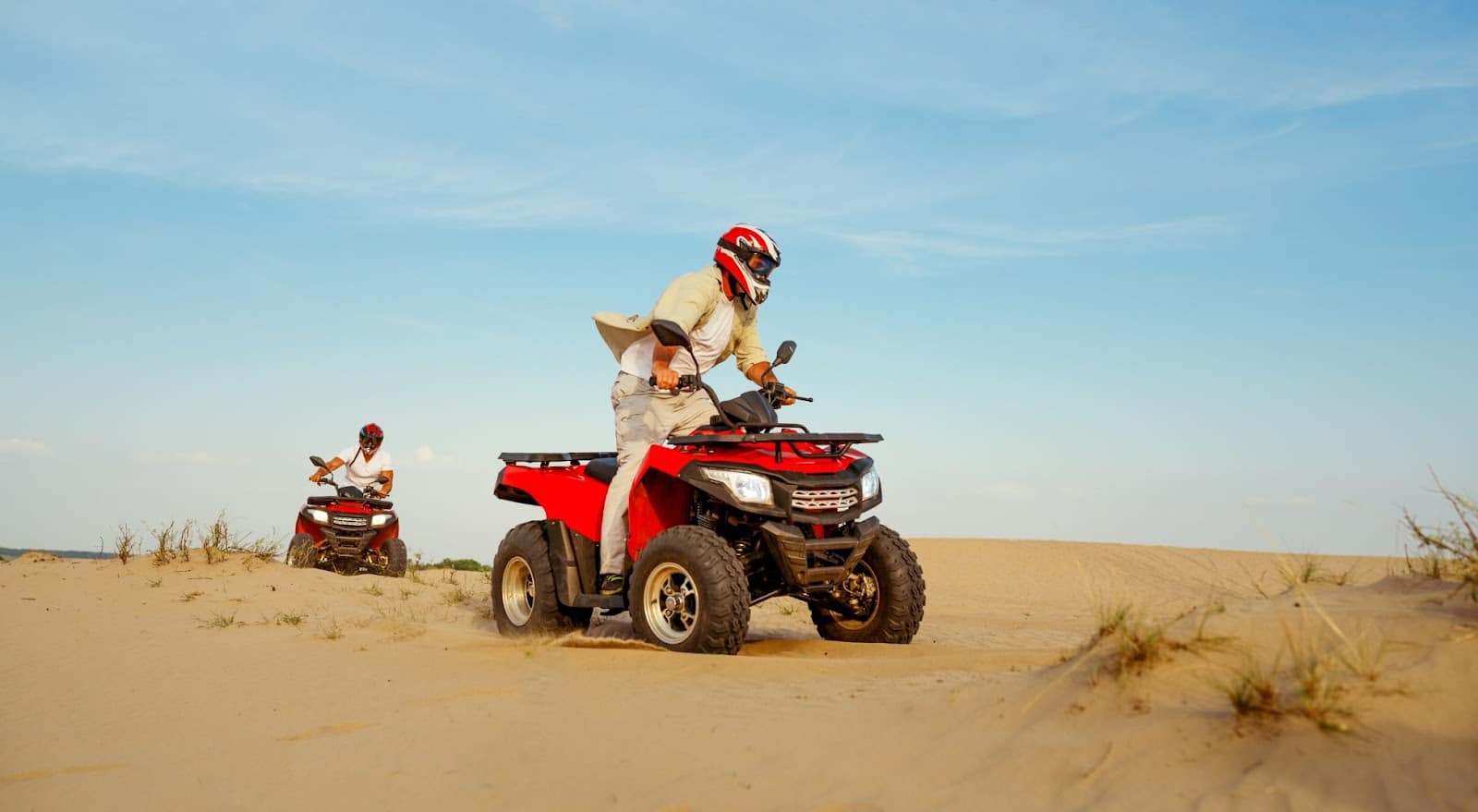 One of the best things to do while in Cabo is experience the Baja desert and the Pacific Ocean. You can do both like never before with ATVS and camel rides!
Get ready for some adrenaline-packed, off-roading ATV fun. With a guided instructor, you'll be exploring desert canyons, rugged desert landscapes, and scenic trails through majestic mountains. Wild Canyon takes guests over a suspension bridge and along sandy beach dunes, while Cabo Adventures caps off their wild rides with a lunch buffet and drinks.
In contrast to the heart-pumping thrill of rough riding ATVs, take it easy on a journey through the desert riding camelback. Marvel at the beautiful sights and serene landscapes, from fields of desert flowers to striking mountain ranges, culminating in a trek along Cabo's shimmering white sand beaches. Then, end your adventure on a high note with tours that offer tequila tastings at an oceanfront restaurant or a lunch refresher on the beach to wind down even further.
Zip Line Above the Baja Peninsula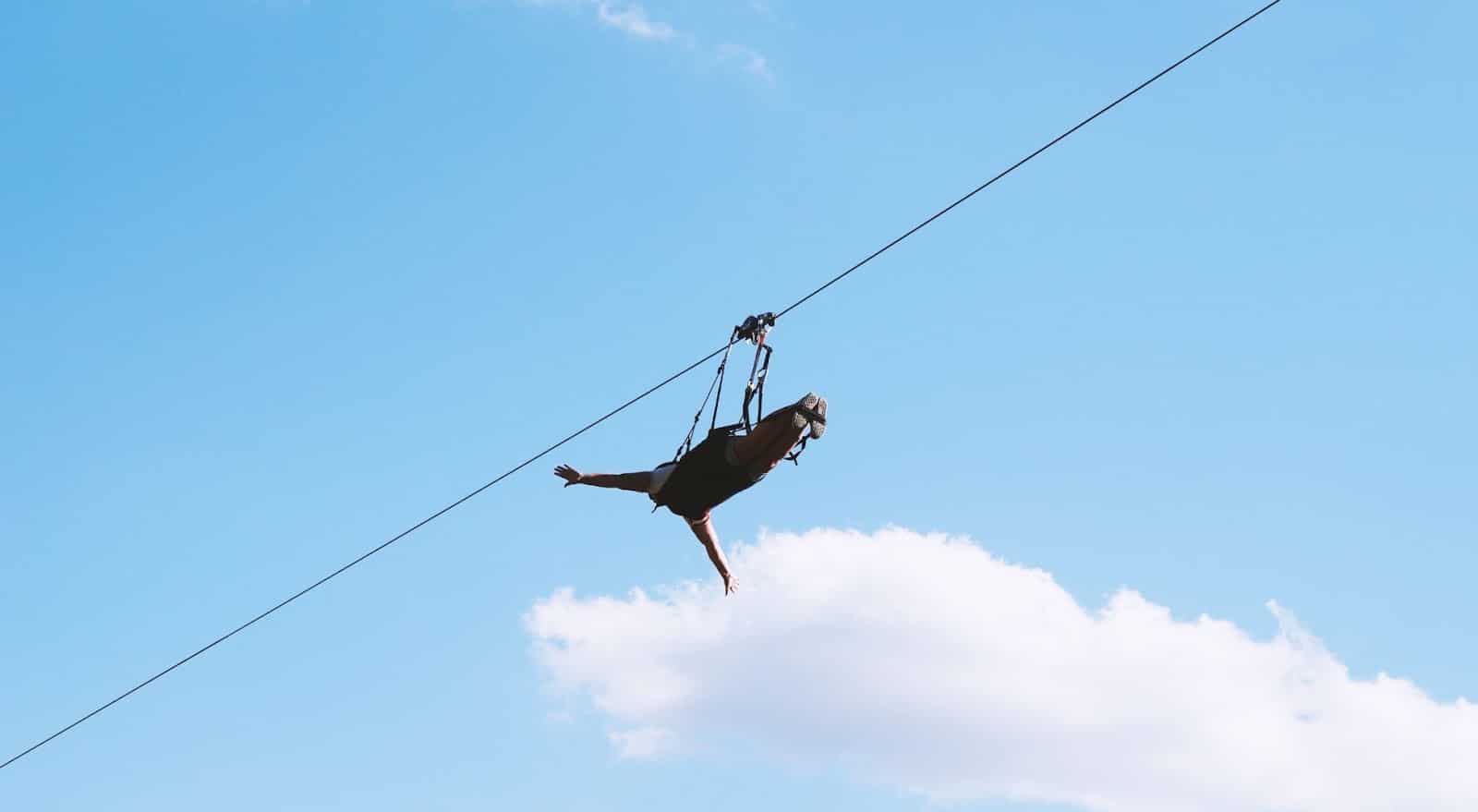 Ready to sail through the skies with the wind in your hair and the striking desert canyon floor below? Then it's time to hit up one of Cabo's thrilling zip lines.
Head over to Wild Canyon to ride Los Cabos' largest zip line. The eight-line circuit is known as the Monster Ziplines of La Baja, and each one is adrenaline-inducing. But don't worry, you'll have plenty of time to calm down, or talk yourself up, between each one during your hike to the next location.
If you'd rather glide over lush canopies and babbling brooks than explore the desert landscapes, book a canopy zip line tour. Many tours will pick you up at your resort and whisk you away to the lush wild. Certified employees will go over the basics, then you'll be taking in the beautiful landscapes while zipping above the treetops.
If you're feeling particularly heroic, then the zip line at Boca de la Sierra might be just your speed. Strap into their Superman zip line and fly over the rocky terrain and foliage just like a hero from the comic books.
Hike Mount Solmar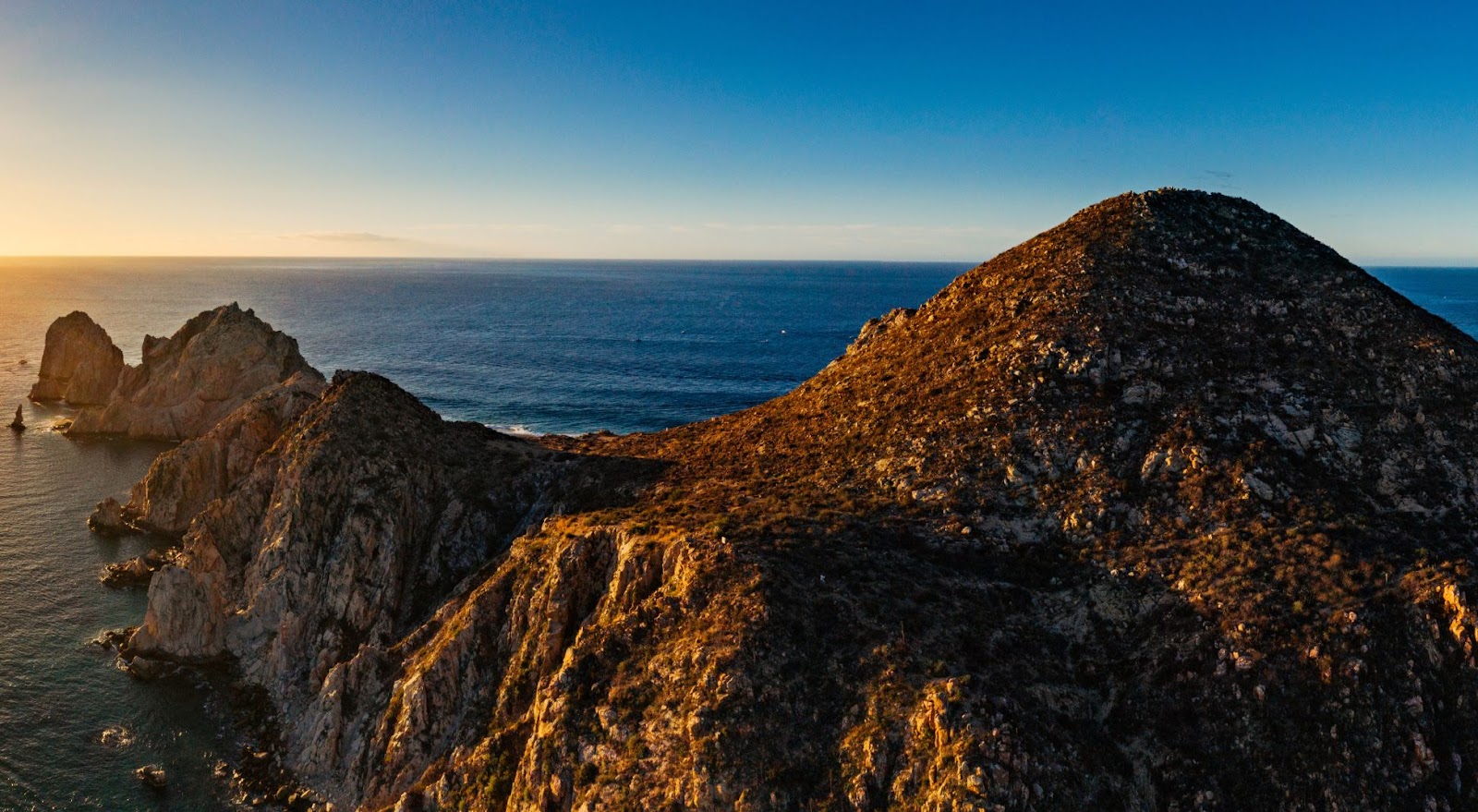 A private peak, a mountain hike, and furry friends for company—need we say more?
Located on a peninsula on the Sea of Cortez, the summit of Mount Solmar offers coveted and gorgeous views of the Bay of Cabo, the Marina, and Medano Beach. While the trailhead to get there is located on private property, the owner allows for guided tours, so visitors can still climb the 440-foot mountain to get a glimpse of the heavenly views.
Now, you might be wondering where the dogs come into play on this hike. The local tour guide for the hike also runs a dog training and daycare center. So, on these treks up the mountain, the dogs tag along, providing some fun and furry company for the journey.
The tour guide is knowledgeable about the area and gives plenty of time to take pictures of the scenic landscape and even play with the dogs. While the journey isn't for the cardio-adverse, the views and furry friends make it worth the cost of sweat and achy muscles.
Beach Bliss
Cabo's swimmable beaches may be few and far between, but that just makes the beaches that are swimmable all the more must-see. If your Cabo San Lucas itinerary of best things to do doesn't include these beaches, it's time to reevaluate your travel plans.
Play at Medano Beach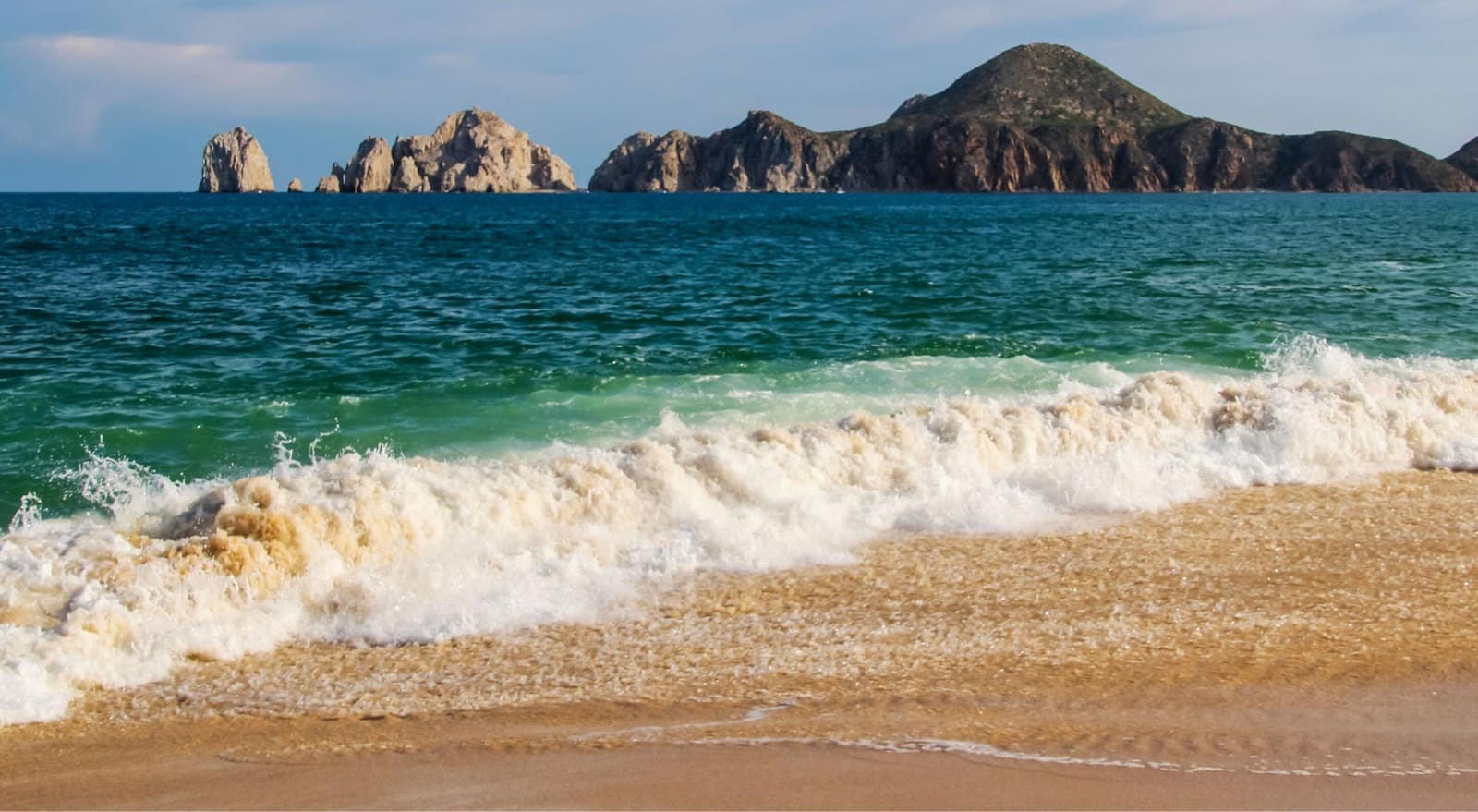 Golden sands, warm waters, and gentle waves make Medano Beach a popular tourist destination. Restaurants and vendors crowd the beach, making it easy to slip out of your hotel to find some sand to lay back and relax or delicious bites to satisfy your appetite after a day of activity.
And speaking of activities, Medano Beach offers plenty to experience. Rent a kayak or paddleboard and make your way out to Land's End to take in the views or find a quieter shore on Lovers Beach. If you're looking for more heart-pumping fun, jet skiing or parasailing over the water is not to be missed.
Of course, you don't have to get your heart rate up to enjoy Medano Beach. Sit back and sunbathe on the shore, or head out on a boat to take in the bay and epic beach views from the water.
With everything it has to offer, Medano is a true choose-your-own-adventure beach.
Relax on Lovers Beach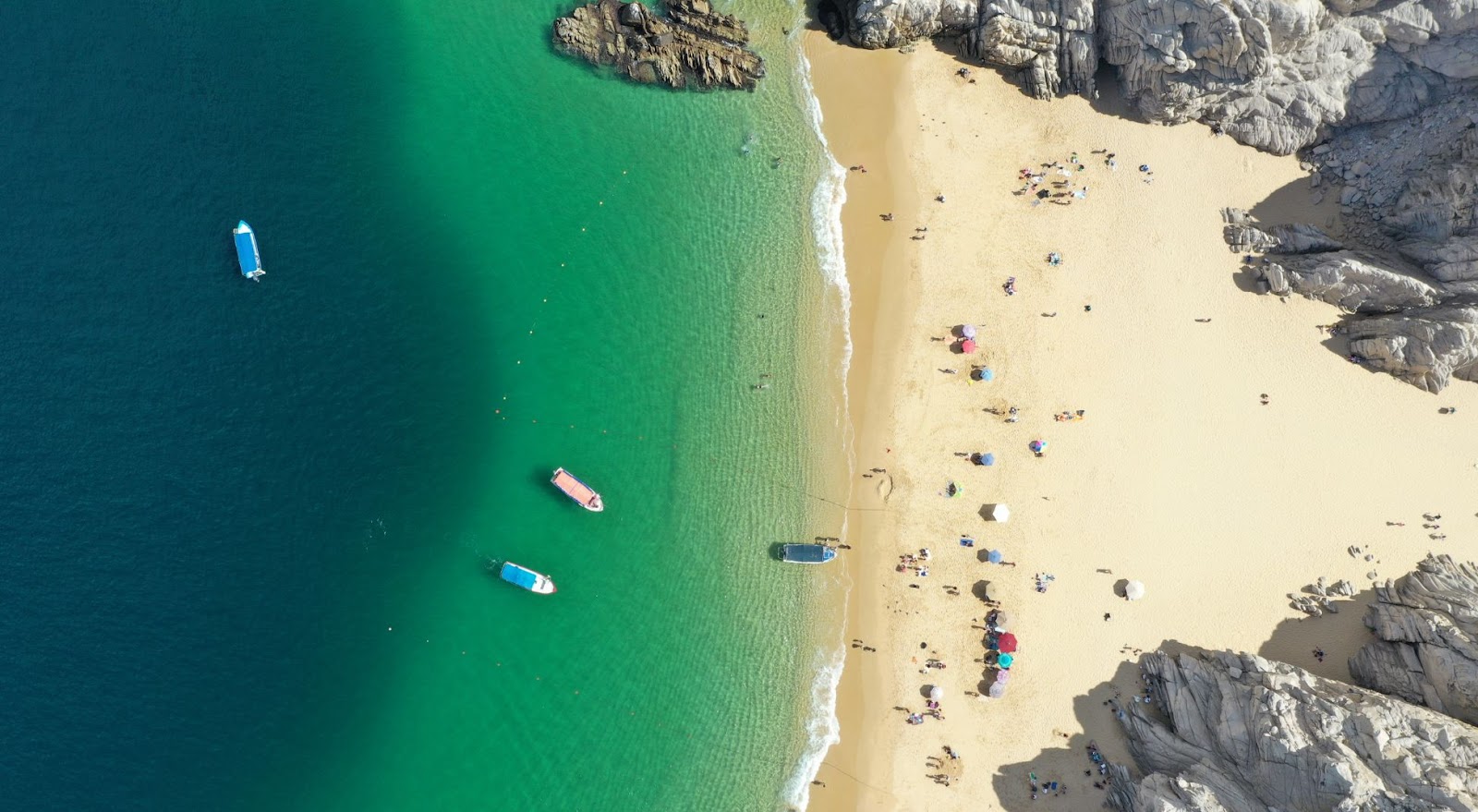 Lovers Beach, also known as Playa del Amor, sits in a hidden cove between two rock formations and is only accessible by water taxi. Thus, you won't find busy hotels or vendors here, just a little slice of sandy paradise. Due to its shallow shore and calm waves, it's one of Cabo's few swimmable beaches and popular with snorkeling enthusiasts. Thanks to its seclusion, the beach is never as crowded as other Cabo beaches, remaining pristine and perfect for sunbathing or sandy strolls.
While the beach itself is a wonder to see, getting there can be half the fun. Instead of the regular water taxi, opt for a glass-bottomed boat or even a yacht, and take a tour of the bay and El Arco before arriving at Lovers Beach. With a tour, just be sure to stress to the captain that you want to go to Lovers Beach, as otherwise, your boat tour may zip past it entirely! With a private yacht, you can plan an all-day affair with a visit to El Arco, snorkeling around Land's End, and some relaxed sunbathing on Lovers Beach before watching the sunset behind the Arch.
Swim and Snorkel at Santa Maria Beach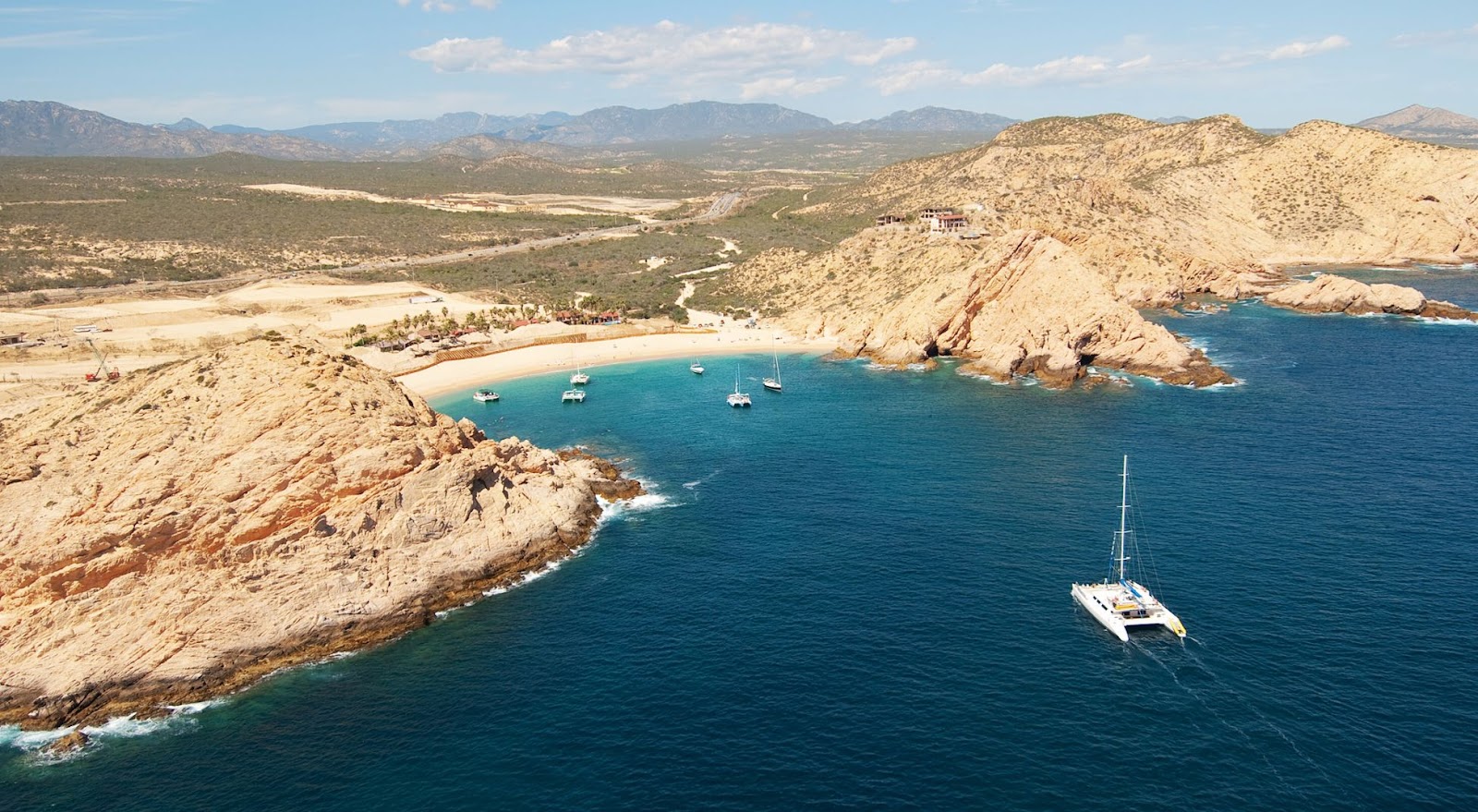 Picture water so clear you can spot the iridescent fish swimming past your legs. Clear waters teeming with colorful marine life make Santa Maria Bay perfect for swimming and snorkeling. And, of course, the possibility of catching a glimpse of passing whales during winter adds to the allure.
Due to its location nestled between two large granite rocks that take the brunt of the pounding surf and harsh winds, Santa Maria is a sheltered cove that provides calm, safe waters for more relaxed beach activities. Enjoy a leisurely swim through the crystalline waters, or don your snorkel gear to explore life under the sea for the vibrant tropical fish.
The jury is out on the best way to explore Santa Maria. Some book a tour to fit in multiple beaches, while others tout the charms of renting your own gear and traversing the waters to find your own favorite spot.
Relaxation & Wellness
Whether you're going to Cabo for a wellness retreat or just want to get in a bit of R&R between one exciting activity after another, treating yourself is never a bad idea. And when it comes to what to do in Cabo, if the question is spa retreats or yogi getaways, the answer is always yes.
Pamper Yourself in Spa Retreats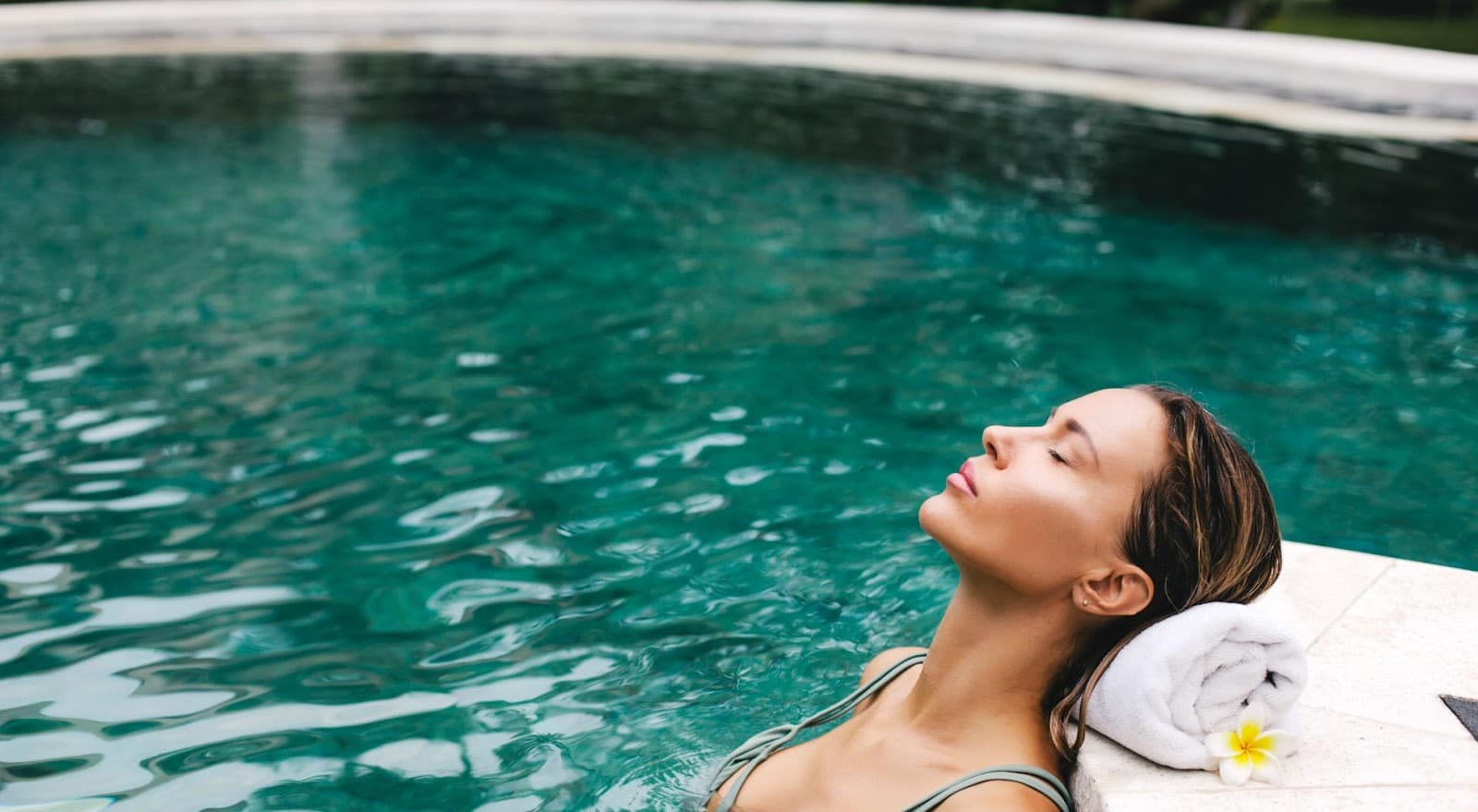 Luxury. Pampering. Spas. Three words that stroll hand in hand down the sandy beaches of Cabo San Lucas. So get ready to kick back and relax for a single day or your entire stay.
At the One&Only Palmilla, indulge in Mexican spa treatments emphasizing natural ingredients and specialized therapies derived from ancient tribal wellness knowledge. Feel restored in nature at the Spa Alkemia, with garden spas, massages with desert oils, and locally made body scrubs. Or, become one with the world around you at the Waldorf Astoria, which emphasizes the healing properties of the moon, the sea, and Mexican Folk healing for a rounded therapy to rejuvenate your mind and body.
Between oceanfront spas, open-air pools and showers, and indulgent therapies, Cabo's spas blur the boundary between the indoors and outside, allowing you to bask in the unique beauty of Cabo.
Practice Yoga with a View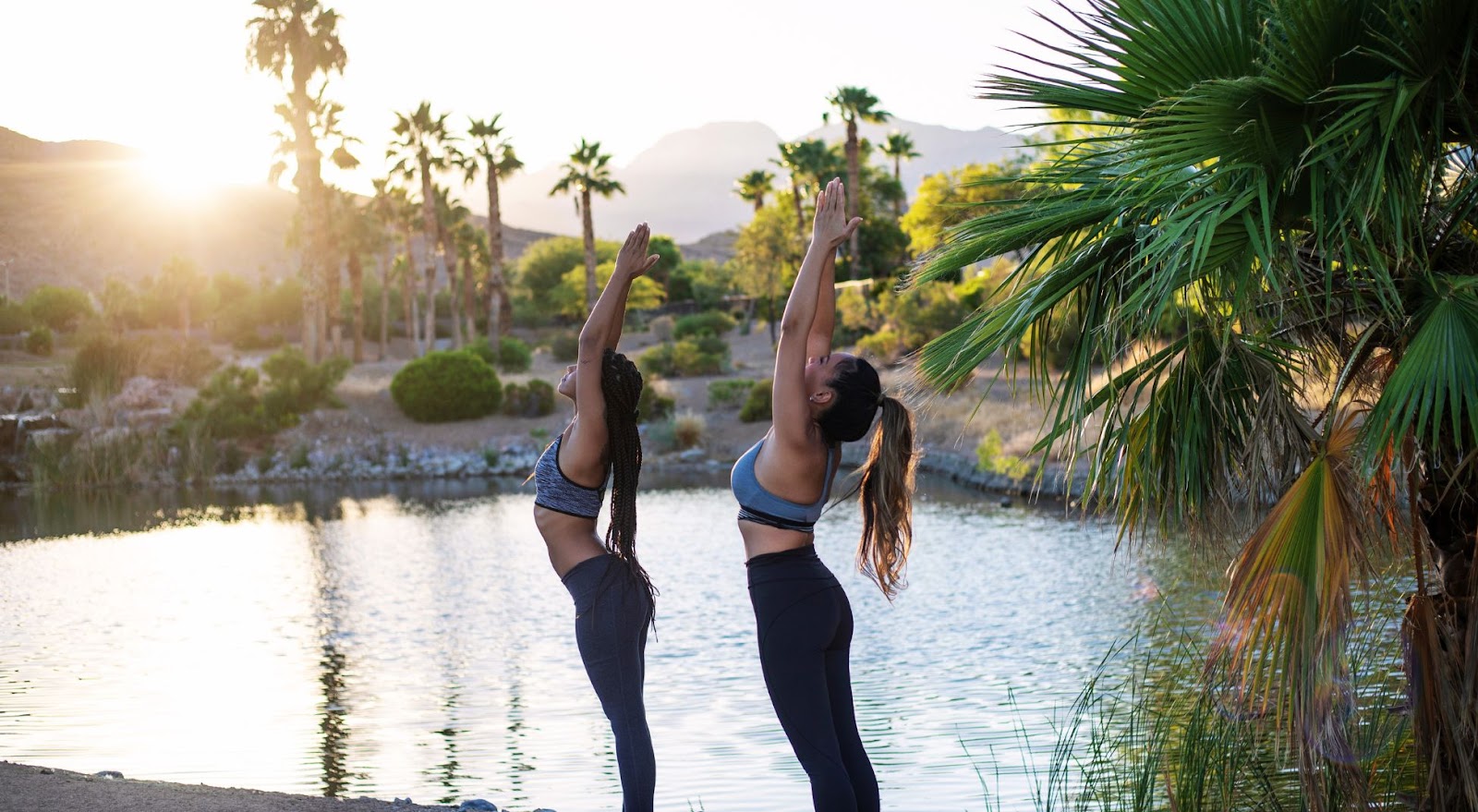 Breathe in. Breath out. Birds flying overhead and the salty breeze tickling your nose. Yoga by the seaside in Cabo is a must-do for any yoga enthusiast.
The Spa at Pedregal overlooks the Pacific Ocean, and guests can book private yoga sessions. Imagine looking out over the sea as the sun dips below the horizon while you shift into warrior pose.
Or, check out the Grand Velas Los Cabos. Sitting on a pristine white beach, you'll be hard-pressed to find a better place for yoga practice. As the palm trees sway, you'll be stretching out on your pad, listening to the waves crash against the shore and the breeze rippling the pool's water. Guests can also book a session with an instructor and work through guided poses and meditation to do some serious unwinding.
If staying at one of these resorts isn't within your price range, simply bring a towel or yoga mat to the beautiful beaches and conduct your own yoga session. Even better, go at sunrise or sunset to enjoy the stunning views as you greet the morning or unwind from your day.
Culinary Delights
What's a Mexican holiday without the food and tequila tastings? Not a trip we want to be on. If you're struggling to find the best things to do in Cabo, take a turn with your taste buds at the helm and experience the city's culture and history through its culinary delights.
Go on a Cabo Food Tour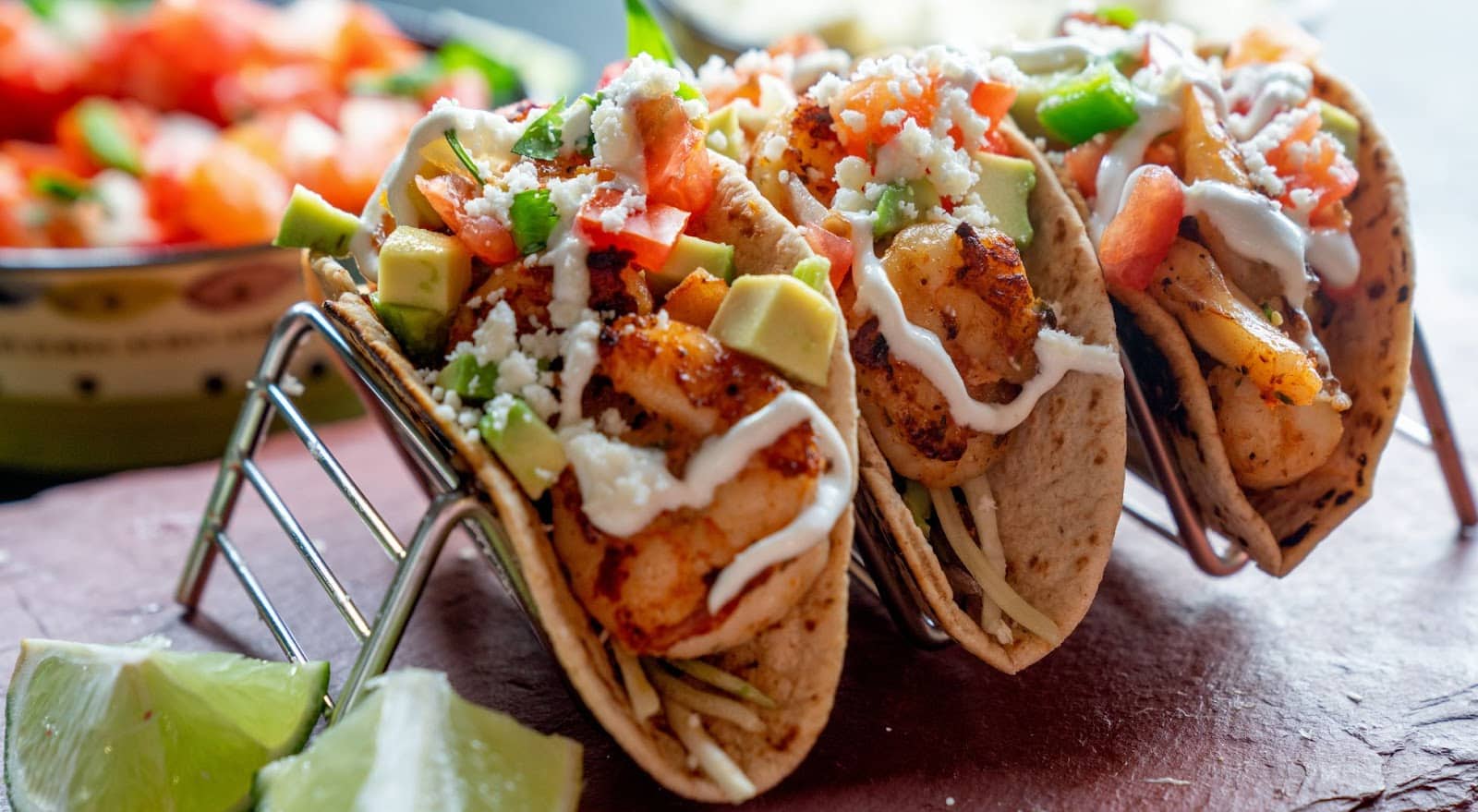 Discover Cabo with your taste buds by diving into the local food scene and exploring the city's restaurants and hidden gems.
On an Eat Like A Local tour, experience the tasty foods and places locals love to frequent. Sample Mexican tacos and handmade sauces at family-owned restaurants specializing in street foods and modern fusions. Or, spice up your taco experience with a mixology and taco tour to get a tasting and history of the authentic flavors of Mexico.
But the food tours aren't regulated to land. Book a yacht or cruise tour and sail along turquoise waters as you dine on delightful seafood cuisines. Chow down on lobster, sea bass, beef filets, or shrimp kabobs while you sip on refreshing drinks made by an onboard mixologist. Add to the experience by booking a tour around sunset or one with performances to enjoy dinner and a show.
Try a Mexican Cooking Experience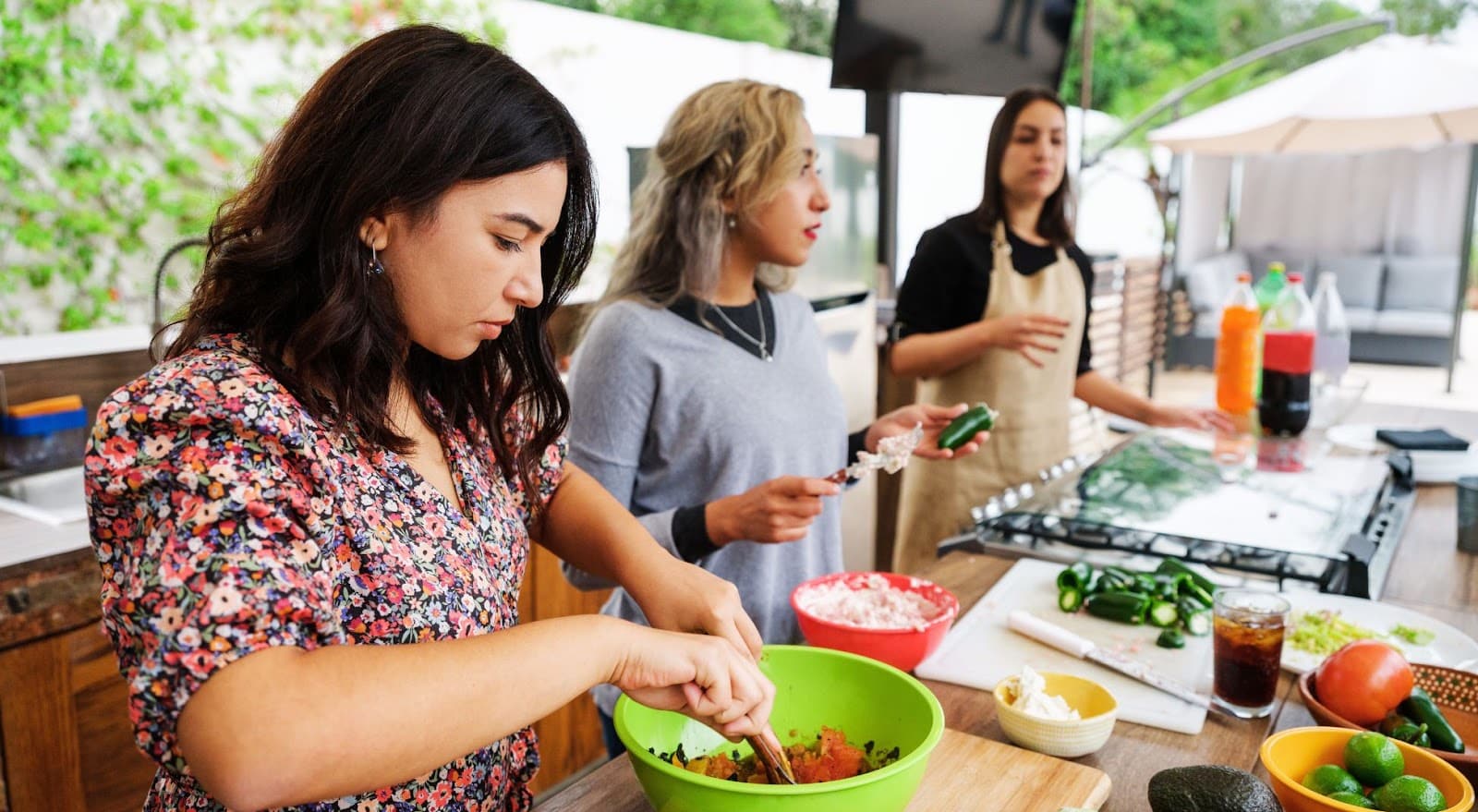 Have you ever wanted to recreate the tastes of your Mexican holiday? Then a cooking experience might be just what you need.
It's not just about how you make food but what you make it with. Learn the ins and outs of preparing spectacular Mexican dishes on a fun market and cooking tour. From perusing ingredients at the local market to making tortillas and mole sauces by hand, learn how to pick the right ingredients and prepare them for a mouthwatering meal.
If you want to immerse yourself in Mexican heritage and culture, consider a farm-to-table experience at a local farm. Feed some of the farm's animals and harvest your own ingredients while listening to the stories of the Cabo natives. Then, under a Baja chef, make tortillas and spicy salsas for a fresh spin on local food.
For another fresh take on Mexican food, try a garden-to-table experience that starts with a welcome cocktail. At the Authentic Mexican Legacy Cooking Class, you can wet your taste buds before heading to the onsite vegetable and herb garden to learn how to make regional dishes and finish off in the restaurant by eating a meal you helped prepare.
Experience the Best Things to Do in Cabo with Next Vacay: Your Ticket to Unforgettable Adventures
Now that you know what to do in Cabo San Lucas when you get there, you can worry about getting there. Or, don't, and let Next Vacay do the work for you. While you plan the perfect itinerary filled with the best things to do in Cabo San Lucas, let Next Vacay scour the web to find the best deals to fly you to Cabo.
Our team will do the work of finding and vetting deals to send you verified trips straight to your inbox. All you have to do is sit back, save, and plan how to spend the extra dollars in your wallet—getting pampered at one of Cabo's swimmable beach resorts sounds pretty good, right?
It's time to for your next trip. Travel more. Do More. With Next Vacay.
Related Posts