Most people think of Baja California Sur and picture warm sunshine, dazzling waters, and endless stretches of beach. They also picture calm ocean waters they can dip in and out of at will. However, while the sea around Cabo San Lucas can look plenty inviting, Cabo has its share of dangerous beaches not suitable for swimming. But travelers hoping to soak in the sun and play in the sea need not worry. With dozens of jaw-dropping, swimmable beach resorts in Cabo, you don't have to travel far to dig your toes in the sand and dip your feet in the incredible waters of Los Cabos. So, if you're ready to turn your dreamy beach vacation into a reality, Cabo awaits. And we'll tell you exactly where to go for calm seas and epic views.
Table of Contents
Are There Any Swimmable Beaches in Cabo?
Despite the dangers of some beaches on the Pacific Coast side, Cabo still has plenty of swimmable beaches for travelers to soak up the sun and make a splash. The most notorious of these swimmable beaches is Medano Beach. As a result, many of Cabo's best resorts sit behind this enticing stretch of sand.
But, for those wanting to get away from the crowds of Cabo San Lucas, there's the Tourist Corridor. This scenic, 20-mile highway runs from Cabo San Lucas to San Jose del Cabo, offering a stunning swathe of swimmable bays and beaches up and down Los Cabos.
The Top 13 Swimmable Beach Resorts in Cabo
Dreaming of a beachy getaway to Baja California Sur? Travelers are guaranteed their happily-ever-after stay thanks to these thirteen stunning swimmable beach resorts in Cabo. So, let's dive right in because here, the water is always fine.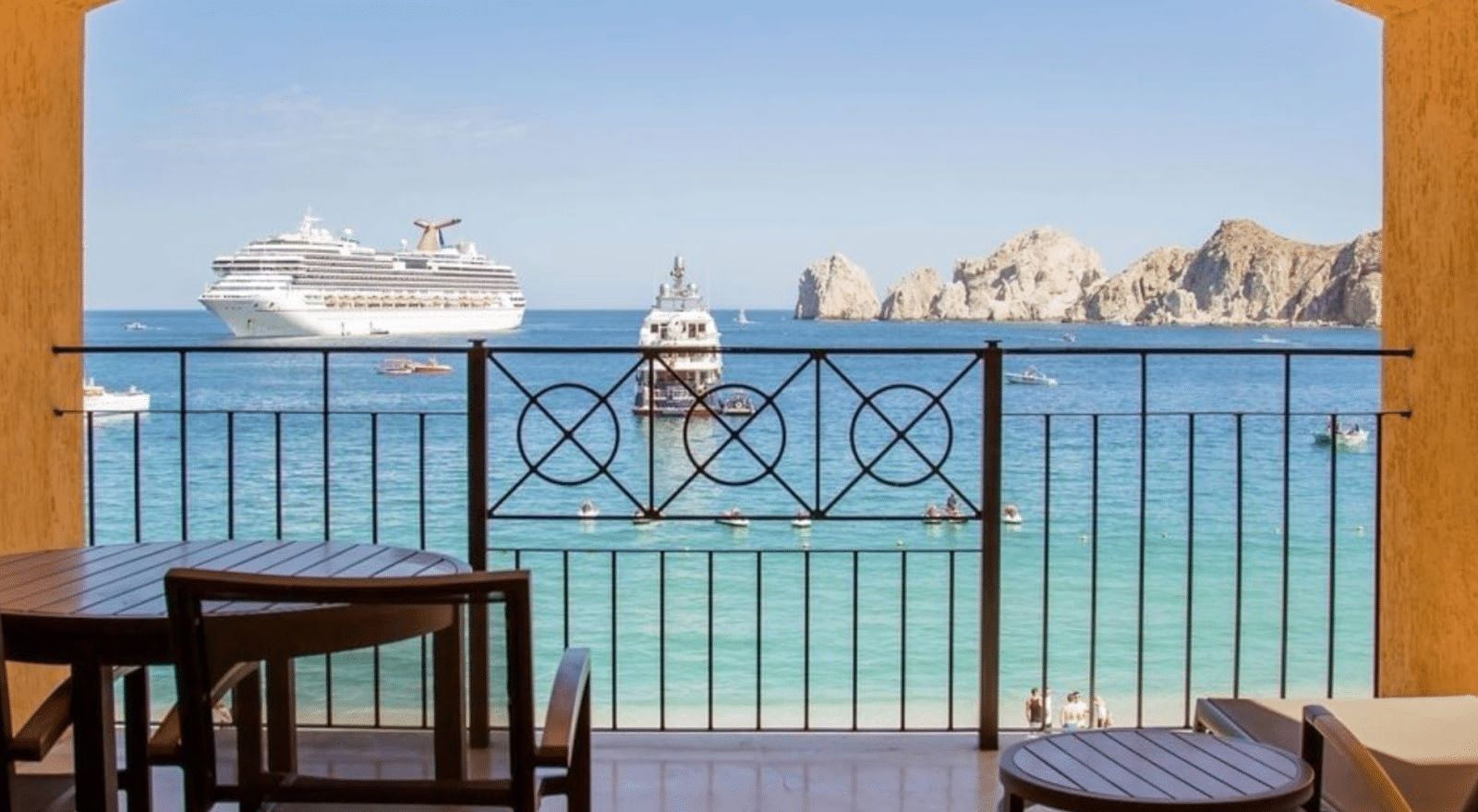 Cabo has many swimmable beach resorts, but it's hard to look past this glittering House of Gold. Casa Dorada effortlessly combines natural beauty and chic extravagance to offer up an unparalleled luxury resort. Bordering the safest swimmable beach in Cabo, Casa Dorada is perfectly placed at the heart of Medano's vibrant atmosphere and bustling activity. Catering to lovestruck couples, families with kids, and even friends on vacation, this five-star resort has it all.
From suites with private hot tubs overlooking the beach and ocean views to indulgent saltwater spas and incredible open-air restaurants and beach clubs, your every desire is met at Casa Dorada. And for those rare items that Casa Dorada doesn't provide, its stunning location puts it within walking distance. Guests have easy access to high-end shops, fine-dining restaurants, and thrilling excursions like parasailing the skies on the stunning shores of Medano Beach.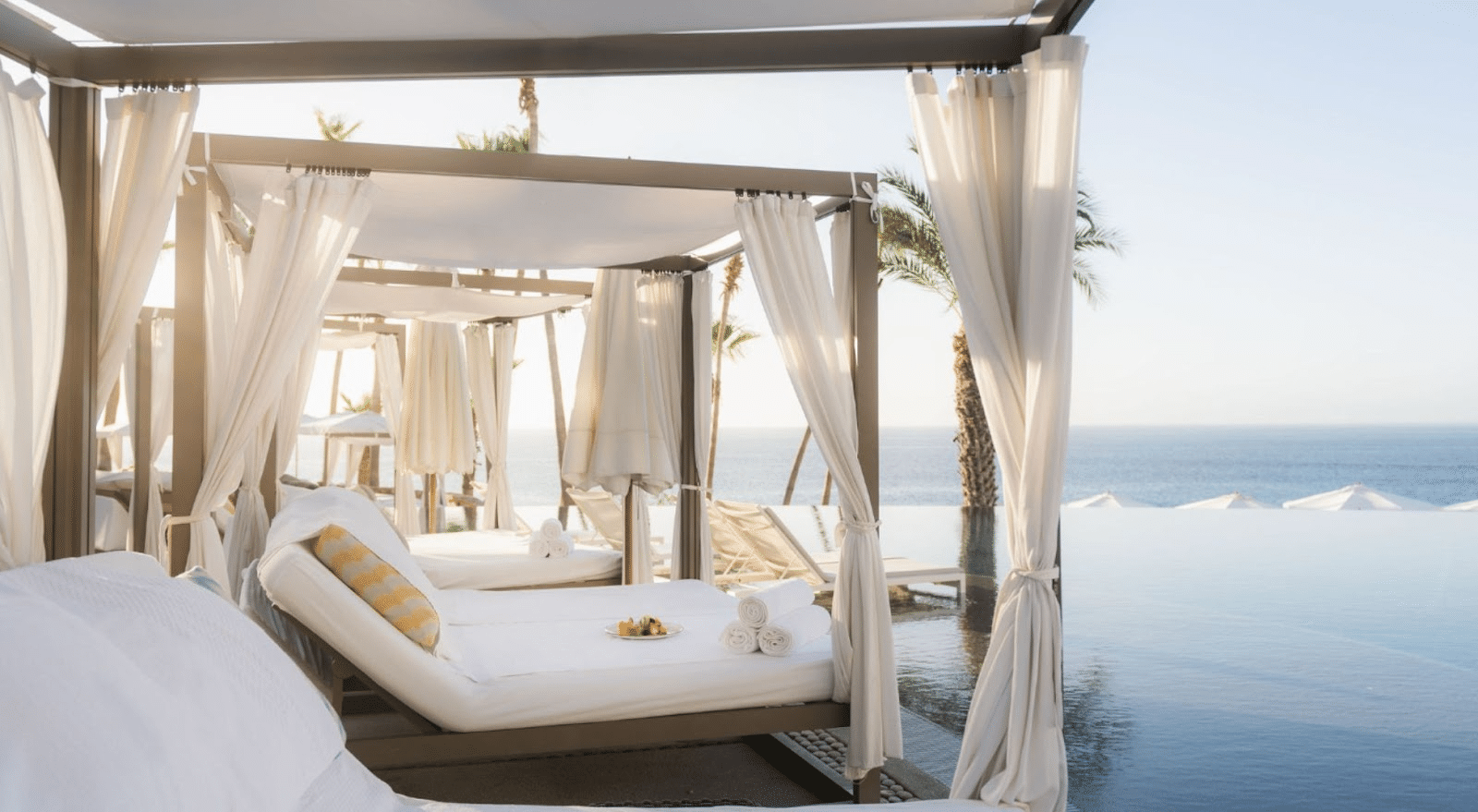 The Hilton Los Cabos Beach & Golf Resort presents a paradisiacal getaway at one of Cabo's best swimmable beach resorts. This idyllic retreat on the Sea of Cortez offers up a stunning infinity pool surrounded by swaying palms. Guests can easily while away the day here. With a pool concierge supplying refreshing drinks, delicious treats, and even a book for some light reading, you can work on your tan without interruption.
But the biggest draw of this place has to be its calm waters, which crown it as one of the best swimmable beach resorts in Cabo. Visitors can dip in the turquoise waters or walk along the long swathe of sand for a picture-perfect beach day.
Families on vacation with their children can take advantage of the resort's family-friendly amenities, including a convenient kids' club on-site. They'll also find a slew of other activities available, including painting, piñata-making, and cooking lessons. Or, if you're looking for a romantic getaway, consider booking one of the oceanfront suites with luxury amenities, high-end dining, and private plunge pools.
The beauty of Mexico is on full display at this unique and enchanting resort along the Tourist Corridor.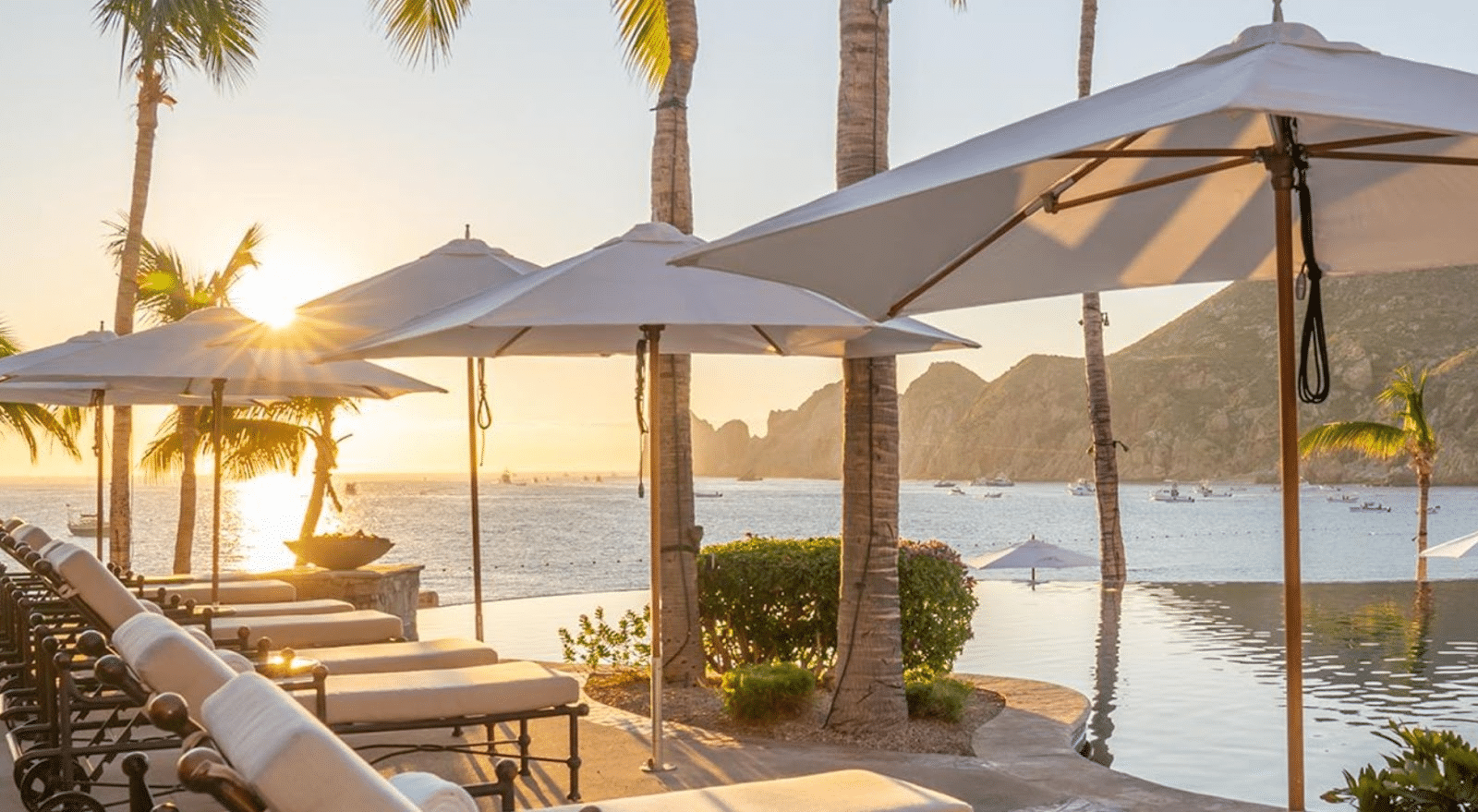 Located on a quiet stretch of sand along swimmable Medano Beach, this luxury resort in Cabo is not to be missed. Local and luxury don't usually go hand-in-hand. Still, the Hacienda Beach Club & Residences perfectly pairs a local feel with all the luxury amenities you could want. Contemporary, Mexican-style apartments offer travelers a tranquil sanctuary amid spacious private rooms and airy balcony views overlooking the sweeping sea and spectacular Land's End. Add soaking bathtubs with jets, and you may never want to leave your room.
For those who manage it, prepare for a laidback Cabo resort full of pampering and relaxing. A serene infinity pool overlooks the dazzling beach. Though the zero-entry will make you feel like you're walking into the ocean, you can always swap it for the real thing along the resort's private stretch of beach.
At the resort restaurants, guests can also treat their taste buds to outstanding Mexican cuisine with tables right on the sand for a relaxing end to the evening or just the start! With downtown Cabo San Lucas just minutes away, wild nights and good times abound.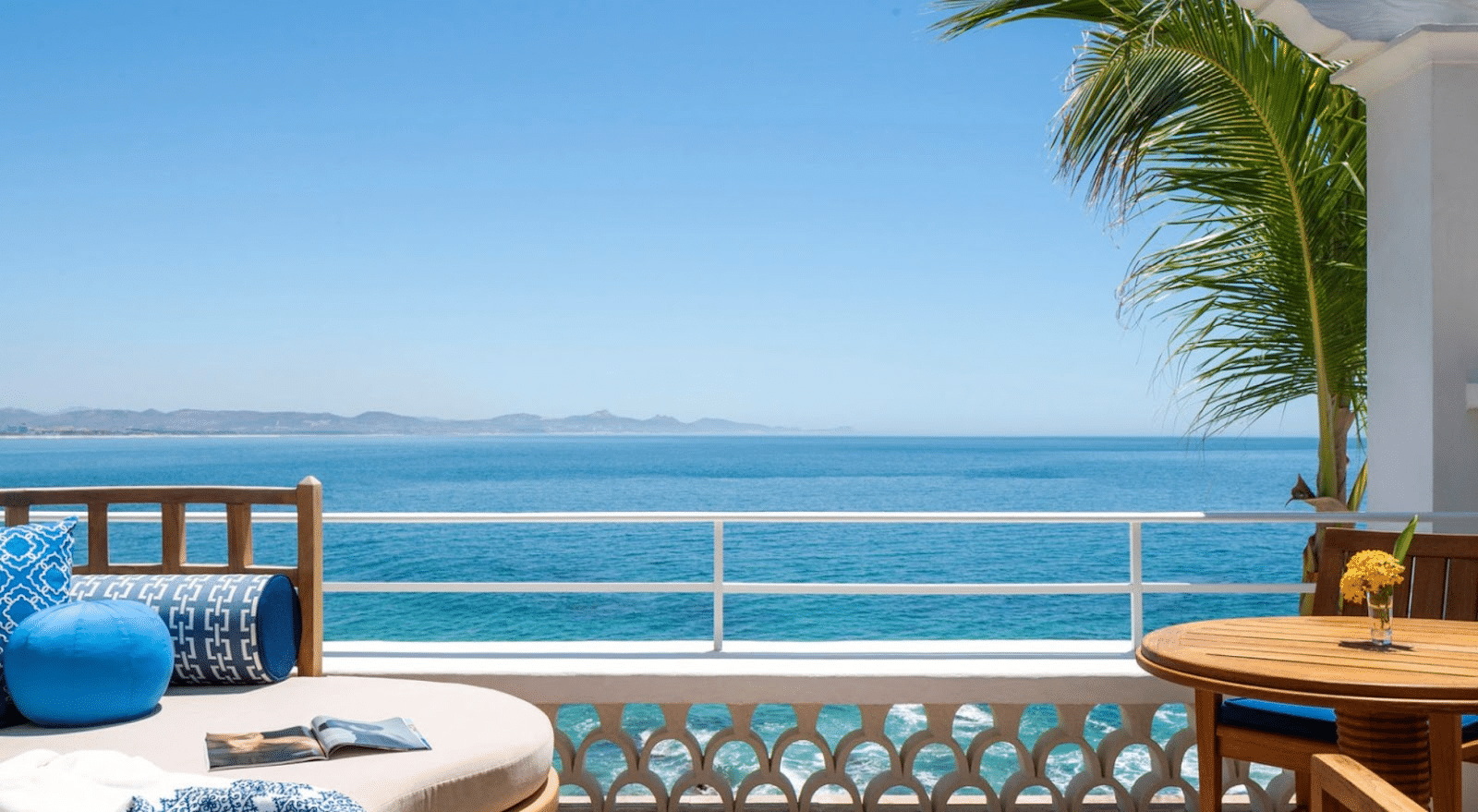 It doesn't get much more VIP than a stay at the exclusive One&Only Palmilla. Luxury amenities and round-the-clock care from personal concierges, butlers, and even aroma-therapy turndown service combine to make this a one-of-a-kind stay. Located in the beautiful San Jose del Cabo, this extraordinary retreat offers cliff-side views, gourmet dining, soothing massages, and fun activities like golf and tennis.
If the stunning beachfront location isn't enough, perhaps the One&Only Palmilla's architecture will amaze you. With its exterior of whitewashed buildings, red-tiled roofs, and charming fountains, and its interior of sophisticated furnishings and handcrafted Mexican accents, you're sure to feel just like one of the resort's celebrity guests.
Between highly acclaimed restaurants with culinary delights ranging from authentic Mexican cuisine to imported Wagyu, your tastebuds are in for a journey. And located next to what many would claim is the best swimmable beach in San Jose Del Cabo, this resort's charms will sweep you off your feet and into paradise.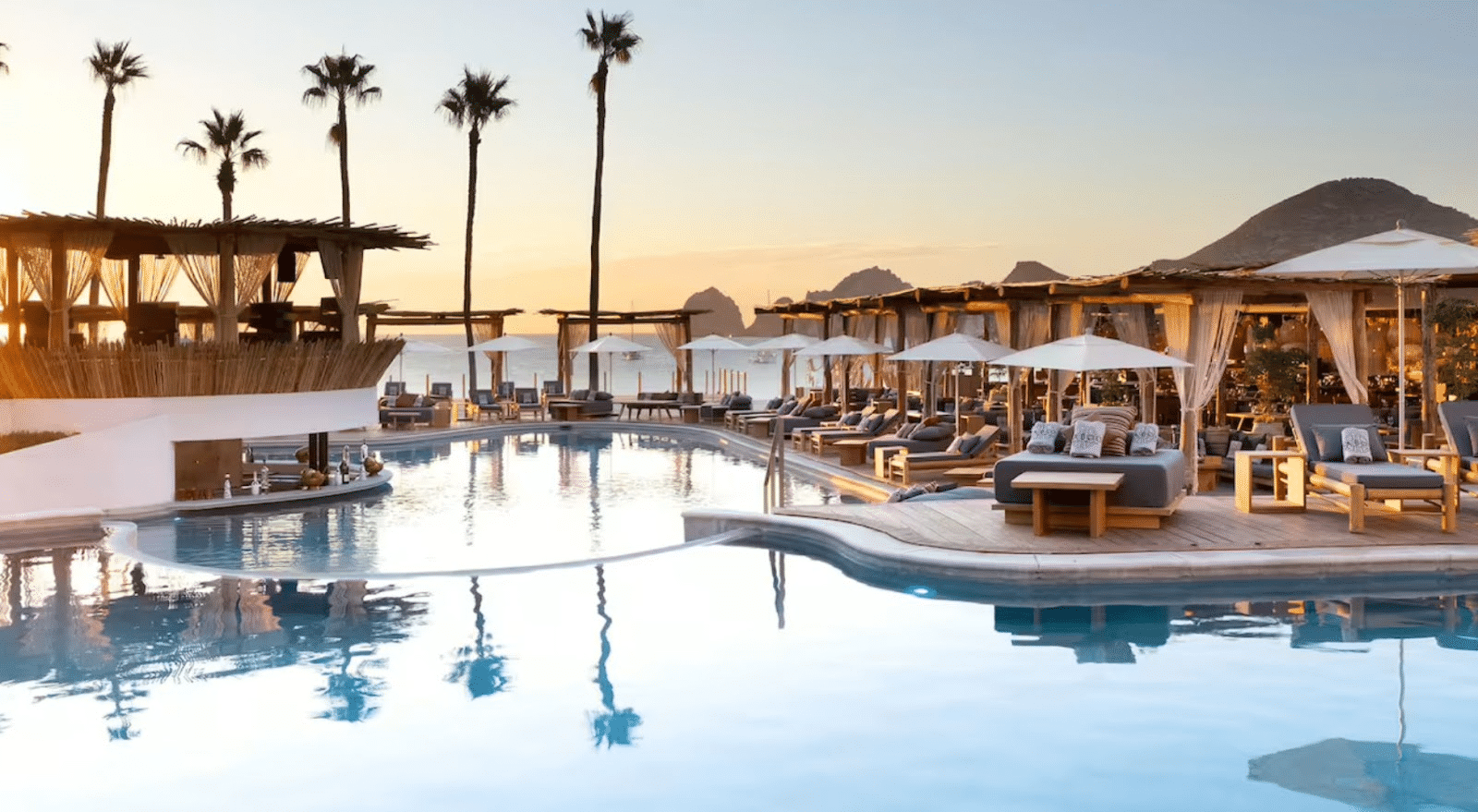 If bliss is in the details, prepare to ascend above the clouds at ME Cabo by Melia. This resort takes polished extravagance, adds a hint of local culture, and a dash of pizzazz to deliver a stay unlike any other.
ME Cabo dances to the rhythm of its own beat quite literally. The vibrant vibes of downtown Cabo are brought to the beachfront, with an in-house DJ spinning records day and night from his booth above the pool, arguably the pièce de résistance of the whole complex.
The resort's stunning pool terrace overlooks the most swimmable beach in Cabo San Lucas, with sweeping views of the mountains in the distance. A poolside restaurant and swim-up bar with bottle service all but ensure guests never want to leave. On top of all that, trendy restaurants let you sway under the stars on a rooftop sky bar and whisk you away to faraway lands with a single bite. After guests finish dancing the night away, luxurious accommodations offer a private touch of heaven with spacious suites and rooms, concierge services, and more.
Along this particular golden stretch of Medano Beach, ME Cabo is the life of the party, and the party never ends.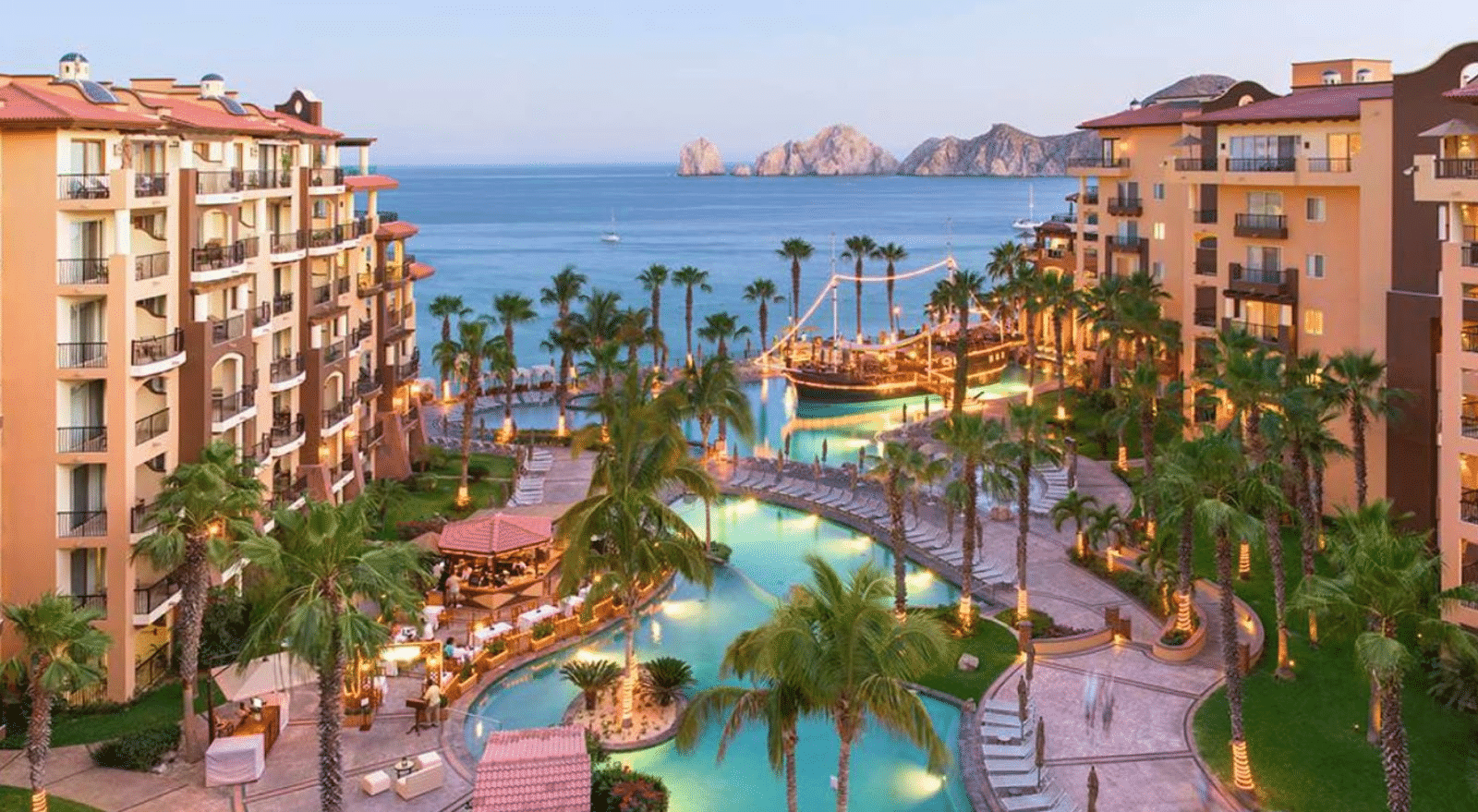 Perfect for travelers looking to make their family getaway dreams come true, Villa Del Arco Resort & Spa is an idyllic destination that takes outstanding care and outdoes it by a mile and a half. This unforgettable all-inclusive resort offers 24-hour excellent customer attention, from the gourmet restaurant waitstaff to the poolside concierges.
Speaking of poolside, Villa Del Arco stands out because it's one of the best swimmable beach resorts in Cabo. Still, that's not the only option available to guests. With access to glittering Medano Beach, gorgeous outdoor pools, and even a kid's swimming pool, families will have fun deciding where to dip their toes for a splashing good time.
But everyone needs a break occasionally, and Villa Del Arco aims to please. Adults can retreat to the peaceful, three-story oasis that is the Villa Del Arco's Desert Spa. Meanwhile, kids can ditch their parents for fun times at the Kids in Paradise Club.
Villa Del Arco opens up a world of adventure for families staying in Cabo San Lucas, whether you venture into Cabo or spend your vacation at the resort.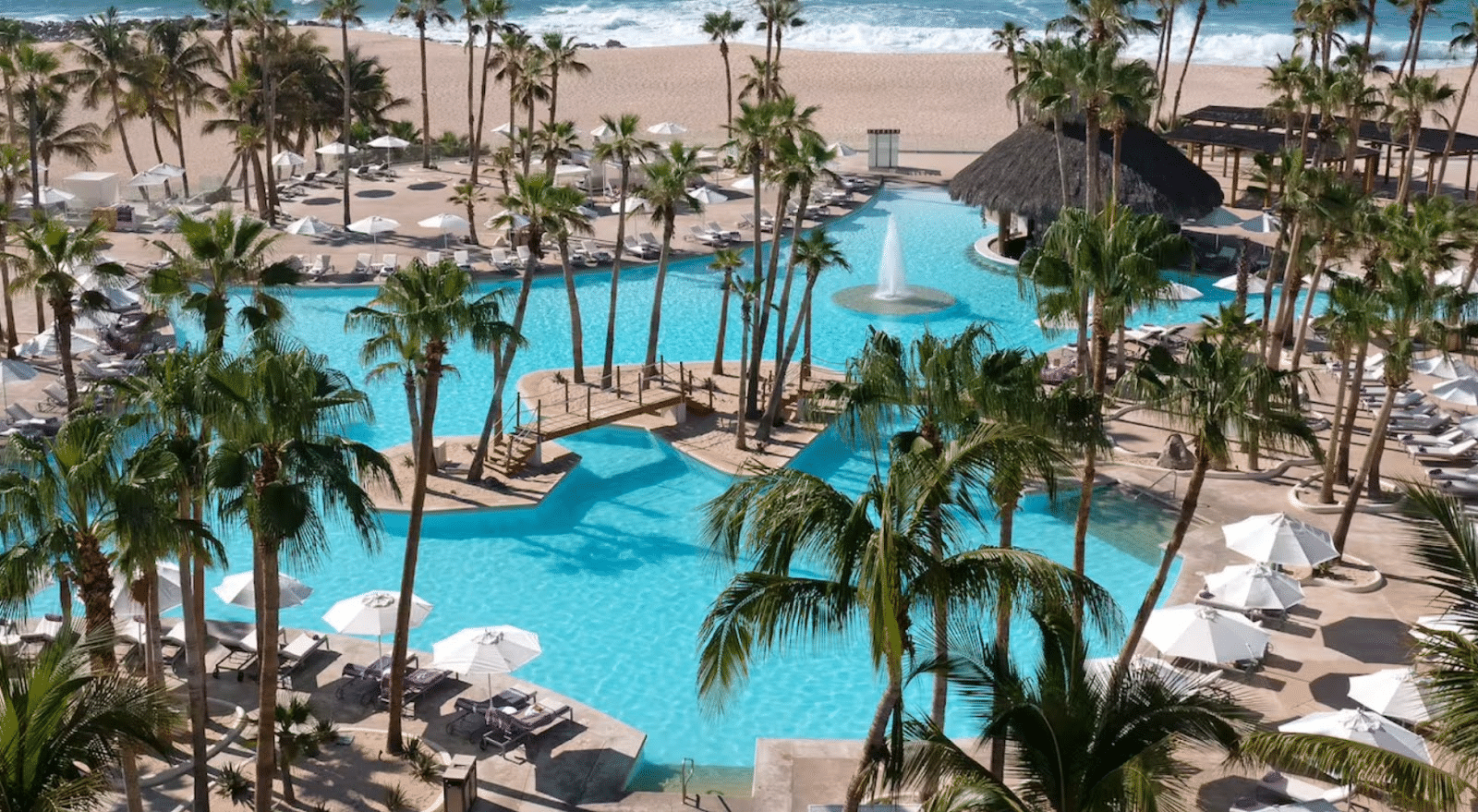 Billing itself as a premier all-inclusive resort that effortlessly blends natural beauty with pampered luxury, guests staying at Paradisus Los Cabos won't be disappointed.
One of the few resorts not located along swimmable Medano Beach, Paradisus Los Cabos instead sports its own private stretch of beach along the Sea of Cortez. Guests can take in the dazzling ocean views from the sand or poolside, relaxing on plush lounge chairs beneath beautiful swaying palms.
The resort accommodations are split into two sections, one for families and one that caters to eighteen-plus patrons. The Reserve offered by Paradisus is a match made in heaven for couples wanting a romantic retreat and quiet escape. Couples can even take advantage of elevated services like more luxurious room amenities, concierge attention, an adults-only restaurant, and even swim-up pool access.
However, that's not to say Paradisus is only a paradise for couples. With over 350 stylish suites, multiple restaurants, a world-class golf course, lush gardens, and a pampering spa, Paradisus elevates everything from family vacations to extravagant galas.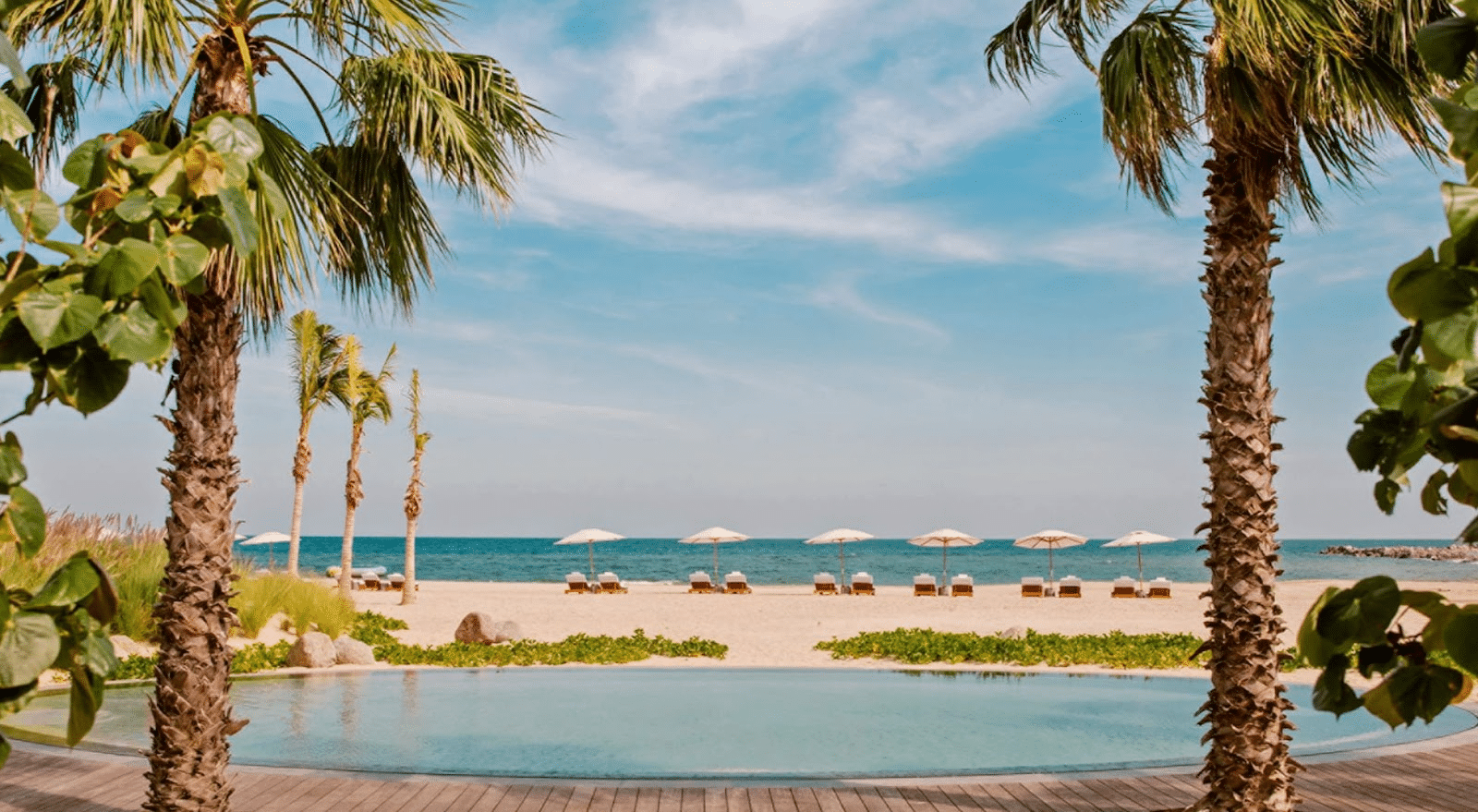 Discover a whole new side to Cabo at the Four Seasons Resort at Costa Palmas. Far from the pulsing nightlife of Cabo San Lucas or even the art and culture of San Jose del Cabo, the Fours Seasons Resort in Los Cabos sits perched on a sandy stretch of swimmable beach in Baja's elite East Cape. In this quiet oasis, travelers can escape from the crowds and into a land of serenity and adventure.
Suites offer oceanfront views, private plunge pools, and direct beach access. This makes it that much easier to enjoy one of the best swimmable beaches in Cabo.
Cabo Pulmo National Marine Park, Sol de Mayo Cabo, and Santiago all sit nearby, surrounding the Four Seasons with adventure. Boats set sail from a private marina to explore the "world's aquarium," while ziplines sail above East Cape's unique landscapes. But that doesn't mean you're in for a go-go-go adventure. On the contrary, the Four Seasons offers every opportunity to kick back and relax, whether it's two-day retreats or days spent poolside, pampered with everything from chilled drinks to chilled towels as you soak in the sun and beauty of East Cape.
Peace and quiet or unforgettable experiences; travelers don't have to choose with a stay at one of the best swimmable beach resorts in Baja California Sur.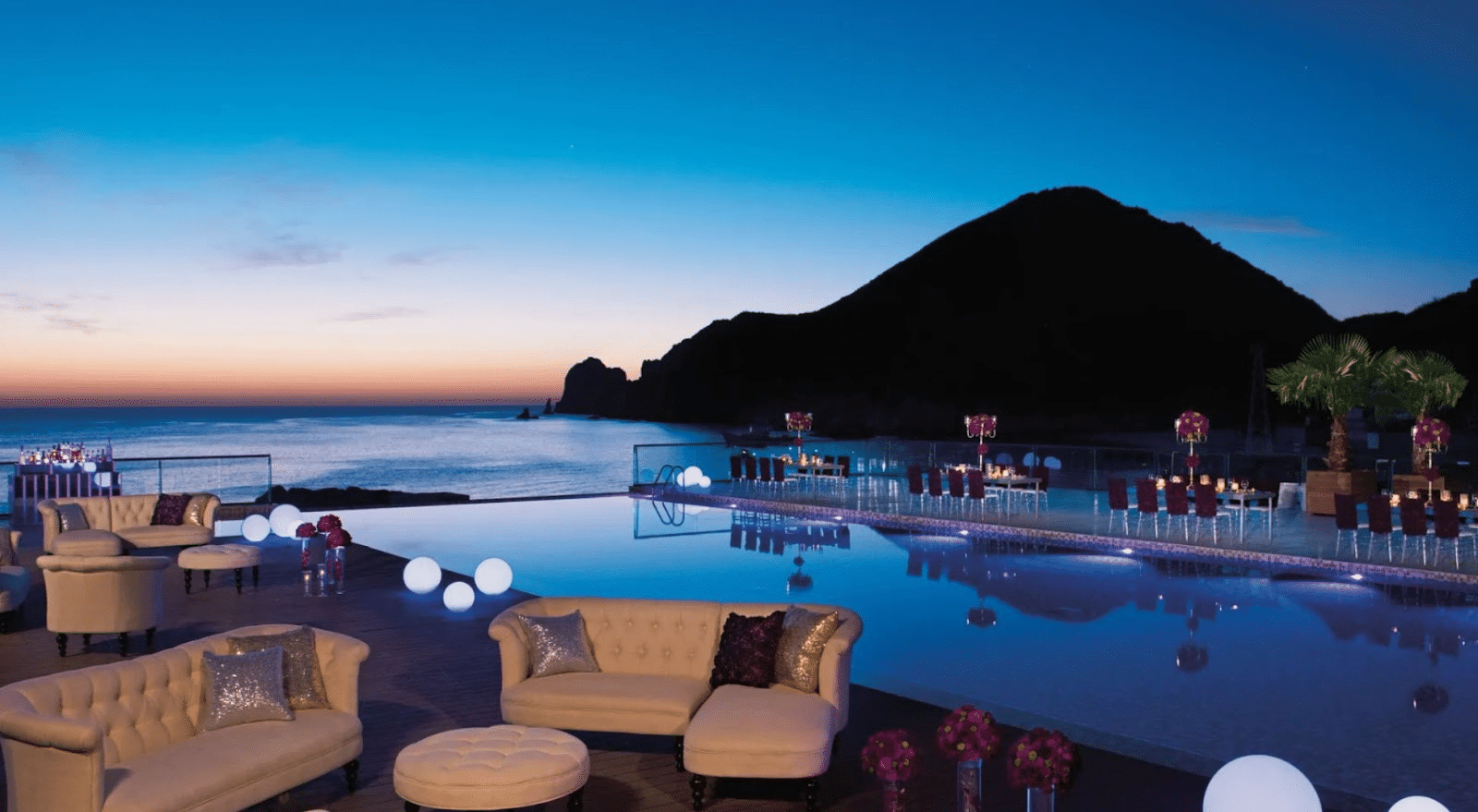 All-inclusive resort? Check. Adults-only? Check. Breathtaking views? Check. The Breathless Cabo San Lucas Resort & Spa has it all. Quietly luxurious suites offer views of the marina, a hillside enclave, or the Sea of Cortez, depending on which rooms you choose for your stay. But what's even better than taking in the views from your room is being in them. Stroll along Medano Beach and take a dip in the sea or admire it all from the resort's infinity pools.
Endless entertainment will keep the hours not dedicated to relaxing suitably busy. With burlesque shows, fashion runaways, tequila tastings, DJ'ed pool parties, live music performances, and sunset soirees on rooftop bars, you're much more likely to be overwhelmed than bored. But, if you need a break or to retreat to a more laid-back setting, the beach resort spa has you covered. Prepare for blissful massages, rejuvenating wraps, and relaxing yoga sessions to find your inner zen again.
With its varied activities and unique social vibe, Breathless Cabo San Lucas Resort & Spa is perfect for travelers seeking a neverending party, endless relaxation, or both.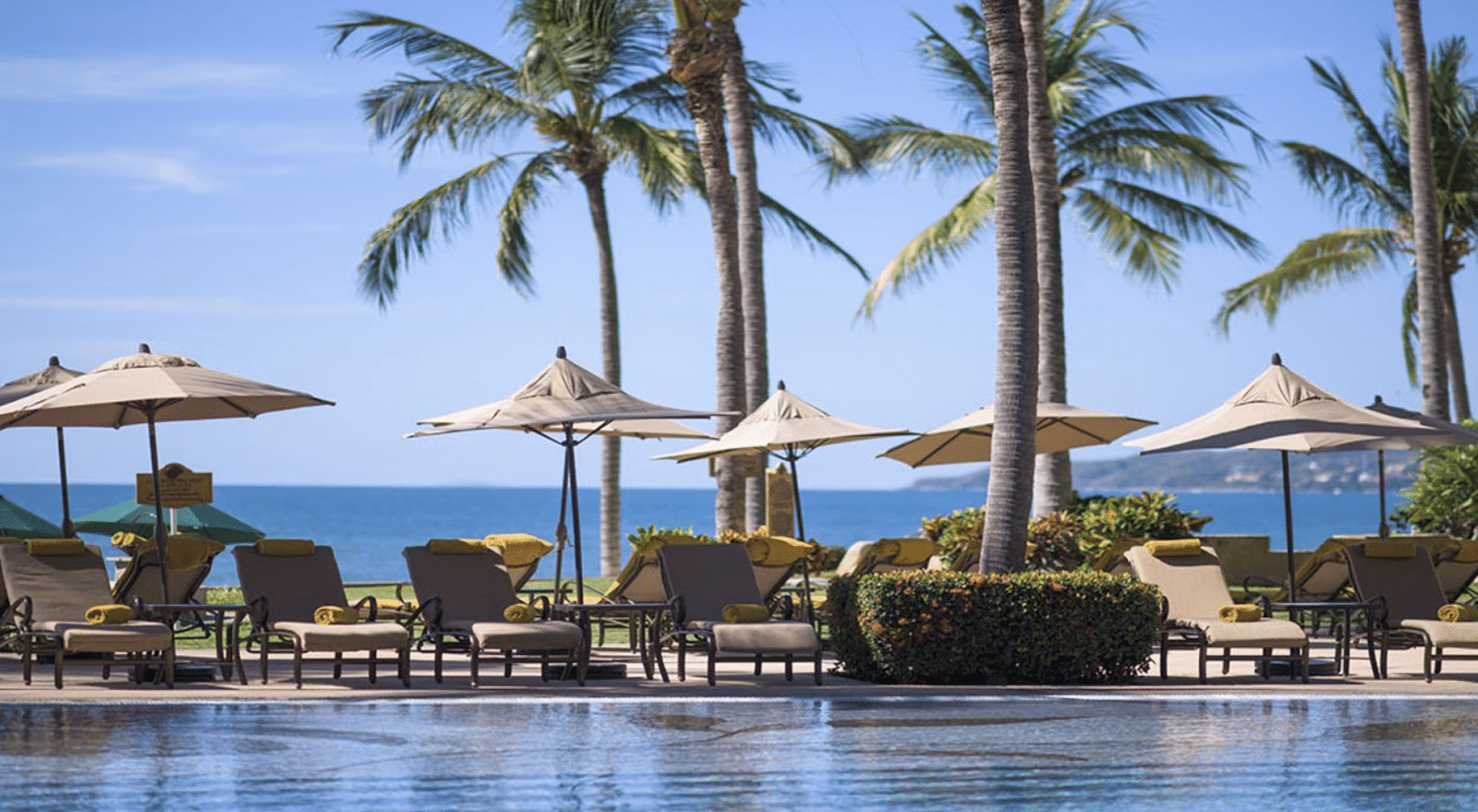 A sophisticated style and unmatched hospitality combine to create this oceanfront paradise. Villa La Estancia Beach Resort & Spa sits on one of Cabo's most swimmable beaches, Medano Beach. Built around the adult experience, it delivers everything from a buzzy downtown party scene to fun swim-up bars and delectable dining options spanning gourmet restaurants to pizza cooked in wood-burning ovens.
If you tire of the poolside dining or sunset dinners, guests can try fixing up their own authentic Mexican cuisine. The apartment-style villas offer a full-size kitchen, flat-screen TVs, mini-fridges, and private balconies with stunning panoramic views of the Sea of Cortez. With amenities like that, you may be hard-pressed to leave your rooms at all.
That said, of course, the resort provides infinite amenities to lure you out onto the grounds. Tour lush gardens while soaking in ocean breezes, or treat yourself to some pampering in the award-winning spa. With a fitness center, on-site markets and convenience stores, swimming pools, gourmet restaurants, and luxury at every turn, the Villa La Estancia Beach Resort & Spa has everything you need to have the vacation of your dreams.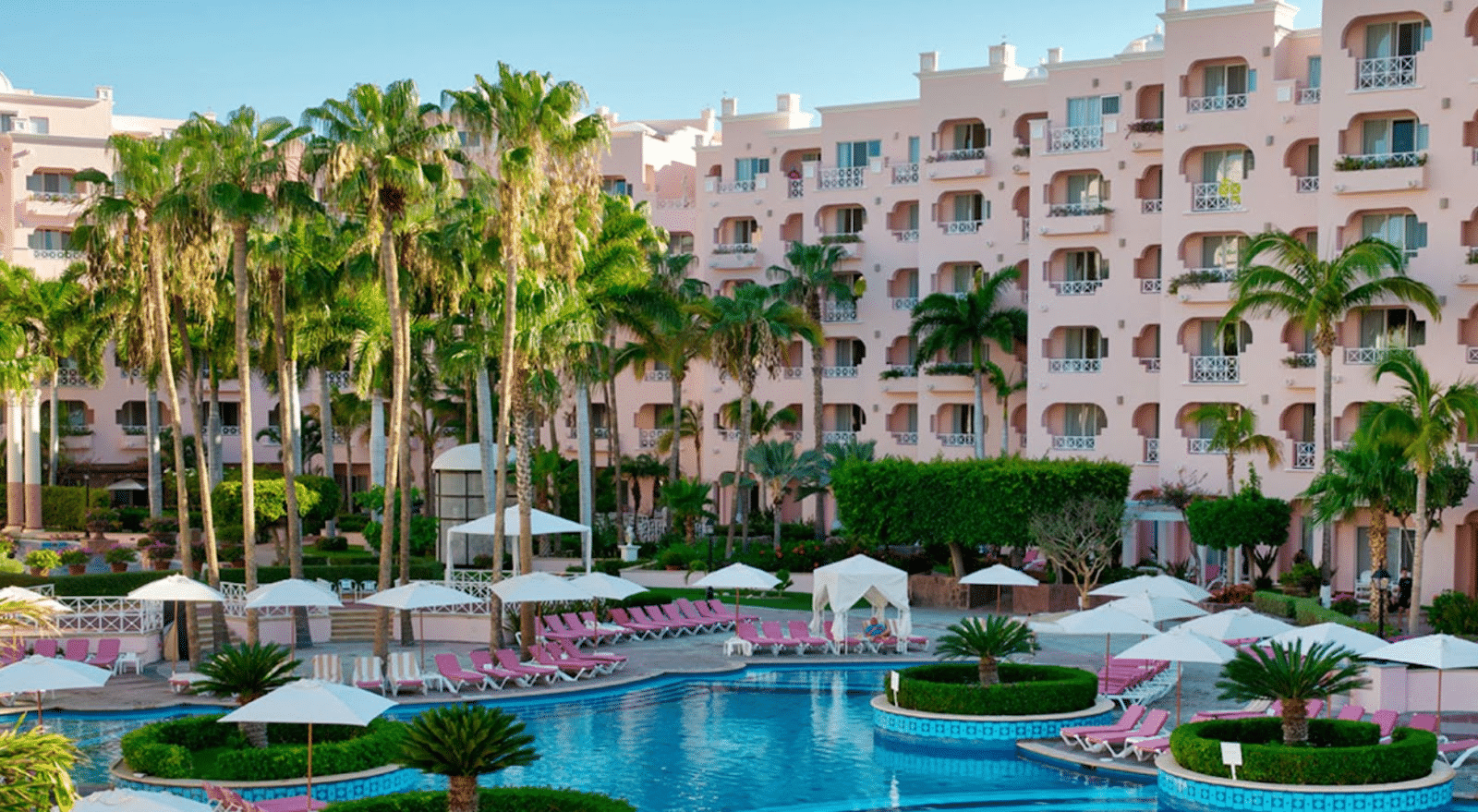 Golden sands, beautiful gardens, and striking ocean views are all draws of the luxurious Pueblo Bonito Rosé Resort & Spa. Blending its hacienda style with a Greco-Roman theme, it stands out even among the many resorts lining Medano Beach. Of course, that might have something to do with its position atop a secluded bluff, its gorgeous pink exterior, or its breathtaking views. Surrounded by vibrant green palms, dazzling blue pools, and looking out over the sparkling Sea of Cortez, you're all but guaranteed to get swept up in the view.
But, if the breathtaking views of Cabo San Lucas don't entice you, the sophisticated amenities, gourmet restaurants, and fun activities surely will. Relax at the tranquil spa with a massage, or head to the beauty salon for some nail care. Hungry guests can sate their cravings from three different restaurants on-site or head outside the resort grounds for some delicious dining options along the southern tip of the Baja peninsula. Between volleyball games in the pool and swimming with dolphins in the sea, Pueblo Bonito Rosé stands out as one of Cabo's top swimmable beach resorts.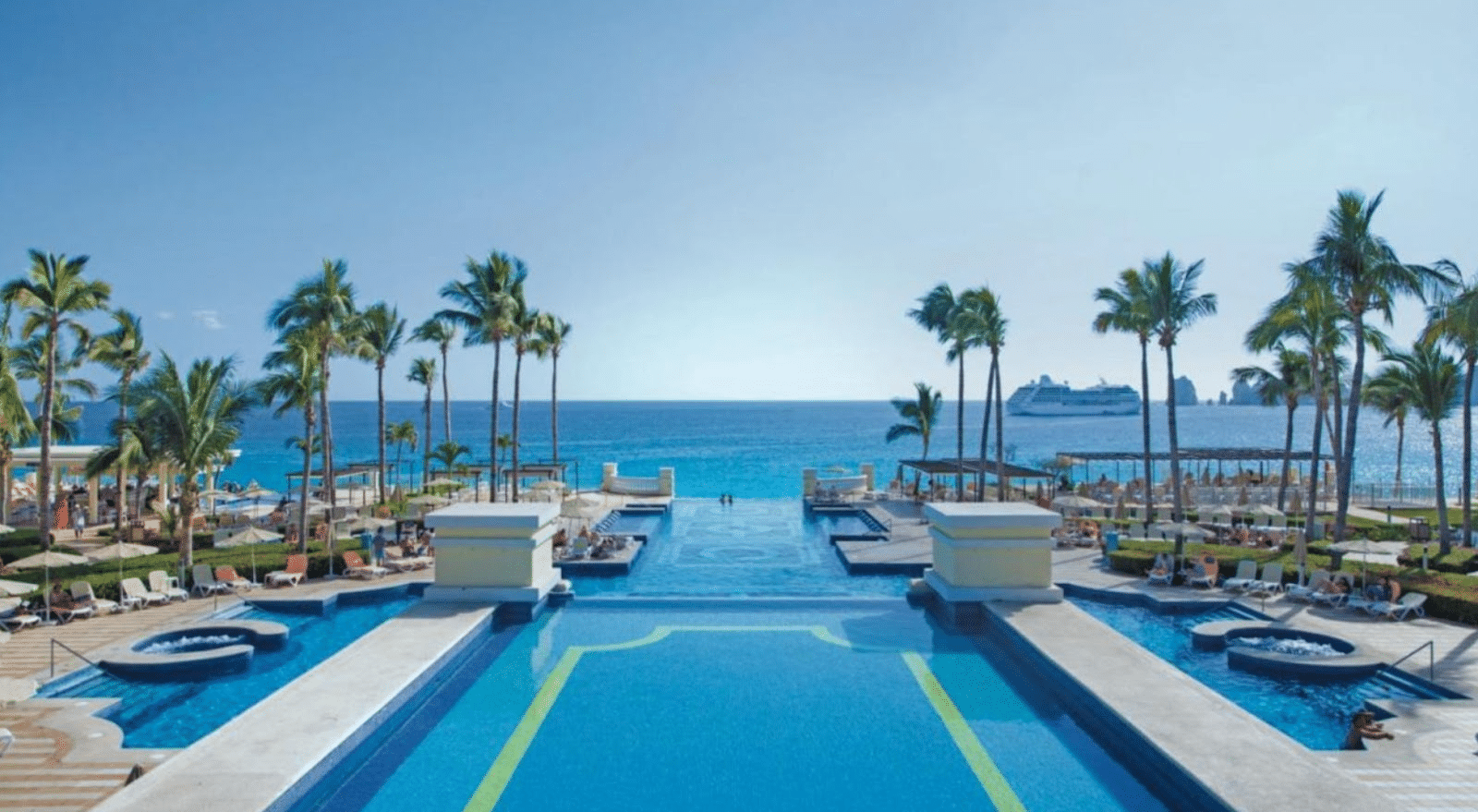 Pairing a modern design with classic all-inclusive luxury, Hotel Riu invites guests to stay and never leave. And it may be harder than you think. The stunning views of Cabo San Lucas and the hotel's position along Medano's gorgeous white sand are only the start of this swimmable beach resort's many swoon-worthy qualities. Large swimming pools equipped with swim-up bars cater to adults looking to kick it poolside, while children can have fun splashing around in their own designated swimming pool. Separated for relaxation and fun activities, guests can choose their spot based on their mood for the perfect pool day. Between the six restaurants on-site, the Hotel Riu RiuFit program, and the rejuvenating Renova Spa, Hotel Riu puts the inclusive in all-inclusive resort.
But, while it does cater to every imaginable whim within its sprawling grounds, adventurous souls won't have to settle for staying on the premises. Guests can head out on thrilling excursions, from horseback riding and sailing to snorkeling and shark diving. After a day of adventure, the spoils of Hotel Riu's vast amenities will be waiting to pamper and treat you upon return.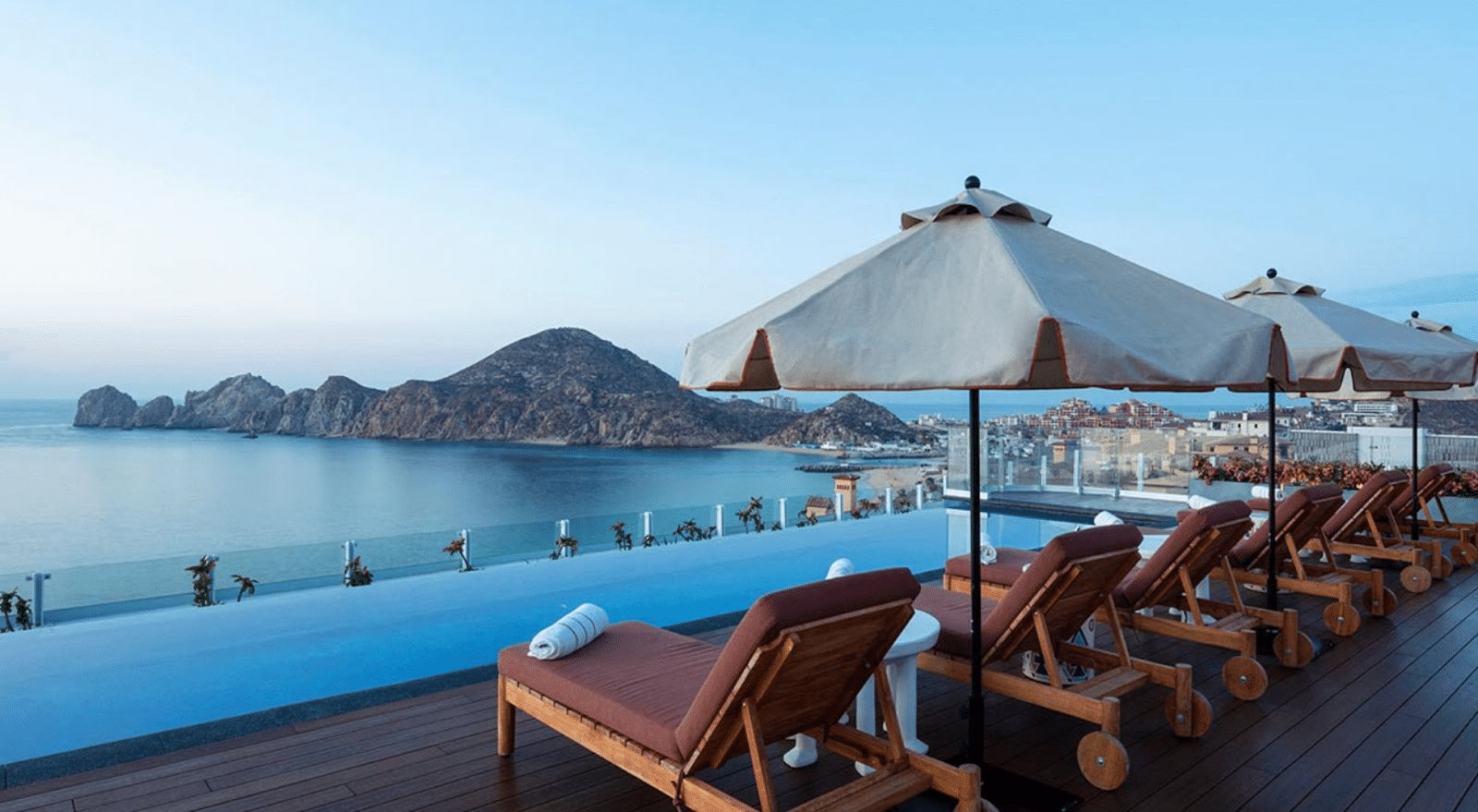 Cabo San Lucas is one of the most popular vacation destinations worldwide. And at its beating heart lies Corazón Cabo Resort & Spa. With the highest rooftop bar in Cabo, we're not exaggerating when we say this swimmable beach resort takes guests to new heights. And that's not the resort's only standout feature. Between the largest beach club on Medano Beach, Cabo's only micro-brewery on-site, a world-class luxury beachside spa, and more, guests can indulge all five senses in the enchantment of Corazón Cabo.
With over 300 decked-out suites, four swimming pools, and multiple on-site restaurants, Corazón Cabo makes guests feel like they're staying at an all-inclusive resort. From private beachside cabanas to all-night DJs spinning records and keeping the vibes upbeat, Corázon Cabo feels like a one-stop shop. But for everything else, there's downtown. A short, eight-minute walk takes guests from the beach to the streets where local restaurants and shopping centers await. Stroll along the marina, ice cream cone in hand, as you take in the wonderful sea views or stay out late to experience how the city comes alive when darkness falls.
Whether looking for a fun or relaxing vacation, or a bit of both, Corazón Cabo Resort & Spa is sure to delight!
Let Next Vacay Find You the Cheapest Flight to Your Cabo Beach Getaway
Dreams and reality collide on the sunny shores of Los Cabos. Travelers can soak in endless sunshine from the best swimmable beach resorts in Cabo. But, before you can lay out on miles of gorgeous white sand, you'll need to fly a few thousand miles. And for that, Next Vacay can help.
Sign up, enter your airport, and kick back like you're already poolside. Next Vacay will do all the searching and deal finding for you to deliver the best flights directly to your email inbox. No fuss, no worry, and best of all, no middleman. When we find a great deal, you book directly with the airline, so you can set your preferences, use your points, and save big. Your dream beach getaway should be easy-breezy before you even step foot on Baja California Sur's warm sands. With Next Vacay, the good life awaits.
Related Posts