Hawaii's beaches have everything, from warm sun to fun surf and gorgeous sand. But one needs only to look at the views to determine what sets Hawaii apart. The majestic mountain peaks rising in the distance create Hawaii's most magical sceneries at any time of day, whether backlit by sunrise or shrouded in misty afternoon clouds. For those that drag themselves away from the island's alluring coasts, a whole new world awaits among Hawaii's beautiful mountains, a world of towering peaks, jagged cliffs, and verdant slopes.
Table of Contents
9 of the Most Breathtaking Hawaiian Mountains
Sandy beaches all have their day in the sun, but Hawaii's majestic summits ascend above the clouds. From the tallest mountain peaks unfold the most stunning views and landscapes. You won't want to miss these nine incredible mountains on your next visit to Hawaii.
1. Haleakala, Maui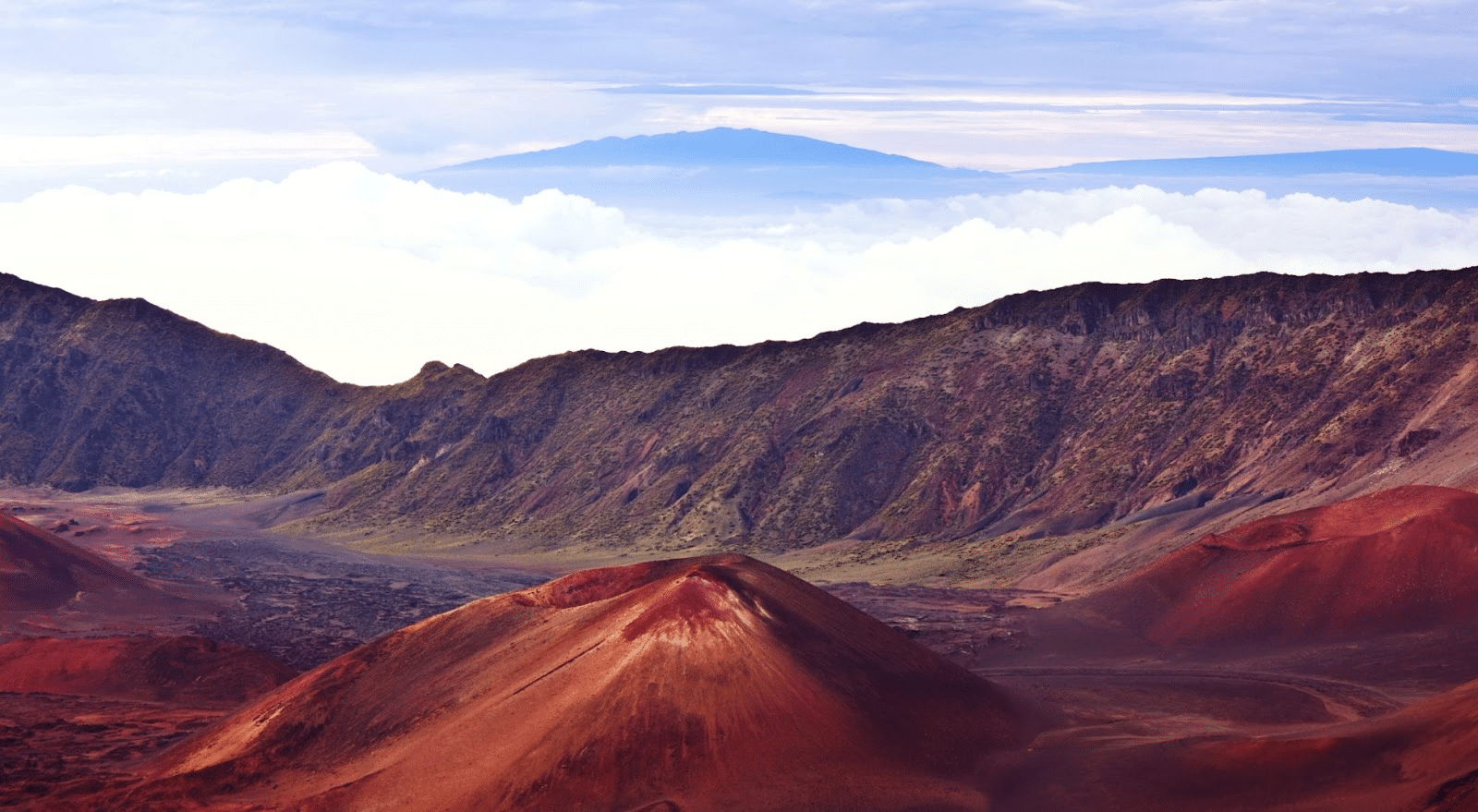 Breathtaking doesn't even begin to cover this peak synonymous with Hawaii sunrises. It does translate to "house of the sun," after all. Standing at 10,023 feet above sea level, Puu Ulaula, Haleakala's summit, is the highest peak on the whole island of Maui. The mountaintop offers unparalleled 360-degree views from above the clouds.
Legends have long proclaimed the summit as the place where the demigod Maui lassoed the sun for mortals. However, it's far from the only mythical or awe-inspiring spot on this massive shield volcano.
The sprawling mountain makes up more than seventy-five percent of the island of Maui, revealing a diverse and exciting tapestry of landscapes that must be seen to be believed. Hiking the crater trail reveals a volcanic desert landscape of colored cones and shifting red sands, while delving into the Pīpīwai Trail uncovers a singing bamboo forest and cascading falls.
Native flora and fauna, which are extinct in other parts of the world, call Haleakala home, from the striking red ʻiʻwi to the ethereal ahinahina. It's undeniable to all who see it; Haleakala is one of Hawaii's most beautiful mountains, from its peaks to its coast.
​​2. Mauna Kea, Big Island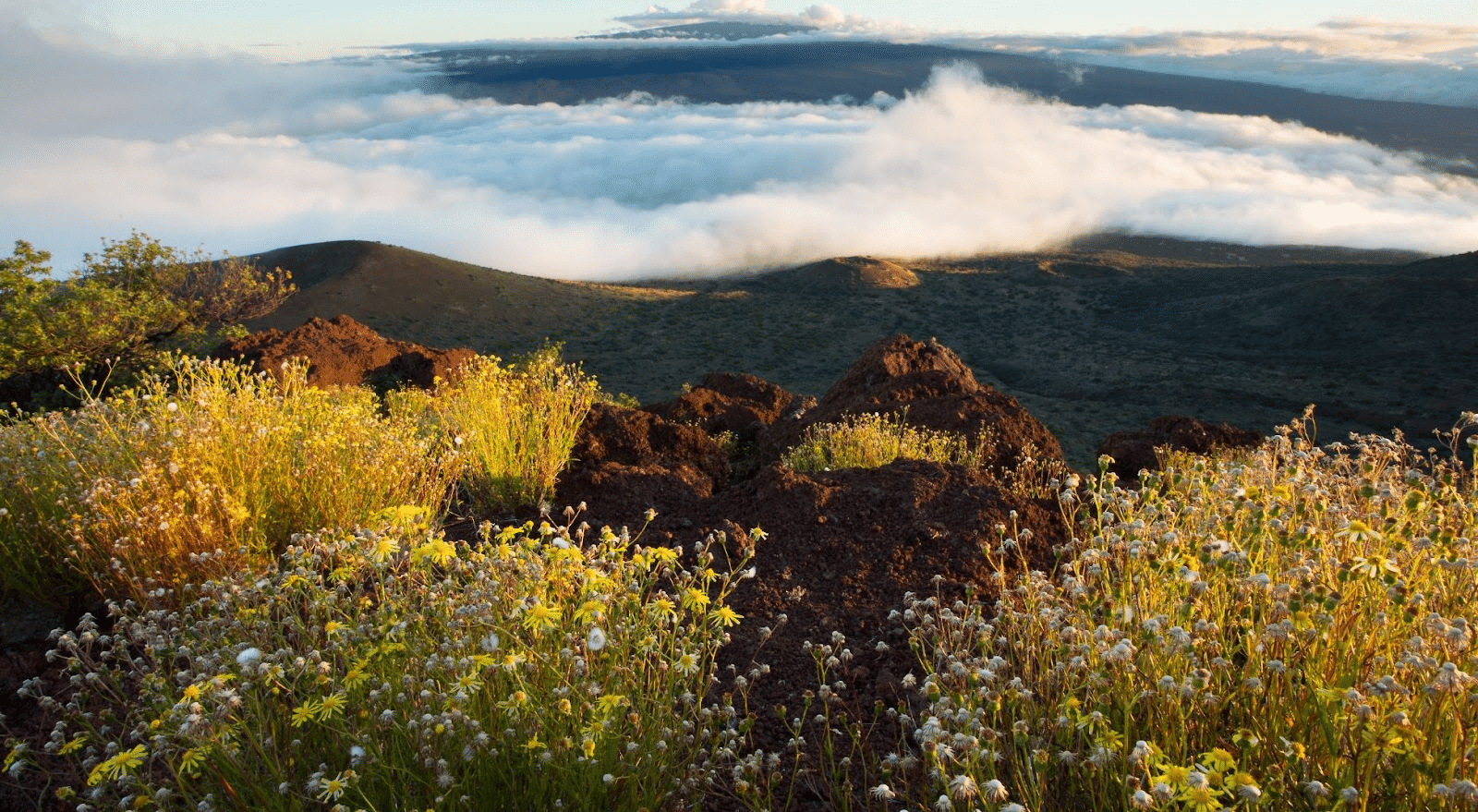 Soaring into the sky, Mauna Kea's peak stretches almost 14,000 feet above the land of the Big Island. At that height, having your head in the clouds isn't just an expression; it's the reality!
Very few places allow you to travel from sand to snow in just a few hours, but that's just one of the many enchanting things to love about Mauna Kea. Anything becomes possible on white-capped slopes in the middle of a tropical paradise.
Perhaps Mauna Kea's greatest beauty comes out at night when a clear sky unveils a galaxy of stars right over the mountain. Mauna Kea isn't just the land where the earth meets the sky; here, modern science meets ancient traditions atop one of the most sacred spots in Hawaii.
Visitors will find both observatories and altars dotting the moon-like landscape, observing the stars and paying homage to the gods and goddesses of Hawaii in turn.
3. Mt. Waialeale, Kauai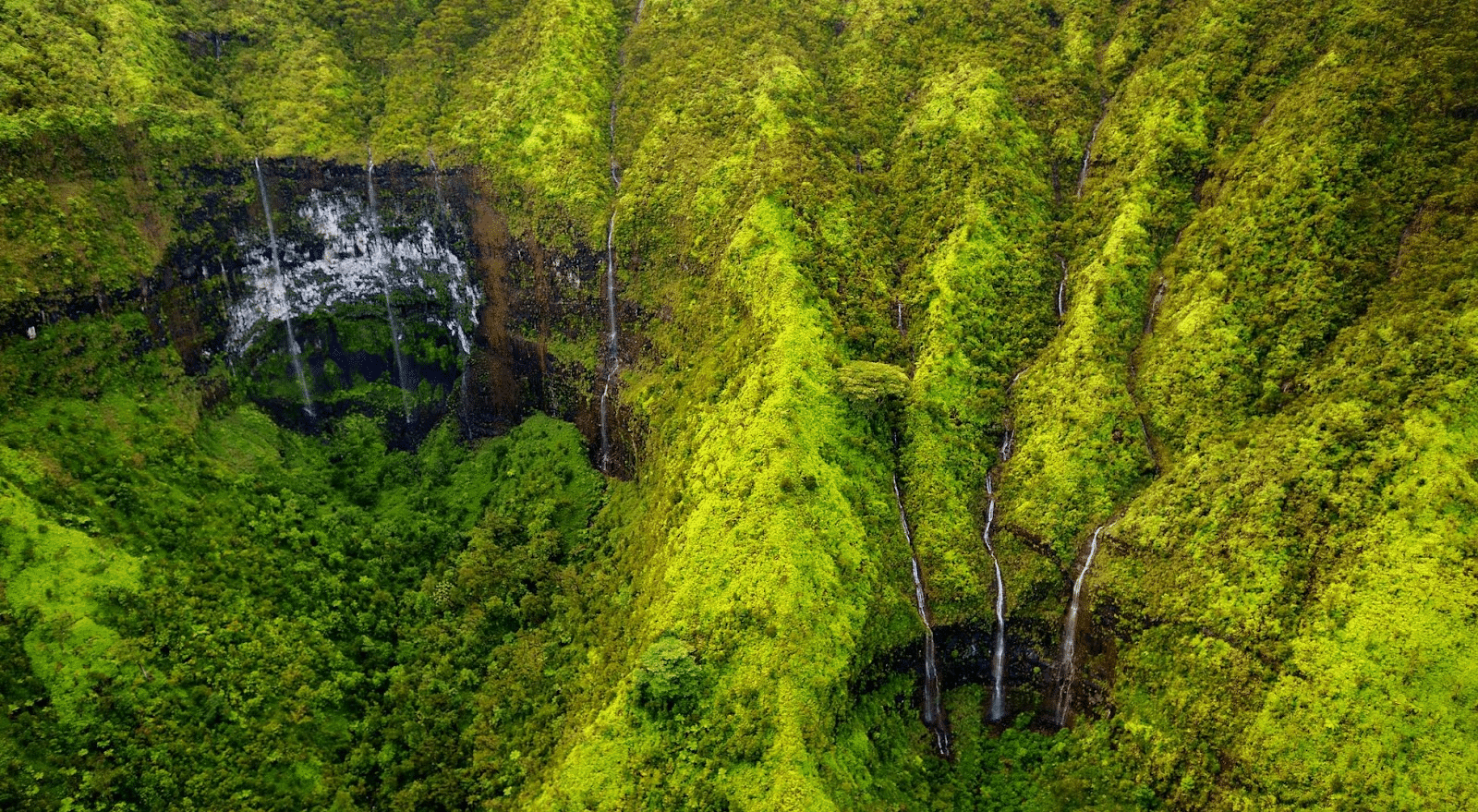 This beautiful shield volcano is called "overflowing water" in Hawaiian, and with 450 inches of rain a year, it's no wonder why. It's often touted as the "wettest place on earth."
Mt. Waialeale's highest summit is Kawaikini, measuring over 5,200 feet above sea level. Hiking to the top will award you with beautiful views, but first, you'll have to trek through Alakai Swamp.
However, out of all the hiking trails one can take on Mt. Waialeale, the most breathtaking might be the rough and arduous Blue Hole Trail that traverses dense jungle. This trail leads to the base of the mountain, and there, some say, magic abounds.
Visitors are greeted by a mystic wall of lush foliage broken only by the weeping waterfalls that give the Weeping Wall its name. Whether or not you shed your own tears, you'll doubtlessly be captivated by arguably one of the most beautiful spots in Hawaii.
4. West Maui Mountains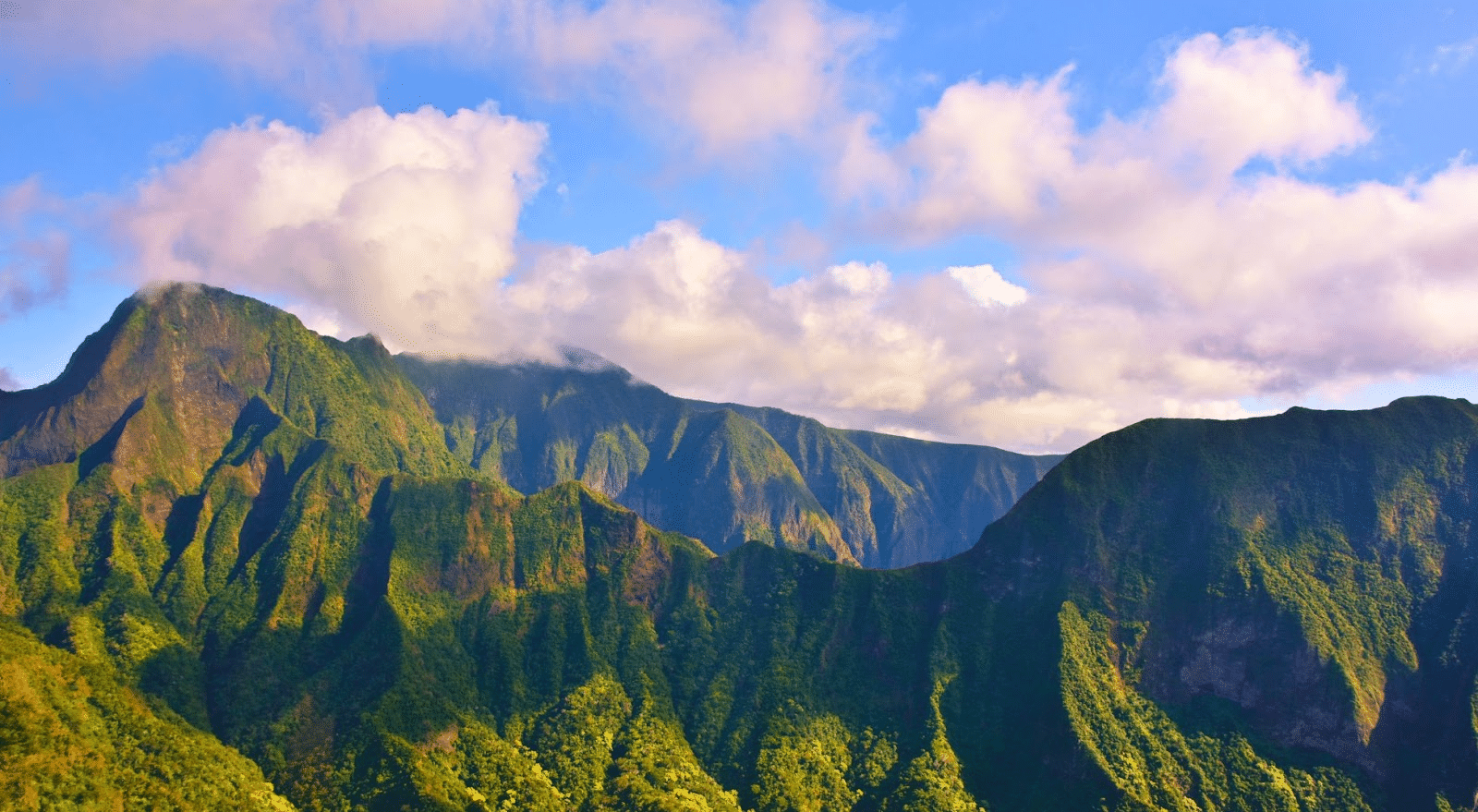 Like a fine wine, the mountains of Hawaii only get better with a few more millennia under their belt. That's precisely true for the West Maui Mountains.
Though its Hawaiian name of Kahalawai is relatively new, the West Maui Mountains have been around for over a million years, allowing it to flourish into bold cliffs, profound valleys, and knifelike ridges.
Verdant forests, flowing waterfalls, and pristine coasts now characterize Kahalawai. Though the Iao Valley holds its signature hike, the West Maui Mountains house stunning trails that showcase jaw-dropping vistas and the true splendor of Maui's mountainous landscape.
Far from the effortless beauty of east Maui, Kahalawai is where the other half lives, the rugged, wild heart of the Valley Isle.
5. Koʻolau Mountain Range, Oahu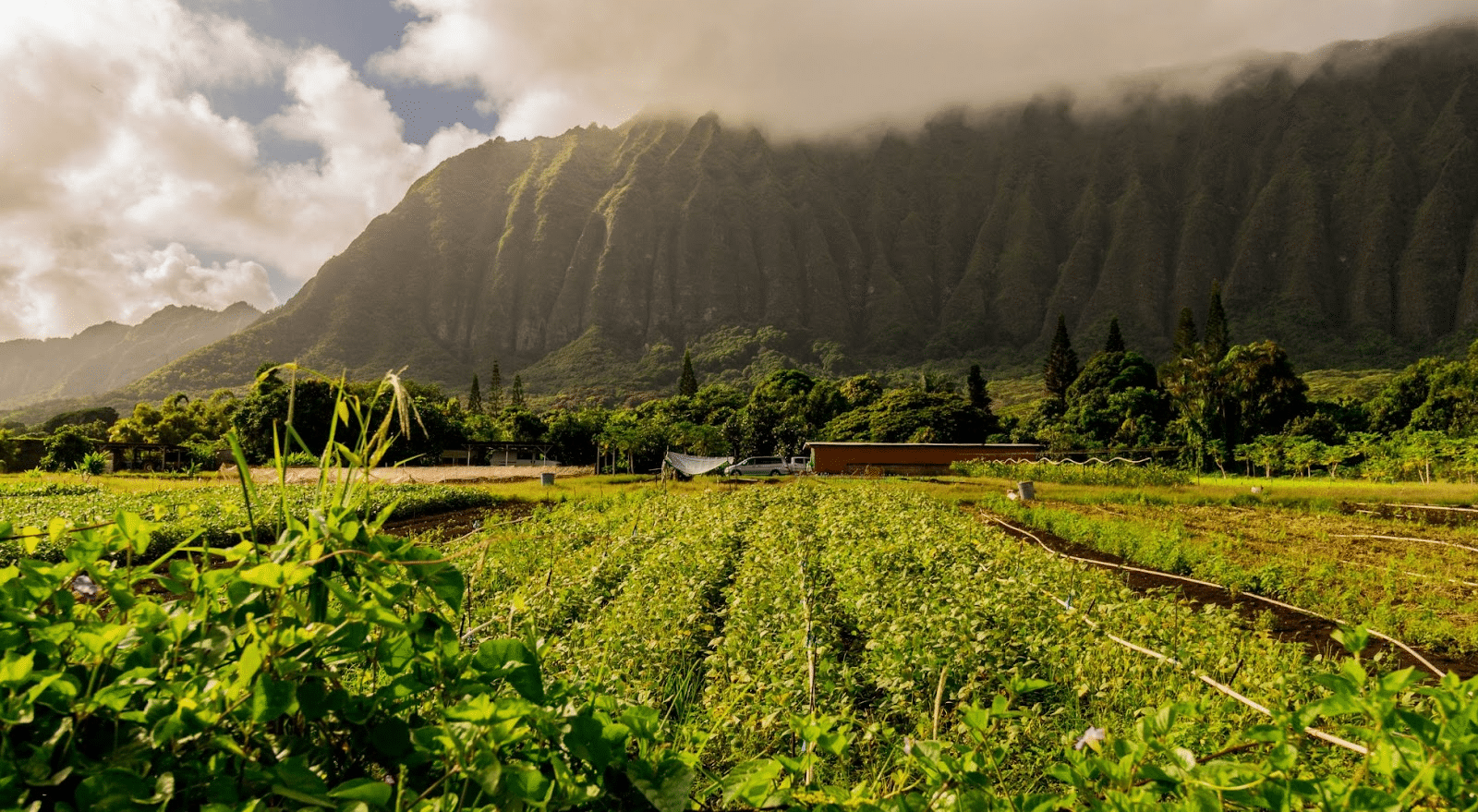 One of two mountain ranges making up the island of Oahu, the Koʻolau Mountains have an explosive history—literally. Over a million years ago, Koʻolau Volcano erupted, setting off a landslide that sent the entire eastern half of the mountain into the Pacific Ocean. What remains today of that shield volcano is the Koʻolau Mountain range.
While smaller than their western counterpart, these mountains in east Oahu are no less impressive. Koʻolau stretches 34 miles long and stands at an average 2,000 feet elevation. Subsequent eruptions and erosion have formed some of Koʻolau's most recognizable features, like Diamond Head and the distinctive grooves that make Koʻolau almost immediately identifiable.
Hikers can take to the rugged pali (cliffs) for a close-up look. The toughest hike the Gathering Place offers can be found traversing the Koʻolau Summit Trail. Only five people have completed the entire route in modern times! Thankfully, with several different sections of hiking trails available, you don't have to go big or go home with this one.
Spots like the Nuʻuanu Pali Lookout offer panoramic vistas, and visitors to Oahu mix breathtaking mountain views with Jurassic fun at the Kualoa Ranch. Koʻolau always stands sentinel, making for some pretty epic photos and some thrilling valley excursions.
6. Mauna Loa, Big Island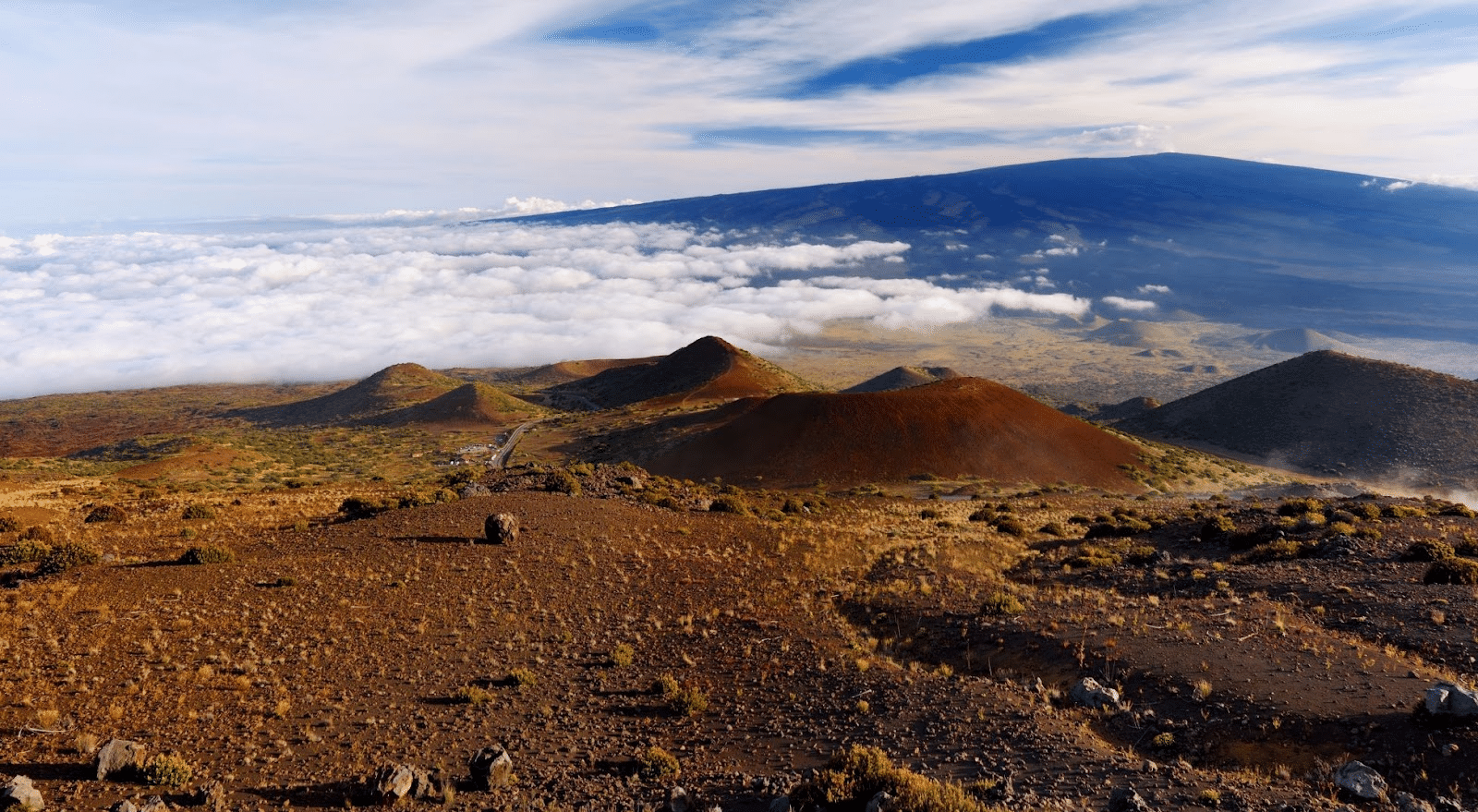 Mauna Loa may not be the oldest or tallest volcano on the Big Island, but it is the biggest. And while Kilaeau has it beat in terms of activity, Mauna Loa does hold the distinction of being the largest active volcano on the planet.
The name Mauna Loa means "long mountain," which is fitting considering this mountain composes over fifty percent of Hawaii's largest island. It's so big that the ocean floor beneath the mountain has actually sunk under this sprawling behemoth.
Despite the wind-swept summit and desolate shores of lava rock, Mauna Loa is a landscape of immense beauty. Home to part of Kona's Coffee Belt, Mauna Loa's inhospitable seeming environment gives way to spectacular life, from lush vegetation to abundant wildlife. Gentle slopes invite hikers to experience the wonders of Mauna Loa firsthand, but the Mauna Loa Scenic Drive promises stunning snapshots of this unique mountain's beauty.
7. Kohala, Big Island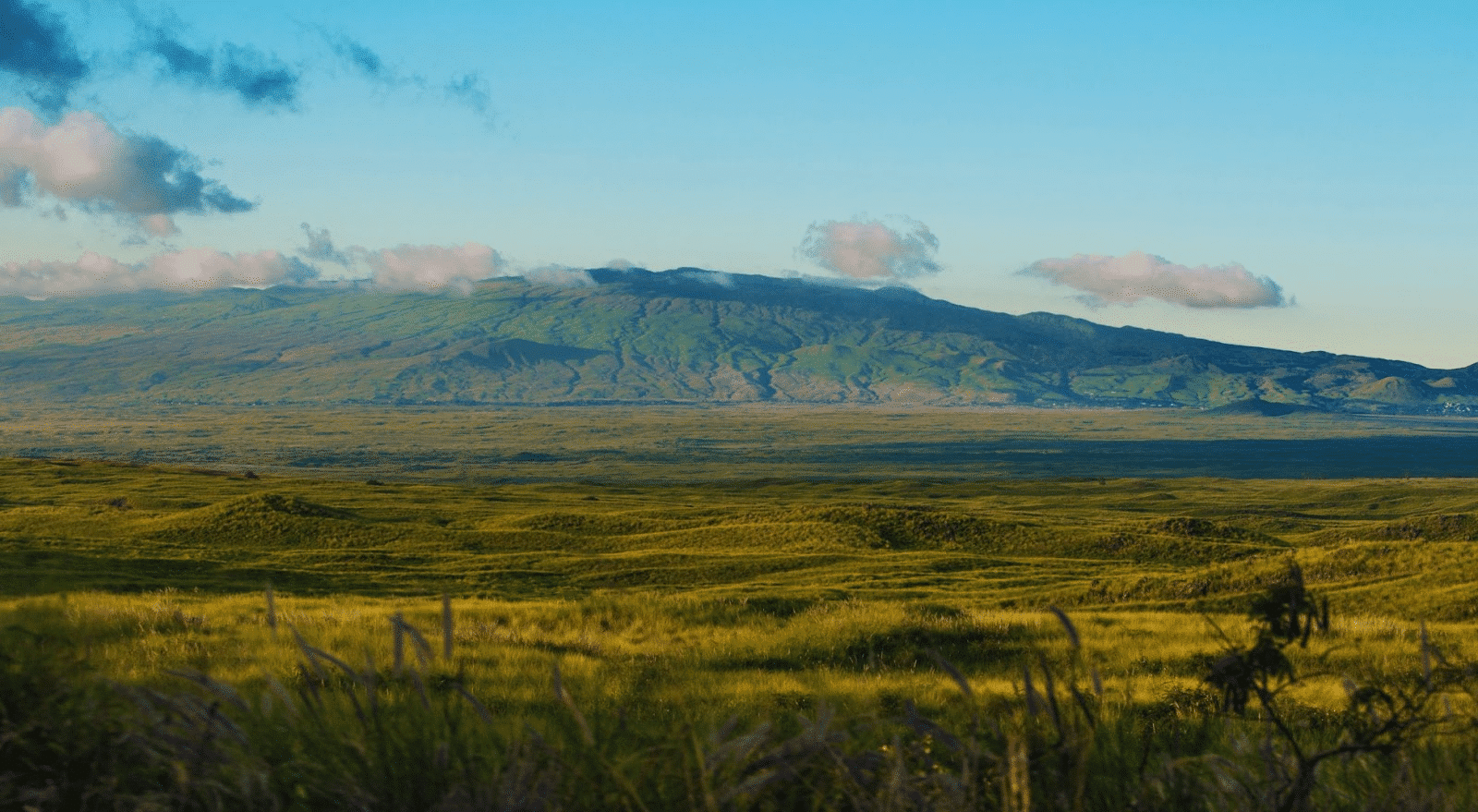 This misty mountain perched on the Big Island's north shore is the remnants of the oldest volcano on the island. And while Kohala is many things, in a word, it is simply enchanting.
Its summits sit nestled in a dense cloud forest that teems with life, from magical-looking fungi to vibrantly colored blooms and towering trees. Also hidden among the dense foliage are majestic waterfalls and stunning canyons that draw hikers from far and wide.
However, hiking in the dense cover of clouds and forest isn't the only breathtaking view on offer. The Kohala Mountain Road, or High Road, as the locals call it, traverses Kohala from Waimea to Hawi and encompasses spectacular vistas of rolling hills, green pastures, and, of course, towering mountains.
By road or foot, Kohala Mountain is old Hawaii at its most pristine and most beautiful.
8. Waiʻanae Mountain Range, Oahu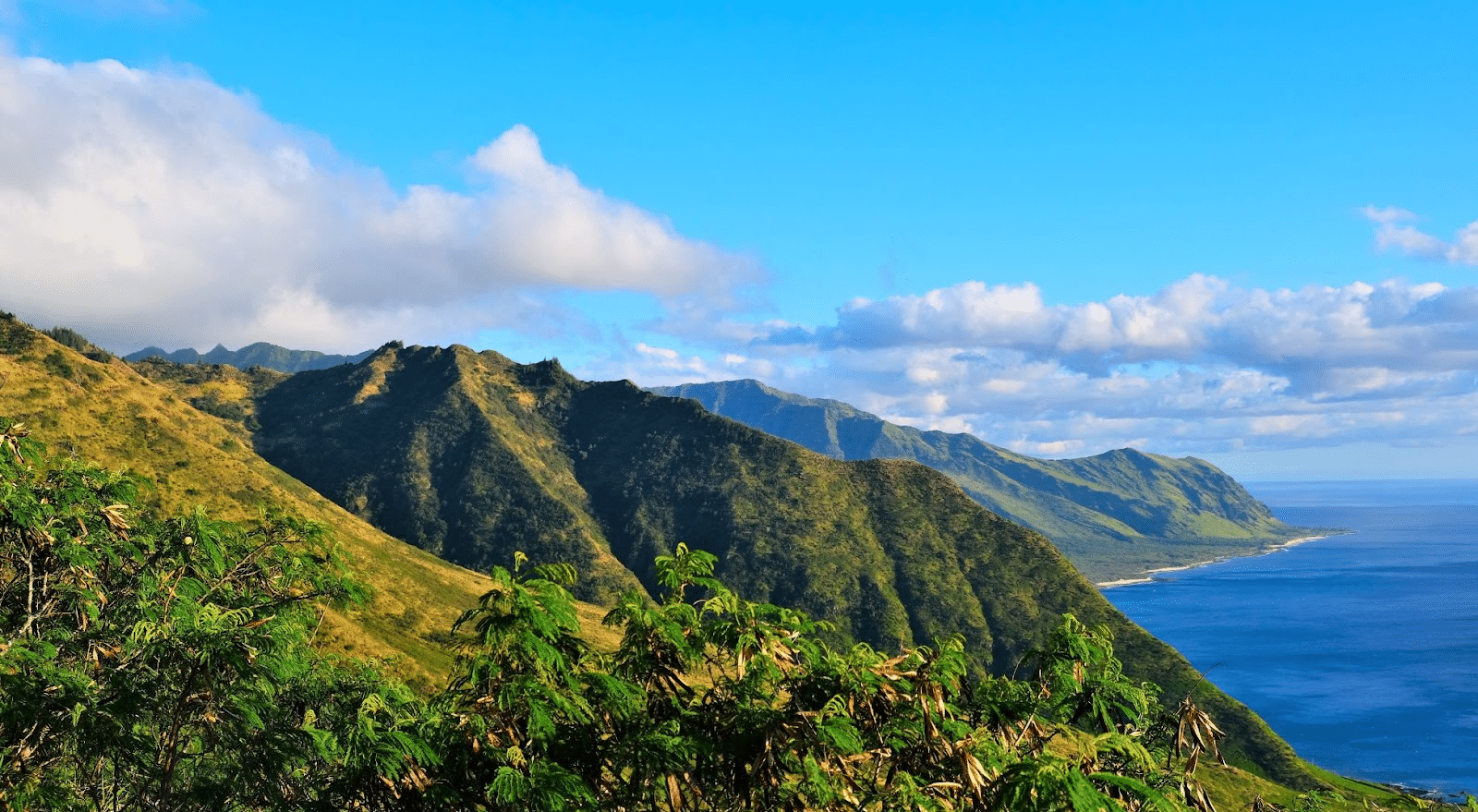 The towering Waiʻanae Mountains compose the western half of Oahu and represent the counterpart to the Koʻolau range. Volcanic activity formed both mountain ridges, but the differences are easy to see.
Running almost parallel to the Koʻolau mountains, the Waiʻanae Range is older and drier, thanks to its younger neighbor blocking most of the rain. But Waiʻanae is far from a desolate desert landscape that sees no rain. Instead, cavernous valleys and thick forests dot the mountain range, creating stunning landscapes and richly vibrant vistas.
Above it all soars Oahu's tallest peak, Mount Kaʻala, at more than 4,000 feet above sea level. Scaling its summit, the views over the valleys make it clear how Waiʻanae and Koʻolau are majestic mountain ranges cut from the same cloth.
9. East Molokai Mountains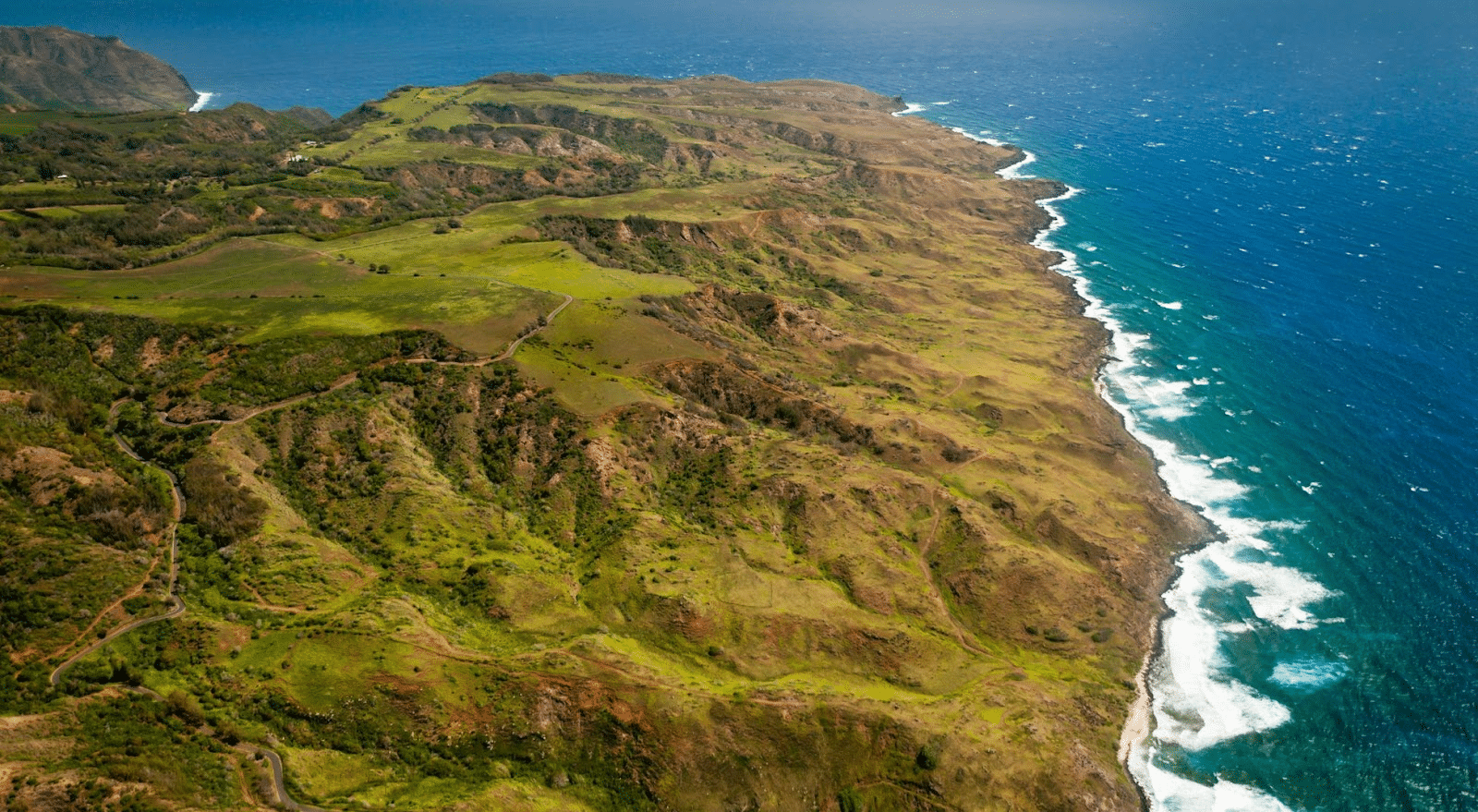 Among the Hawaiian Islands, Molokai is known for its rugged landscapes and wild terrain, where the spirit of Hawaii has been left to grow free. So, it stands to reason it's also where you'd find one of Hawaii's roughest, most untamed landscapes, the East Molokai Mountains. An extinct shield volcano forming over two-thirds of Molokai's landmass, the East Molokai Mountains are a force of nature.
Like Hawaii's other shield volcanoes, it was formed from eruptions millions of years ago. Its most stunning features are the towering sea cliffs rising from the sea on the island's northern flank. Molokai's sea cliffs are the tallest in the world, reaching heights of 3,000 feet. Meanwhile, its tallest peak, Kamakou, is the site of a forest preserve unlike any other, filled with moss-covered trees and hiding over 200 species of flora and fauna found nowhere else in the world.
Guided hikes held a few times a year are one of the only safe ways to trek Kamakou Preserve. Unfortunately, while brave souls might consider themselves up to the challenge, even the Conservancy's director wouldn't advise it.
Is Diamond Head One of the Mountains in Hawaii?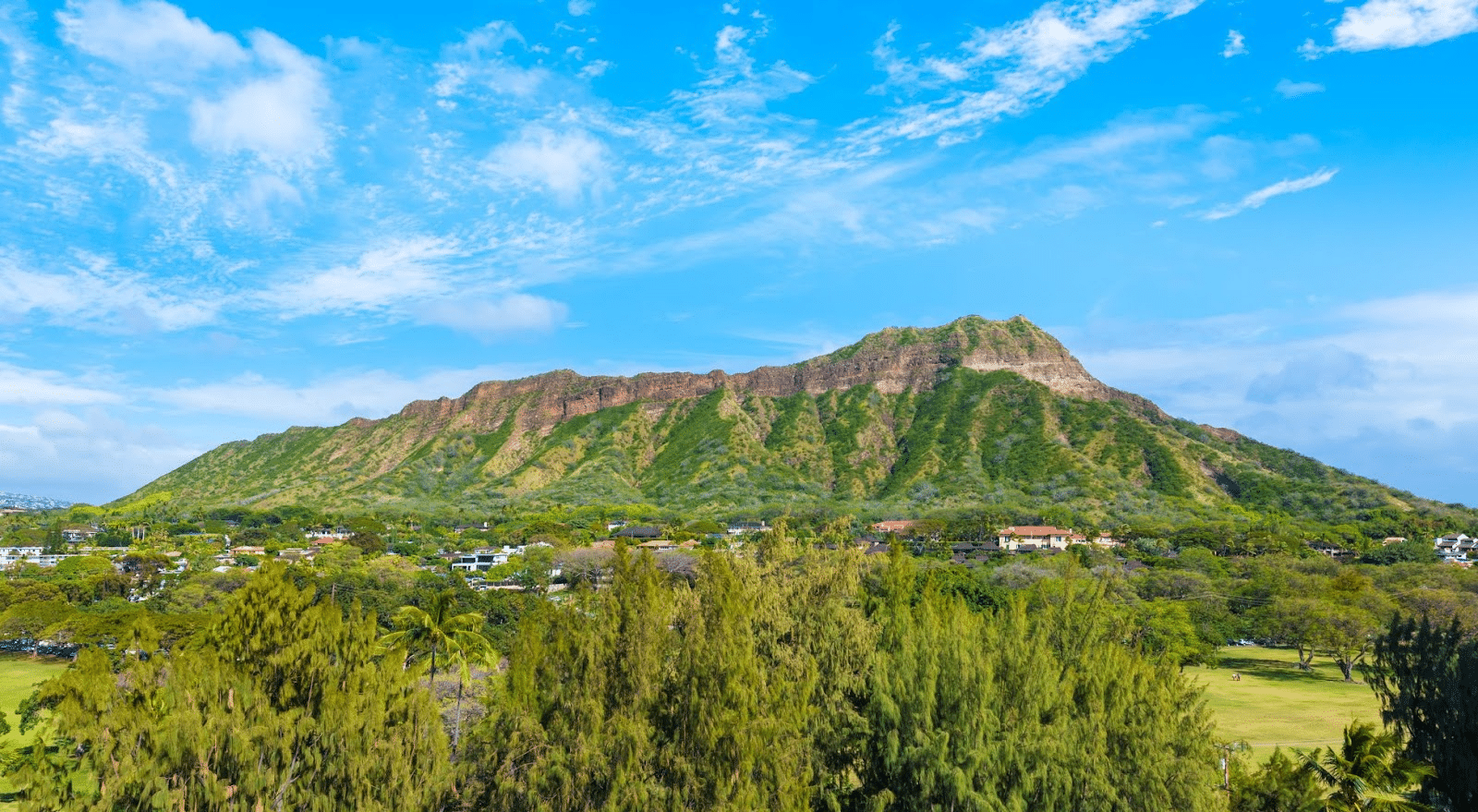 Though one of the most iconic landmarks on Oahu's shores and one of the most famous summits to climb, Diamond Head is not a Hawaii mountain. Instead, it's a volcanic crater forming just a small part of the larger Koʻolau Volcano.
However, if you're raring to climb Hawaii's most impressive slopes, Diamond Head's status, or lack thereof, as a mountain shouldn't deter you from conquering this scenic climb. The 360-degree views of the city and monument alone will be well worth the effort. And if hiking isn't your forte, but you still want your Everest-like moment, then this partially paved, short hike up will make it all the easier.
What Type of Mountains Make Up the Hawaiian Islands?
The Hawaiian Islands are made up of volcanic mountains that formed over the course of millions of years. These volcanic mountains started at depths over 19,000 feet below sea level to soar almost 14,000 feet above. Measuring up to 33,000 feet from base to summit, the shield volcanoes forming Hawaii's islands are some of Earth's largest mountains.
What Island in Hawaii Has the Best Mountains?
The Big Island truly lives up to its name thanks to the five massive volcanic mountains that formed it: Kohala, Mauna Kea, Hualalai, Mauna Loa, and Kilauea. With their diverse landscapes, from the tallest peaks in Hawaii to bubbling lava craters and the dramatic cliffs of the Kohala shoreline, you can't miss the Big Island's mountains.
What Is the Tallest Mountain in Hawaii?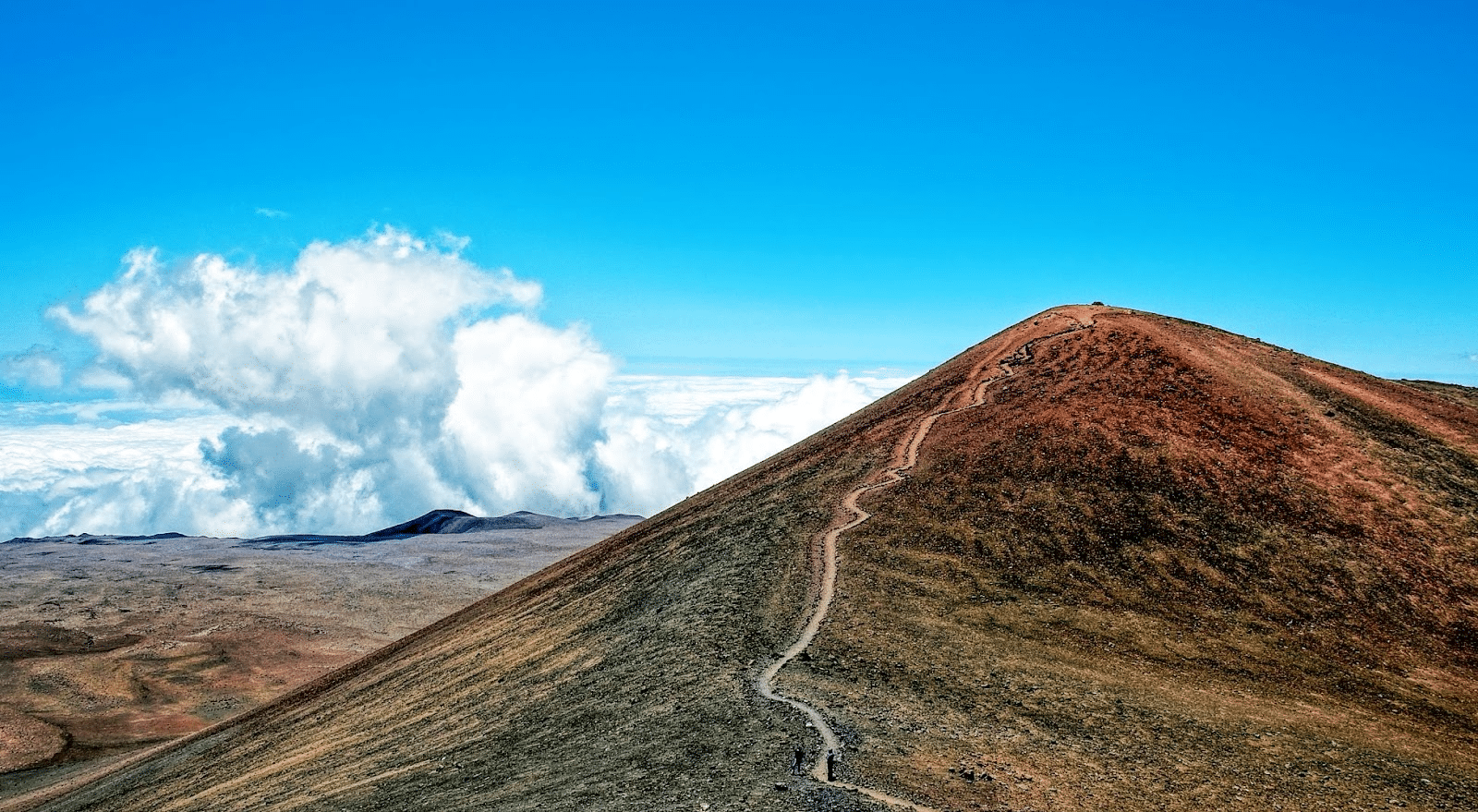 The tallest peak in Hawaii can be found where else but on the Big Island. Extending 19,700 feet below sea level to embrace the ocean floor and rising 13,796 feet above sea level to kiss the sky, Mauna Kea stands at a staggering 33,500 feet. If that sounds high, you bet it is. Over 33,000 feet gives Mauna Kea a leg up over the competition and almost an entire mile over the next closest contender, the great Mount Everest. And while scaling Mauna Kea is much easier, reaching the top is no less epic.
From the Tallest Peaks to the Wettest, Explore Every Inch of Hawaii with Next Vacay
Hawaii's mountains soar above the clouds. Peaks sit shrouded in mist, verdant jungles hang from slippery slopes, and imposing sea cliffs stand at attention above the Pacific Ocean. It's a myriad of magical elements one must see to believe, and if you want to do it while saving time and money, Next Vacay can help.
Next Vacay takes the hassle out of your flight search by doing it all for you. You enter your airport; we take care of the search. Scanning thousands of deals every week, Next Vacay delivers the best savings to your inbox. Don't just dream about Hawaii's mountain peaks; see them all with Next Vacay.
Related Posts