As much fun as it is to travel—flying through the skies, going on wild adventures, and seeing incredible sights—some things can prove to be an absolute headache. From planning your trip to navigating your destination, much more is involved than you want to think about. So, don't. The power of stress-free travel sits right in the palm of your hand with some of the best travel apps for organizing your itinerary, packing your bags, getting through security, and so much more. If you're ready for the stress-free adventure of a lifetime, then get ready to download your new favorite travel companions.
Table of Contents
The Best Travel Apps for Planning and Organizing
Find the perfect flight, plan the perfect route, and pack the perfect bag. Here are the best travel apps to add to your trip planning and organizing for a stress-free travel experience.
Google Travel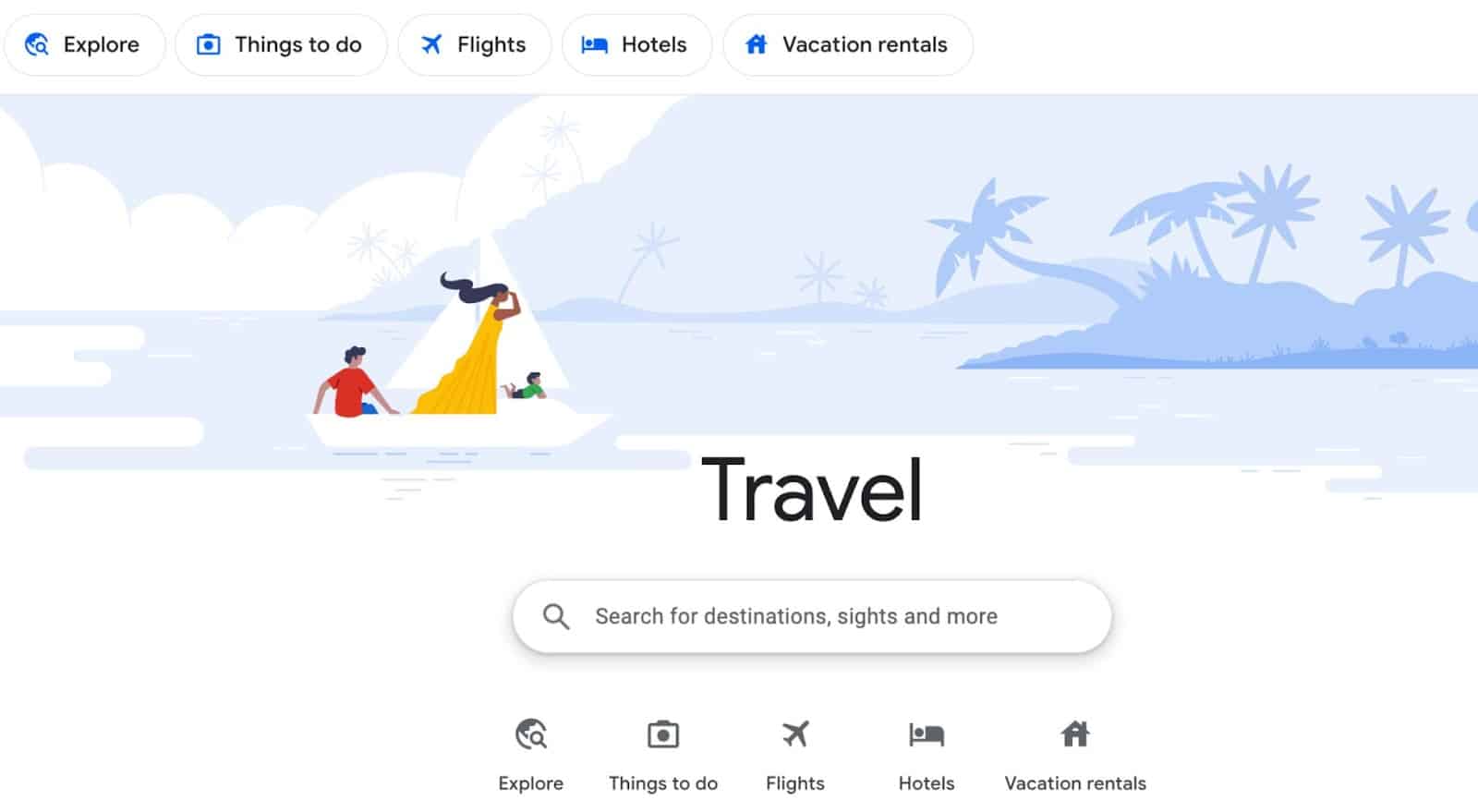 Google is a one-stop shop for all your search needs, and that extends to travel, too. You can explore flight prices, compare hotel rates, and even check out exciting sights and excursions at your destination.
If you get app fatigue easily, Google Travel keeps things simple by keeping all your travel needs in one convenient location. Toggle between the different pages with ease and track hotel and flight price changes with their tracking features. For those just dipping their toes into the world of travel, Google Travel puts the world within reach. Even better, because it's not technically an app, you don't have to worry about downloading it to use. Just type in Google Travel in the search and get right to work.
TripIt
If you're the disorganized type of traveler, or even better, if you love staying organized, say hello to your new best friend. TripIt was designed for the organized and unorganized traveler, helping to build comprehensive itineraries out of all your messy bookings.
For those who hate doing anything beyond clicking "Book Now," TripIt makes organization easy by allowing you to forward all your booking confirmations to the app. Or, if you're particularly fussy about every little detail, you can manually enter them yourself. The result is the same. A handy-dandy itinerary that lets you know where you need to be and when you need to be there for the most relaxed trip of your life every time.
Roadtrippers
While Roadtrippers is specific to road travel, we couldn't leave it off the list of best travel apps simply because of how stellar it is at what it does. With stops available in the US, Canada, New Zealand, and Australia, plotting out your autoroutes has never been easier.
The map lets you explore everything from national parks to hidden gems and plan everything from what to eat to where to stop for fuel and even rest your head at night, all along your route. When you add a site, Roadtrippers automatically adjusts your itinerary, or you can choose to plot your course from one of the pre-made trip guides.
The free version allows you to plan short trips of three stops or less, while the paid version costs $35.99/year and allows you to add up to 150 stops.
PackPoint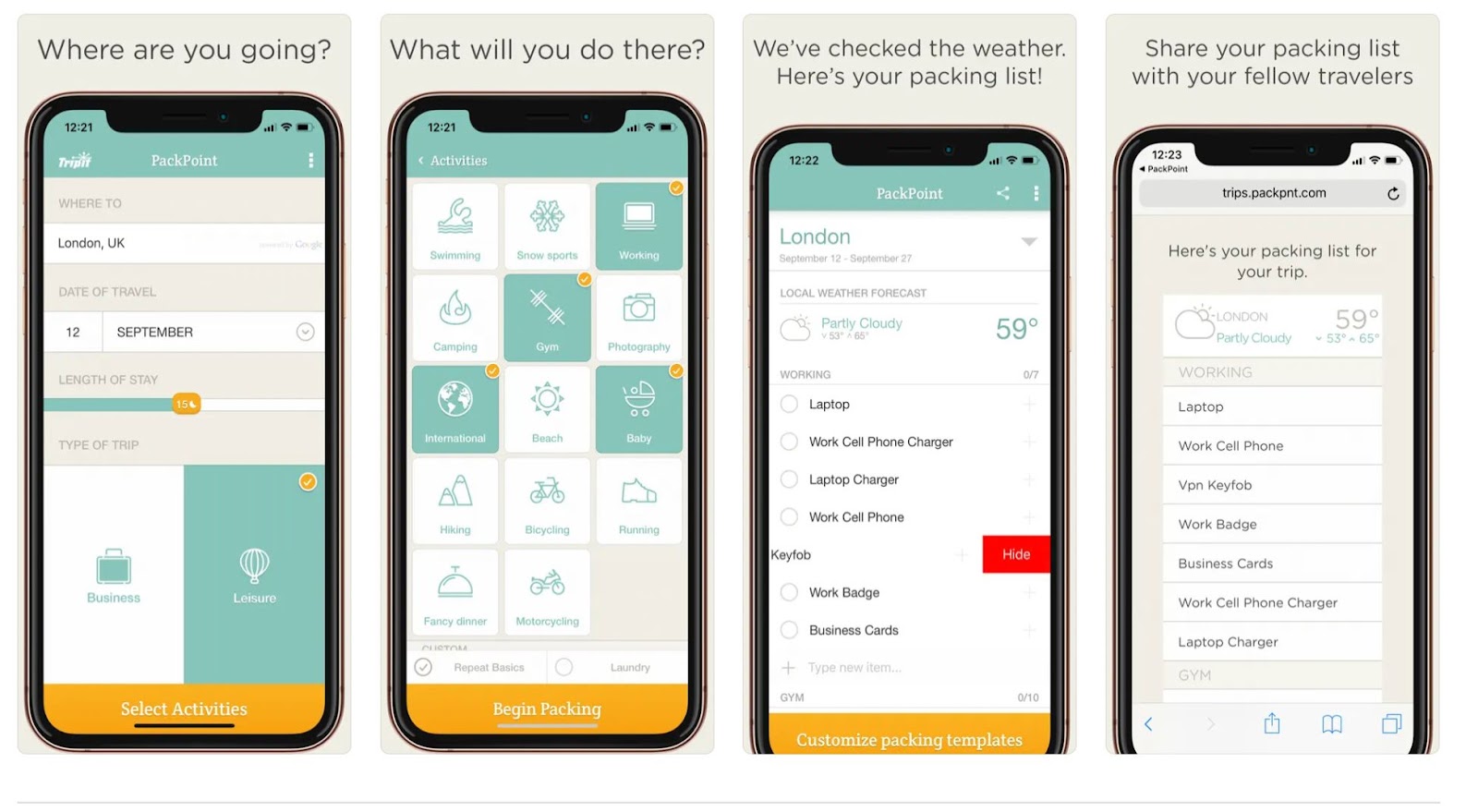 Packing often isn't the worst part about your travel—it's making packing lists. So, skip it.
Instead of stressing over what to pack for a beach vacation or a winter getaway, you can let PackPoint do it for you. The app works by creating custom packing lists for your trip. All you have to do is fill out the important bits: where you're going, when you're going, how long you'll be gone, and any special activities you have planned. From there, PackPoint goes to work to create a custom-fitted packing list for your travels.
All that's left for you to do is pack—and maybe share with a friend, so they don't have to suffer the joyless task of creating their own packing list.
The Best Travel Apps for Navigating the Airport
Airport stress stressing you out? You don't have to dread the airport. Become a pro at getting through security, whether you're leaving from or returning to the US and find out how to make your time at the airport your favorite part of travel—or at least, your most relaxed.
MyTSA App
Ever had a last-minute question about what you can bring in your carry-on? Ever argued with your travel buddies about how early is too early to get to the airport? For the answers to your burning questions, there's MyTSA App. Before even stepping foot in the building, you can check out how busy the airport typically is and the projected wait times for TSA checkpoints. Consult the app for delays and double-check how to properly store your food and liquid items so you can all but breeze through security. Next to TSA PreCheck, the MyTSA App is your ticket to an easy and stress-free security check.
LoungebBuddy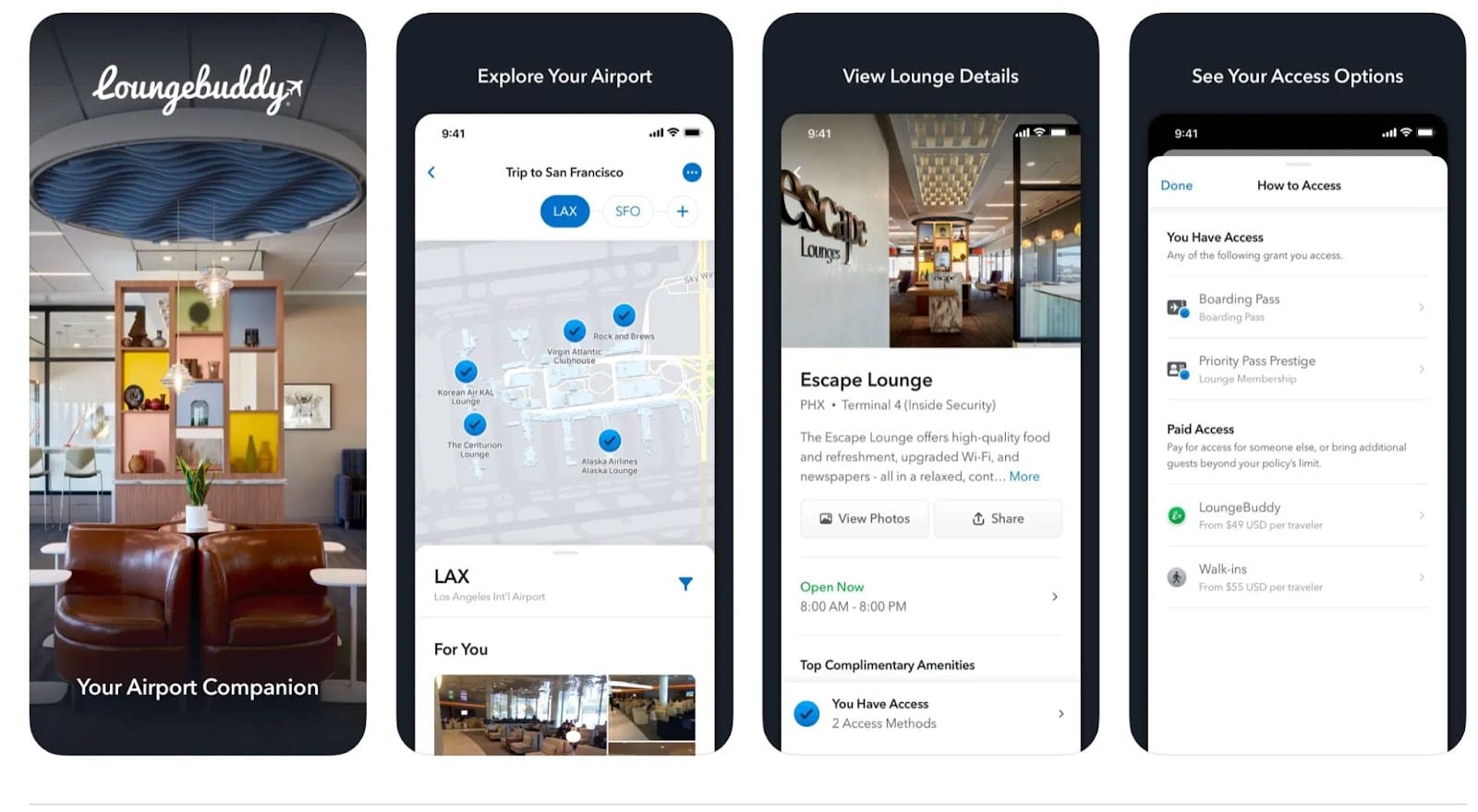 Long layovers, hard steel chairs, outlets that don't work—there's a lot to dread about your airport experience. So skip the endless hours in uncomfortable seats and make the most of your time on the ground with LoungeBuddy.
LoungeBuddy is the perfect companion for frequent flyers who spend a fair share of their time waiting for their next flight. With the app, travelers can access over 2,000 airport lounges worldwide, allowing them to see which lounges are available at their airports and what amenities they offer. Don't already have access through your travel credit card, lounge memberships, or booked ticket? Fear not; LoungeBuddy lets users book access directly through the app. So, no matter where you go, if you're flying first class or economy, you can always look forward to a premium airport experience every time.
Airline App
When navigating the airport, from tracking your flight to locating your gate to hunting down your luggage, there's no better app to have than your airline's mobile app. While you may not necessarily want to download the app for every airline you use, if you're a frequent flyer with one airline or flying with a new airline for the first time, it can be especially helpful for managing your account and getting to know the ins and outs of your airport experience with the airline.
Perhaps best of all, these travel apps are always free.
AA | Delta | United | JetBlue | Southwest
Mobile Passport Control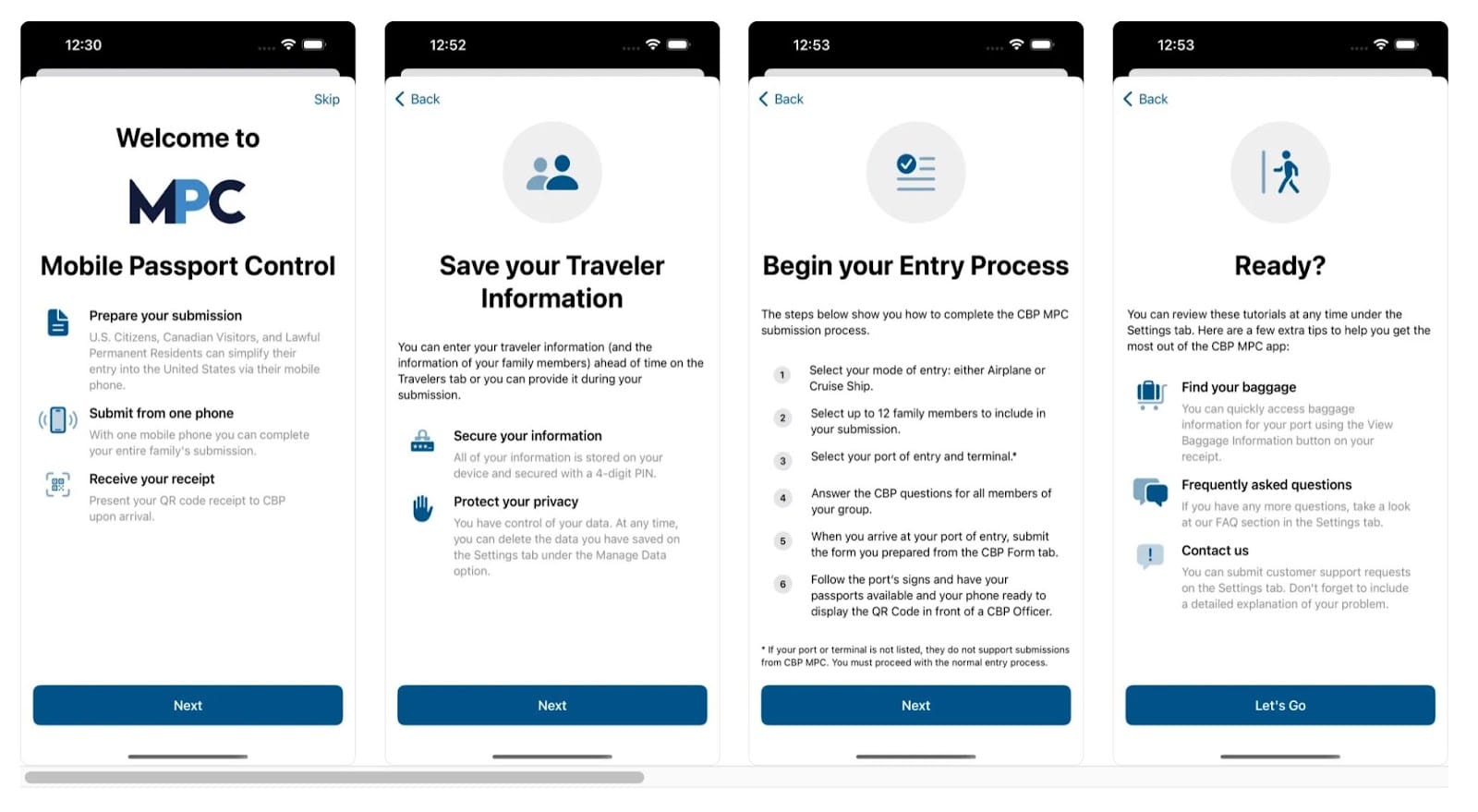 Operated by U.S. Customs and Border Protection, Mobile Passport Control is a free app that lets you sail through customs upon return to the US. Whereas lengthier programs like TSA PreCheck or Global Entry require a background check, interview, and preapproval, all you need for MPC is proof of citizenship or permanent residence.
With ID in hand, simply download the app and fill out your info. When you touchdown in the US, start your entry process. All it takes is a few clicks, and you get access to an expedited entry that helps you skip the long lines you've come to dread and makes returning to the US even easier than it was leaving.
The Best Travel Apps for Your Destination
Never fear getting lost or turned around again—or finding yourself in need of a public restroom with none in sight. Run, don't walk, to these apps that will make navigating your destination and staying connected truly effortless.
Google Maps
Google Maps is hard to beat for getting around your destination. Offering a bird's eye view of where you are, Google Maps breaks down how best to get to where you want to go, whether traveling by foot, car, public transit, or even bicycle.
Travelers can easily find what's around them, from bars and restaurants to shopping and attractions. You don't even have to leave the app for most places to get more details. Google Maps provides descriptions, pictures, hours of operation, and even reviews from other patrons. The real clincher is the ability to save maps offline so you can access them on the go, whether your cell service is spotty at best or entirely nonexistent.
Citymapper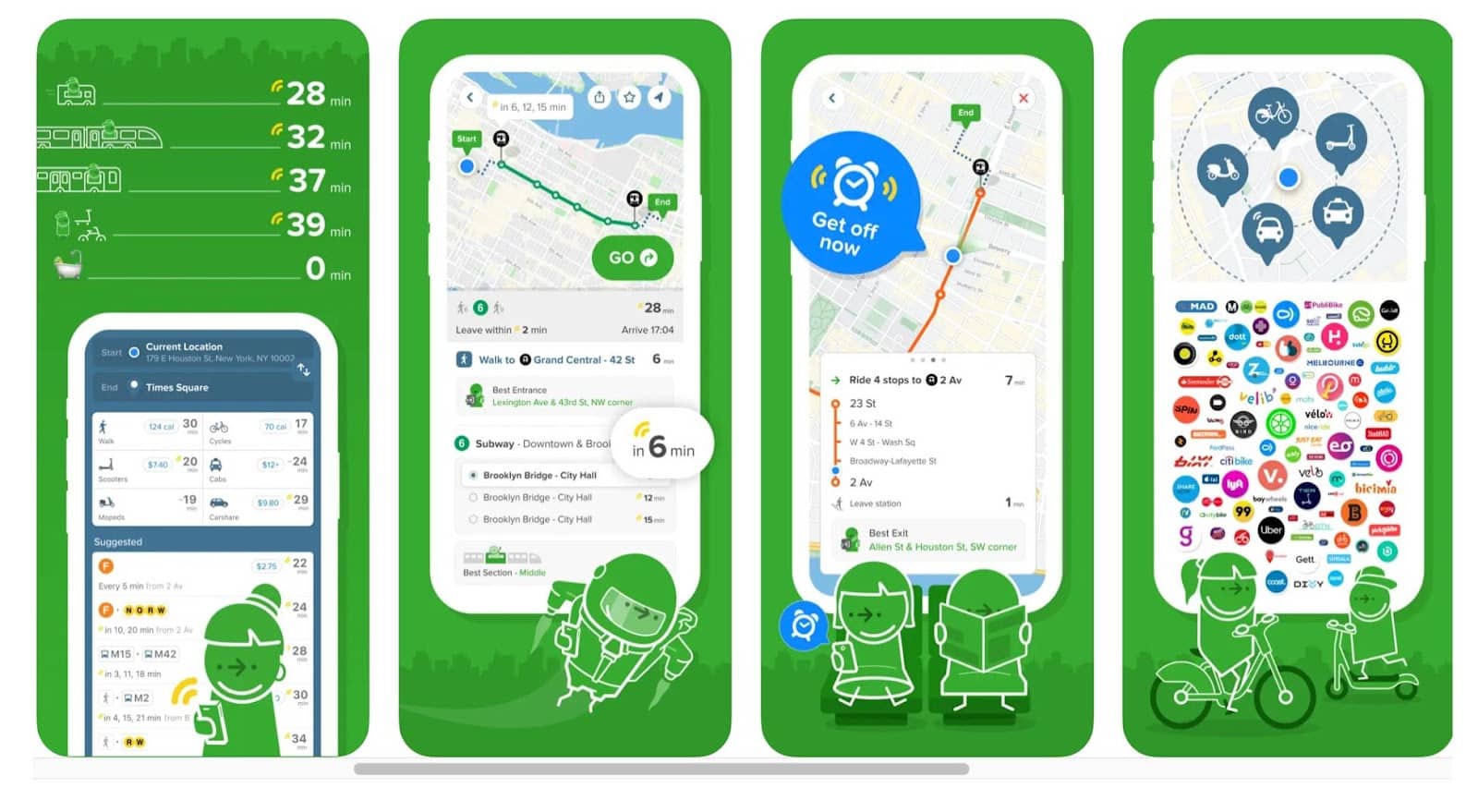 Sometimes, you don't need all the extra frills; you just need an app that gets you where you need to go. For that, there's Citymapper.
While its scope is limited to cities—and major cities at that—Citymapper makes navigating big and confusing cities, including those hardest to navigate, a breeze—or as close as the directionally challenged are likely to get. With real-time public transportation information, detailed breakdowns of routes by bus, train, tube, car, bike, or scooter, and detailed directions for things like which subway station entrance is best, Citymapper makes the big city feel just that teensy bit smaller.
XE Currency Converter
Want to know the exchange rate while you're traveling around Sweden? Japan? New Zealand? With Xe, you can always stay on top of your money and know exactly how far your money will go wherever you are. Save and monitor up to 10 currencies at once to quickly and easily check the exchange rate while shopping, dining, or booking that last-minute excursion on-site. The app also works without Wi-Fi, so you don't have to worry about losing this information, either. It stays at your fingertips whether online in a cafe or offline and on the go.
WhatsApp
WhatsApp, for the uninitiated, is a lot like iMessage: It lets you text and make calls over Wi-Fi no matter where you are in the world or what device your friends or family use. Not only is the app free, but it also helps you save money on international messaging fees by letting you avoid them altogether.
In addition, the app offers a few other helpful features. WhatsApp Statuses let you keep your family and friends up-to-date on what you're doing. The group texting feature lets you share polls to vote on what you want to do next. Sharing features allow you to attach documents like travel itineraries and bookings without having to email them. While there's no best messaging app in the world, WhatsApp is a great start to connecting with everyone anywhere you travel.
Google Translate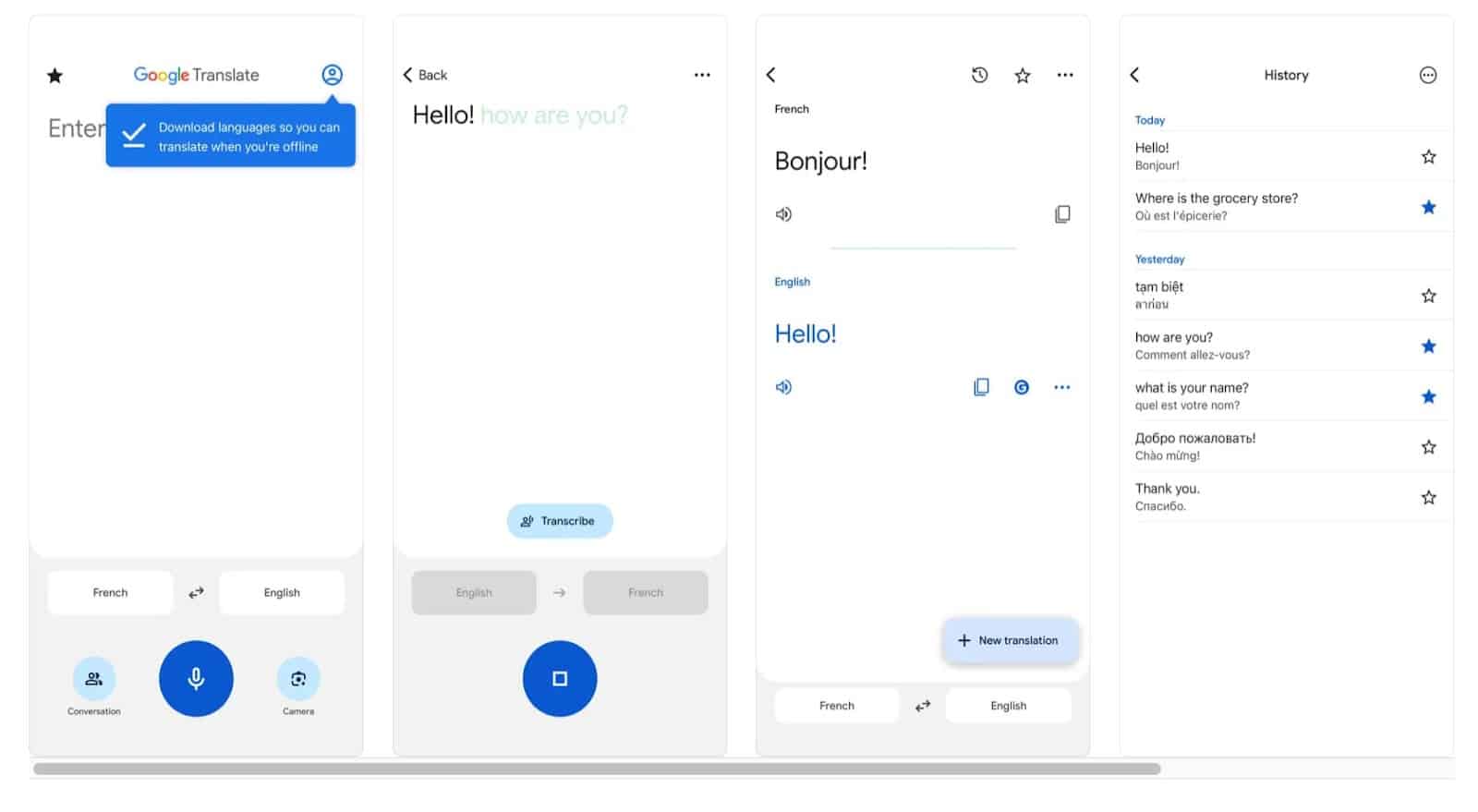 At this point, it shouldn't be a surprise to see another Google app eking out a top spot among the best travel apps. As if getting around in a new country wasn't hard enough, not knowing the local language can make something as simple as reading street signs confusing. That's not a problem with Google Translate.
Manually enter text into the translator to convert it to your native language, or snap a photo and have it translated that way. You can even have the text read to you so you know how to pronounce it correctly. And, of course, if you're trying to communicate with someone, you can switch the languages to know what to say and how to say it.
Like all the best apps, Google Translate is free and lets you download languages offline while you travel, making understanding the world easy, no matter how confusing the street signs get.
Flush
In the immortal words of Jeff Goldblum in Jurassic Park: "When you gotta go, you gotta go." When you need a restroom while you're on the go, knowing where to find the closest toilet can be a lifesaver. Flush offers a database of over 200,000 public toilets worldwide. The app lets you know how to get to the closest one, whether there's a fee, and if the restroom is ADA-accessible. When it comes down to the wire, this app may just save your day, if not your whole trip!
The Best Travel Apps for Staying Safe
Staying safe on the go is just as important as staying safe at home, whether you're in a group or a female traveler going it solo. Be sure to put these travel apps at the top of your to-do list for the best travel experience and a worry-free trip.
Smart Traveler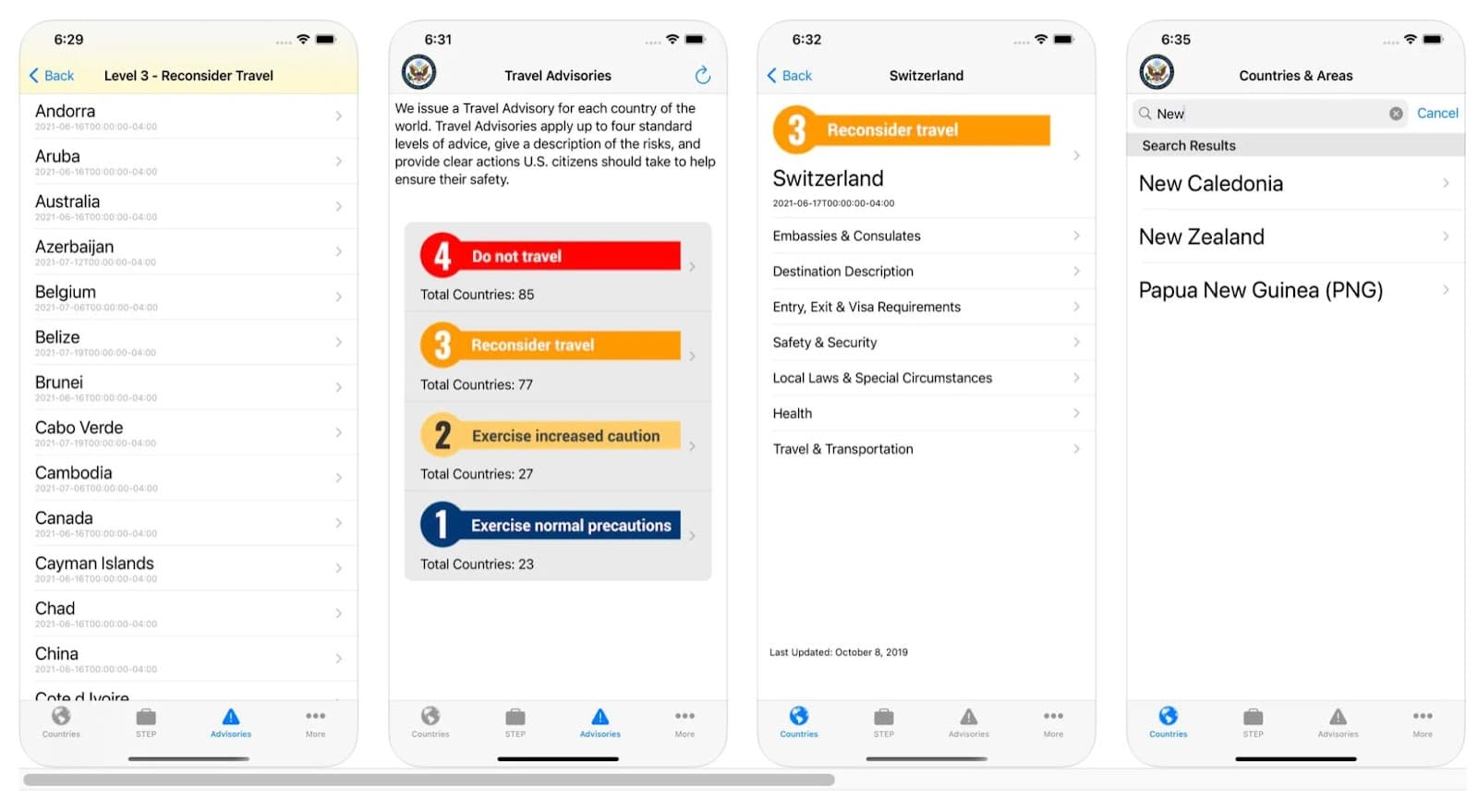 Every smart traveler knows that the best way to stay safe while traveling is to do your due diligence beforehand. For that, there's the Smart Traveler App. Overseen by the U.S. State Department, the app allows travelers to check travel advisories, entry and exit requirements, health and safety warnings, and more before you even start booking your trip.
Once you settle on your destination, you can register your trip with local embassies through the Smart Traveler Enrollment Program (STEP) and stay one step ahead of emergencies. Become a smart traveler and give yourself some much-needed peace of mind while traveling abroad.
TripWhistle
In the US, 911 is the standard, and that's caught on in a few nations worldwide. But not every country uses 911 for their emergency services, and in the event of an emergency, the last thing you want to be is unprepared. That's why you download TripWhistle.
With over 70 emergency numbers, TripWhistle gives you quick access to the right number to get you help when you need it. You can call emergency numbers right from the app. It also shows your location, so even if you don't know where you are, emergency services will. Travel safely and travel stress-free, with help just a call away.
Noonlight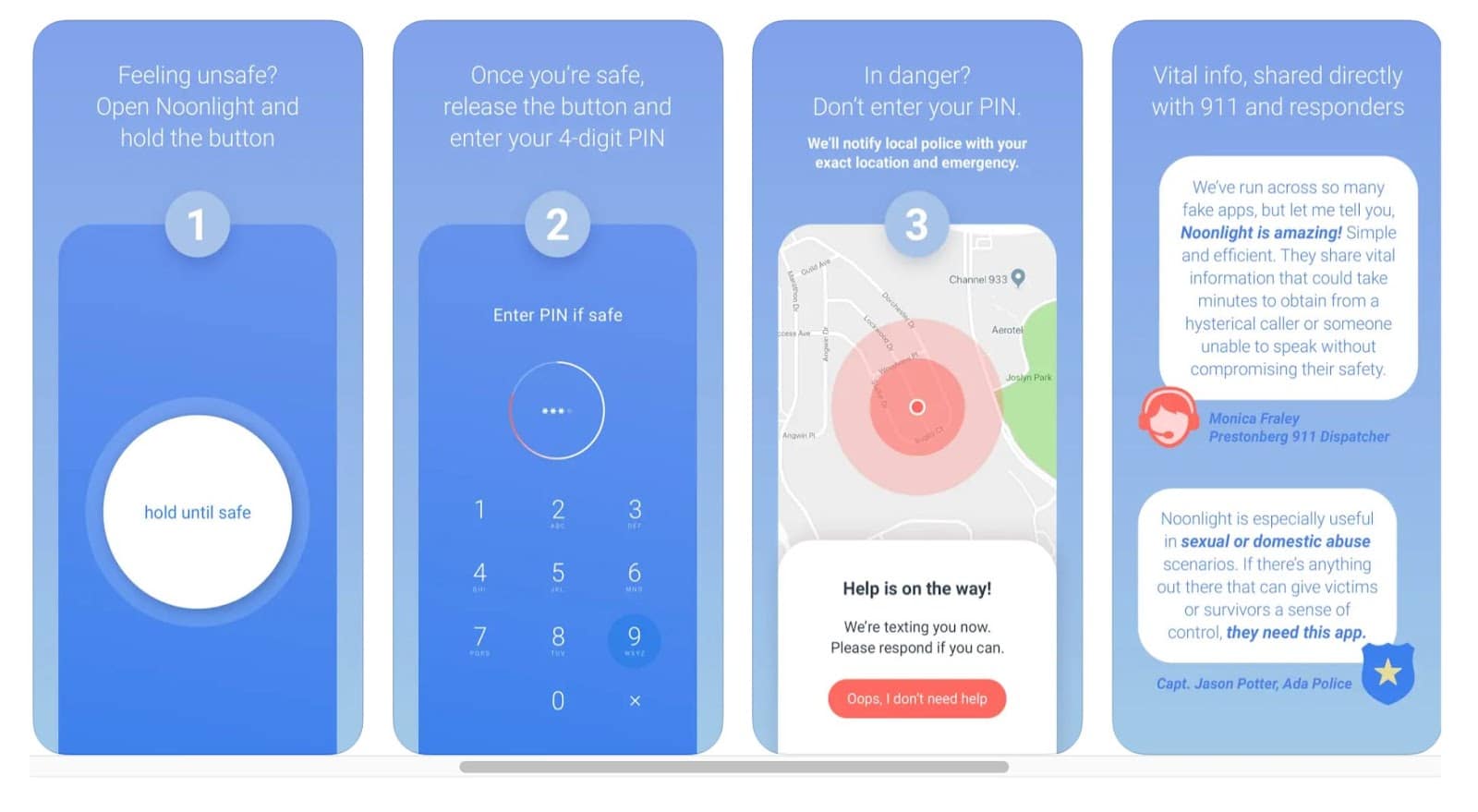 The only thing simpler than getting help with a phone call is getting help with the press of a button. Touted as America's number one safety app, Noonlight helps you get from point A to point B safely by acting as your personal panic button. If you encounter an unsafe situation or even one that makes you feel uneasy, just open the Noonlight app and hold the button. Once you release it, help will be on the way shortly. But, if there's no danger, or you reach safety, you can release the button, enter a 4-digit PIN, and be on your way.
The Best Travel Apps for Saving Money
Always looking for ways to cut down on your travel budget? Say hello to your new favorite cost-conscious travel buddies who can help you find the best deals and the cheapest prices no matter where you are in the world.
Obi: Rideshare
Every traveler, at some point, has wondered if they're overpaying to get from point A to point B in their travels. But outside of downloading every app and comparing prices, there's not much to do about it—except maybe download just one app.
With Obi, travelers can compare prices between rideshares like Uber, Lyft, and taxi services to save money. Simply choose a destination, compare prices between available transportation companies, and book. Prepare for the cheapest ride every time with Obi in your pocket.
ATM Fee Saver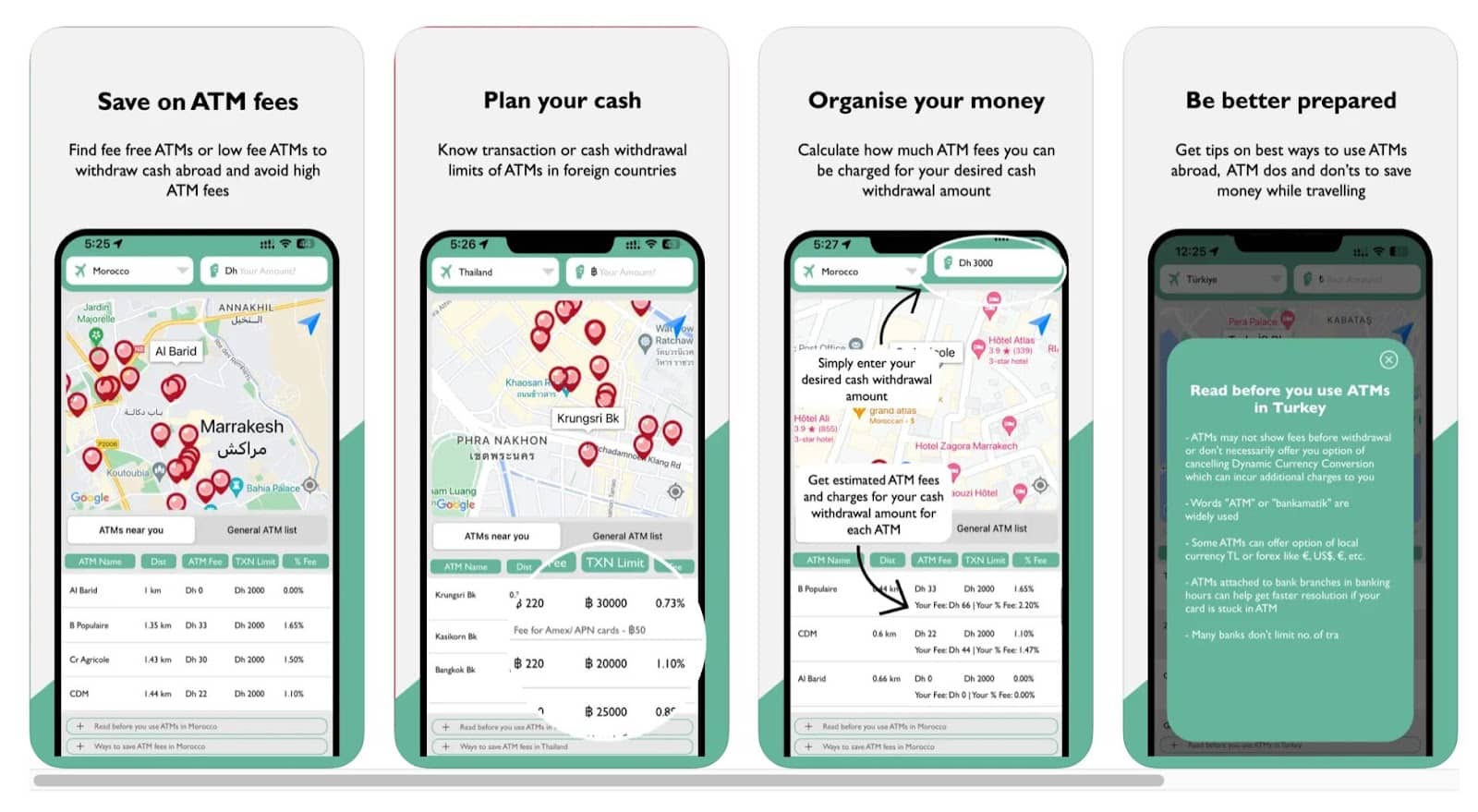 Don't have a handy travel card that reimburses your ATM fees? You don't have to consider yourself unlucky, just consider downloading the ATM Fee Saver as your budget-conscious travel companion. The ATM Fee Saver helps you find free and low-fee ATMs near you so you can get the cash you need in a hurry without paying a fortune to access your own money. Users can get tips on using ATMs in over 35 countries, calculate fees for withdrawal amounts, and chart a course for the closest and cheapest ATM to get money fast while on the go.
GasBuddy
The perfect companion app to Roadtrippers, GasBuddy makes hitting the road easier and cheaper than ever. With the app, travelers can search for the cheapest gas prices along their route, get tips on using less gas, and even score free gas rewards from shopping at favorite retailers. With GasBuddy, you can stop worrying about running out of gas or paying more at the pump and simply enjoy the ride.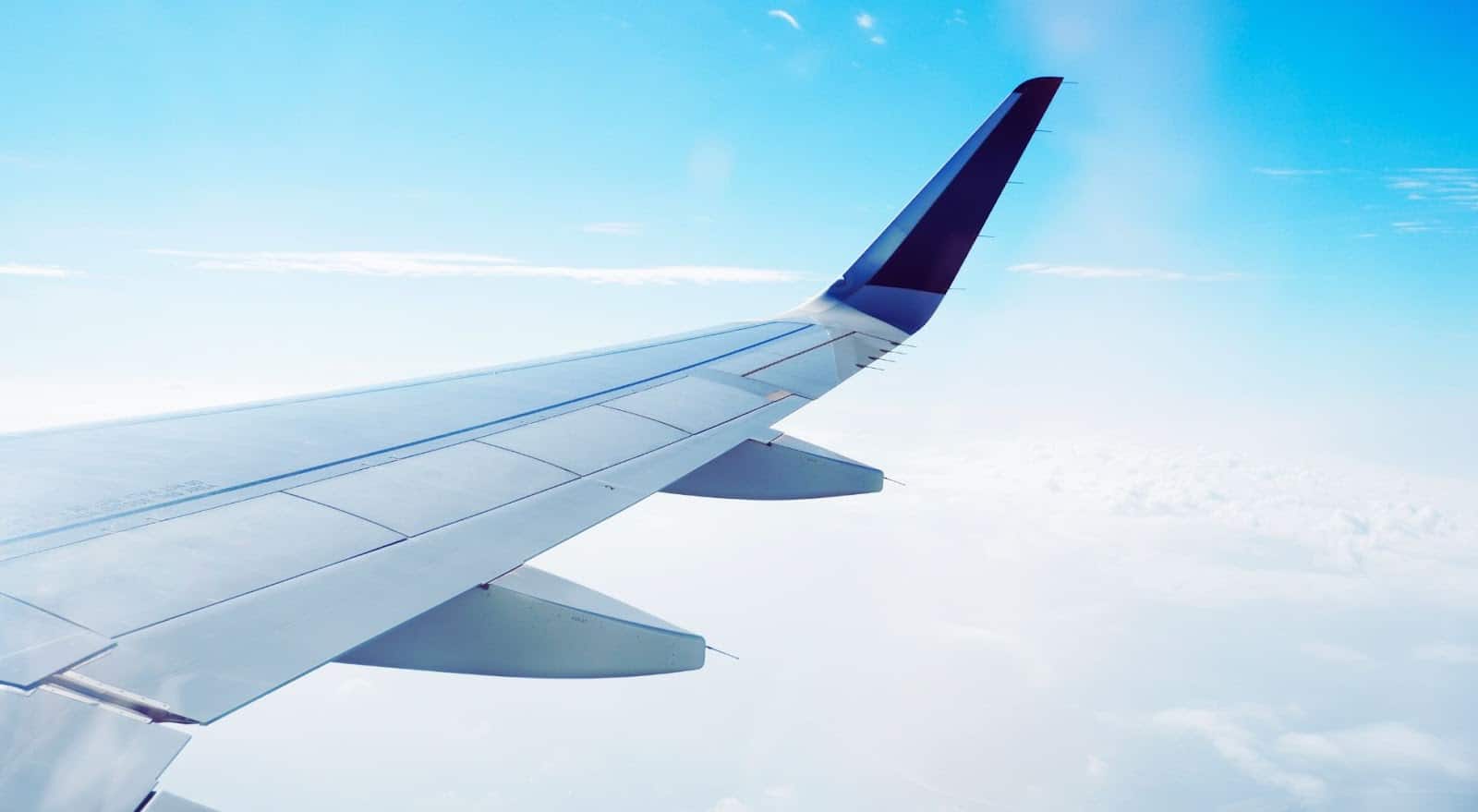 The Best Travel App for Cheap Flight Deals Isn't an App: It's Next Vacay
Want to get the cheapest flight deals to destinations all over the world? Try out Next Vacay. It's as easy as downloading your favorite app without taking up more precious phone storage. Just enter your email, select your airport, and you can get deals delivered right to your inbox. Never miss an incredible deal or a life-changing trip ever again. So sign up and discover the best way to save time, money, and stress—because the best travel app isn't an app at all; it's Next Vacay.
Related Posts