Weddings. Funerals. Births. What does your next flight have in common with any of these? That's easy. You never want to be late for any of them. So that leads us to the most important question of your next trip: How early should you get to the airport? For some, no time is too early for peace of mind. For others, the less time they spend in an airport, the better. But if your main goal is, as it should be, getting to the airport in time for your flight, then we've got you covered. Here's everything you need to know about how early you should get to the airport, plus some tips for making your airport experience smoother than a turbulence-free flight.
Table of Contents
How Early Should You Get to the Airport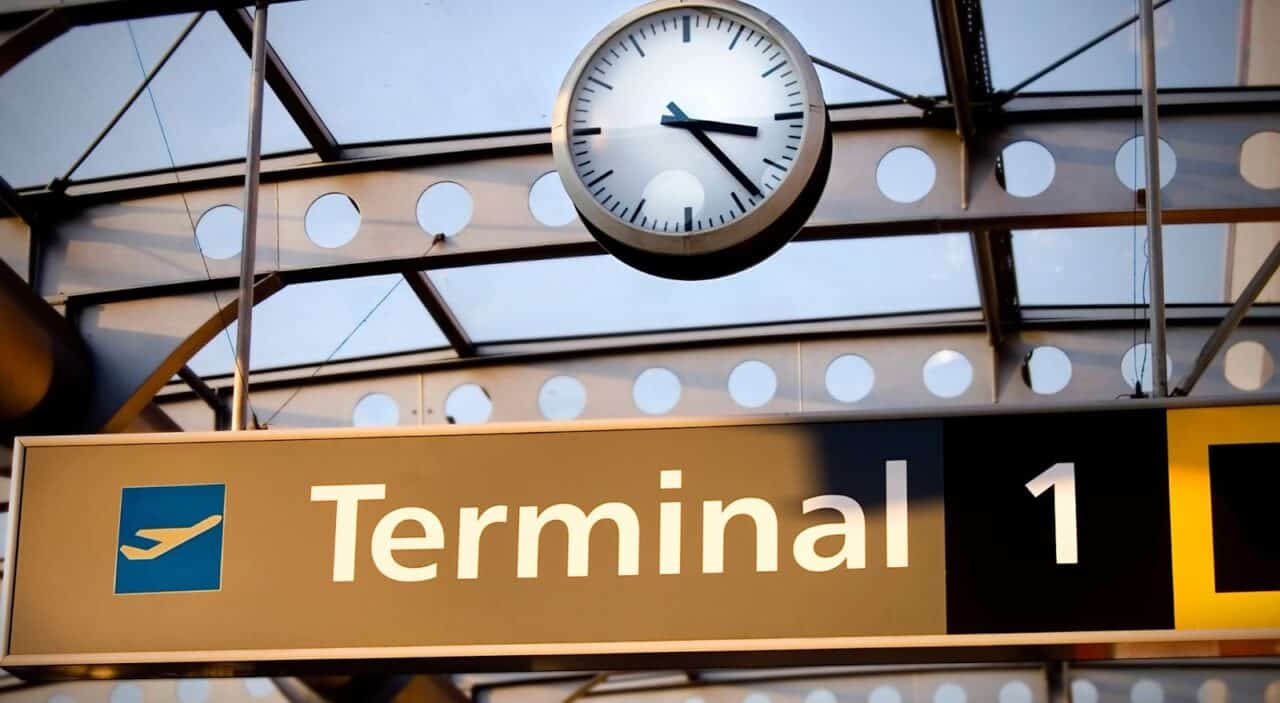 Two hours. That's the standard advice that most airlines, from AirAsia to Delta Airlines, recommend to travelers. For years, the Transportation Security Administration (TSA) advised the same. So, case closed. You now know exactly how early you should get to the airport and can plan accordingly. If you just gave your screen a skeptical look, you've got good instincts.
How early you should get to the airport depends on a variety of factors, not least of which is what's the least likely option to start a war among your travel companions. But while the flexibility of your arrival time makes your schedule far less rigid, it also means you need to plan carefully so you don't cut it too close, miss your flight, and have to listen to someone saying, "I told you so" for the rest of eternity.
Factors That Could Affect How Early You Arrive
Every trip and every traveler is different. International airports guarantee longer lines everywhere. Holiday trips can add serious wait times. And first-time flyers will likely want to arrive early to give themselves some breathing room. So before you hit snooze to sleep in that extra five minutes before your early morning flight, here are some things to think about.
Airport Size and Layout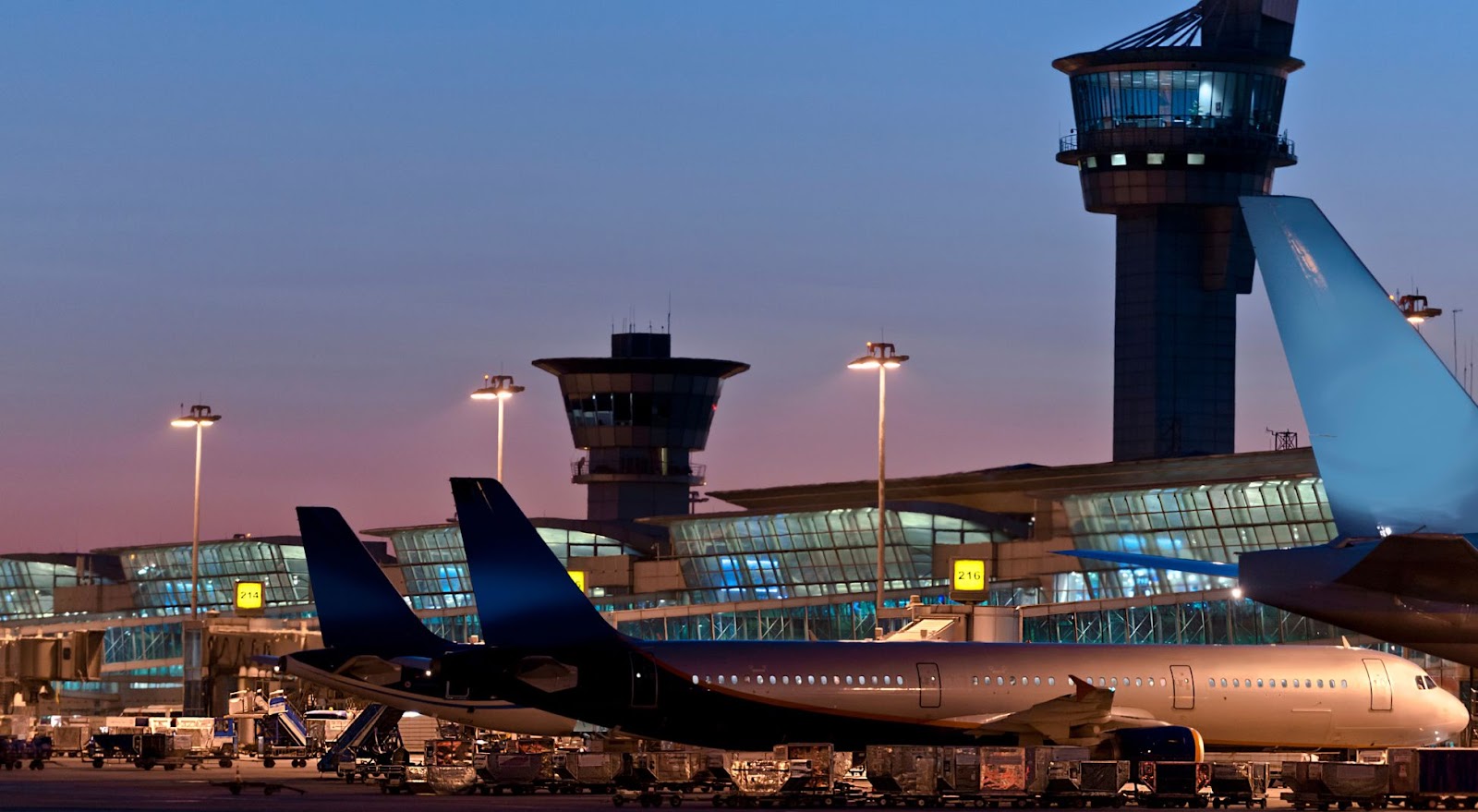 The airport you're traveling out of is often the biggest factor in deciding how early you should get there. Ironically enough, it's often the most overlooked. Smaller airports afford the ability to take it easy, meander, and smell the roses, so to speak, even if you're cutting it close to your departure time. That changes dramatically when you're navigating the busiest and biggest airports.
A good rule of thumb is that if you're flying out of an international airport, give yourself more time, not less. A study by Upgraded Points revealed that the standard two-hour early arrival time for domestic flights might not be enough for major airports like Chicago (ORD), where travelers should arrive as early as three hours and four minutes before their flight.
Day and Time of Your Flight
Day to day and week to week, wait times at the airport are notoriously variable. But those who fly regularly have probably noticed a fairly reliable pattern. Weekends (Thursday through Monday) are busier than mid-week (Tuesday and Wednesday). In the same vein, afternoons are busier than early mornings or late at night.
It may be an old adage, but it still rings true: The early bird gets the worm. If you're flying out mid-week in the early morning, you can expect to not only get a great deal on your flight but sail through security. In contrast, if you're traveling on a Friday in the afternoon or early evening, give yourself extra time to deal with more people and much longer lines.
Access to Priority Check-in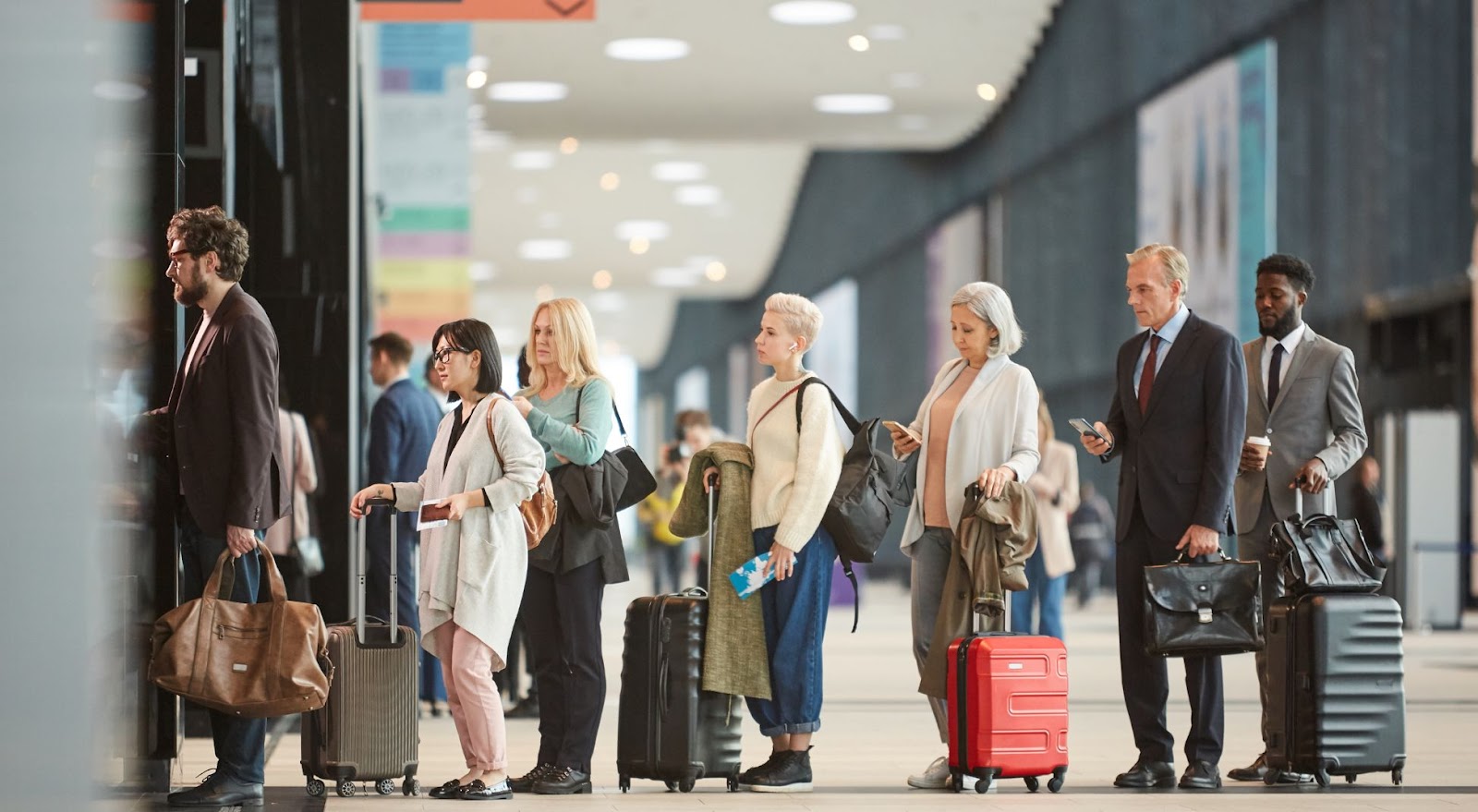 If you need to check in at the airline counter or drop off your checked bags, having access to priority check-in can be a lifesaver on a busy day at the airport. Most airlines offer priority check-in with elite status or a co-branded airline credit card. Members can then use a dedicated lane to skip waiting in line. As a result, you can speed up the check-in process and be on your way to security in a snap.
Rewards and priority check-in differ by airline, but two cards that offer immediate access to priority check-in are the Citi® / AAdvantage® Executive World Elite Mastercard® for American Airlines travelers and the United Club℠ Infinite Card for United Airlines flyers.
Drop-off or Parking
You can shave a few minutes off your arrival time by getting dropped off at the airport. However, for larger airports that tend to see a lot of traffic congestion, don't cut it too close, or you could get stuck in the car waiting to get dropped off. If you're parking at the airport, you'll want to leave even earlier to avoid delays in parking and waiting for the shuttle transport.
Traveling During the Holidays or Peak Season
The worst times of the year to travel are the worst for good reason: They're when everyone travels. Holidays and peak seasons represent the busiest times of the year when avoiding long lines throughout the airport is nearly impossible. So, don't expect to. If you're traveling around a holiday like Christmas or planning a summer getaway, know you won't be the only one and arrive at the airport early enough to account for the longer lines at check-in, security, and even the terminal restaurants if you plan to eat at the airport.
Traveling on a Domestic or International Flight
While the recommendation of arriving two hours early for domestic flights and three hours early for international flights isn't a hard-and-fast rule, it does hold one objective truth: Get to the airport even earlier for international flights.
International flights often include additional check-in requirements, like passport verification and earlier boarding times, making getting to the airport earlier essential. Additionally, international airports are notorious for their longer lines, something you have to contend with even on domestic flights, so it's always better to be safe than sorry and plan to spend more time at the airport, not less, for international trips.
Traveling with Bags or Multiple People
Solo travelers used to bringing a carry-on and nothing else may find themselves tripped up here because traveling with bags or a group of people can significantly hinder your ability to breeze through the airport. Traveling with checked bags will require a stop at the airport counter to drop your luggage off, which could take a while if you don't have priority check-in. Likewise, traveling with multiple people means it will take longer to check bags and ensure that everyone in the group makes it safely through security.
4 Tips for Quickly Getting Through the Airport
Now that you know why getting through the airport can take longer, let us guess: You immediately started thinking of ways you can make it shorter. If that's the case, we're right there with you. Avoid getting to the airport hours early with these four quick tips for getting through the airport quickly.
1. Sign Up for Clear/TSA PreCheck/Global Entry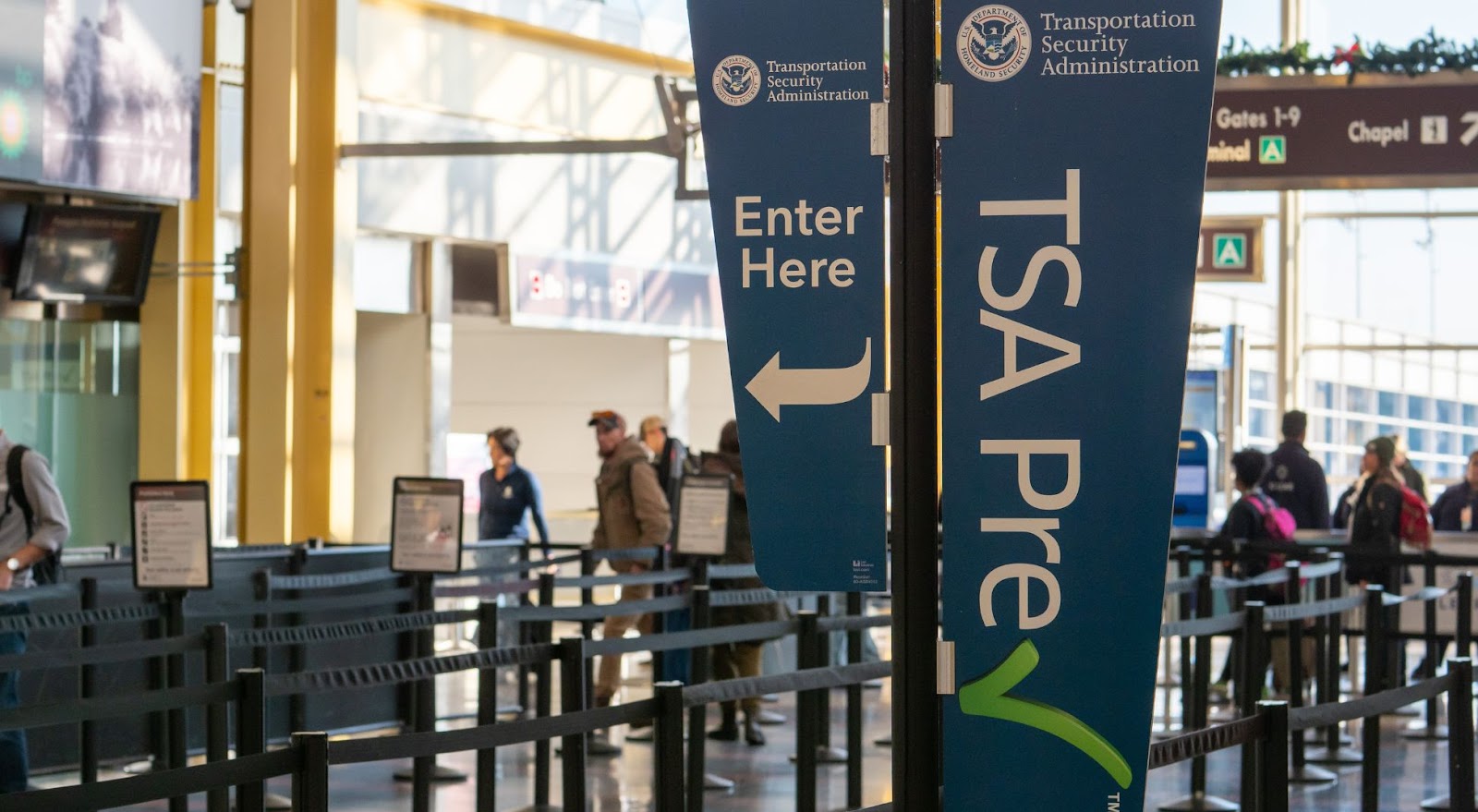 Signing up for a Trusted Traveler Program like TSA PreCheck or Global Entry all but guarantees a shorter wait time in the security line, while a program like CLEAR lets you skip it entirely.
TSA PreCheck is a government program that allows you to shorten your wait time with a designated security line. If you sign up for Global Entry, which is a program to speed up your customs process, you automatically get TSA PreCheck included. So it's a great option for lessening your time at the airport all around.
But many people often pair TSA PreCheck with CLEAR. This private program lets you skip the security line and the wait entirely. Having one or both can dramatically speed up the security process and get you through the airport more quickly wherever they're offered. (TSA PreCheck Airports | CLEAR Airports)
Keep in mind these programs do require a fee to use:
TSA PreCheck: $78 every 5 years
Global Entry: $100 every 5 years
CLEAR: $189/year
However, you can get a discount or complimentary membership with certain credit cards and travel rewards programs.
2. Skip the Checked Bag
Skipping the checked bag and packing a carry-on might not seem like much, but it can eliminate the need to stop by the airline counter, thus avoiding an entire line completely. When you're pressed for time, that is a big deal. Plus, it helps avoid the hassle of getting your bags tagged and dropped off with airline staff.
3. Check Out the MyTSA App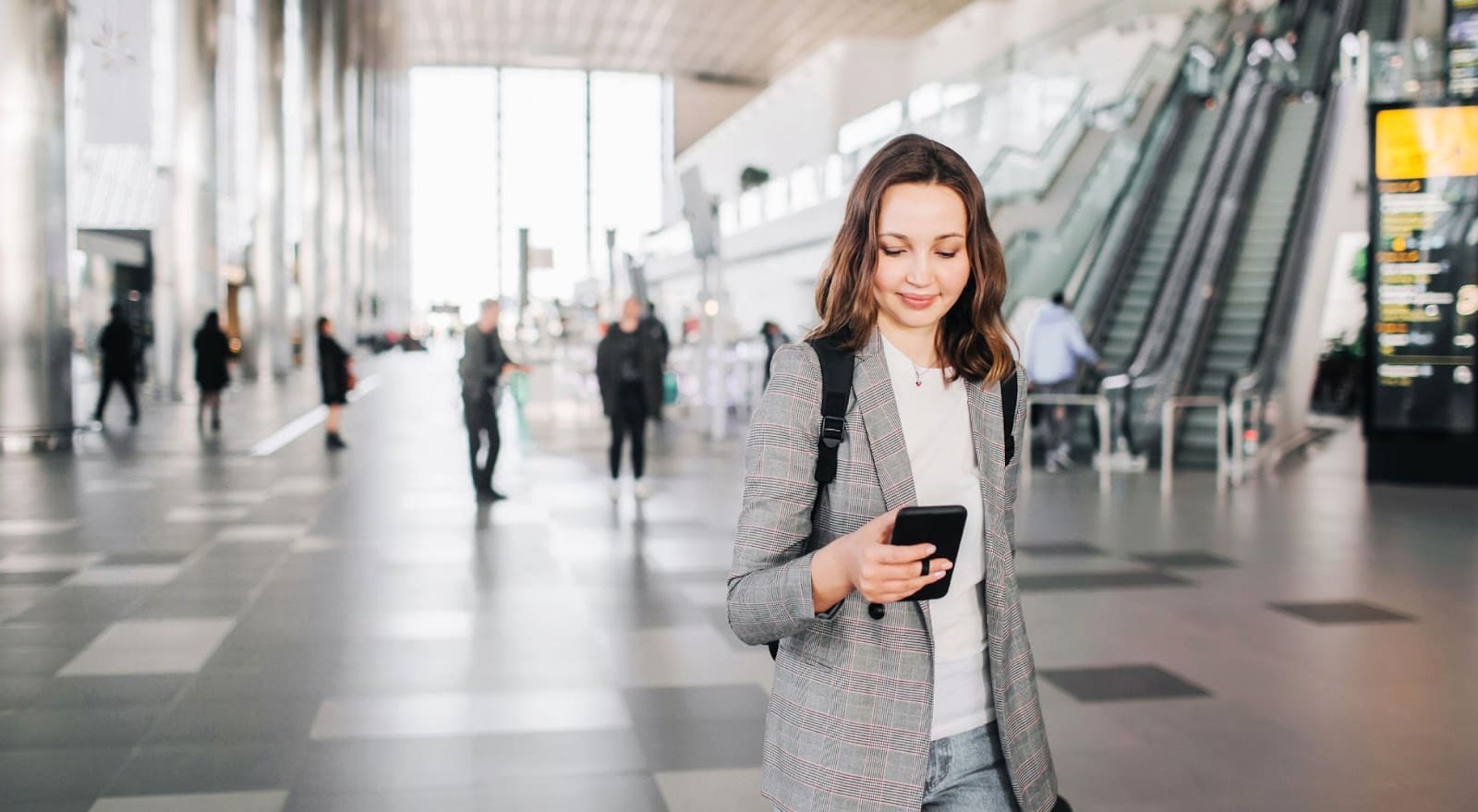 The MyTSA app (IOS | Android) is everything you need to know about the security process at the airport, from what you can and can't bring to how long you should expect the security line to be.
For first-time flyers, or even those who haven't flown in a while, the TSA Travel Checklist linked on the app gives a list of things to keep in mind as you pack for your trip, prepare for the airport, and arrive at the security checkpoint. Having all of this sorted out before you arrive will ensure you get through quickly.
The MyTSA app also provides a handy feature that offers estimated security wait times based on historical data. The preview of how busy it's likely to be on your travel day and which times are better to go than others can give you a better idea of when to leave so you can get to the airport in time for your flight.
4. Reserve a Spot in Line
From the same company that allows you to skip the security line at the airport, you can also reserve a spot in line at select airports. RESERVE powered by CLEAR lets you enter your flight number and group details to reserve a date and time to go through security. The program allows you to jump to the front of the line during your allotted time at a handful of international airports in the US and abroad. Best of all, the program is free.
Airport Arrival FAQs
From the perpetually early to the chronically late, if there's one thing you want to be on time for, it's your next flight. So here's your quick and simple guide to the most frequently asked questions about getting to the airport early and getting through security.
How Early Should I Get to the Airport for a Domestic Flight?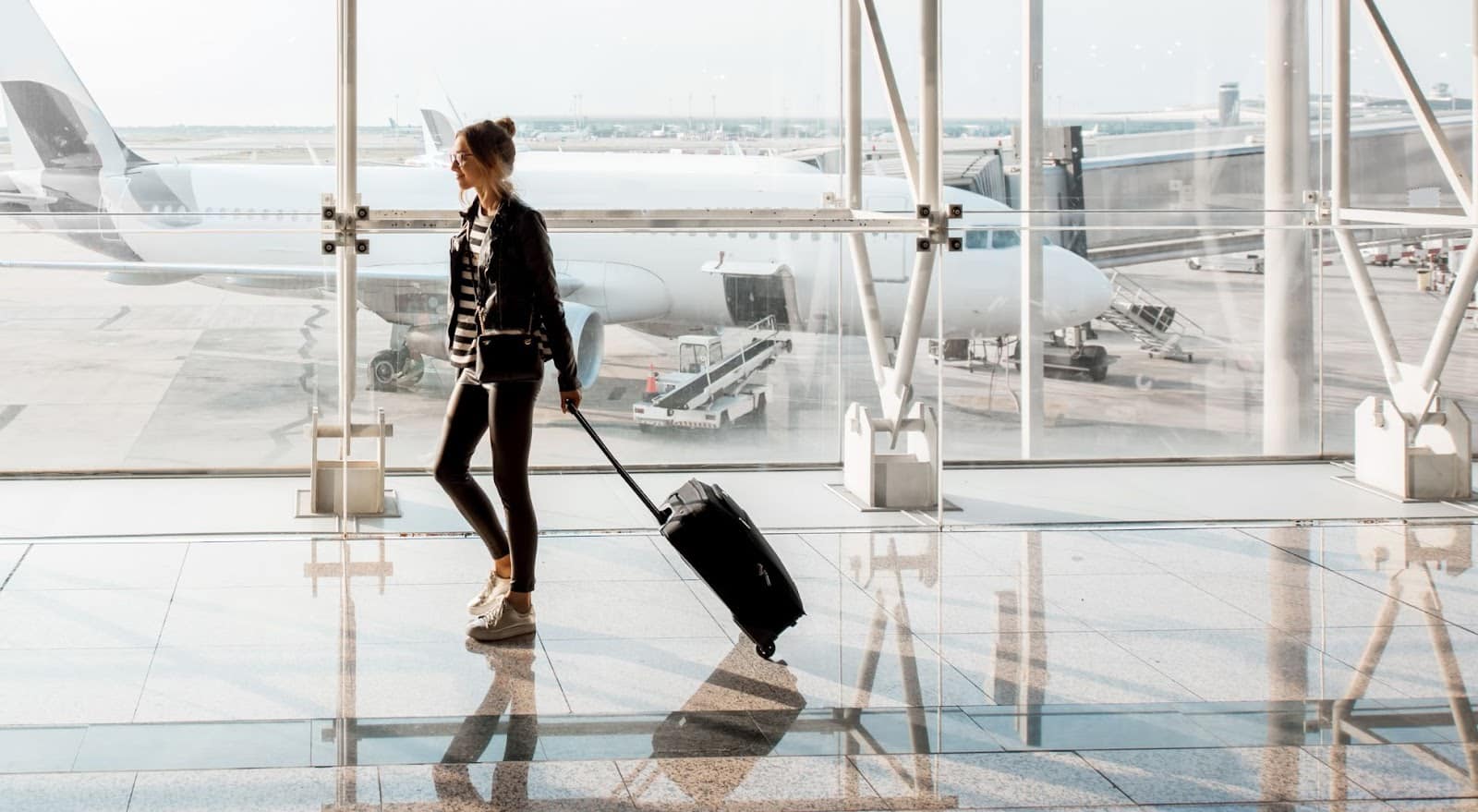 Take the two-hour recommended time with a grain of salt and plan to arrive between one to three hours before your scheduled flight. Experienced flyers going it solo can cut it closer to the one-hour mark for medium-sized airports, while travelers flying out of a busier hub, parking their car, or checking luggage should afford themselves more time to get through the airport.
How Early Should I Get to the Airport for an International Flight?
Aim to arrive at least three hours before an international flight. You won't want to cut it too close because most airlines require you to check in at least 60-90 minutes before an international departure. On top of that, some international airports are notorious for having longer wait times, so it's best to get to the airport early and ensure you have plenty of time to deal with traffic congestion and any possible delays at check-in or security.
How Much Time Will It Take to Get Through Security?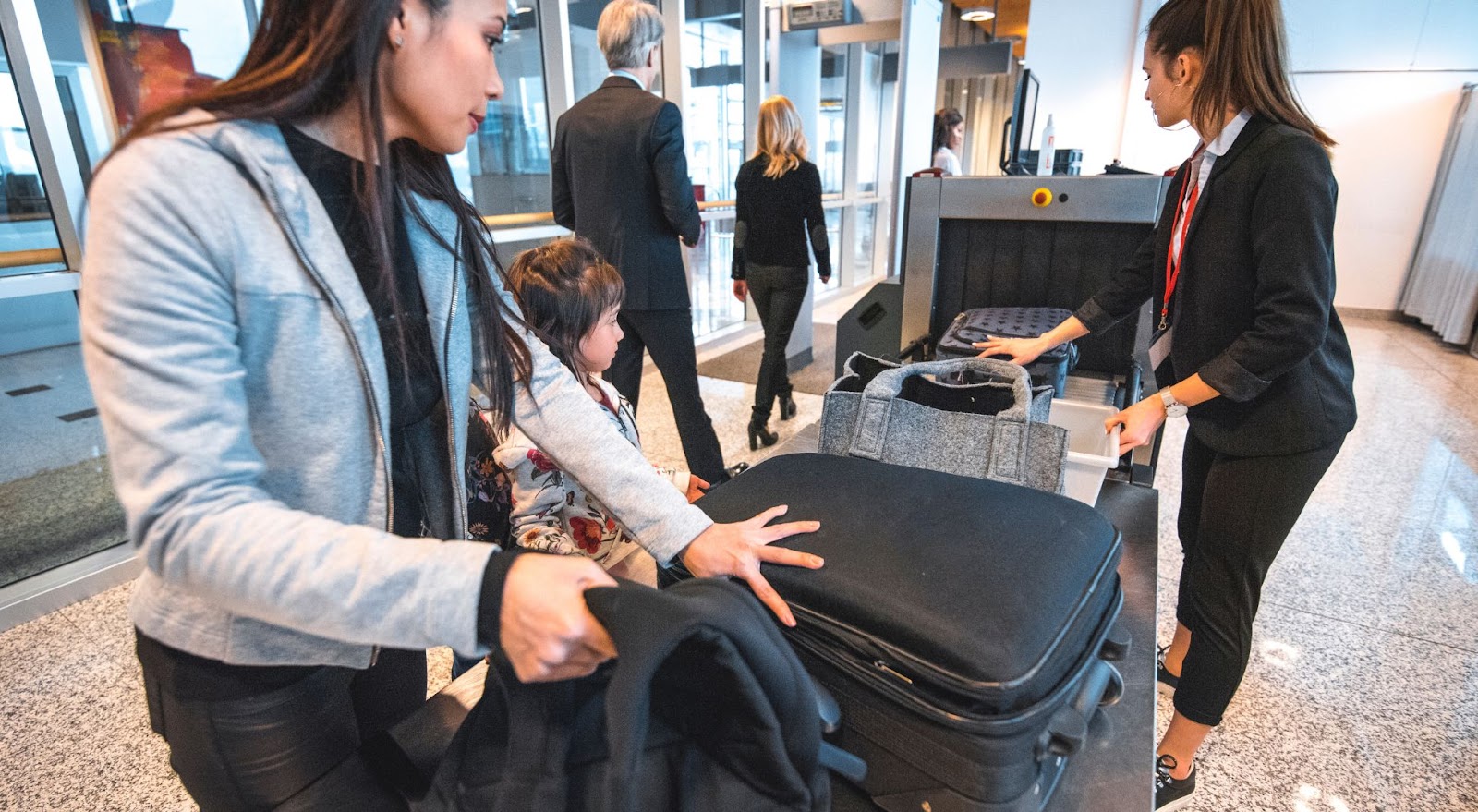 The time it takes to get through security will depend on the airport you're leaving from and how busy it is, the latter of which is affected by the time of day and time of year you're traveling.
The best way to judge how long it will take you to get through security is by downloading the MyTSA app. The app uses historical data to show how busy your airport is likely to be on your travel date by how busy it's been in the past. That can give you a solid indication of how much time you should afford to get through security.
How Can I Get Through the Airport More Quickly?
One or two surefire ways to get through security faster is by having TSA PreCheck and/or CLEAR. Global Entry membership also gives you access to TSA PreCheck benefits.
These programs can dramatically speed up the wait time and get you through security more quickly. While they do cost a fee, you can get free or discounted memberships with travel credit cards and rewards programs.
Conquer the Airport and Enjoy More Frequent Travel with Next Vacay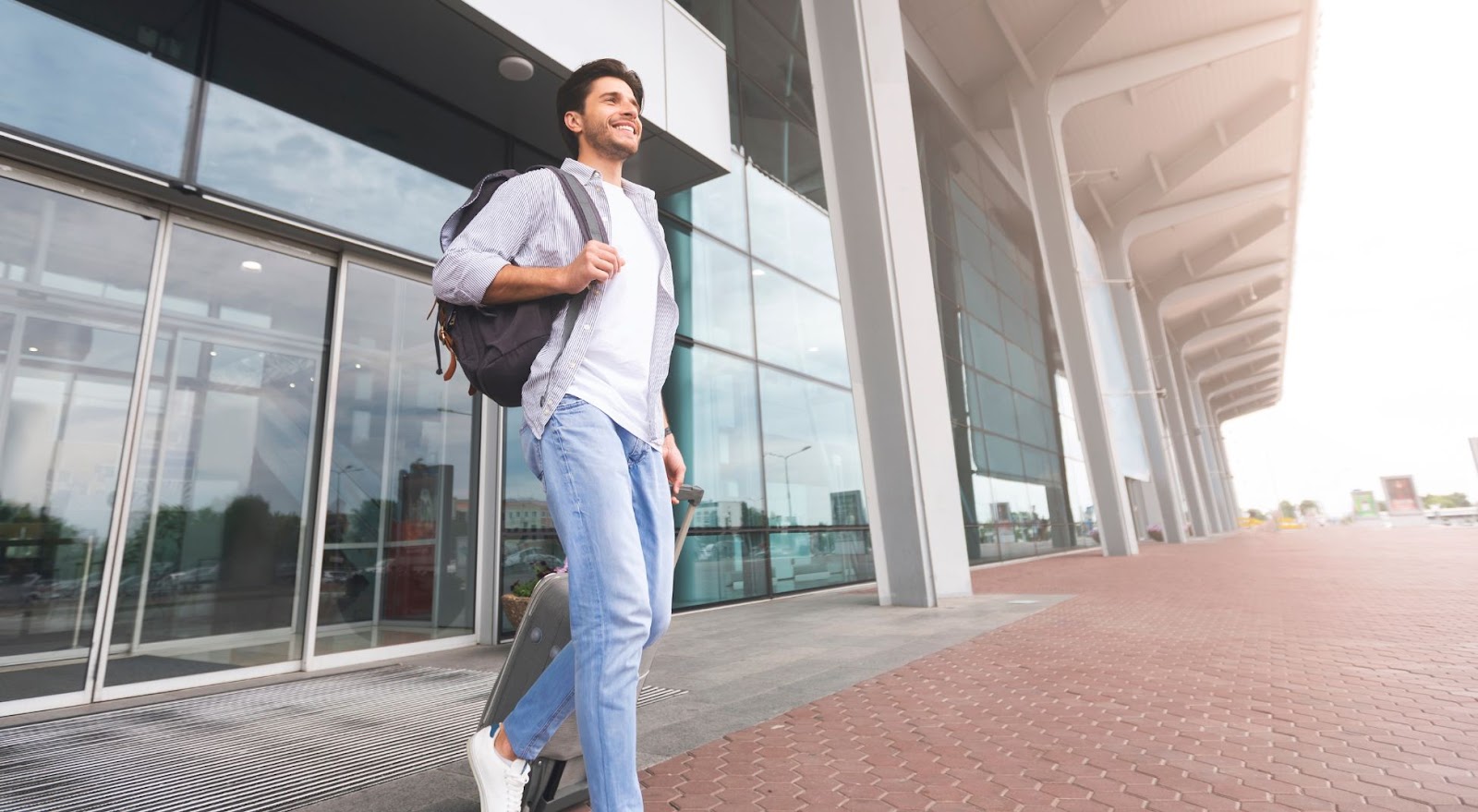 The perfect traveler never arrives late. Nor early. But precisely when they mean to. Now that you're ready to conquer the airport, it's time to conquer your trip-planning process with Next Vacay.
You no longer have to worry about finding the perfect flight that's affordable, comfortable, flexible, and more. Instead, the team at Next Vacay does it for you. With the flexibility of choosing your preferred airports, you can get new deals delivered straight to your inbox every week to destinations all over the globe. It's time to go from unlikely traveler to frequent flyer. Travel more with Next Vacay.
Related Posts