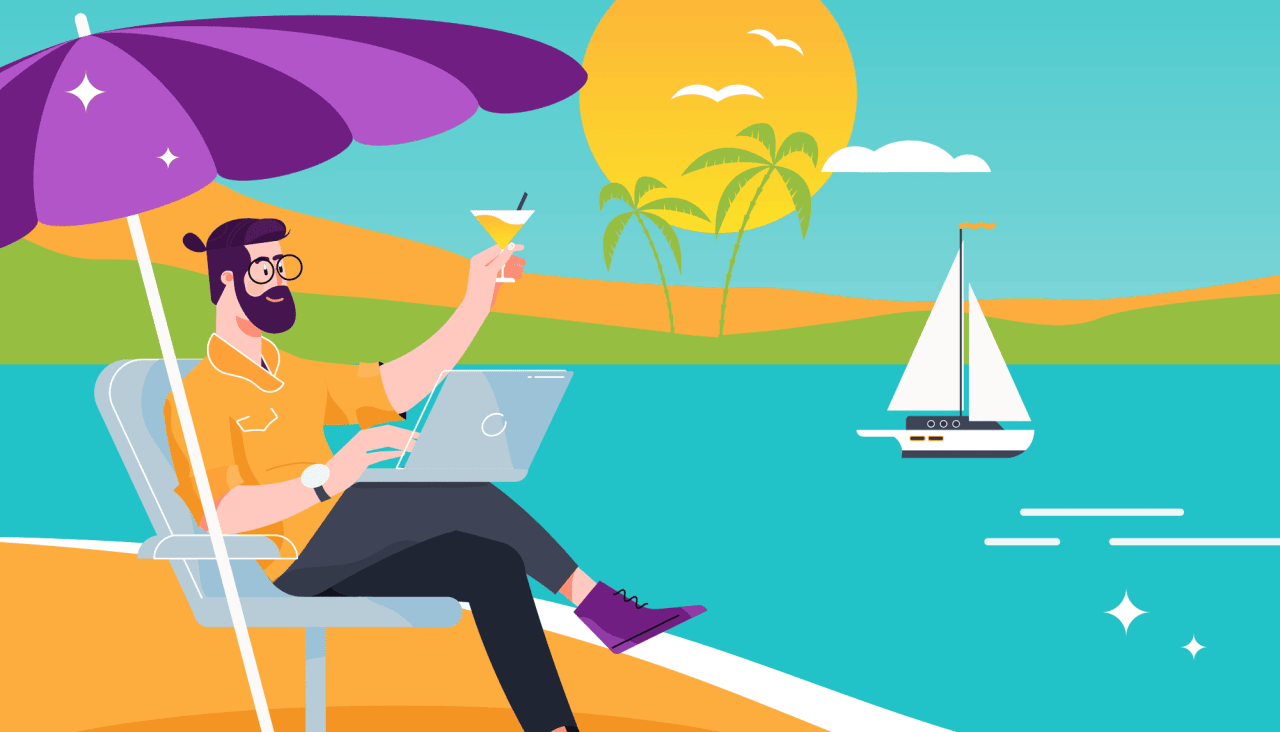 10 Destinations for the Perfect Workation – That Won't Break the Budget
Remote work is here to stay. So, why not make the most of it?
A workation isn't meant to take the place of a vacation! But it does give the opportunity to spend more time in one place than a vacation would normally allow, giving you the chance to experience life like the locals.
What Is a Workation?
Sushman Biswas, former editor at HR Technologist, describes a workation as "a vacation that allows you to work remotely while integrating elements of leisure that let you unwind, relax and be more productive."
While working remotely, plenty of benefits can come with changing your surroundings for any length of time. A 9-month study done by two Stanford graduates, and reported on by Harvard Business Review, revealed that in comparison to office workers, those who worked remotely were:
More productive
Highly motivated
Brought fresh perspectives
Able to achieve deeper focus
Work culture has been changing, and this shift opens the door to new adventures. So, whether you're looking to make the big jump from office worker to digital nomad or you're just here to test out the waters, there are some things to keep in mind when planning to help you stay on budget and make sure you get the most out of your experience.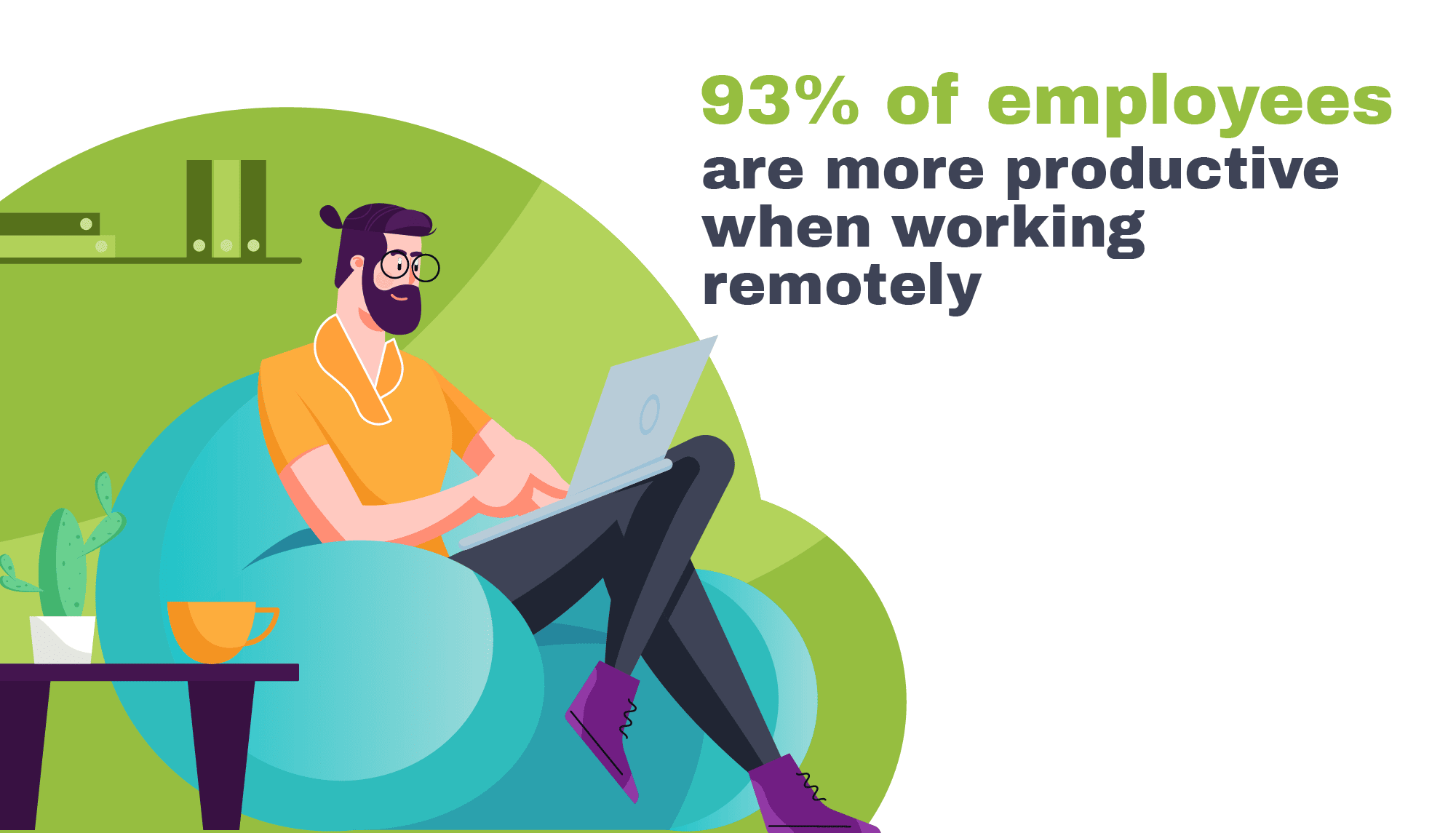 Selling Your Boss on a Workation
Finding a healthy work-life balance has always been an important consideration, but with so many forced into remote work over the last few years, the line between the two has blurred significantly.
That said, plenty of benefits have arisen from this surge in remote work. With businesses struggling to provide incentives and benefits to sustain employee morale, finding new ways of fulfillment is key. Feeling empowered to switch up your location can lead to greater job satisfaction, increased collaboration, reduced stress levels and greater creativity. Consider 93% of people are more productive when working remotely.
Embracing how the pandemic completely changed the way we work will result in higher employee retention and engagement. As the world opens back up, more people welcome traveling while they work.
If all that doesn't convince your boss? Let them know that on average, companies save $11,000 per remote employee per year!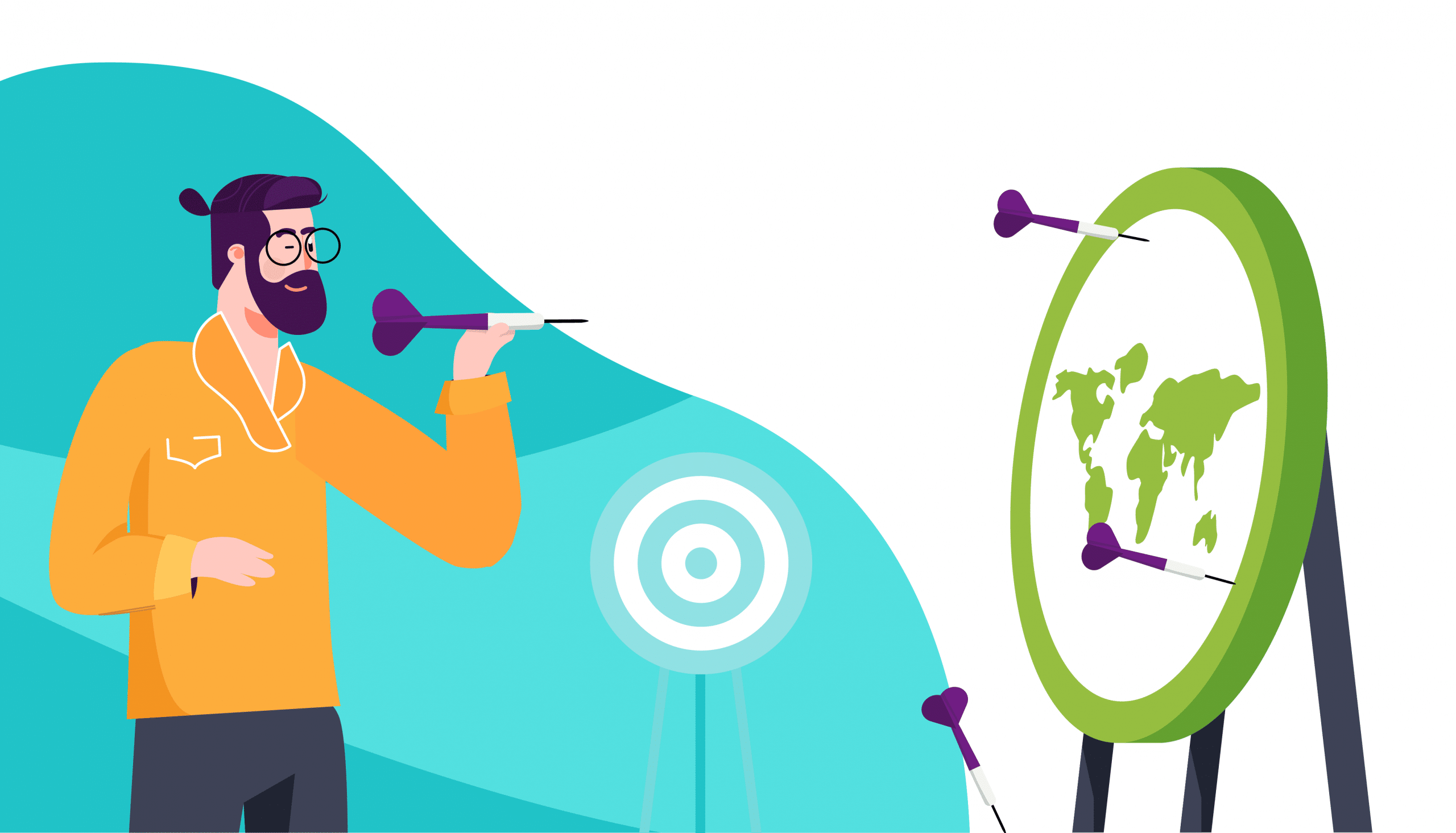 Choosing a Location
Tailor your decision to what you need. Do you live in the suburbs and crave big city vibes? Or maybe you're a city dweller, dreaming of being surrounded by greenery and the peace of a more secluded setting. The options are endless!
When choosing a spot to visit, you'll want to consider a few important details to make sure you're prepared and getting the most out of your time away.
What is the cost of living?
Does the location have quality internet?
Are there plenty of coworking spaces and cafes?
What is the culture like? Will there be plenty to do outside of work hours?
10 Best Workation Destinations
Not all destinations are the same. Many have gone before you and shared their experiences, describing what it's like to visit and work in just about every country out there. Culture, cost, and WiFi access are high priorities.
We've put together ten of the best spots to check out for a stellar workation experience. Many include a large expat community, an abundance of cultural activities and things to do, low crime rates and plenty of places to work from. In addition, they're easily walkable, female friendly, and come with access to quality healthcare.
Cost of living and the Wi-Fi quality — two very important factors when considering your workation location — are included below:
1. Chiang Mai, Thailand –
Cost of living: $1,054 a month
Wi-Fi quality: Excellent, averaging at 23 mbps
Chiang Mai is a juxtaposition of old and new. Thousand-year-old temples and quiet pagoda gardens mix with contemporary hotels, shopping malls and cosmopolitan restaurants. Its dark and beautiful mountain, Doi Suthep, comes into view as you enter the Old City. There is always a festival to check out, cobblestone streets filled with markets to explore and local food that will have your taste buds craving more.
2. Buenos Aires, Argentina
Cost of living: $768 a month
Wi-Fi quality: Good, averaging at 6 mbps
Buenos Aires has both European and Latin American heritage. You'll be able to visit the Teatro Colón, the Plaza de Mayo and don't forget about the abundance of incredible old world imports — steaks that will have your mouth watering and limited run wines that will transport you to a different time.
3. Istanbul, Turkey
Cost of living: $1,023 a month
Wi-Fi quality: Good, averaging at 7 mbps
Istanbul is the only country in the world that lives in two continents: Europe and Asia. It's a city filled with creativity, color and chaos. Deep history will give you the opportunity to learn about times like the Byzantine and Ottoman Empires. A must see is The Grand Bazaar, one of the world's oldest covered markets! The breaking of dawn brings with it a beautiful contrast, as you hear the muezzin's call to prayer ring from ancient minarets and watch as stragglers make their way home from the busy nightlife that can be found here. Istanbul is a city that never sleeps.
4. Bengaluru, India
Cost of living: $696 a month
Wi-Fi quality: Fast, averaging at 13 mbps
Bengaluru is one of India's most developed cities, enjoying a beautiful climate, modern public transportation, a varied dining scene and shopping for every budget. Victorian-era architecture, craft-beer, intriguing cafes, bustling markets, and plenty of other workation travelers make it a fascinating place to visit.
5. Medellín, Colombia
Cost of living: $1,013 a month
Wi-Fi quality: Good, averaging at 6 mbps
A city once known in most circles solely as the location of Pablo Escobar, Medellín is now a beautiful, modern and affluent city. You'd be hard-pressed to find so much as a bad cup of coffee here. What you will find are plenty of museums to stimulate creativity and beautiful tree-lined boulevards. Wander around the trendy El Poblado district or adventure through the busy and historic city center and take in everything Medellín has to offer.
6. Porto Alegre, Brazil
Cost of living: $900 a month
Wi-Fi quality: Good, averaging at 6 mbps
Porto Alegre earned its nickname, "Smile City," many times over as visitors experience the genuine hospitality of its people. As the capital of Brazil's wealthiest state, you won't have trouble finding plenty to do. If you visit in spring, you'll find jacaranda-lined streets that, while in full bloom, create beautiful purple tunnels.
7. Kaohsiung, Taiwan
Cost of living: $1,205 a month
Wi-Fi quality: Fast, averaging at 28 mbps
Kaohsiung is Taiwan's largest port city and has undergone a cultural renaissance. You'll find plenty of wide open spaces, parks, cycling trails, unique cafes, museums, art venues, jazz bars and music festivals. There are two swimming beaches within city limits and pristine forest parks to explore.
8. Ho Chi Minh City, Vietnam
Cost of living: $690 a month
Wi-Fi quality: Good, averaging at 9 mbps
Ho Chi Minh City used to be known as Saigon and is the heart of Vietnam. The Notre Dame Cathedral, the Saigon Opera House, the Jade Emperor Pagoda and the Bến Thành Market are all must-see cultural landmarks. You'll find plenty of shopping centers, bustling markets and roadside stalls to visit. Make sure to head out on an empty stomach as there is a sea of delicious street food to try — Phở, Bún chả, and Bánh mì just to name a few!
9. Lima, Peru
Cost of living: $1,069 a month
Wi-Fi quality: Good, averaging at 6 mbps
Lima is a city constantly on the move. It offers an extraordinary range of colors, flavors and experiences. Colonial-era architecture sits around every corner, even as the city continues to grow and develop. Located right on the banks of the sea and hailed as the gastronomic capital of Latin America, Lima is a city that will draw you out to explore its depths every day of your workation!
10. Querétaro, Mexico
Cost of living: $1,017 a month
Wi-Fi quality: Good, averaging at 6 mbps
If you're looking for a place that will have you exploring the outdoors, climbing, hiking, and mountain biking during the day with evenings spent eating gorditas de maíz martajado and wandering the bustling streets, then Querétaro is the city for you. Weekends filled with spas, wine and cheese, adventuring through Pueblo Mágico (Magical Town) or visiting the world's third largest monolith, Peña de Bernal, will ensure this is an experience you never forget.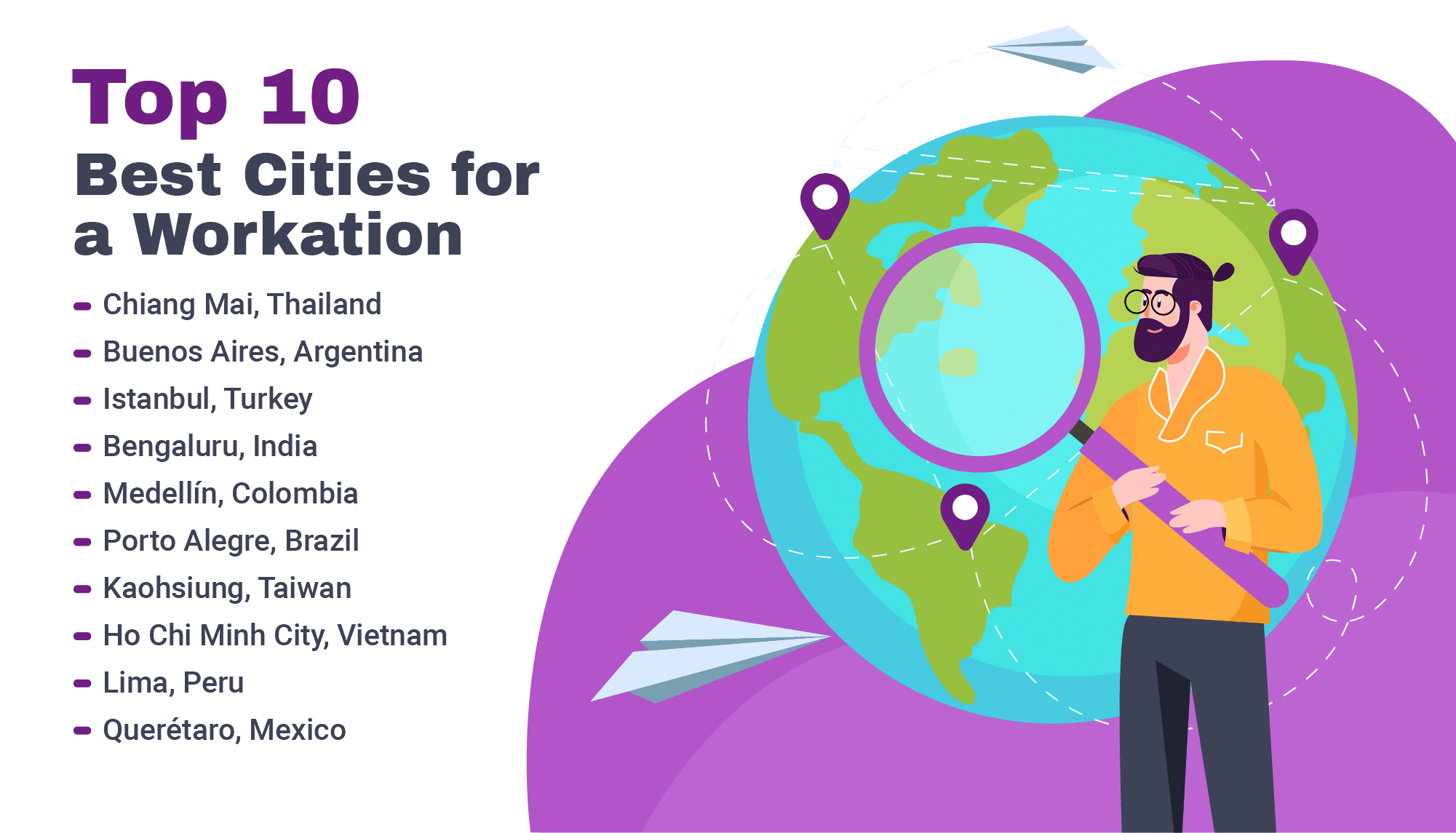 Where to Stay
Once you've nailed down where you're going, now comes the fun of figuring out your accommodations! You can choose from plenty of options, and it will all come down to what you're looking for. Do you want to stay in a hotel and enjoy the simplicity of having your needs cared for? Or would you prefer to live like a local in one of the unique lodging options available on Airbnb or Vrbo? Nearly half (46%) of those working remotely in the US say that they have already used Airbnb to find a remote working destination.
You could even check out short-term rental Facebook pages in most cities. These groups are usually filled with expats and other digital nomads who are happy to answer questions about the area so that you don't miss a thing!
Another interesting option that you can find all over the world is co-living opportunities, which bring you in contact with fascinating people doing the same thing you are. On top of that, you're also able to take advantage of beautifully designed living spaces, onsite fitness centers, dining options, and plenty of leisure space.
Biggest Challenges
Being prepared is important. A new city comes with new ways of living. Getting familiar with some of the more important aspects will make sure your entire trip is as smooth as possible.
If there are medications or items like insulin that you will need to refill while you're away, look into where it's available and how you'll gain access.
Check to make sure your insurance will cover your destination, and if not, look into global health insurance. A survey by the US Travel Insurance Association revealed that one out of every 6 persons who buy travel insurance end up filing a claim.
Get familiar with the impact COVID has had on the region and what regulations you'll need to follow in terms of testing, vaccinations, and necessary quarantine.
What time zone will you be in? Adjust your calendar and any meetings as necessary.
If you're planning on staying long term, feeling isolated may become challenging. Reaching out to other expats in the area through Facebook groups could be a key to combating this.
Why You Need a Workation
75 million US employees (that's 56% of the US workforce!) have a job that allows for remote work due to COVID-19. Making the most of the opportunity seems like a logical conclusion.
Of those who currently travel while working remotely, 81% are completely happy with the idea that they will continue this business-leisure lifestyle for at least two more years. The chances are high that a change of pace and scenery might be just the thing you're looking for!
Created by Next Vacay•View larger version