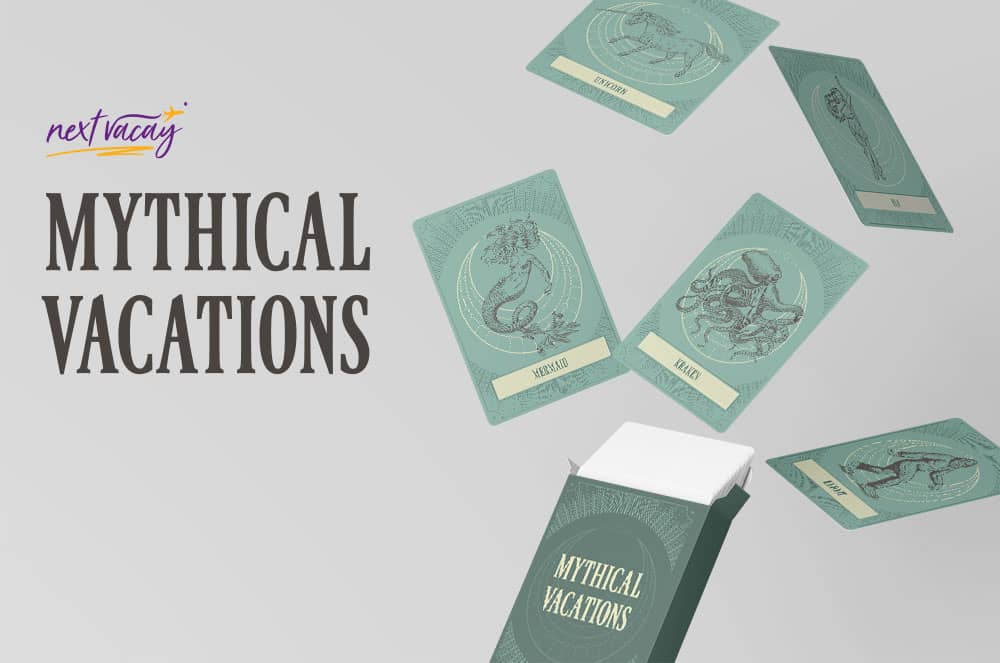 Everyone loves a bit of mystery. Speculating about the existence of a mythical creature, potentially catching a glimpse of it in the distance or staring for hours at an image to decide if it's photoshopped can capture the minds of people all over the world. But where should you go if you're determined to see one of these famed creatures in the flesh?
At Next Vacay, we've discovered which mythical creatures have allegedly been spotted around the world and where you should go if you want to be the next to see them. We've also looked into which countries and states believe in these creatures the most, based on Google search volumes, to help you decide where to go if you want to discuss the sightings with some like-minded people.
So, without further ado, let's get creature spotting…
Where to spot your favorite mythical creature
Have a cryptid (yeah, that's the official word) in mind that you've always wanted to peep in the wild? Ever wondered what a werewolf looks like? Whether Bigfoot really exists? These are the places you need to go to catch a glimpse of the world's most elusive creatures, based on the first and last sightings of them.
It's about time for a banshee sighting in Ireland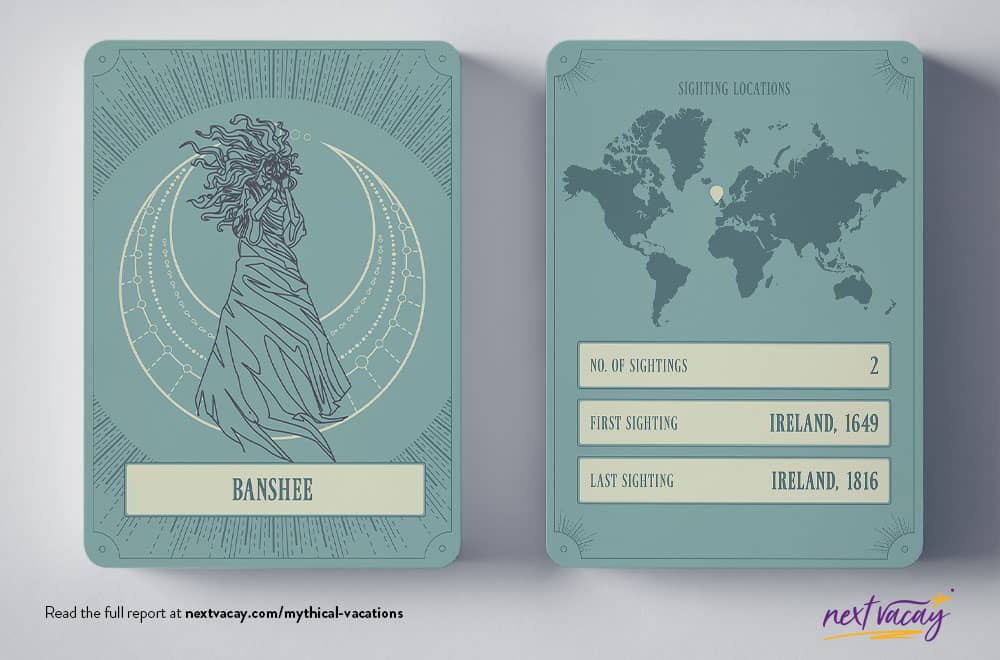 The first banshee sighting recorded was way back in 1649 in Cork, Ireland. If you think that's a long time, even the most recent spotting was still over two centuries ago in 1816 – also in Ireland, but this time in the town of Randalstown. It makes sense, considering the banshee is a female spirit mentioned only in Irish folklore. The spirit is said to warn a family that one of them is going to die soon, and is characterized by its wailing and screaming. We're not sure we'd like to come across one, but if you do, Ireland is the place to go.
Elves were recently spotted in Iceland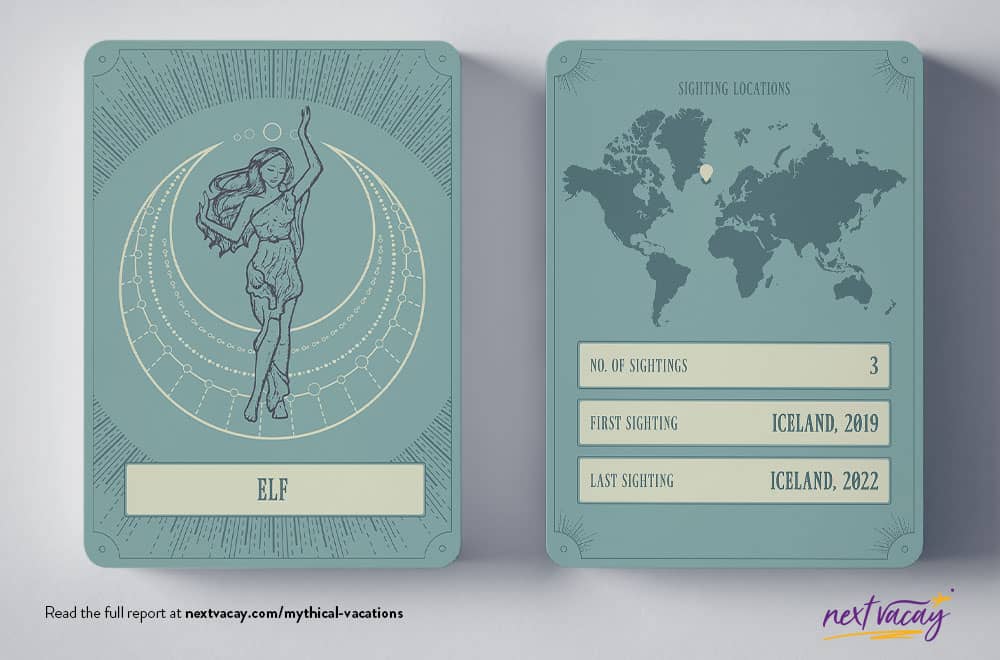 Elves have been seen three times in recent years, with all sightings occurring in Iceland. There were two recorded sightings of so-called 'elf palaces' in 2019, occurring in Borgarfjörður eystri and Tungustapi. In these places, people claim to have seen ships bringing goods for the elves to buy in a market. More recently, many have gone on an elf walk led by Sigurbjörg Karlsdóttir in the town of Hafnarfjörður, where tourists can see signs of elf life.
Werewolves are a European species, apparently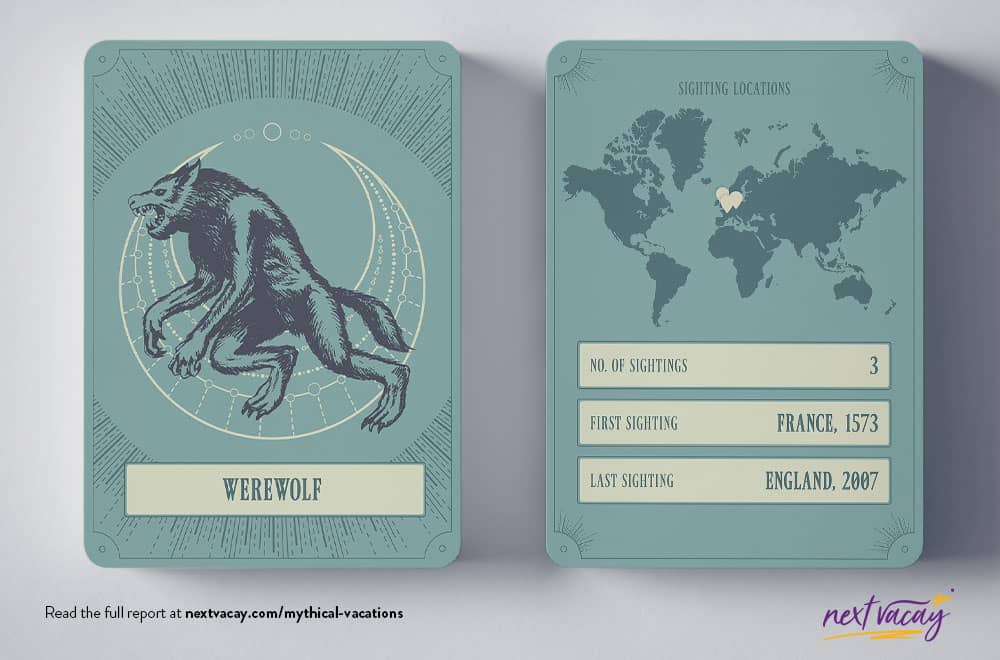 Many years passed between the first werewolf sightings and the most recent one. In 1573, there was a tale of a hermit called Gilles Garnier living on the outskirts of Dole, France. Garnier terrorized the town, killing two boys and two girls in gruesome ways. He told the court that a demon had given him an ointment which transformed him into a wolf, thus making his old and feeble body better able to hunt. More recently, sightings have included far less gore. In 2007, the West Midlands ghost club reported a 'werewolf-type creature' in Cannock Chase forest. Maybe you could be the next to spot such a beast…
Scottish unicorns were seen in 2014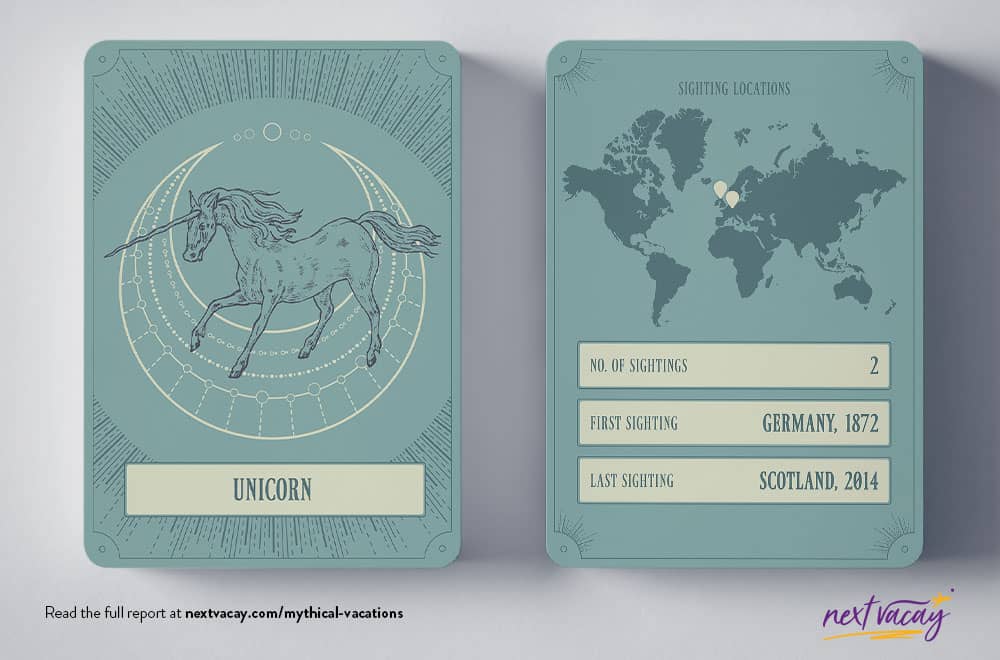 The myth of unicorns goes back hundreds of years, with a cave in Germany being the place where supposed unicorn bones were found all the way back in 1872. Thus, it earned the name Unicorn Cave. More recently, in 2014, there was a sighting in Scotland by an anonymous man of what he described as 'basically a horse with a horn'. Sounds about right. The unicorn is the national animal of Scotland, so if this creature was going to be spotted anywhere, it seems appropriate that it's here. Explore near the Castle of Old Wick for a chance to confirm its existence for yourself.
Mermaids have been spotted six times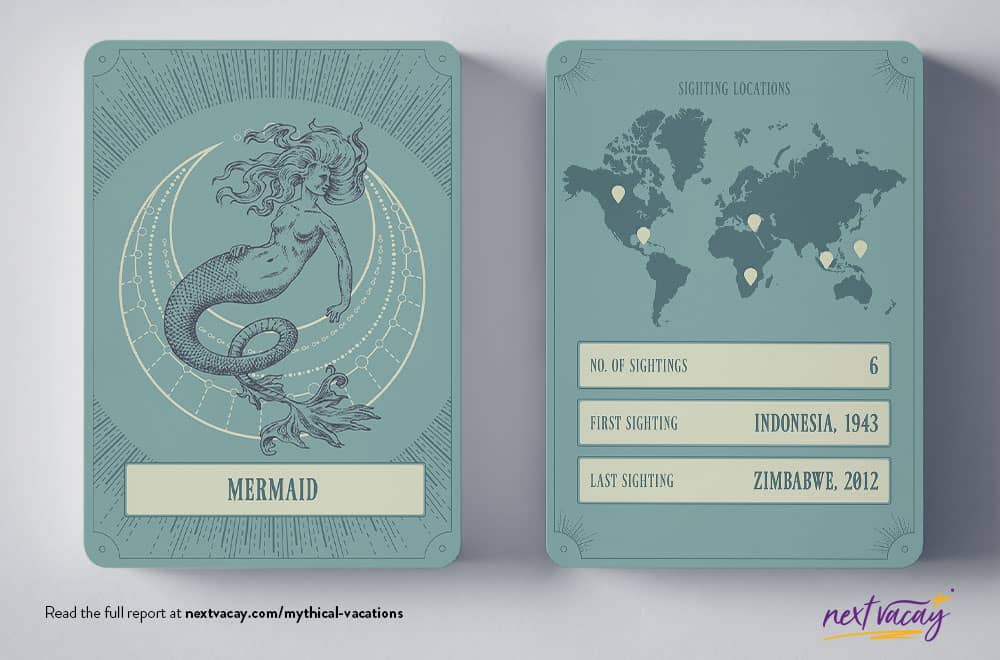 Throughout history, there have been six sightings of mermaids. While the earliest one, in 1943 by Christopher Columbus, has been said to have been manatees, there have been many more sightings since then. The most recent was in 2012, in Zimbabwe, where mermaids were said to have prevented dam workers from finishing repairs. So, if seeing mermaids is on your bucket list, Zimbabwe could be the place to find them.
Fairies haven't been seen since the 80s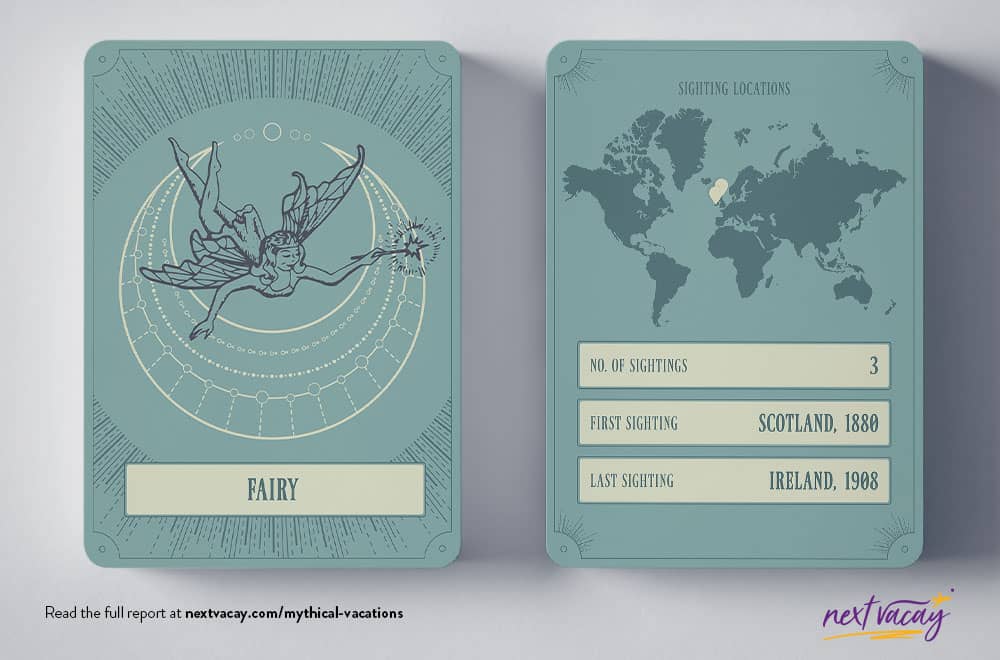 The earliest sighting of fairies was in 1880, on the Isle of Skye. Multiple people were there to confirm the story of fairies dancing in a ring around a fire, so it's quite a convincing tale. The most recent sighting was in Cavan, Ireland in 1980, so it's been a while. However, this might mean that the next sighting is imminent – and it could be you to tell the tale. Visit Scotland or Ireland for the best chance of stumbling upon a fairy.
Vampires have been spotted all over the world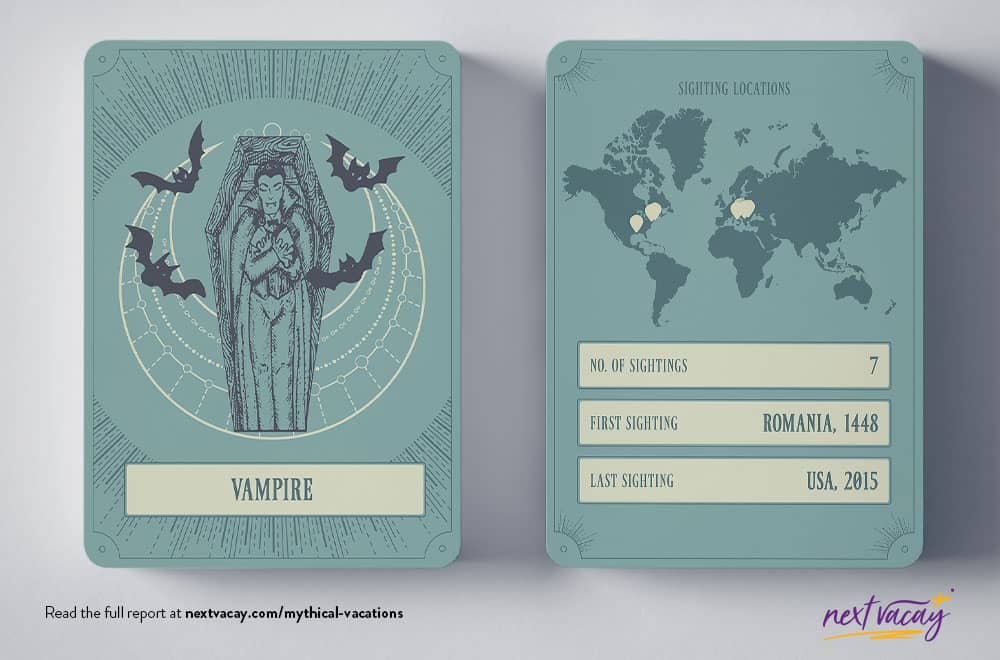 Vampires have allegedly been seen all over the world, with seven sightings recorded since 1448 – the earliest being in Transylvania, of course. The tale of Dracula is well known around the world, but there are 'vampires' spotted even today, with the controversial, blood-drinking New Orleans community living their lives as we speak. The community tends to keep to themselves, but if you pay them a visit, we're sure they'd be happy to chat with you.
To see a Yeti, head to Nepal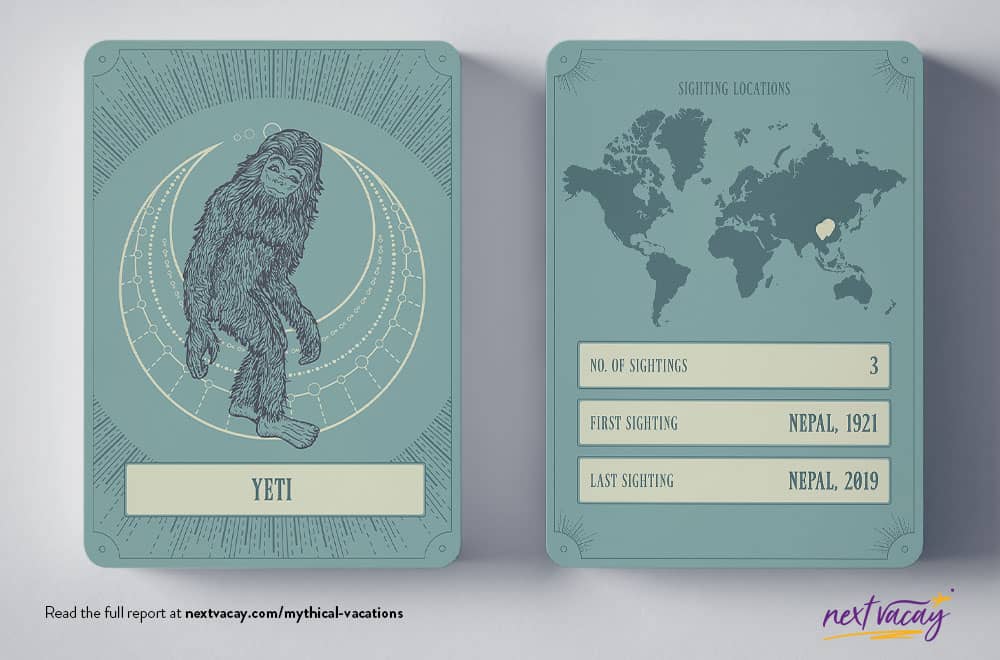 Yetis are famously elusive, only having been spotted three times in history. The first sighting was in 1921 on Mount Everest, where sherpas spotted some mysterious footprints they believed belonged to the 'wild man of the snows'. These footprints were spotted again in 2019 by a mountaineering team near Makalu Base Camp – so the infamous yeti might still be out there. It'll be a trek to get high enough to spot him, but it's worth a try.
Find a leprechaun in Ireland… Or Alabama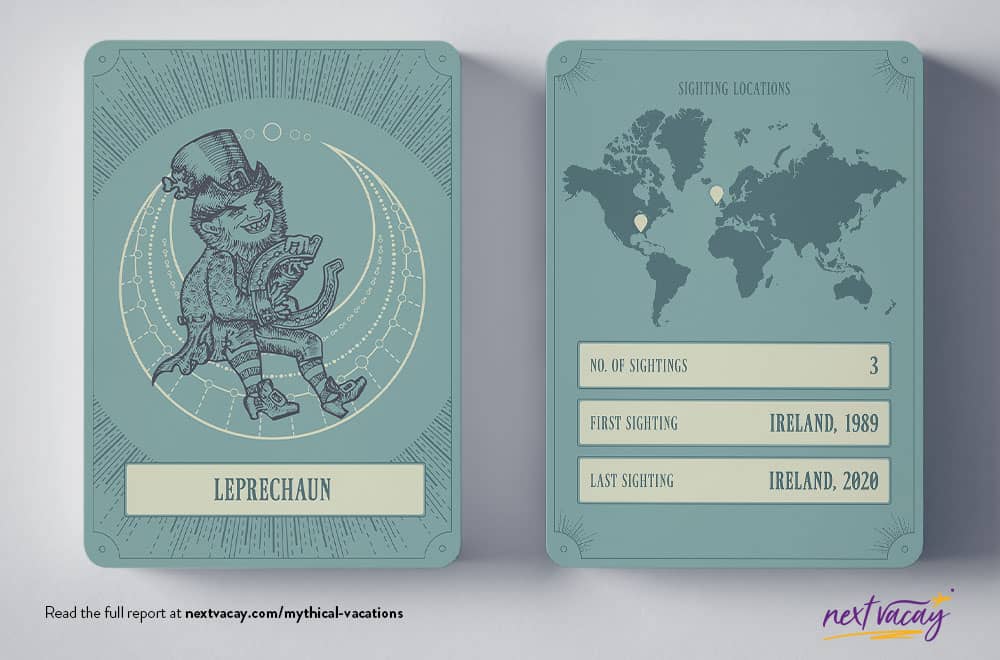 There have been three leprechaun sightings recorded so far – two in Ireland, and one, strangely, in Alabama. In 1989, a 'leprechaun suit' was found in Ireland's County Louth, alongside some small bones and four gold coins. Decades later, in 2006, there was a supposed sighting of a leprechaun in a tree in Crichton, Alabama – which became one of the first viral videos on YouTube. More recently, in 2020, there was another Irish sighting by two sisters, claiming to have spotted a leprechaun in Cratloe Woods. So if you hope to see one of these gold-toting beings for yourself, plan to venture to one of these two places.
Chupacabras are causing havoc in the Americas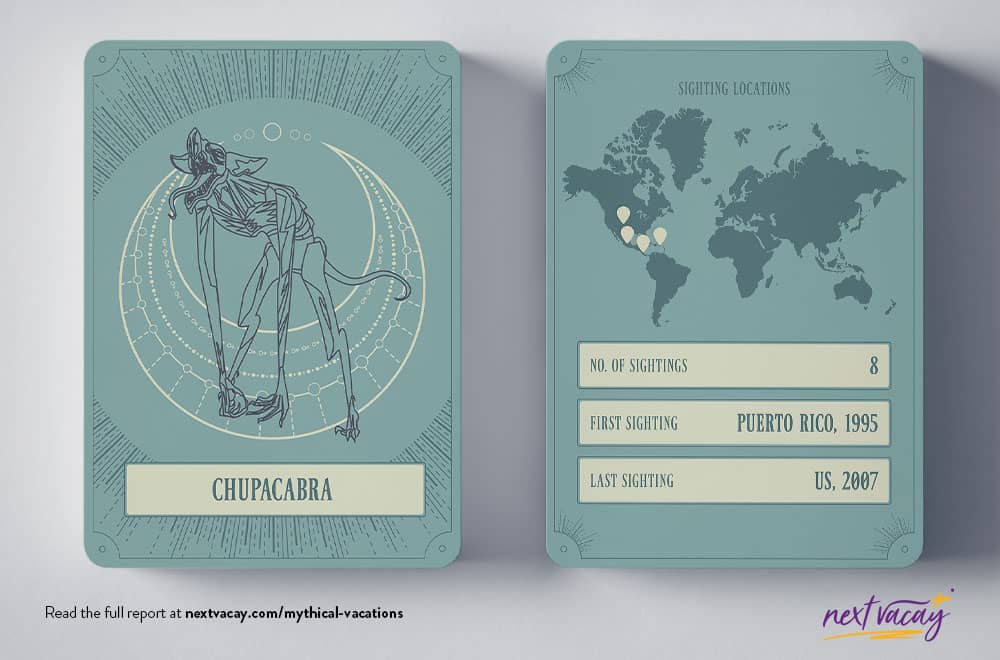 With the most sightings out of any creature on this list, the chupacabra – or the things it has left behind – has been spotted eight times, in both North and South America. According to folklore, this vampiric creature attacks and drains the blood of livestock, leaving a grisly scene wherever it goes. The first evidence of it was in Texas, leaving a trail of mutilated cattle completely drained of blood, but the first alleged sightings of the creature were in Puerto Rico in 1995. It was spotted again more recently in Texas by a ranch owner, who soon after found one of her chickens drained of blood. Want to see one for yourself? Follow the cattle.
The countries that believe in mythical creatures most
To discover which countries believe in cryptids, and which ones they believe in, we used search volumes of the terms '[creature] sightings' and '[creature] real' to discover the places searching for them the most. These are the results.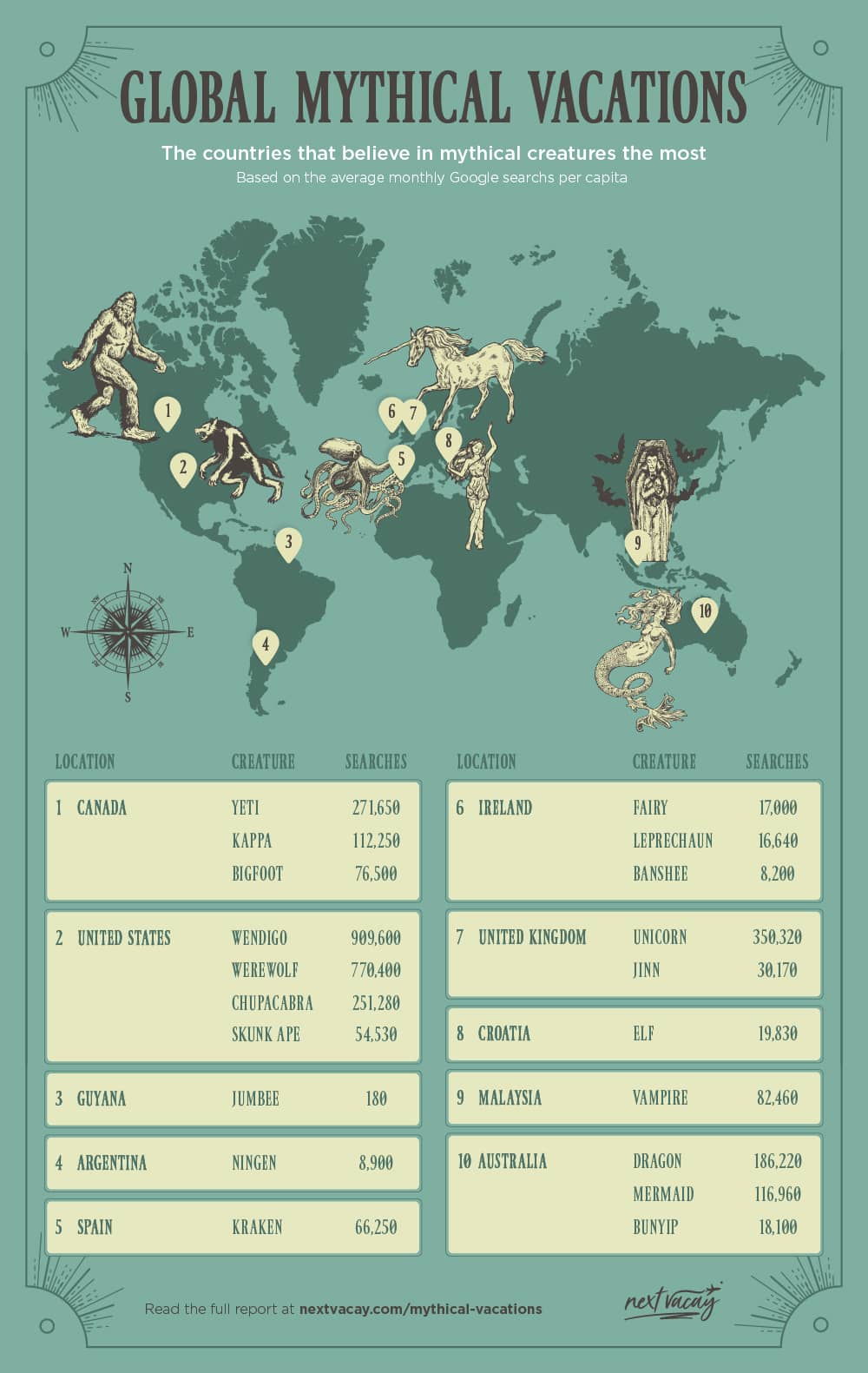 The United States believes in werewolves and wendigos
Despite wendigos mainly being spotted in Canada, the United States can't get enough of them. All over the country, wendigo related search terms are looked up 909,600 times per month on average. To save you the search, a wendigo is a creature or evil spirit that possesses human beings. So if you see one, run the other way.
Werewolves are another popular cryptid in the US, being searched for an average of 770,400 times a month. Whether they exist or they don't, the US is clearly very interested in the idea of a man-wolf hybrid.
The United Kingdom searches the most for unicorns
The United Kingdom is dying to see a unicorn, searching for the elusive creature an average of 350,320 times a month. The country sports its fair share of alleged sightings, so it could well be that residents are searching online in the hopes that there's been a unicorn seen somewhere near them. Spoiler: there probably hasn't.
Canada is a huge fan of the Yeti
The great white north has been searching an average of 271,650 times per month for yeti-related terms. The creature has never been spotted in Canada; however, the terrain and weather conditions of various parts of the country would make for the perfect residence for this winter-ready creature. Perhaps we'll hear about a sighting soon…
Australia searches a lot for dragons and mermaids
The legends of mermaids and dragons have clearly spread throughout Australia. The former is searched for an average of 116,960 times a month, and the latter 186,220 times a month. Mermaids exist in Aborigine folklore, perhaps explaining why these search numbers are so high. If we were mermaids, we certainly wouldn't mind living in the oceans surrounding Australia.
And judging by the size of some of the animals in Australia – including the lizards – we wouldn't be too shocked to see a real-life dragon there either.
Malaysia wants to know everything about vampires
With an average of 82,460 searches for vampire-related terms coming out of Malaysia per month, this fearsome creature may be out of sight, but it's obviously not out of mind. And we think we know why… There is a vampiric entity in Malaysian ghost myths called the Penanggalan, taking the form of a floating, disembodied woman's head – and if that was rumored to exist where we live, it would be on our minds 24/7, too.
The states that believe in mythical creatures most
Bringing it to the US, we wanted to see which states hold the most searches for mythical creatures, and which creatures they were searching for the most. Just as with the individual countries, we did this by looking at the Google search volumes for the terms '[creature] sightings' and '[creature] real'. Is your state one of the top searchers? Let's find out.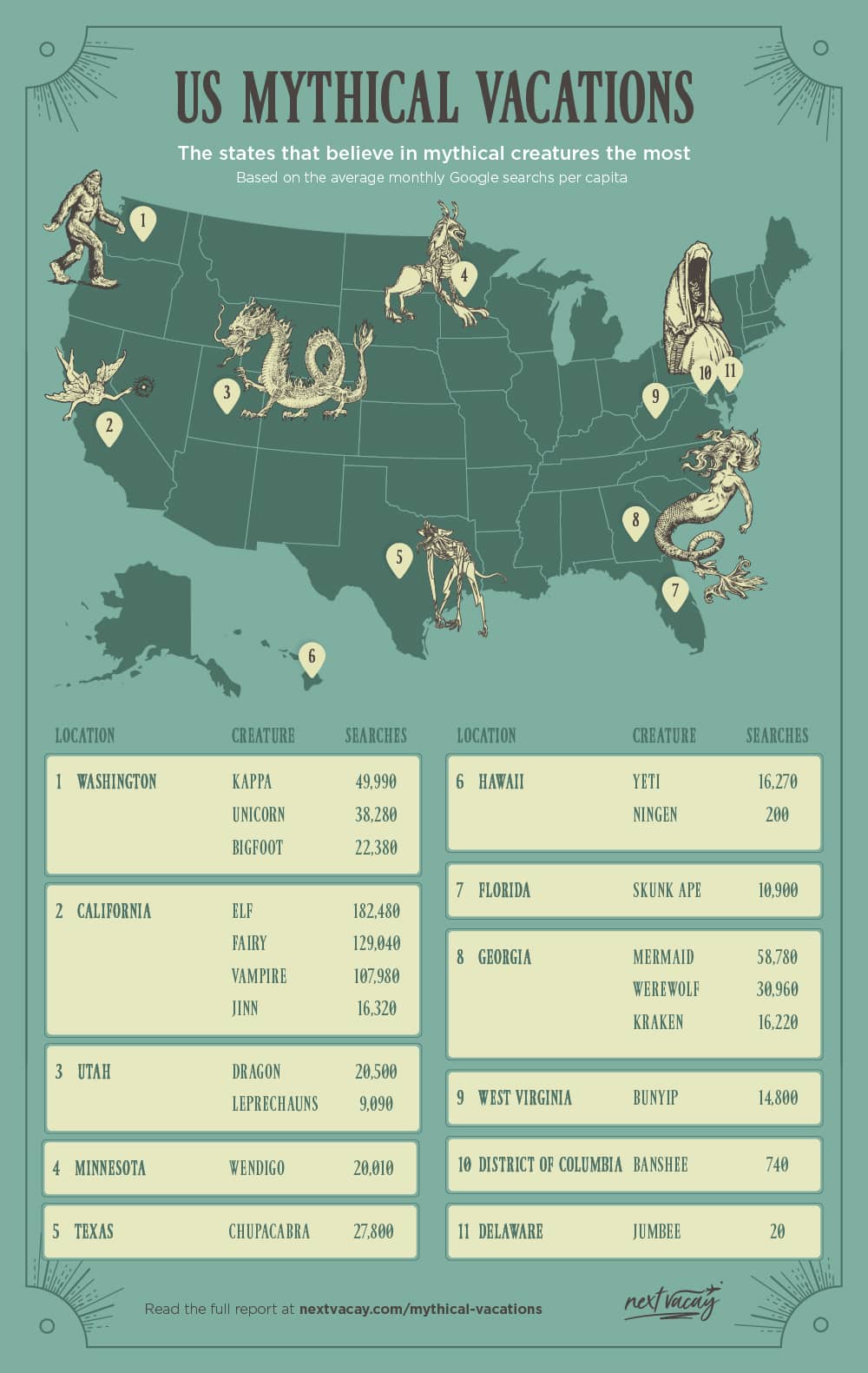 California can't get enough of elves, fairies and vampires
The state of California searches a lot for various mythical creatures. That said, elves, fairies and vampires take the crown for the most searches , with an average of 182,480, 129,040 and 107,980 monthly searches respectively. Plenty of mythology surrounds the wilds of California, with all sorts of strange beings spotted there. It's no surprise that the residents want to find out more about these curious cryptids.
Georgia searches a lot for information about mermaids
Despite most of the state being inland, mermaid-related terms are searched for an average of 58,780 times a month in Georgia. However, it may not be that Georgia residents are looking for proof of real mermaids existing. Rather, the famous Weeki Wachee mermaids, a live mermaid show experience, has performed in the Georgia Aquarium a couple of times in the last few years. So, people are either hoping the creatures exist, or they're hoping to snag some show tickets. We'll never know.
Washington wants to see a unicorn
While there haven't been any sightings of them there (yet), the state of Washington searches for unicorn-related terms online 38,280 times on average every month. There are plenty of mountainous, wild areas in the state, so there's no lack of space for the creatures to roam. If you ever go to Washington – or live there right now – keep an eye out. You never know what you'll see wandering in the forest…
Texas is preparing for a chupacabra attack
The chupacabra has allegedly terrorized ranches in Texas for years, attacking cattle and livestock and leaving wreckages in its wake. As a result, the state searches for the creature online 27,800 times a month. We don't blame them: if a mysterious creature was killing our animals, we'd want to find out everything we could about it, too.
Utah is fascinated by dragons
Back in 2010, the bones of a 'horse dragon' dinosaur were found in Utah, perhaps prompting the residents of the state to start thinking about what other creatures might be lurking out there even now. The state searches for dragon-related terms an average of 20,500 times a month, so it's clear that Utahns have some hang-ups about this creature. If you're in this state, keep one eye on the skies. You never know what you'll see.
Want the best flight offers straight to your inbox?
Whether you want to travel to a place to find a mythical creature or want to get as far away from the country of vampires as possible, you'll get all the best flight deals straight to your inbox with the Next Vacay newsletter.
Sign up now to never miss a flight deal again.
Methodology
We wanted to look into some of the most popular cryptids in the world, while also having a good representation across various continents. We looked into search volumes across different regions, which enabled us to build this list of cryptids. From this list, we looked into reported sightings across various countries and the year reported to provide examples of the types of stories associated with each. Additionally, we wanted to see global search volumes for these cryptids across various countries and states. We utilized our keyword tool to identify countries and states which had high levels of search volume in relation to these cryptids, as well as associated terms ([Cryptid] Real, [Cryptid] sightings, [Cryptid]. For each cryptid, we divided the search volume by the country's population, which provided us with the country that had the highest search volume per capita. A limitation present in this study is that we were unable to look into each country's search volume for cryptids in their native language. Additionally, we could not consider every local variation of the cryptid's name. The country with the highest search volume for each cryptid was avoided, as only a couple of countries dominated due to the size of their population. The same case occurred on a state level, so to prevent this, search volume was done per capita.