All aboard! You don't need a plane ticket or a passport to explore amazing destinations outside US borders. Instead, consider setting sail and cruising the high seas to discover some truly incredible and beautiful places right here in our own backyard—figuratively speaking, of course. From the calm seas of the Caribbean to the eclectic shores of the Pacific and beyond, dine on delicious food, dance to exciting beats, and take in breathtaking sights, and that's all before you even step foot off the boat! If you're ready to discover your new favorite place, we'll take you through the ten best cruises you can enjoy without a passport.
Table of Contents
Can You Go on a Cruise Without a Passport?
You can travel on a cruise without a passport, but it does depend on the type of cruise. Anything that requires an international flight, for example, is out—yes, unfortunately, that does mean no European cruising. But if you're going on a closed-loop cruise, you can absolutely travel without a passport.
A closed-loop cruise is one that sails within the western hemisphere and starts and ends in the same port. For example, an itinerary that begins in Miami, stops in the Bahamas, and returns to Miami is a closed loop. On a roundtrip cruise like this, travelers don't need a passport.
According to the U.S. Customs and Border Protection, US citizens can travel on a closed-loop cruise so long as they have one of the following documents:
But, while that's all that the U.S. Customs and Border Protection requires, that's not to say you're in the clear just yet. Some cruise lines may need a passport even if you're traveling on a closed-loop cruise. Regent Seven Seas Cruises is one such cruise line requiring passports on all voyages, regardless of destination. In contrast, Carnival allows US citizens to travel without a passport on closed-loop cruises, leaving you free and clear to explore some incredible destinations.
Why You Should Travel with a Passport Anyway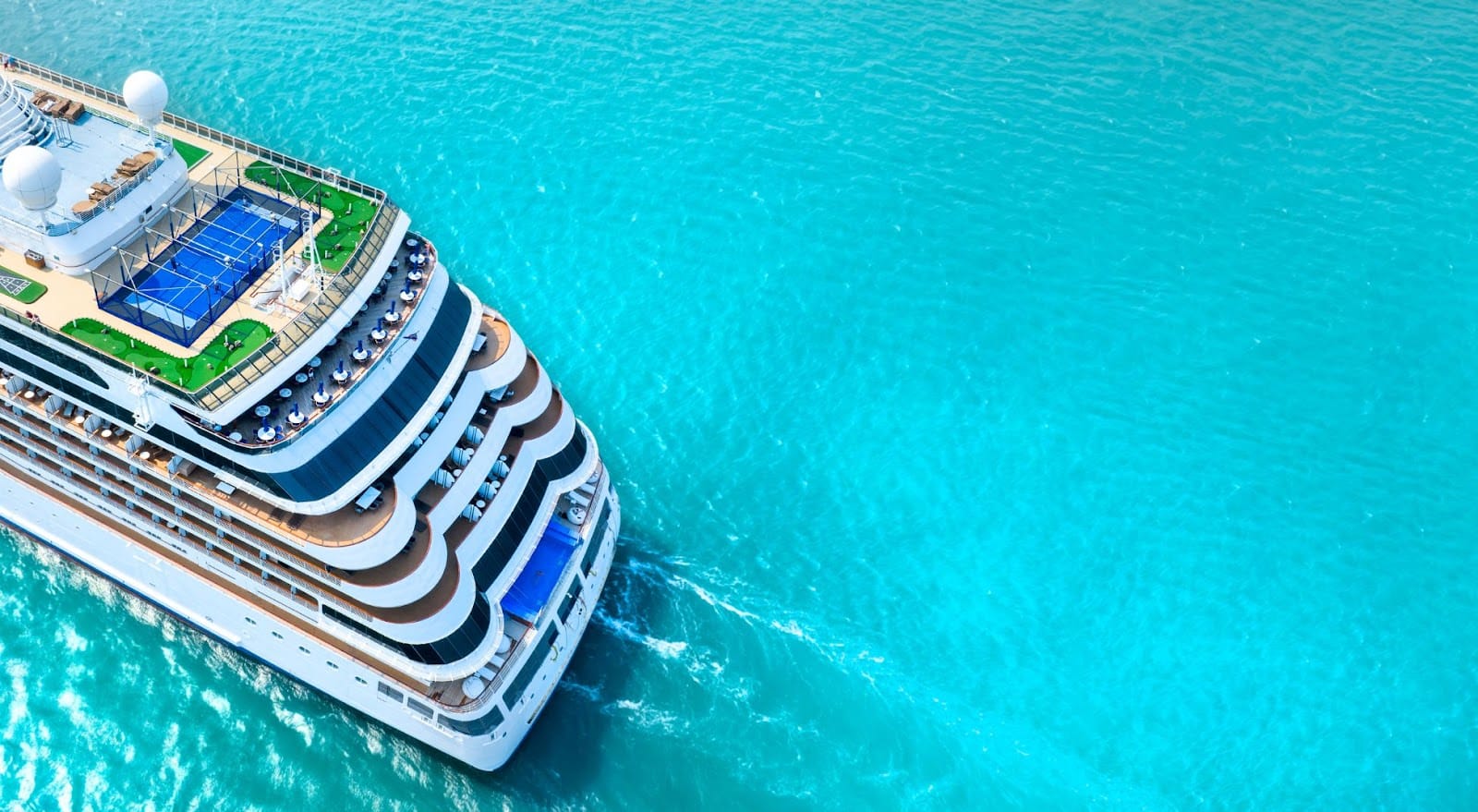 Maybe you've been invited on a last-minute trip and don't have time to get your passport. Maybe you've already applied, but your passport won't arrive in time. For whatever reason, you may not be able to obtain a passport before your departure. Fear not. You can still travel and enjoy an amazing cruise experience.
But it is worth knowing that Carnival, and other cruise lines like it, recommend citizens travel with a passport, even if the cruise line doesn't require it.
Specific ports of call will require a passport to disembark, so you'll have to stay onboard if you don't have yours. Of course, with near-endless entertainment available, this won't be too much of a drag. But it is something to consider if you want to explore all the destinations along your cruise route. Additionally, if you miss your scheduled departure, you can fly to a foreign port to catch the remainder of your cruise or disembark and fly back to the US in an emergency. Without a passport, that's pretty much impossible.
So, while you can travel without a passport, you should absolutely bring it along with you if you have it lying around at home!
The Best Places to Cruise Without a Passport
You don't need your passport to sail to these stunning destinations—just an adventurous spirit and a boarding pass. Here are ten fun and breathtaking cruises you can take without a passport for an unforgettable experience.
Cruises to the Caribbean Without a Passport
Looking for a tropical getaway? Travelers are spoiled for choice, whether looking for quick weekend getaways to paradise or trips long enough to set their work status to Away.
The Bahamas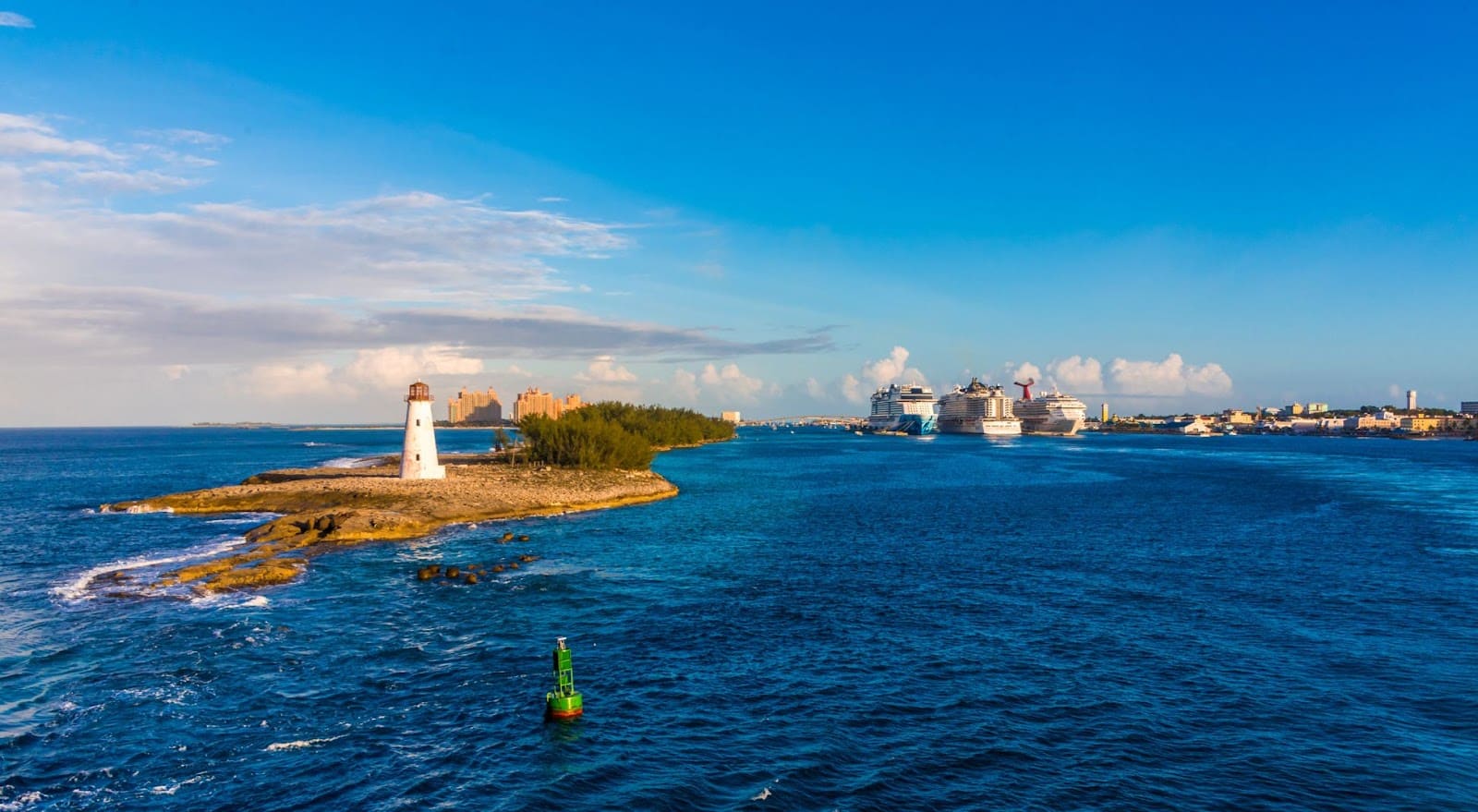 Sink your toes into pink sand beaches, dive into vibrant coral reefs, and enjoy a picture-perfect island getaway with a cruise to the Bahamas. While many might think this island destination is off-limits without a passport, you actually don't need one to disembark from your cruise. That means you can explore every bit of the Bahamas, from fun sports out on the water to island shopping in Nassau and kicking back on the unspoiled beaches of Princess Cays or Half Moon Cay.
Located close to the US, this beautiful cluster of islands makes for a quick and easy getaway from many of the ports dotting the Florida coast.
Mexico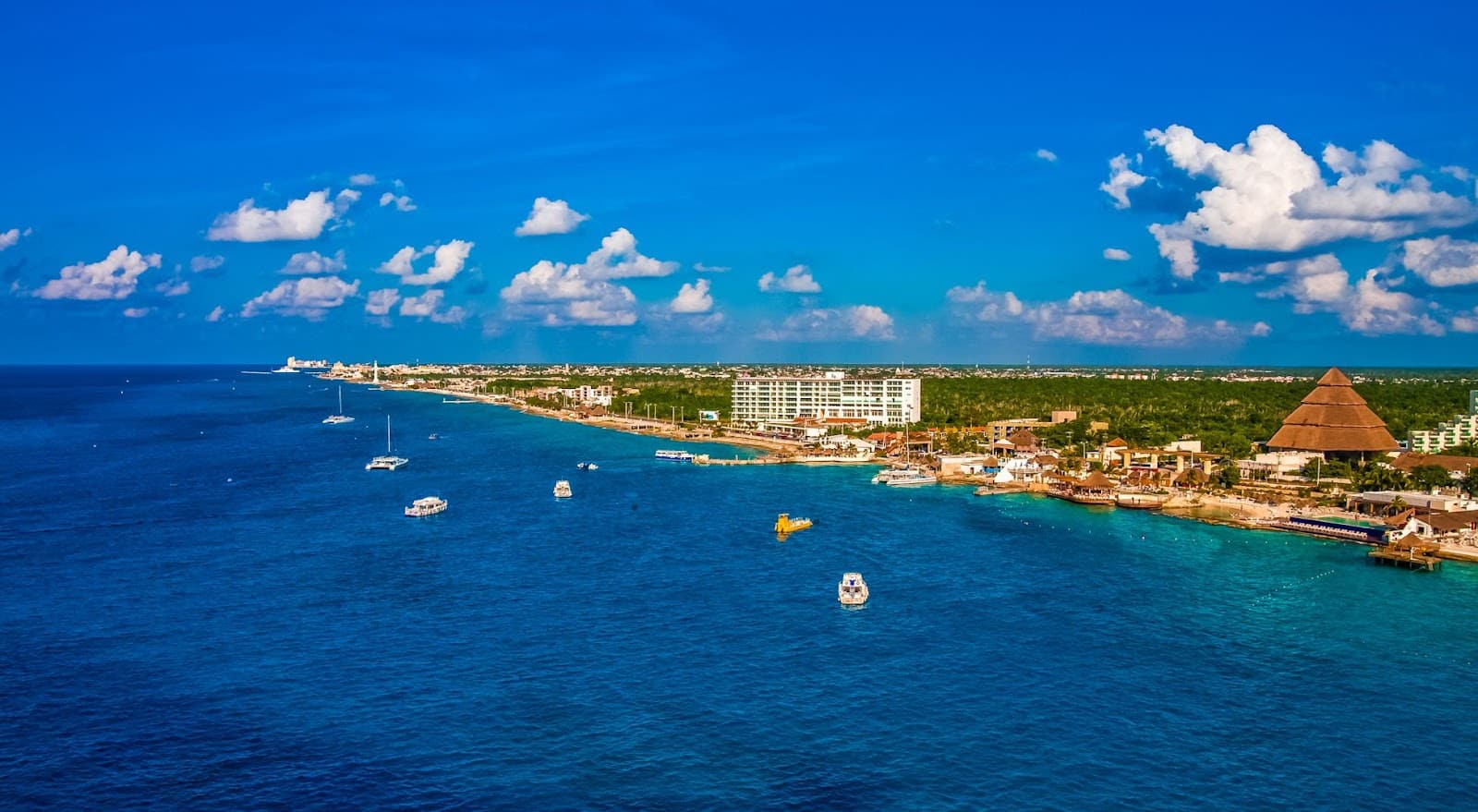 The southern neighbor of the United States has two gorgeous coasts to its name, promising double the fun for cruises without a passport. The eastern coast of Mexico, bordering the Caribbean Sea, is doubtless the more well-known and well-traveled, offering a dazzling array of natural wonders, least of all its white sand beaches. But, of course, there's plenty more where that comes from. Mexico's eastern coastline bursts with ancient Mayan Ruins, mouthwatering cuisine, and a list of land and water activities a mile long, from ziplining over the jungle to horseback riding on the sand.
While the east coast is most accessible from Florida ports like Miami, Fort Lauderdale, Tampa, and Port Canaveral, travelers can also hop aboard cruises heading out from Galveston, New Orleans, and the Port of Mobile in Alabama for some passport-free fun on Mexico's Caribbean shores.
Puerto Rico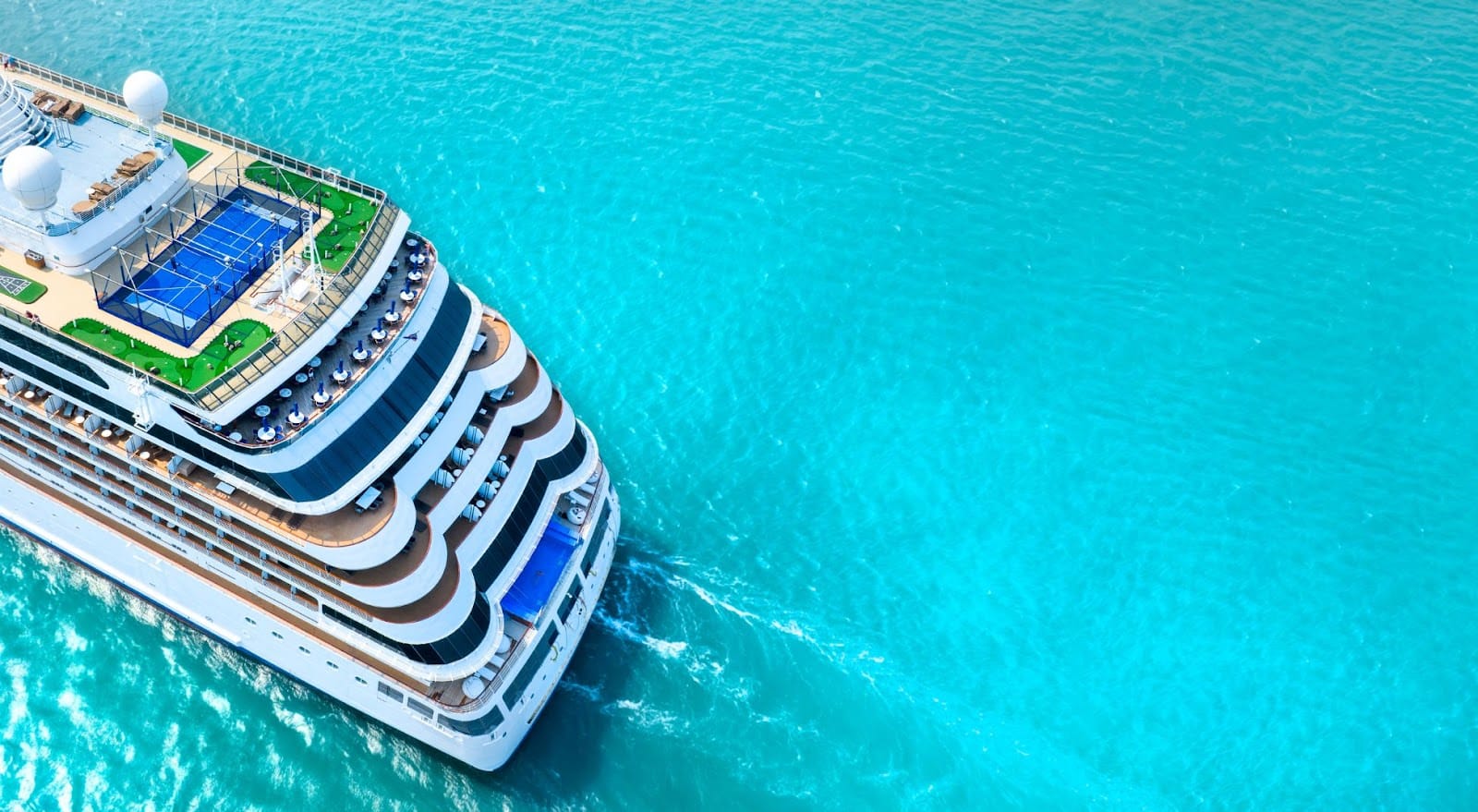 Puerto Rico is one of the best places to travel without a passport. Period. So it's no surprise that it also makes for one of the best cruise destinations in the Caribbean. Colorful colonial buildings line cobblestone streets, waterfalls dot the lush jungles, and bioluminescent bays make the coastline quite literally shine.
What makes Puerto Rico special is that you're not just relegated to cruises departing from Florida or other mainland ports. Even without a passport, you can fly to Puerto Rico to set sail on a Caribbean holiday right from the Caribbean.
But, of course, even if you start your journey from the US mainland, plenty of Caribbean cruises offer a stop at San Juan. And because you don't need a passport to travel here, this is one stop where exploring your destination is guaranteed.
U.S. Virgin Islands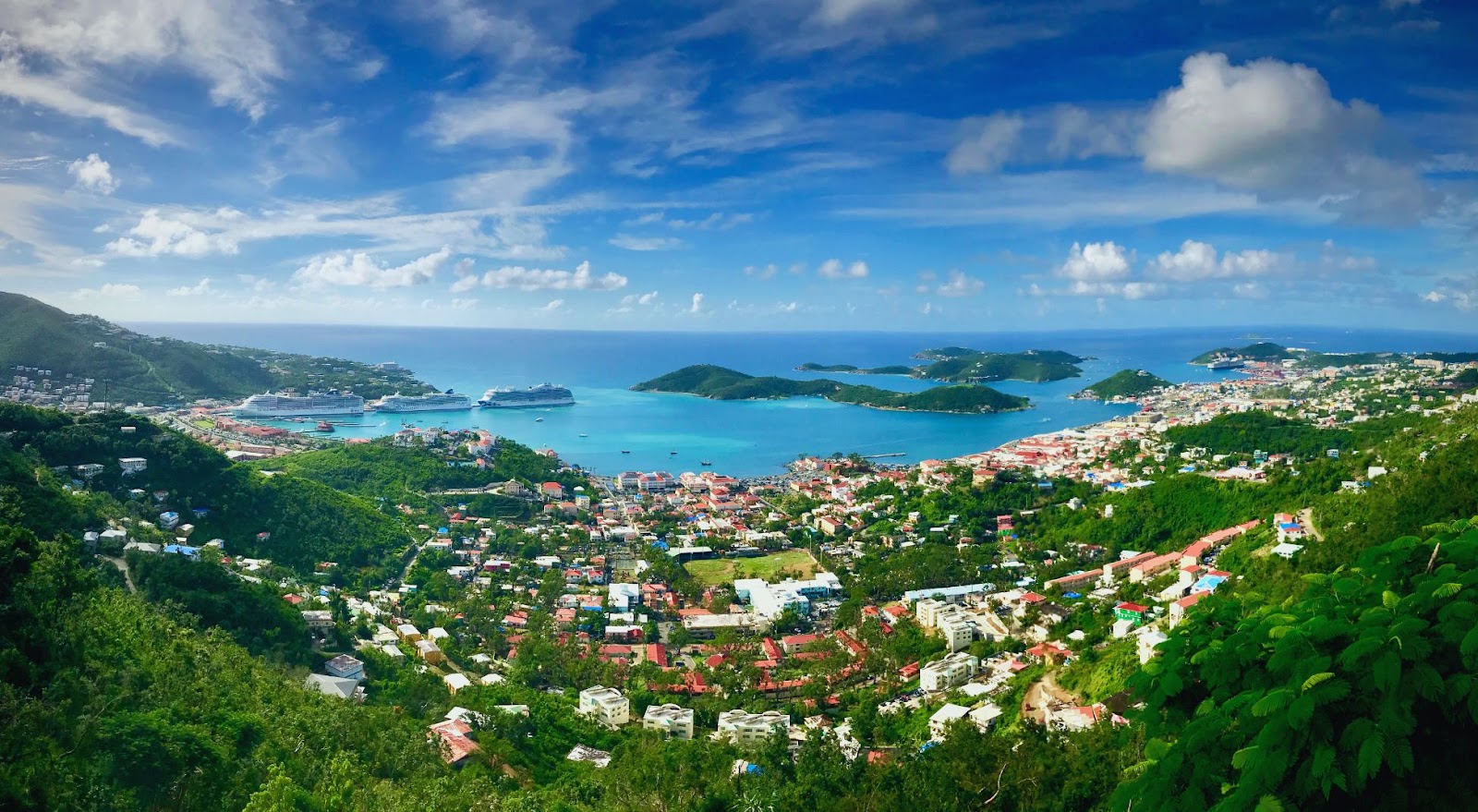 Since pirates sailed the seas, the U.S. Virgin Islands have been a coveted destination for many travelers. Luckily for tourists, it's another rare gem in the glittering Caribbean Sea that US citizens can either cruise or fly to, thanks to its status as a US territory. And a good thing, too, because this destination is not to be missed. The pristine beaches and turquoise waters are considered some of the best in the world. From the coconut-dotted shores of Magens Bay to the turquoise waters and colorful marine life of Trunks Bay, a tropical paradise awaits.
Of course, it's not all about the beaches on the U.S. Virgin Islands. Wander colonial towns rife with history, shop till you drop with double the duty-free limit of other islands, and discover colorful worlds beneath the ocean's surface.
Plenty of Eastern Caribbean cruises stop at the U.S. Virgin Islands, along with Puerto Rico, so you can fully enjoy both ports worry-free, even without a passport.
Other Caribbean Islands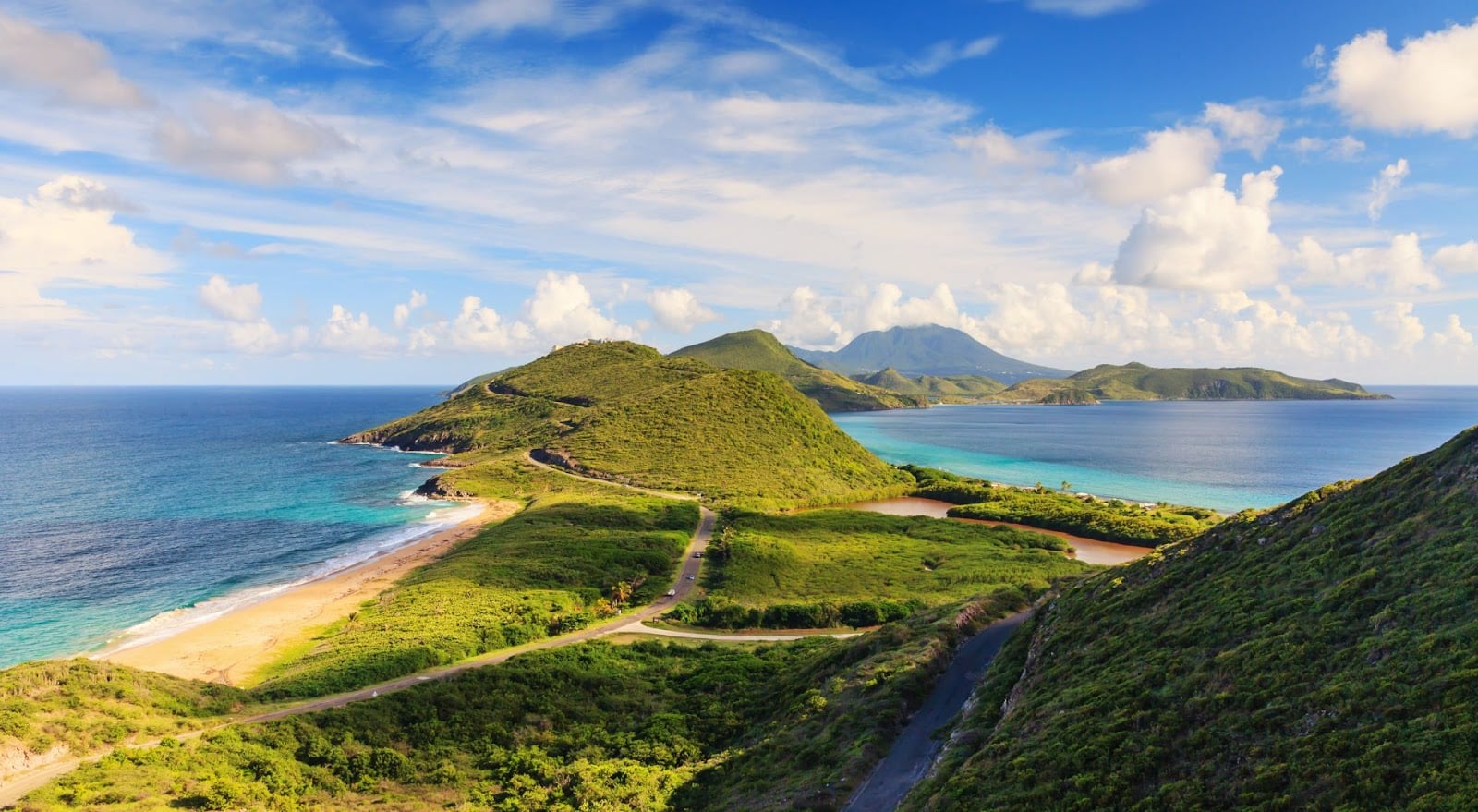 While the Caribbean has its fair share of sought-after destinations, plenty of other amazing stops along the way don't require a passport for your Caribbean cruises. Swim with stingrays at Grand Cayman, take in the lush, rolling hills of St. Kitts, and chase waterfalls on Dominica.
And for those stops requiring a passport, those days will be the perfect opportunity to kick back and enjoy the ship's many amenities while the crowds have their fun on land. And something you never need a passport for is enjoying the incredible views from the deck of your Caribbean cruises.
Cruises in the Pacific Without a Passport
From the glacial landscapes of Alaska to the tropical shores of Hawaii, the Pacific showcases gem after gem of incredible destinations and unfathomable beauty. Prepare to set off from the West Coast and sail into adventure with these spectacular cruise destinations.
Alaska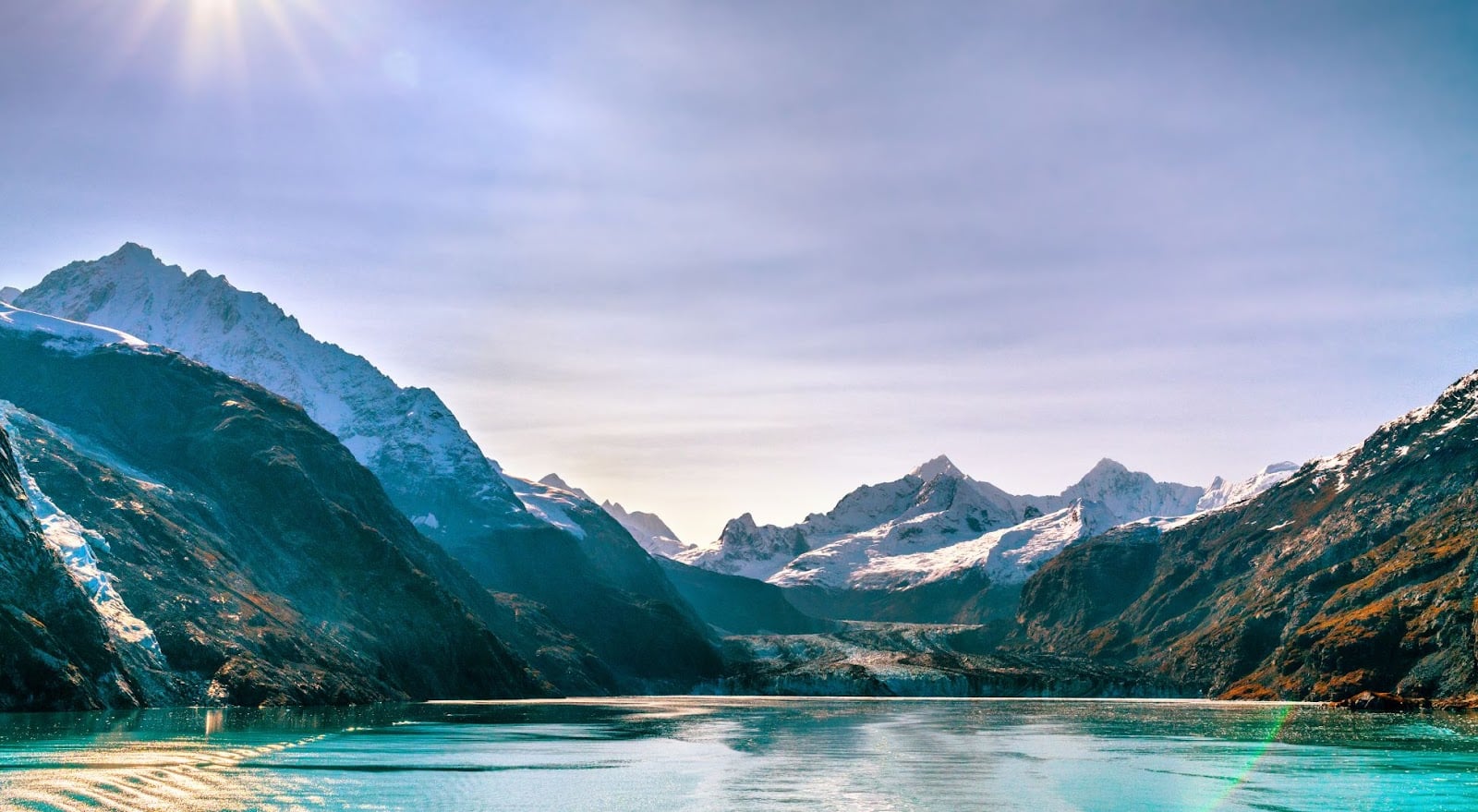 Home to incredible wildlife, stunning glaciers, and charming towns, Alaska bursts with must-see sights. And short of a helicopter tour over the majestic landscapes, the best way to see it all is on an Alaskan cruise. Visit waterfront cities like Juneau and Skagway, dog-sled over snowy landscapes, and watch for the tell-tale tail slaps and breaches of playful whales out on the water.
Now, you might think that Alaska is an obvious choice for cruises without a passport. After all, it's a US state, and you don't need a passport to visit. But, many Alaskan cruises combine stops in Alaska with a stop or two in British Columbia. And trust us; you'll be glad they do. In Victoria, enchantment awaits among the ancient Victorian architecture whether you're riding in horse-drawn carriages or atop a double-decker bus, while Vancouver promises as much beautiful scenery as it does lively entertainment.
Alaskan cruises commonly depart from Anchorage, San Francisco, Seattle, and Vancouver. While in most cases, you would need a passport to travel into Canada, you can get around this by crossing the land border and providing an Enhanced Drivers License (currently only available to residents of Michigan, Minnesota, New York, Vermont, and Washington) and a birth certificate. With these documents, you can hop on a one-way cruise from Canada to Alaska or vice versa. Just remember, if you're planning to fly into or out of Canada, you'll need a passport.
Hawaii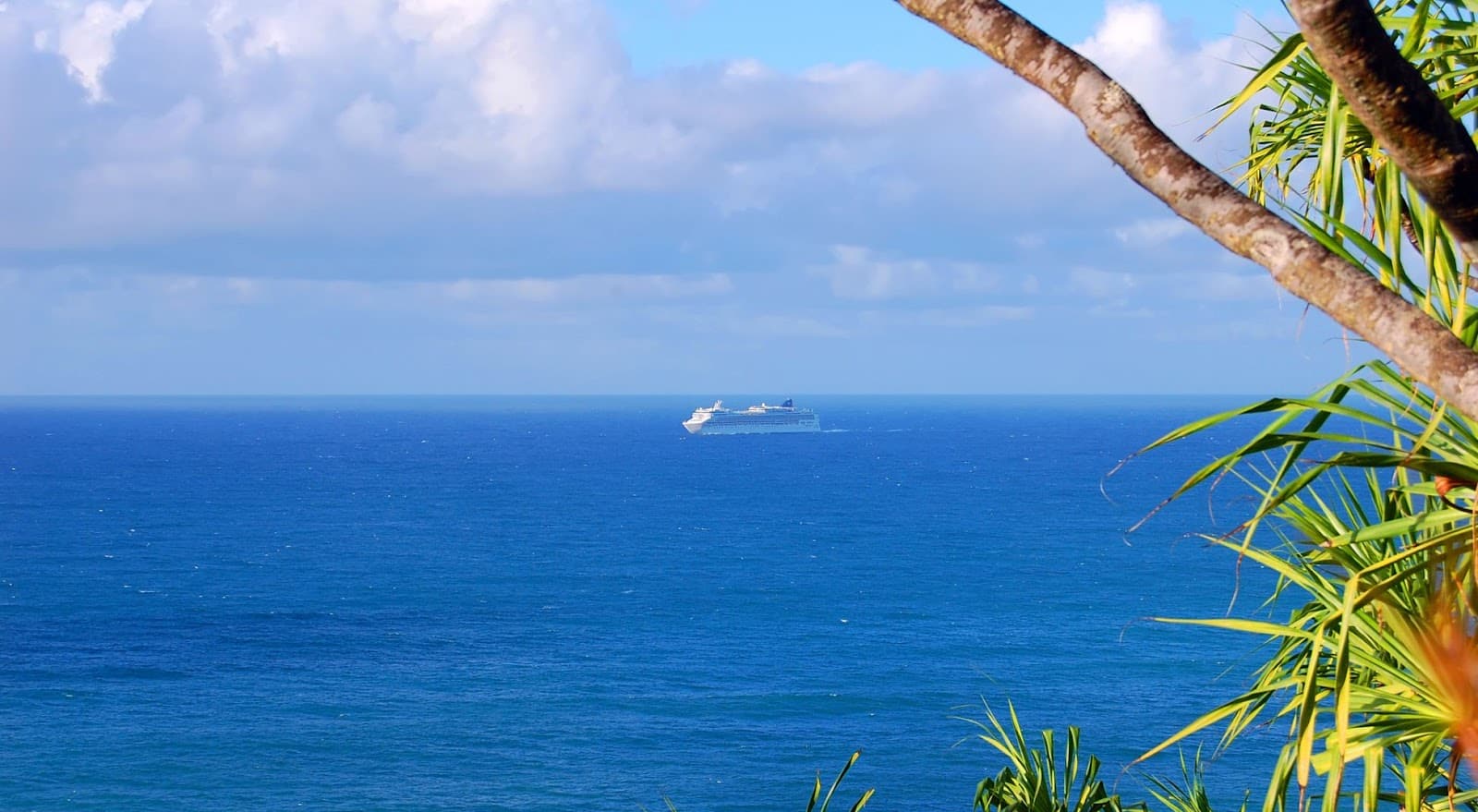 You'll be hard-pressed to find a more beautiful or enchanting domestic cruise than one sailing around the dramatic islands of Hawaii. Delight in black sand beaches on the Big Island, gushing waterfalls along Maui's eastern coast, and the lush, verdant mountains of Kauai.
Cruises to Hawaii from the mainland depart from San Francisco, San Diego, and Long Beach. Another way to experience the islands via cruise is with an inter-island cruise beginning in Hawaii. If you want a quick tour around the islands without planning your own island-hopping itinerary, then a cruise is the way to go. And, of course, for these cruises, you don't need a passport; you just need to book a flight to Honolulu. There, Norwegian Cruise Lines sets sail to take travelers on an unforgettable tour of the beautiful Aloha State.
Mexican Riviera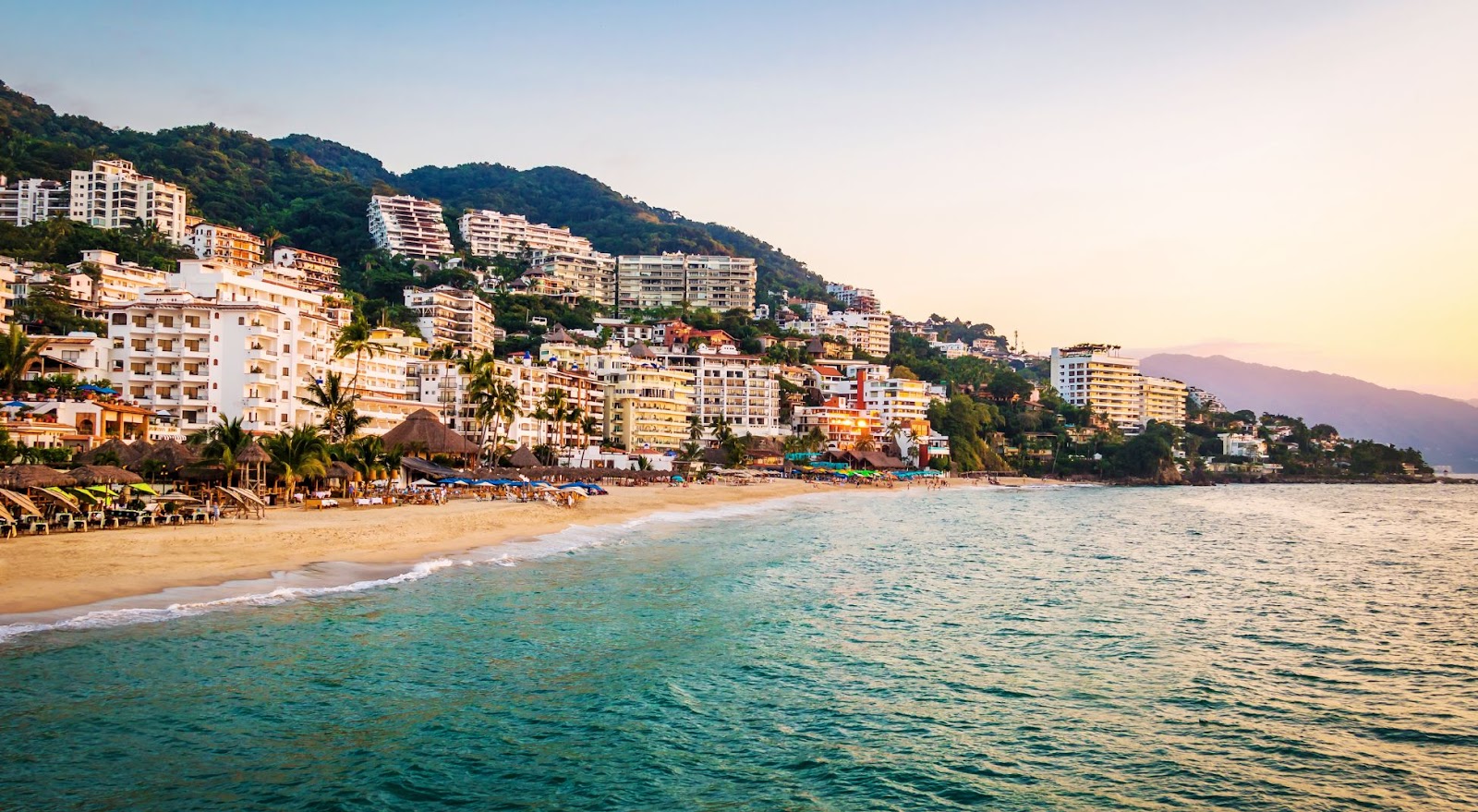 If the name alone doesn't have you packing your bags, we don't know what will. One of the few rivieras travelers can enjoy without a passport, cruises to the west coast of Mexico include memorable stops at destinations like Ensenada, Cabo San Lucas, Mazatlán, and Puerto Vallarta. Ride through the desert on camelback in Cabo San Lucas, or kick back on over 17 miles of beach bordered by the charming colonial town of Mazatlán. Delight in the relaxing wine country of Ensenada or dive into the breathtaking adventures of Puerto Vallarta's lush mountains.
Unlike cruises to the Mexican Caribbean, If you're heading out on a cruise of the Mexican Riviera, you'll be departing from the opposite coast. San Francisco, San Diego, and Long Beach are the best cities for closed-loop cruises of these spectacular coasts.
Cruises in the Atlantic Without a Passport
The East Coast isn't lacking in its own incredible cruises you can enjoy without a passport. And the itineraries offer some fairly unlikely but inarguably breathtaking destinations, too.
Bermuda
This British colony likely isn't among the top spots you'd imagine you could cruise to without a passport. But, thanks to a particular caveat specifically for US citizens traveling via closed-loop cruises, that's exactly the case.
As Britain's oldest colony and an island close to the US, Bermuda is a fascinating blend of cultures. The shows are American, the driving is British, and the music is African. But the island itself, well, that's distinctly one-of-a-kind. The cities sport colorful island architecture with a British twist, while some fortifications still dot the landscape. Tour history in St. George or get out of the city to dive into Bermuda's true treasures. Pink sand beaches dot the coast, caves hide enchanting pools and stalactite ceilings, and verdant hills offer stunning views of the tiny island.
Lying just over 640 miles off North Carolina's coast, travelers can sail to Bermuda from several East Coast cities, including Baltimore, Bayonne, Boston, Manhattan, Norfolk, and Charleston.
New England and Canada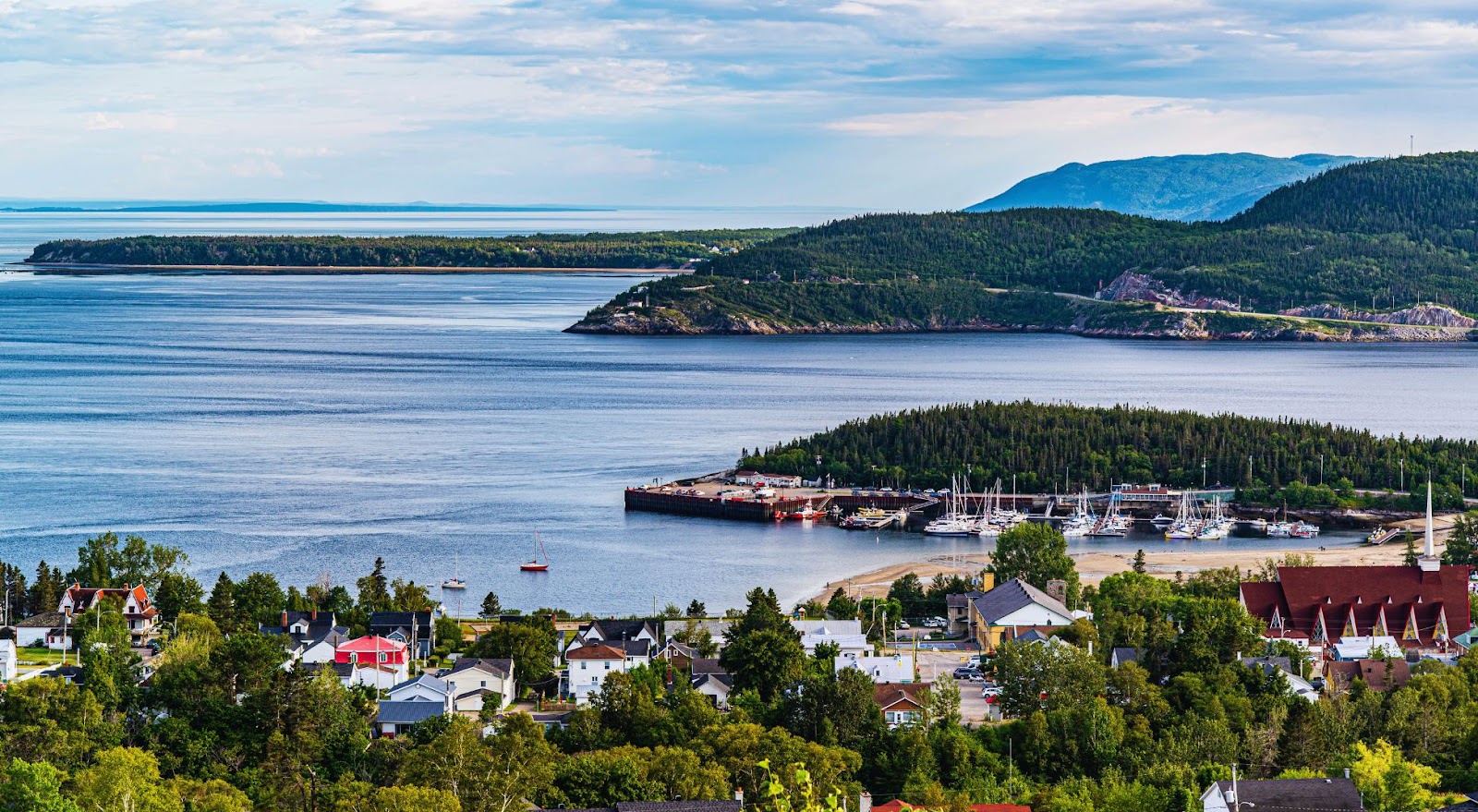 Combine the glitz and glamor of New York's skyscrapers with the charm of lakes and lighthouses in Bar Harbor or Gilded Age Mansions in Newport, and you have a cruise that looks unlike any other on this list. Add in stops in Canada to explore the historic downtown of Halifax or take in the majestic fjord of Saguenay, and it becomes an incomparable East Coast cruise experience.
Though travelers can access one-way cruises from Canada if they have an EDL and birth certificate, the most common way to experience these cruise itineraries is with a closed-loop cruise from the US. The best places to set sail are from Bayonne, Baltimore, Boston, Brooklyn, Manhattan, and Norfolk. And, of course, because these cruises don't require a passport, travelers can delight in experiencing everything their destinations have to offer, whether the stops are US favorites like Maine and Rhode Island or Canadian beauties like Nova Scotia and charmers like Quebec City.
Fly the Skies with Next Vacay and Cruise the Seas Without a Passport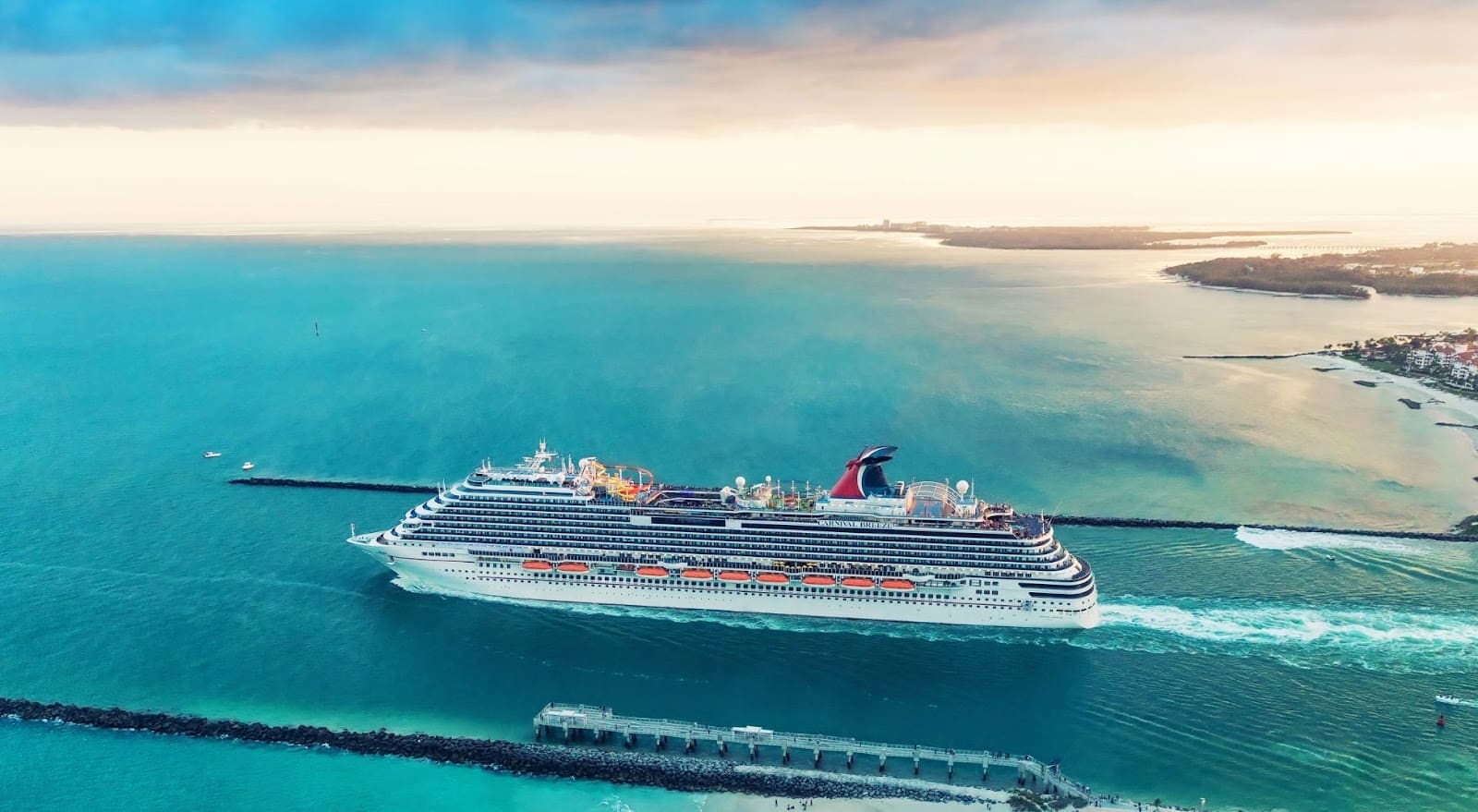 While the world is your oyster with a passport, you aren't stuck at home if you don't have one, and these amazing cruises prove it. From the glittering seas and sandy shores of the Caribbean to the diverse destinations of the Pacific and one-of-a-kind cruises in the Atlantic, a pretty big part of the world awaits discovery. And you can experience it all with Next Vacay.
Next Vacay takes the stress and worry out of finding incredible flights to the destinations you love, which means you can focus on the important things, like whether to zip off to the Florida Coast for a trip around the Caribbean or book a ticket to the bustling West Coast for a tropical getaway or an arctic escape. Make flying the skies as effortless as cruising without a passport, and get ready to set sail with Next Vacay.
Related Posts