The Hawaiian Islands hold countless treasures, but the Valley Isle is truly one of a kind. Breathtaking road trips take visitors past picturesque coasts and rugged valleys, state parks enchant with unique features, and the shining coast constantly calls travelers back to the sea. From the resort beaches of West Maui to the sloping hills of Haleakala's Upcountry and the sunny side of South Maui, every part of Maui promises the best places to visit and more excitement to add to your adventures. So, with that in mind, we'll take you through the absolute best places to visit in Maui and the ones you can't possibly pass up on your next vacay.
Table of Contents
What Is the Most Popular Part of Maui?
Luxury resorts, beautiful beaches, and endless sunshine combine to make the lure of West Maui too great to ignore. With the popular towns of Lahaina, Kaanapali, and Kapalua as lures, West Maui sees countless visitors to its timeless shores for rich cultural traditions and infinite entertainment.
That said, South Maui is more than ready to deliver if you're looking for much of the same, just with a different vibe. With sunny skies, white sand beaches, and calm waves, South Maui's towns of Kihei and Wailea offer a more laidback way to love Maui's best features.
Which Part of Maui Is the Most Beautiful?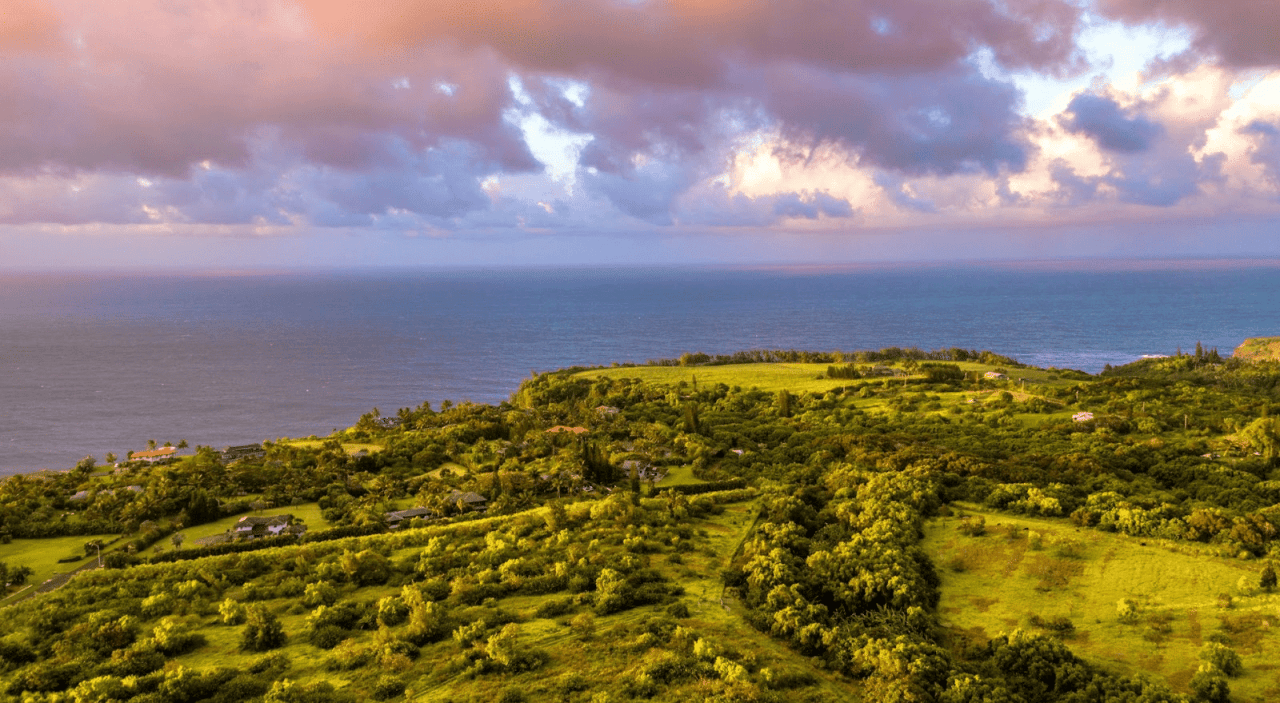 The Valley Isle is called that for a reason. With lush valleys and scenic views all over this beautiful island, you'll be spoiled with magnificence no matter which way you turn. But against the jaw-dropping scenery of East Maui and the Hana Highway, few could argue there's a more beautiful spot in all of Maui.
East Maui offers a kaleidoscope of magical colors and breathtaking sights, from a bamboo forest to rainbow eucalyptus trees and a black sand beach. Whether you come for an hour, spend the day, or set up camp in the heart of Hana, one visit is all it takes to make it clear why East Maui is considered the most beautiful part of the Valley Isle and one of the best places to visit.
How Many Days in Maui Is Enough?
It's hard to say that any amount of time will be enough to sample this island's many rich flavors and discover all its gorgeous sights. That said, it's recommended that you dedicate at least 7-10 days to exploring Maui. If you're island-hopping, you can likely get away with 3-4 days.
While most places you visit in Maui can be seen in a day, that infamous Maui Time encourages visitors to take it slow and enjoy the journey. And with advice like that, we guarantee that whether you spend four or ten days on the Valley Isle, you'll undoubtedly be back to take another look and add more incredible experiences to your trip.
The 18 Best Places to Visit in Maui, Hawaii
Maui is the perfect blend of commercial comforts and wild and untamed fun. So prepare for a tropical adventure unlike any other as you dive into these 18 best places to visit in Maui.
1. Road to Hana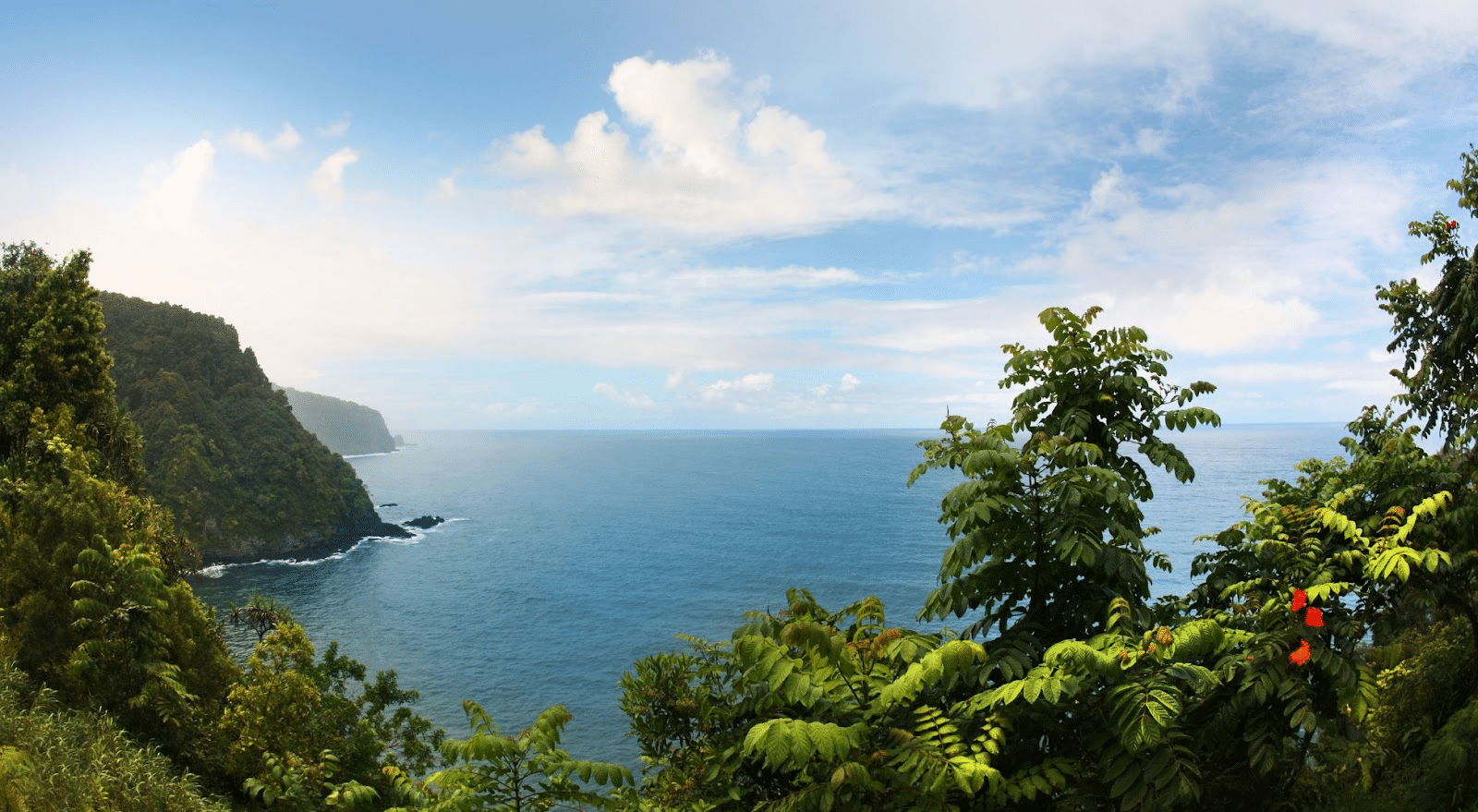 The Road to Hana is one of the most popular attractions in Maui; ironic, considering it's not technically an attraction. Stretching nearly 40 miles, this road leads to the sleepy town of Hana in East Maui. However, as with many things in Hawaii, the Road to Hana is all about the journey.
Traversing 620 curves and 59 bridges, the Road to Hana takes you past beautiful cliffs, stunning coasts, and lush green valleys hiding cascading waterfalls. Narrow roads and hairpin turns make the drive a bit harrowing, but the views alone are well worth it. However, if tackling all those sharp curves sounds daunting, you can elect for a guided tour to take you to all the highlights, with stops like Ke'anae Peninsula, Wai'anapanapa State Park, Twin Falls, and the Garden of Eden Arboretum.
While you may be tempted to complete the drive as quickly as possible, it's worth taking it slow to take in the Road to Hana in all its stunning glory.
2.​​ Haleakala National Park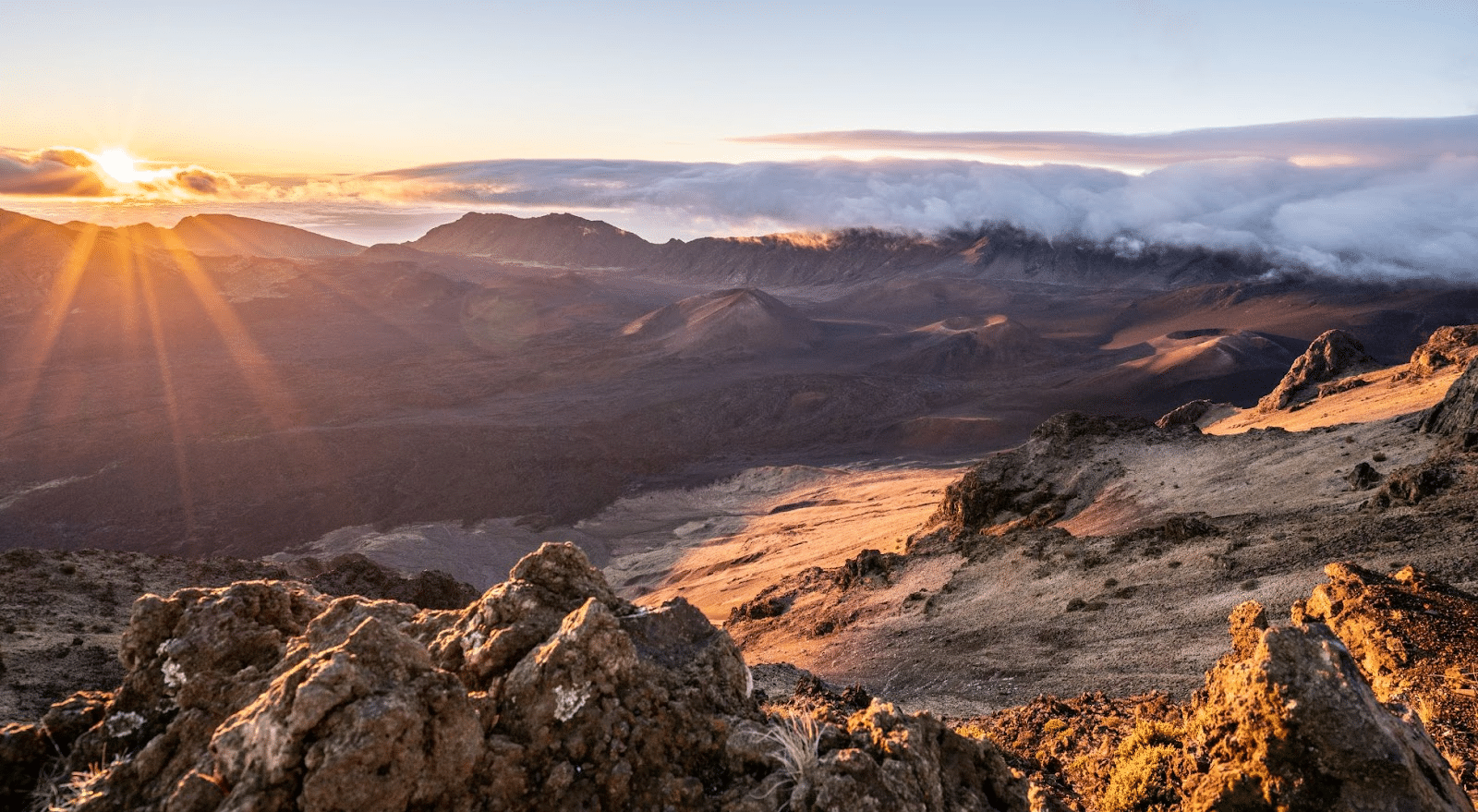 It's not even a question. Haleakala National Park is one of the best places to visit in Maui. With over 30,000 acres sprawling across Maui's Upcountry and further, Haleakala National Park boasts some pretty heavy-hitting attractions, from the Sliding Sands Trail, which looks like a tour across Mars, to crater overlooks that let you see as far as the ocean and the looping Hosmer Grove trail, home to some of Hawaii's most precious bird species.
But above them all—literally and figuratively—is Haleakala's summit peak, so tall it can be seen from anywhere on the island. That is when not buried among the clouds. Seeing the sunrise from this skyscraping heavenly peak requires a reservation, but the far less crowded sunsets and stargazing are open to all.
The summit is a must-see highlight, but if you're spending the day at Haleakala, don't miss checking out the ʻOheʻo Gulch, beautiful freshwater pools fed by cascading waterfalls, or the Ali'i Kula Lavender Farm, a fragrant farming adventure nestled on Haleakala's slopes.
3. Rainbow Eucalyptus Trees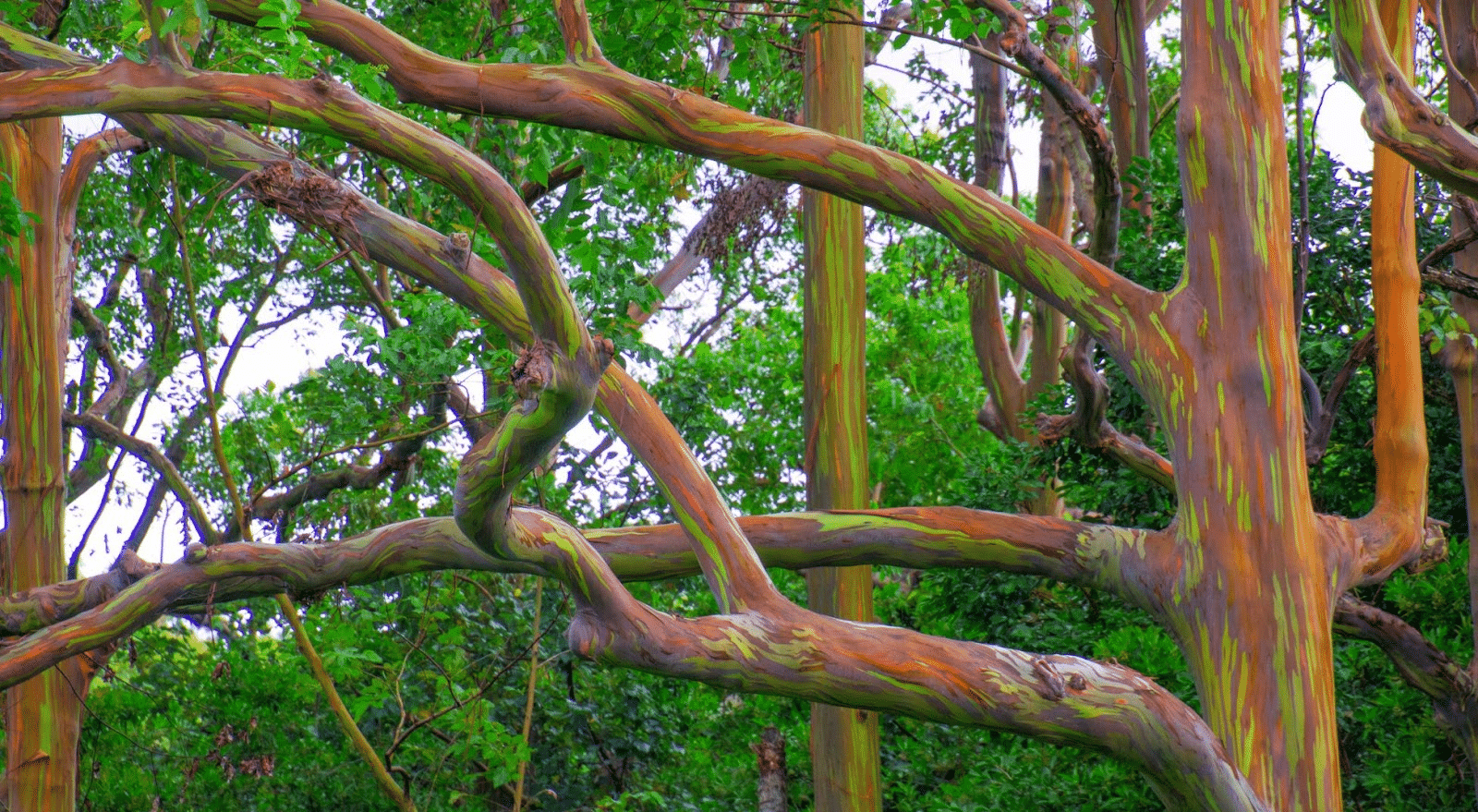 Technically a stop along the Road to Hana, these colorful trees deserve their own place of honor among the best places to visit in Maui. The most famous grove of these trees lies at Mile Marker 7, in a blink-and-you'll-miss-it stop.
Traveling into the trees quickly reveals what some have called a painted forest. That's because, at first glance, the colorful copse of trees appear painted, but in reality, it's the result of an all-natural shedding process that stripes the tree with a kaleidoscope of colors, from bright reds and oranges to vibrant blues, pinks, and purples.
The result is a forest that feels straight out of a fairytale and a unique moment of enchantment among Maui's many breathless wonders.
4. Lahaina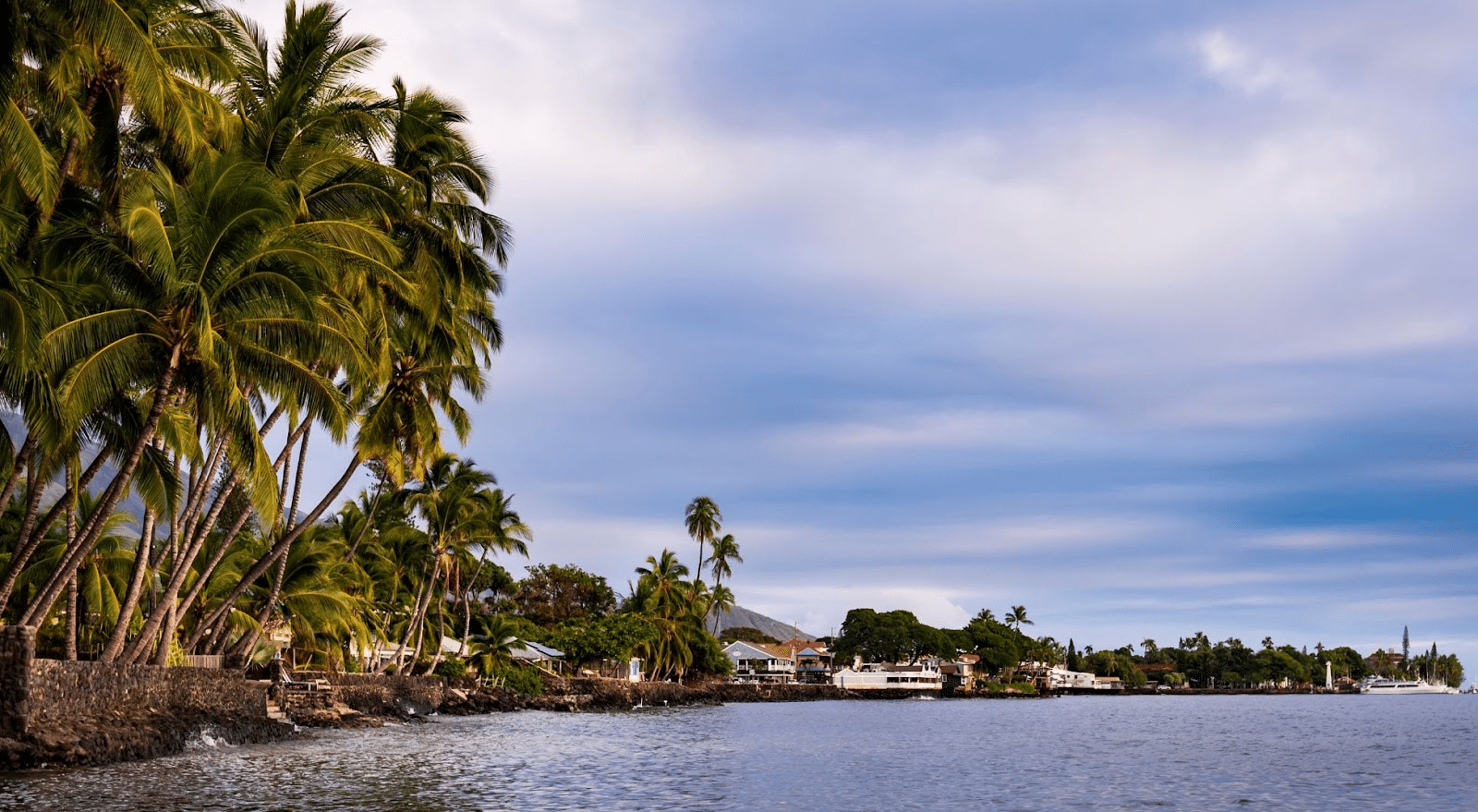 One of Hawaii's most historic towns is the scenic Lahaina. Previously called Lele, which means relentless sun, the name may have gone away, but the sun is here to stay. Located in sunny West Maui along the beautiful coast, this port town is as busy as it gets in Maui. From beautifully planned and bustling Front Street to the constant comings and goings of Lahaina Harbor, visitors to Lahanai never want for things to do.
One of Lahaina's most popular activities is visiting the oldest living banyan tree in Maui, located in Lahaina Banyan Court Park. Over 60 feet tall, it takes up one whole city block!
After enjoying a picnic under the shade of the Banyan tree, stroll around town and take in the many historical buildings, art galleries, and restaurants. If you want to experience a traditional Hawaiian luau, Lahaina is the best place in Maui to do it. The Old Lahaina Luau lets visitors experience a traditional dance accompanied by music and a giant feast. The delicious smells of roasts fill the air while the sun sets and the dancers perform.
5. Napili Beach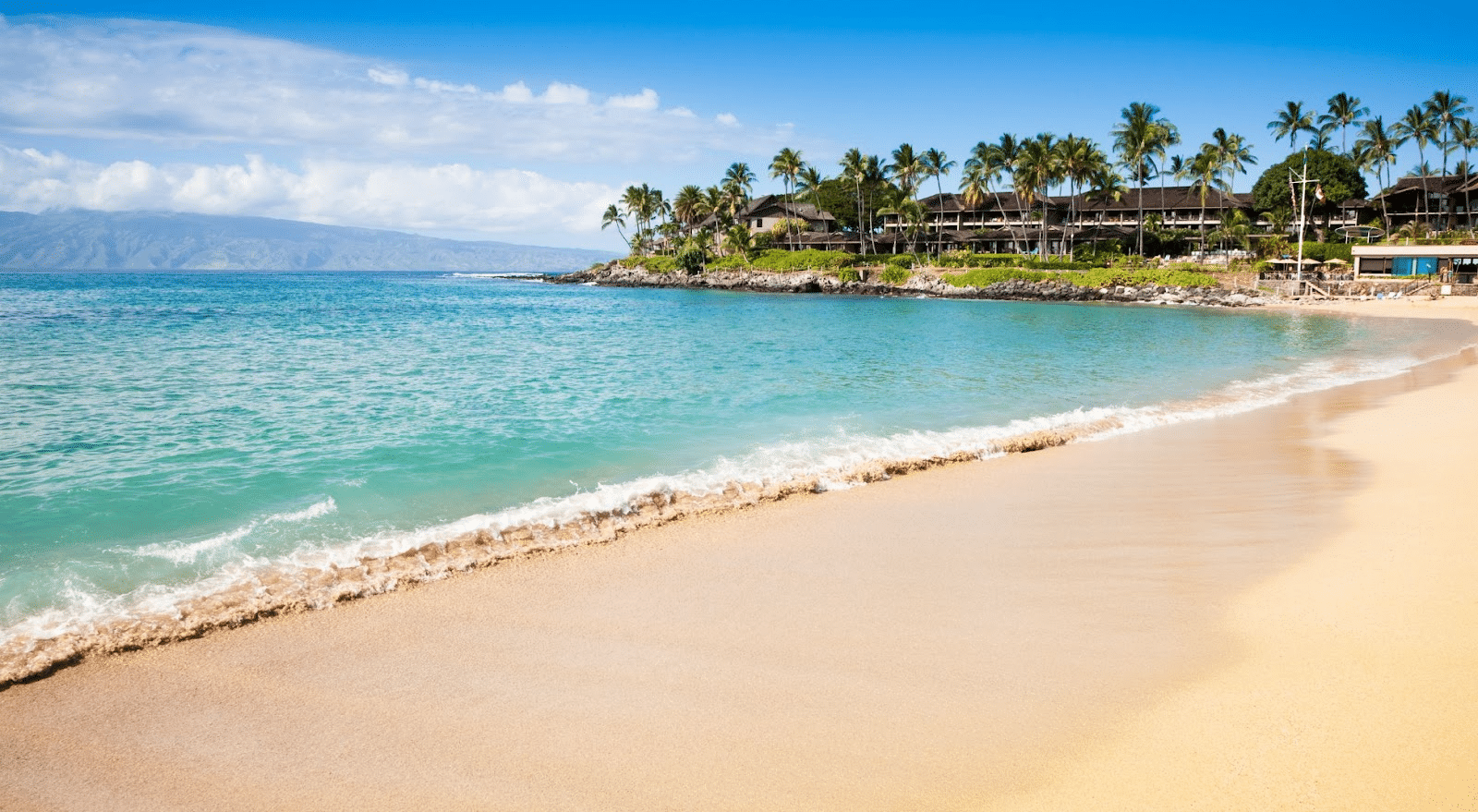 Family vacationers will get a kick out of Napili Beach. While smaller than other beaches in the area, Napili Beach stands out thanks to golden sands, calm waters, excellent snorkeling, and gorgeous sunsets. Sunbathers can relax on the crescent-shaped shores, children can splash in the shallow water, and paddleboarders can take advantage of the gentle surf.
But it's not just above the surface that Napili Beach delights. Marine life abounds beneath the waves of this famed snorkeling destination, home to scores of fish and Hawaiian green sea turtles. In winter, visitors can even do some whale watching from the bay of Napili Beach.
Much like the sea turtles, humans can't get enough of this beach's sand, sea, and epic sunsets, making it hands down one of the best places to visit on Maui's west shore.
6. Kahakuloa Head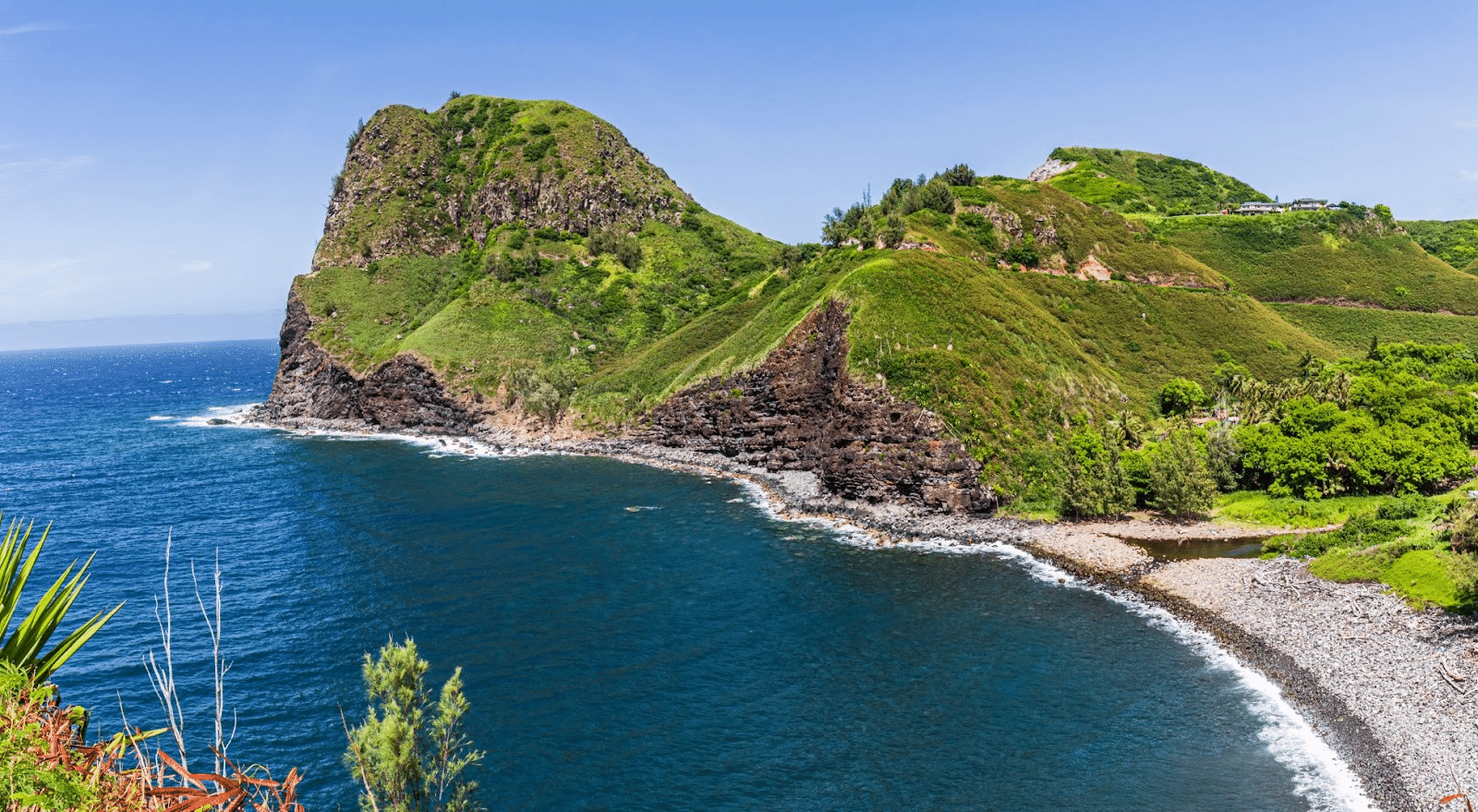 Kahakuloa Head is a secluded jewel located in West Maui. The dramatic rock formation gets its name from the jutting hill reaching over 630 feet, hence the name meaning "Tall Lord." Yet, despite the scenic landscape, this unique landmark is seldom visited, thanks to its location near the remote town of Kahakuloa. Add a narrow and dangerous road, Kahekili Highway, to get there, and few are too keen to explore further.
But even if venturing to the top is out, visitors can still enjoy the lush scenery and dark blue waters. Kahakuloa Head Trail won't take hikers to the top, but it will lead between the two coastal mountains. The short hike promises verdant views and even a cow sighting or two.
Kahekili Highway may be the road less traveled, but it's worth the effort to visit one of Maui's best-kept secrets and a stunning place on West Maui.
7. Kula Botanical Garden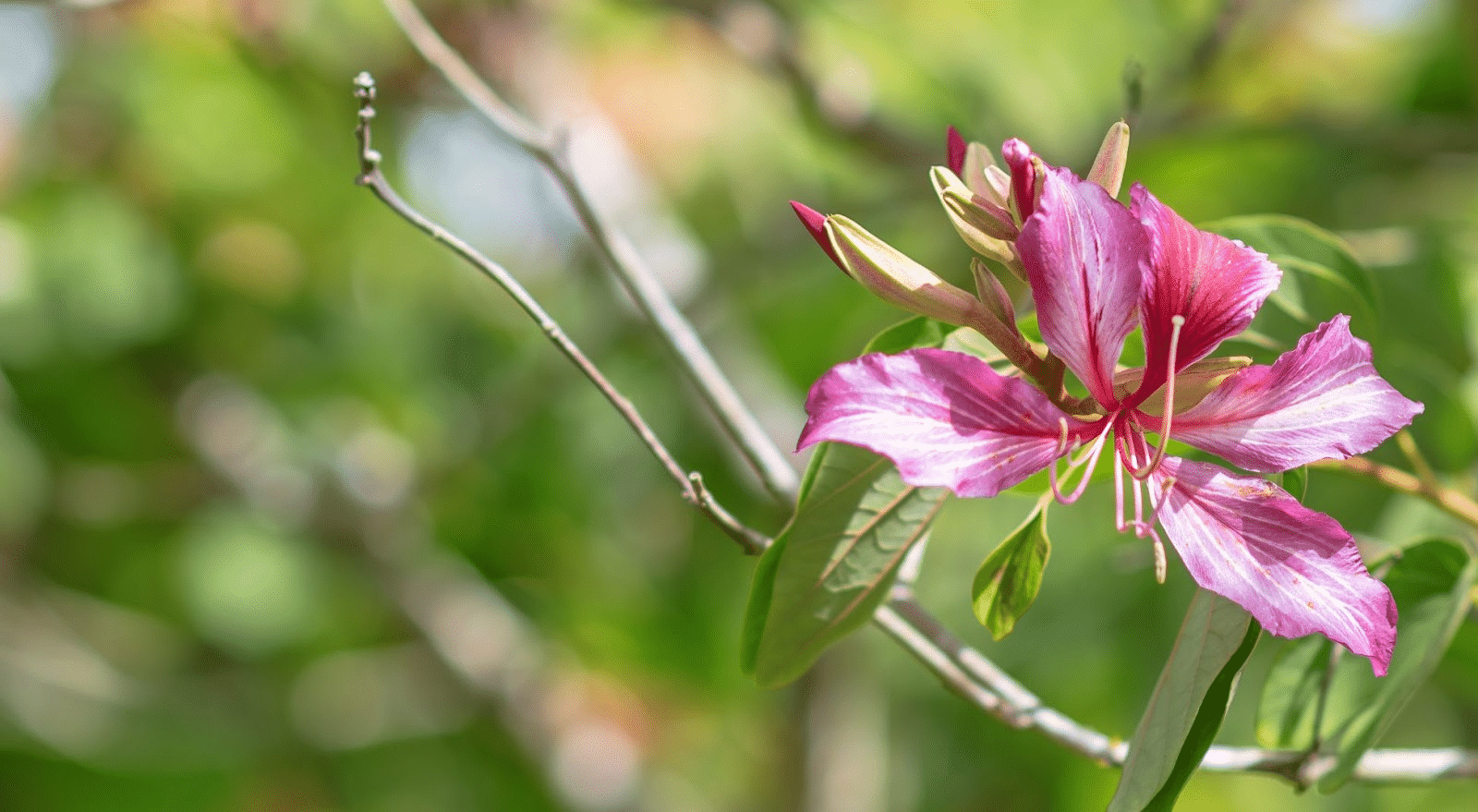 On the slopes of Haleakala lies a picturesque eight acres of land covered in colorful flora. Kula Botanical Gardens started as a display for a landscape architecture business and has since grown into a sprawling garden and one of the best places to visit in Maui.
Thanks to the rich, volcanic soil of the area, plants thrive on Haleakala, giving way to over 2,000 species of flora, from enchanting orchids to magical Christmas trees. On top of the many plants one might encounter, the botanical garden sports an aviary, a koi pond, a covered bridge, and much more to whisk you away to a thriving wonderland of flora and fauna.
8. Molokini Crater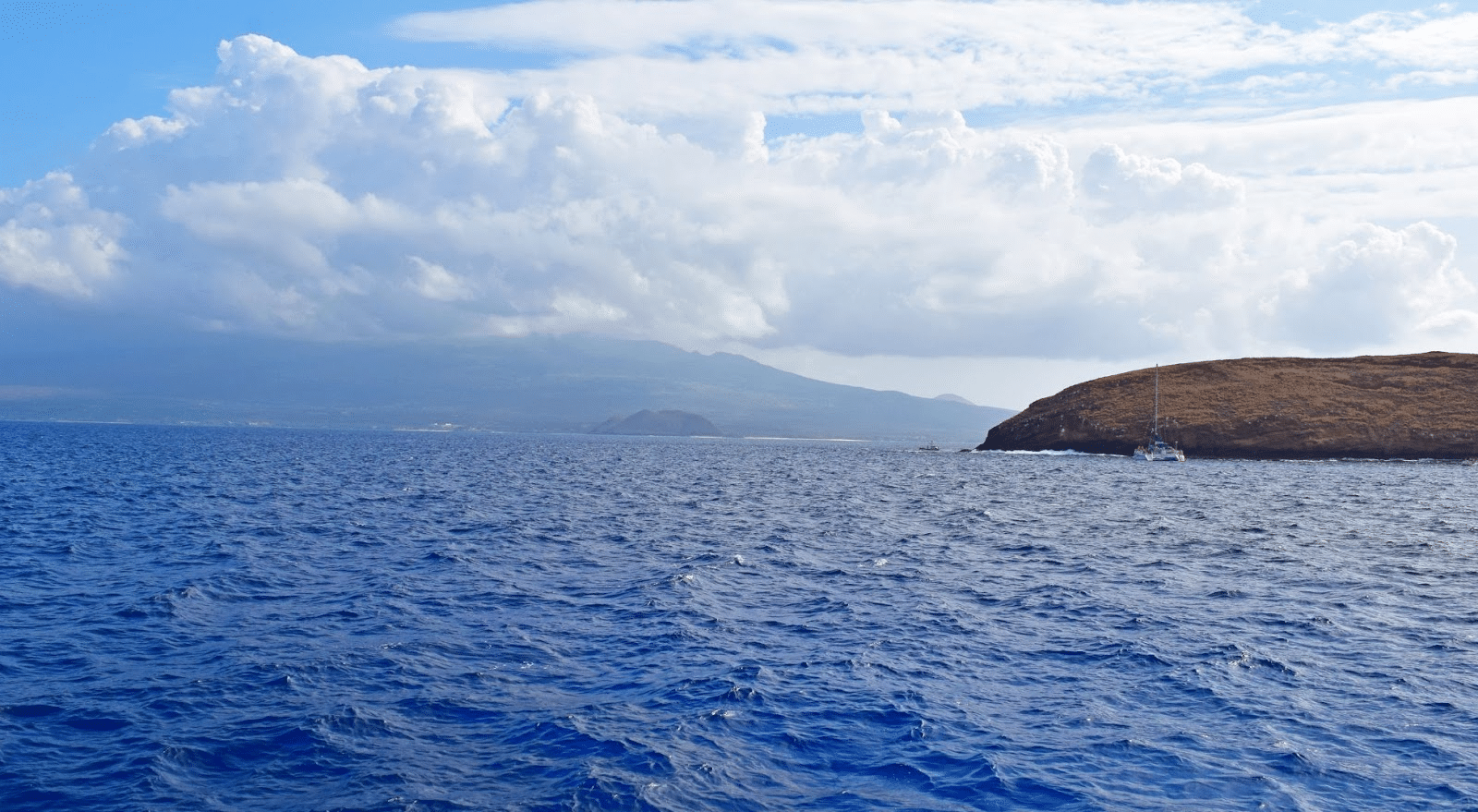 Marine life enthusiasts and avid snorkeling and scuba diving fans can't visit Maui without planning a special trip to one of Maui's most special places: Molokini Crater.
This crescent-shaped island off Maui's southwest coast is a big name with a unique history. Used as a bombing practice site during World War II, the government later deemed Molokini a Marine Life Conservation District and Bird Sanctuary. Now, it's become a premier destination for all things marine-related.
Home to over 250 tropical fish species, Molokini is the place to go for boat tours and everything snorkeling and scuba diving related. Come winter, it's even perfect for whale watching too.
9. Maui Ocean Center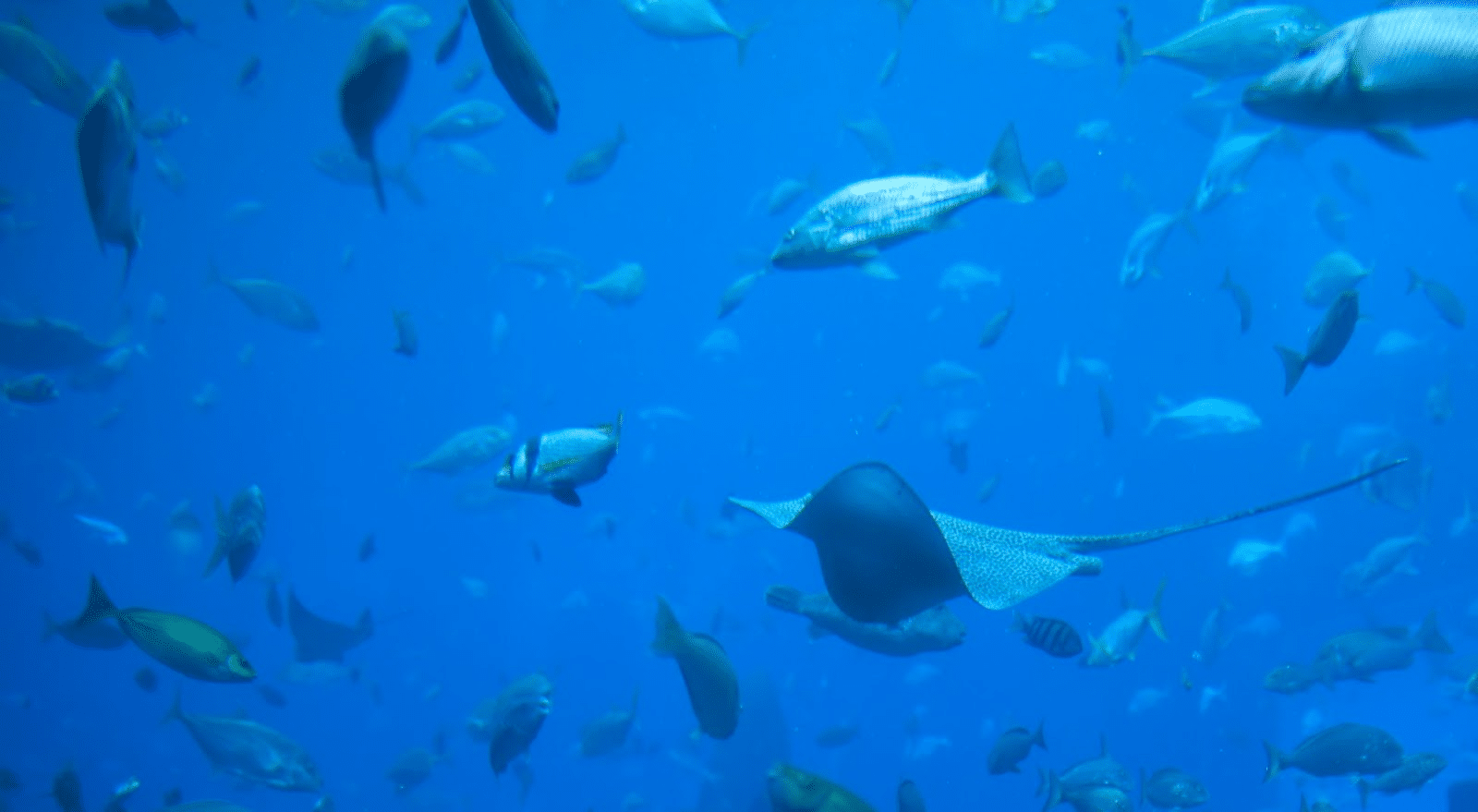 For those that don't want to dive deep to explore the wonders of Hawaii's marine life, there's the Maui Ocean Center. Stunning aquariums house sea creatures familiar and foreign but endlessly fascinating. Wandering through the 60-plus exhibits will undoubtedly open your eyes to Hawaii's undersea marvels. Still, guests can opt for an even closer look through thrilling experiences like diving with sharks or snorkeling with a marine biologist.
From 3D experiences to vibrant exhibits, Maui Ocean Center takes guests on a journey through Hawaii's open oceans to unveil a whole new side of Hawaii, one that lives below the water's surface.
10. Pua'a Ka'a Falls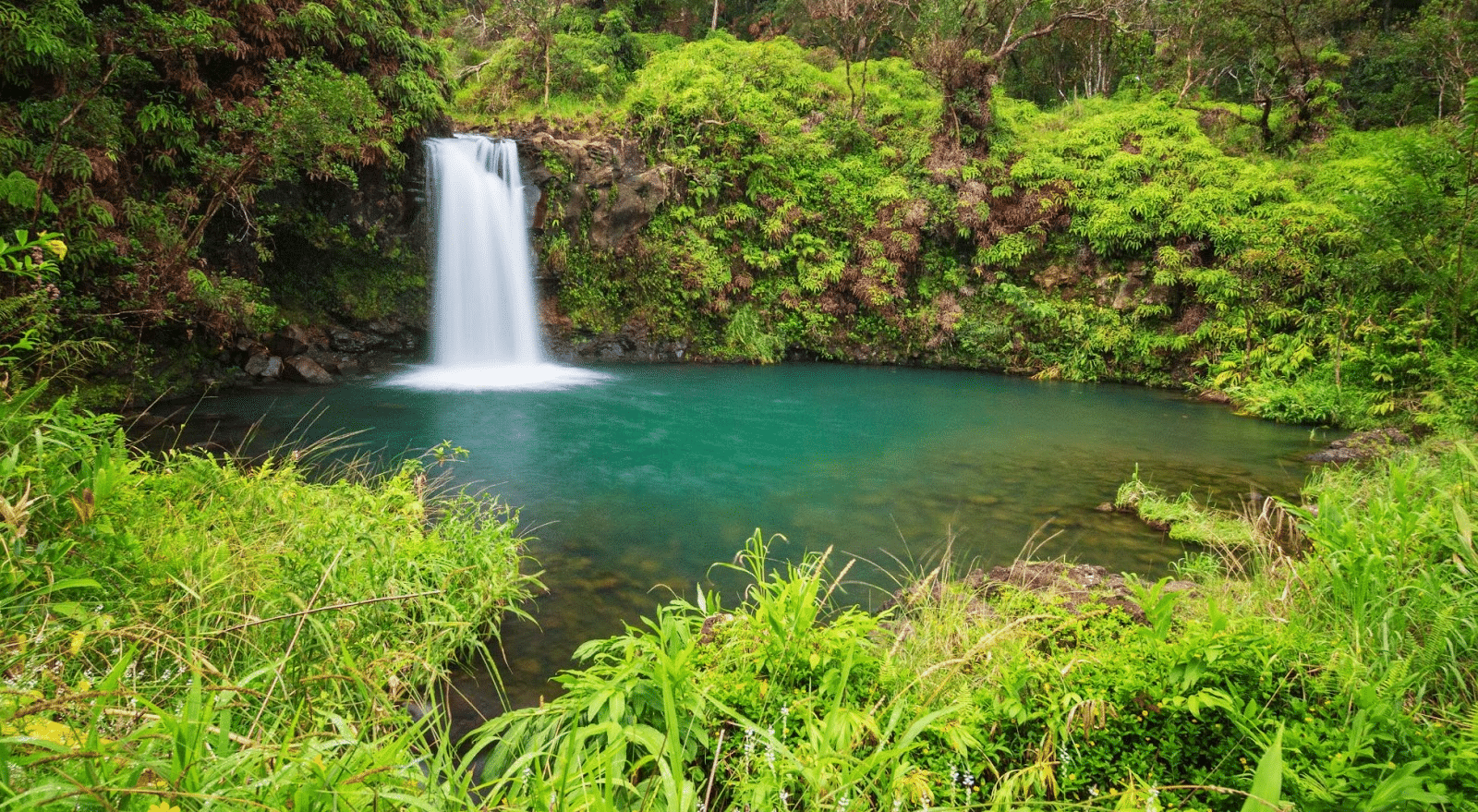 One of the most gorgeous falls you'll find along the Road to Hana, Pua'a Ka'a Falls is doubly enticing thanks to its easy access. Less than half a mile long, the trail leading to Pua'a Ka'a Falls is family-friendly, and the destination is sublime.
Lush vegetation in the surrounding park makes it an excellent place to explore and admire the verdant views, while the swimming hole is perfect for a quick dip on a hot afternoon.
Pua'a Ka'a is a timely reminder that the island isn't just jaw-dropping wonders. In fact, some of Maui's best places to visit are simple wonders that stop time and let you live in the moment.
11. Ho'okipa Beach Park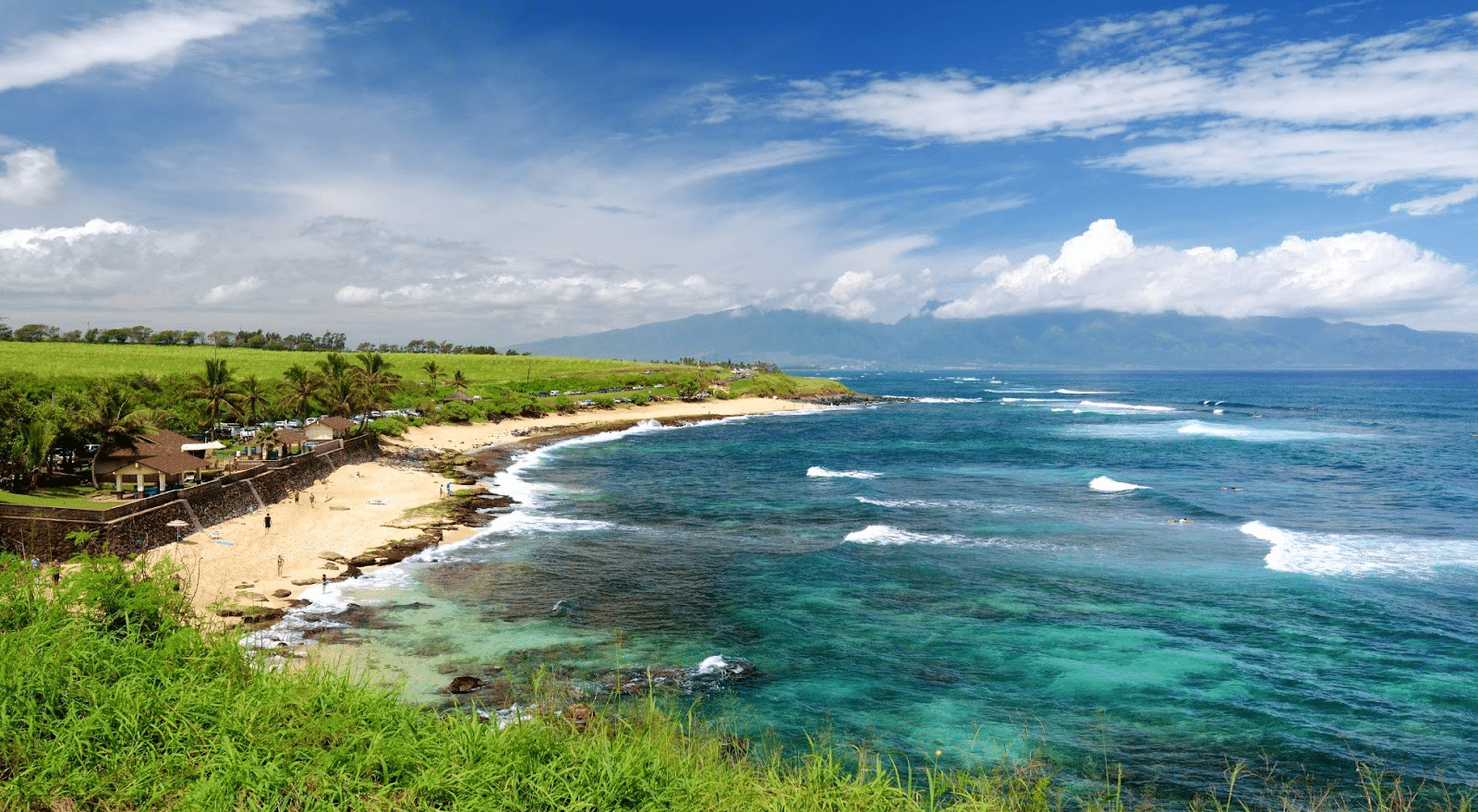 Epic days await at Ho'okipa Beach Park. Known as a windsurfing haven, the crashing waves of Ho'okipa Beach don't make for a great swim, but they do make for a great show, with professional windsurfing competitions held here on the north shore throughout the year. While the waters may not be inviting to all, the beach and the views definitely are. From the Ho'okipa Lookout, casual ocean-goers can hang back and appreciate the stunning backdrops and ocean antics while keeping an eye out for the occasional honu (sea turtles) bobbing about in the waters below.
Settle in at the picnic tables, grab a bite from the food trucks, and enjoy the show put on by Mother Nature and the fearless daredevils who challenge her.
12. Kihei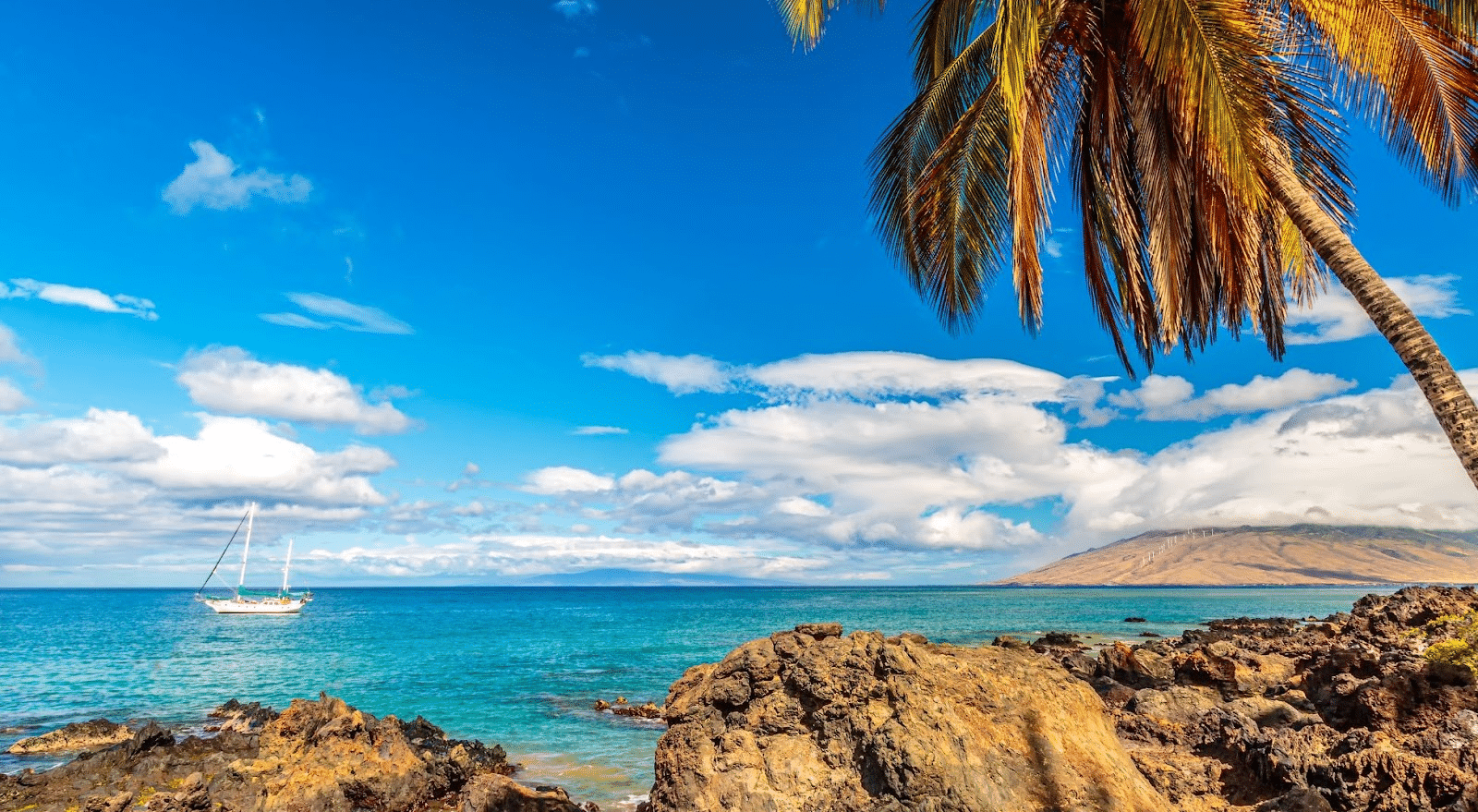 Beachgoers haven't seen the best of Maui until they've visited the driest, sunniest, and most scenic spot on the island. Once a premier getaway for Hawaiian royalty, sunny Kihei is the South shore alternative to the noise and bustle of West Maui. Home to miles of spectacular white sand beach, gorgeous technicolor sunsets, and delectable treats, Kihei really is a place fit for royalty. And with its quiet and laidback north side, a fun and electric south side, and little rainfall throughout, Kihei is the tried-and-true sunny getaway for those in search of paradise.
13. Wai'anapanapa State Park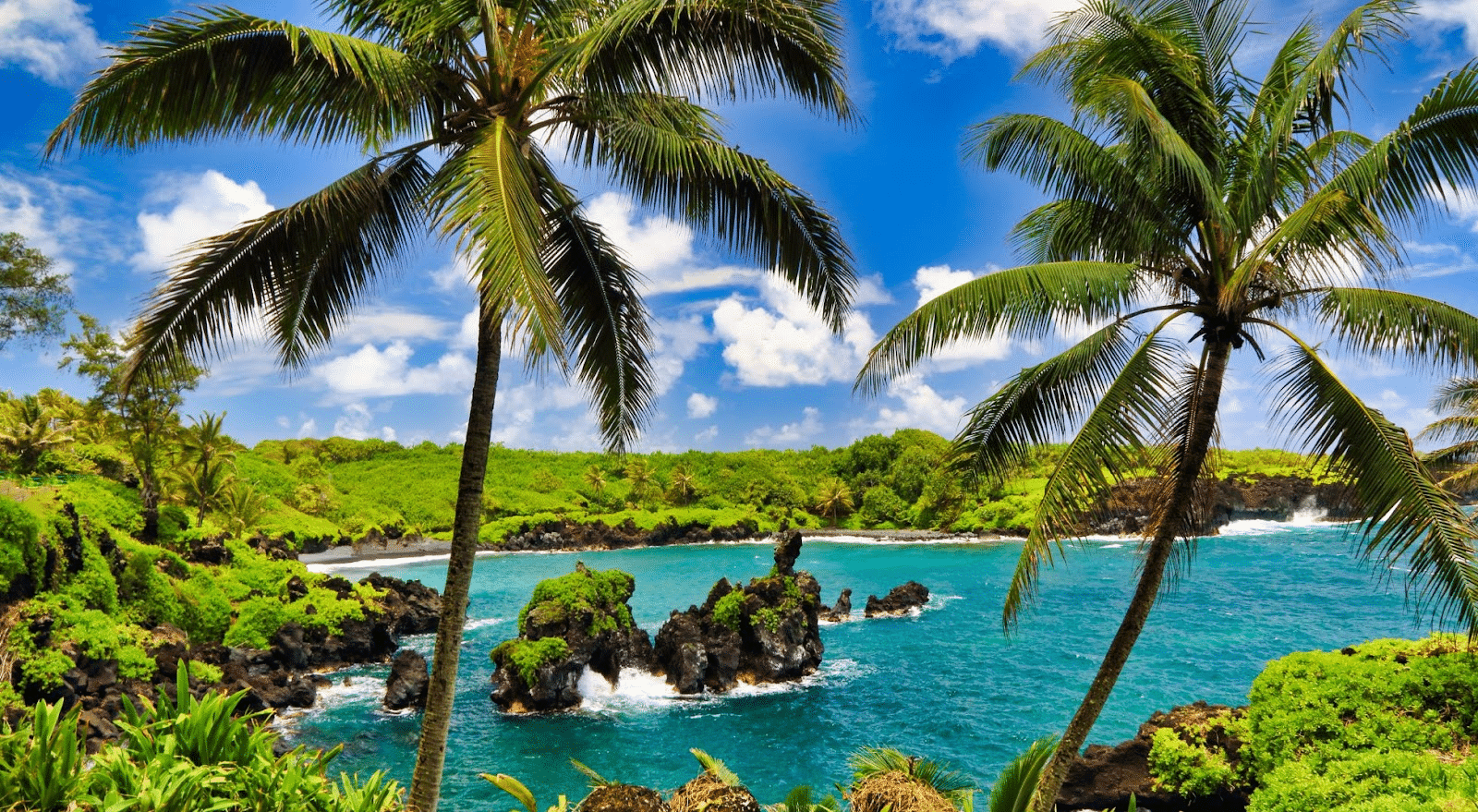 This famous stop along the Road to Hana comes near the journey's end and holds one of Maui's rarest sights: a black sand beach. The only true black sand beach on the island, this natural marvel has captured the attention of many a visitor for its unique appearance amidst verdant green vegetation and bright blue ocean waves.
But despite being the main attraction, it's far from being Wai'anapanapa State Park's only star. An irregular blowhole creates dazzling shows when the elements combine just right. Craggy rocks form daring cliff jumps amid the perfect backdrop. And to top it all off, enticing trails take visitors on a wandering path passing sea caves, sacred heiau, and more as they follow in the footsteps of kings. So grab your reservation and plan a visit to one of the Hana Highway's wildest stops and the best places in Maui.
14. Iao Valley State Park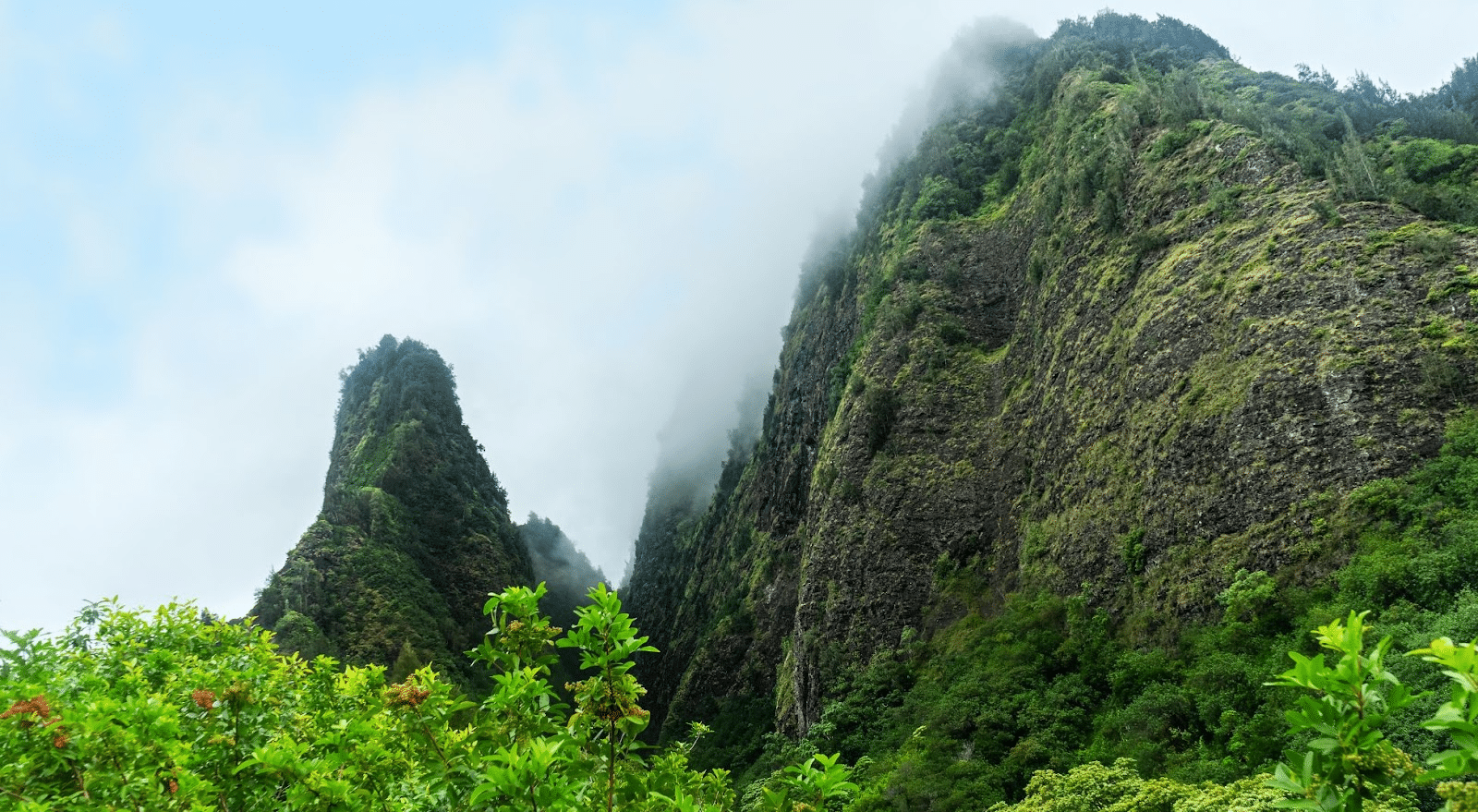 Easily the top attraction in Central Maui, Iao Valley State Park sits nestled in the rugged West Maui Mountains. Amid the lush valleys, fog-blanketed forests, and singing waterfalls, it's easy to see why Iao Valley State Park is one of the most beautiful in all of Maui. But among the stunning scenery and jagged peaks lies the park's crowning feature, the Iao Valley State Monument, or Iao Needle. It towers 1200 feet in the air, naturally drawing the eye to its presence—at least when not obscured by the clouds.
A short, paved path leads from the parking lot to the needle and spectacular views of the valley. While the park now requires a reservation for out-of-state visitors, you can't miss these emerald peaks when visiting Maui.
15. Kaanapali Beach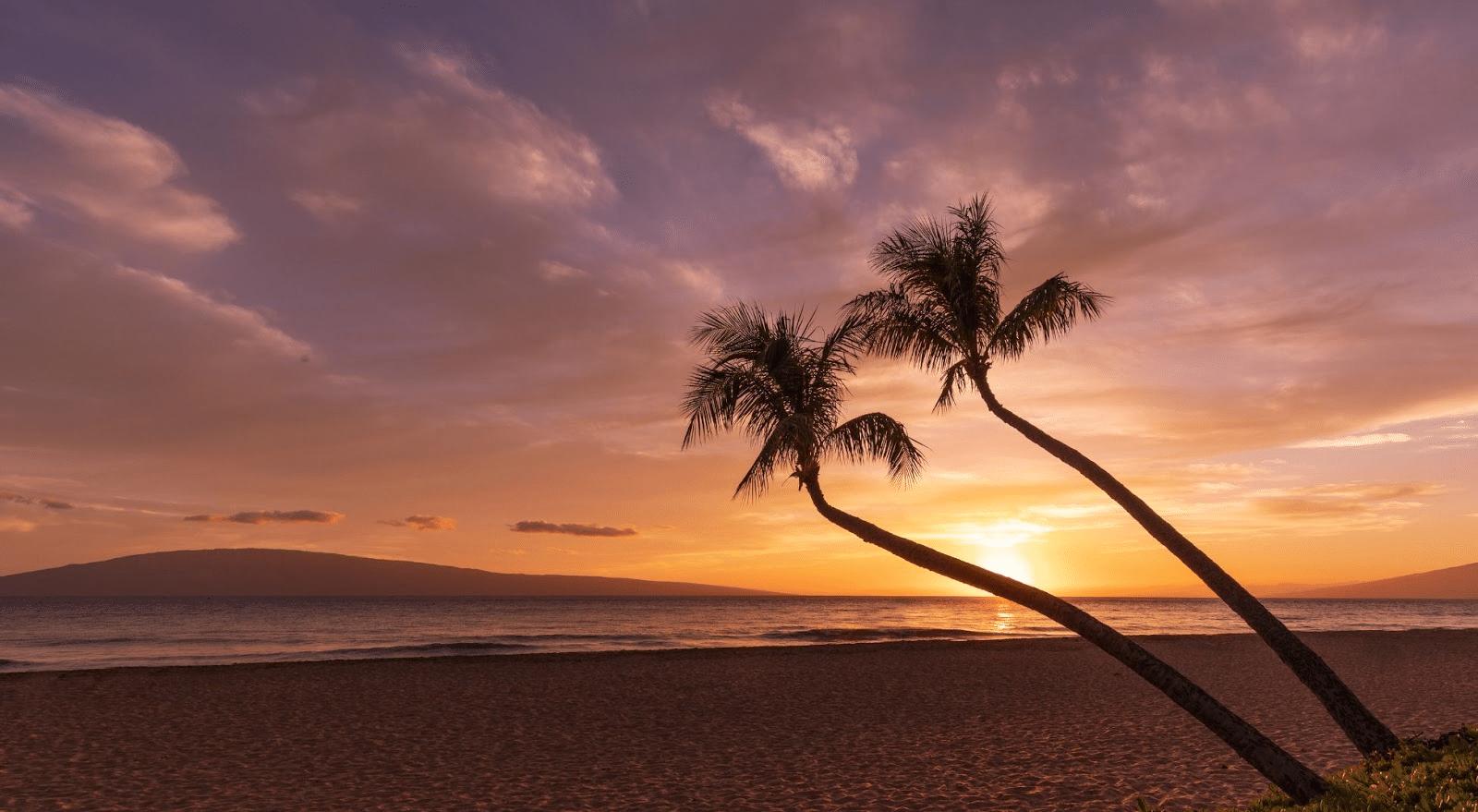 Say hello to the best beach in America. This three-mile stretch of sand dominates Maui's west coast, offering dazzling white sand, stunning blue waves, and some of the best views in town—after all, there's nothing like a west coast sunset. In addition, stunning coral reefs and colorful marine life make the beach's underwater attributes shine just as brightly.
But perhaps the best feature comes during the winter. Bordering the Maui Nui Basin, even beachgoers are treated to a spectacular show when mother humpback whales and their calves populate the waters, breaching, tail slapping, and just having a whale of a good time.
Backed by Maui's first planned resort and one of the island's best golf courses and fronted by miles of oceanfront space to run, play, and splash, Kaanapali Beach is a glittering gem among Maui's best places to visit.
16. Nakalele Blowhole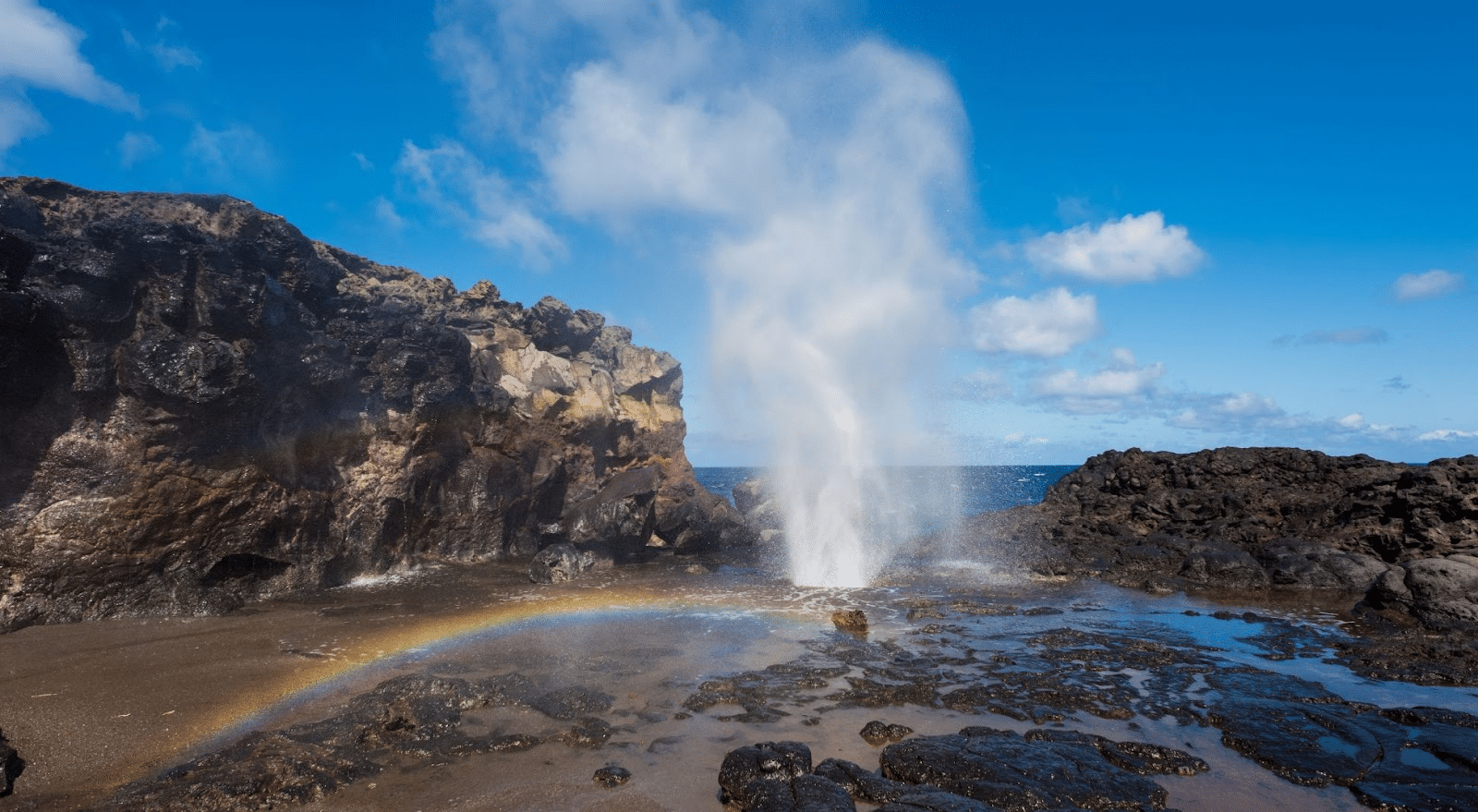 As with all the best places in Maui, the Nakalele Blowhole is both beautiful and dangerous. Sat on Maui's northwest shore, this natural phenomenon puts on a magnificent show of force. On days when the surf is high, and the winds good, magic happens, resulting in a powerful eruption reaching as high as 100 feet.
Multiple hiking trails will take you to the blowhole, but the trail from mile marker 38 is the safest. As a bonus, watch out, and you may glimpse the infamous heart-shaped rock dominating social media.
If you go early enough, you can also catch a glimpse of rainbows in the geyser's mist, an enchanting sight you'll be glad to have captured, whether for your memories or your camera roll.
17. Pipiwai Trail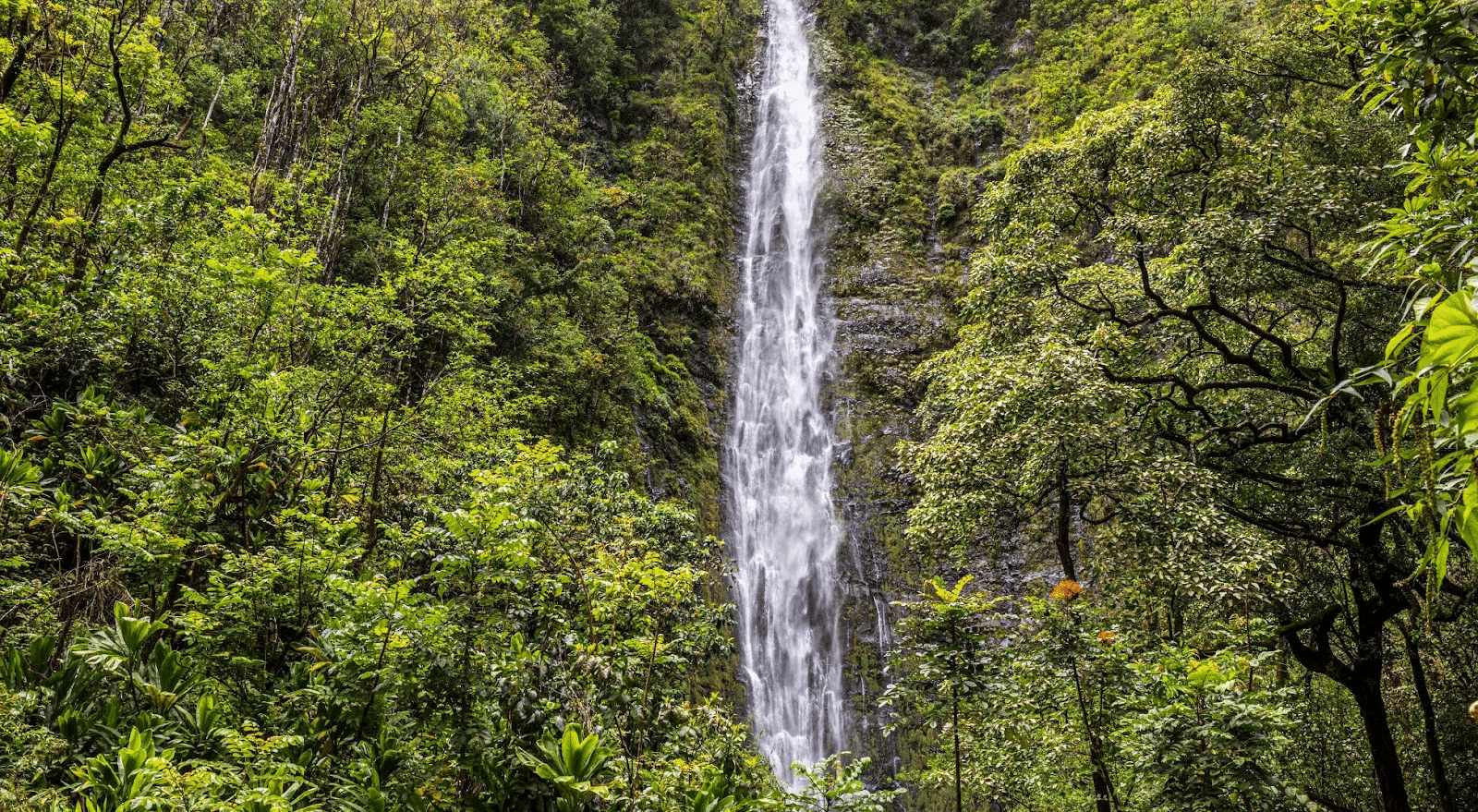 Located inside Haleakala National Park is one of the best trails in all of Maui and undoubtedly one of the top places to visit. However, unlike the barren moonscapes you may be used to inside Haleakala, this two-mile trail takes you on a dreamy adventure into Maui's lushest landscapes.
A verdant tropical paradise gives way to a just as colorful and even more idyllic bamboo forest before the crown jewel of the hike is unveiled. Towering Waimoku Falls plunges over 400 feet into a swimming hole below.
Easy to access and undeniably beautiful, the Pipiwai Trail is a must-see stop.
18. Makena Beach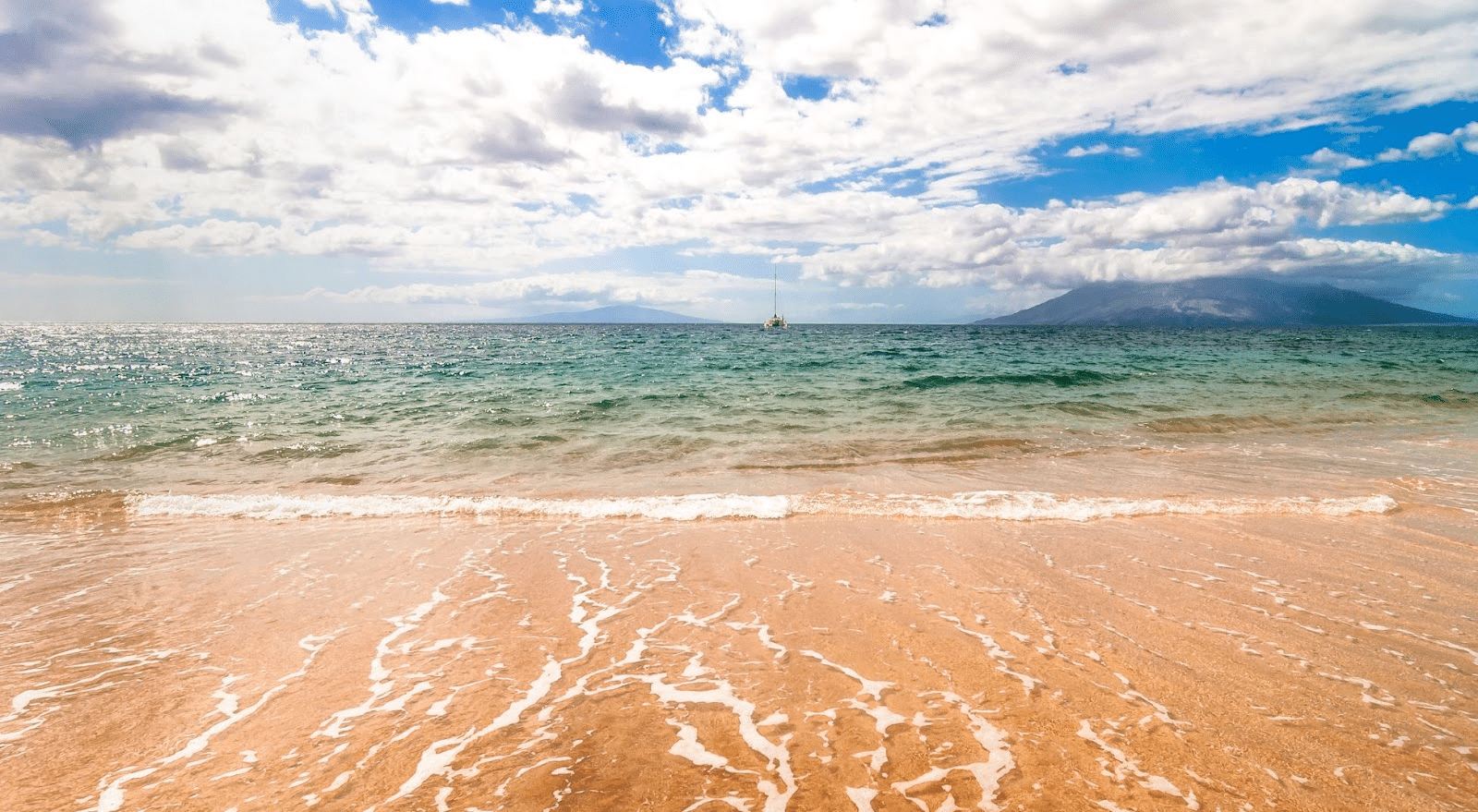 The official name for this beloved Maui beach might be Makena, but to the locals and frequent visitors, it's just known as Big Beach. Roughly two-thirds of a mile long, this sprawling white sand beach is one of Maui's largest undeveloped stretches of sand.
Cradled between dramatic cliffs and rolling blue-green waves, Makena offers unbelievable views of Molokini and Kahoʻolawe. Find the perfect spot to lay out on the sand and luxuriate in the absence of big resorts or bustling shops and enjoy nature at its finest.
So Many Best Places to Visit; Maui Awaits with Next Vacay
Maui No Ka Oi is a local phrase meaning "Maui is the best." All it will take is one visit to make you fall in love. But don't take our word for it; it's time to experience it.
With Next Vacay, find the deal of your dreams to the destination of your dreams, all without lifting a finger. Next Vacay's dedicated team takes the hard part out of finding a great deal. With a system that checks thousands of flights daily, our team vets the best deals before they hit your inbox. So, when a notification comes in, it's time to go. Travel the world, from the slopes of Haleakala to far-flung countries. Don't wait on Maui; discover all that awaits on the Valley Isle with Next Vacay.
Related Posts