Picture paradise in your mind, and you'll likely wind up with something that looks a lot like the US Virgin Islands. A tropical island in the Caribbean Sea, USVI has all the makings of a quintessential beach paradise: vibrant green foliage, sugar white sand, and glittering turquoise waters that draw you from the shore to dive into the waves below. So, amid all that breathtaking beauty, where will you find your perfect beach? Dive into the crystal-clear waters of the US Virgin Islands to discover the best beaches for your next sandy adventure.
Table of Contents
Best Beaches in the US Virgin Islands
The US Virgin Islands are home to some spectacular shores. Many would argue you can find some of the best beaches in all of the Caribbean in the US Virgin Islands. So, with that in mind, you can't go wrong when choosing where to spend your beach day. But if you're on the hunt for the perfect shore, this sandy shore showdown will help you find it, one jewel-toned beach at a time.
US Virgin Islands Beaches in St. Thomas
From cruises pulling into port to visitors flying into the terminals, St. Thomas stays busy, and so do its beaches. But despite the crowds that flock to these shores, it's not hard to find your own little slice of paradise, whether you're looking for epic views or laidback vibes.
Magens Bay Beach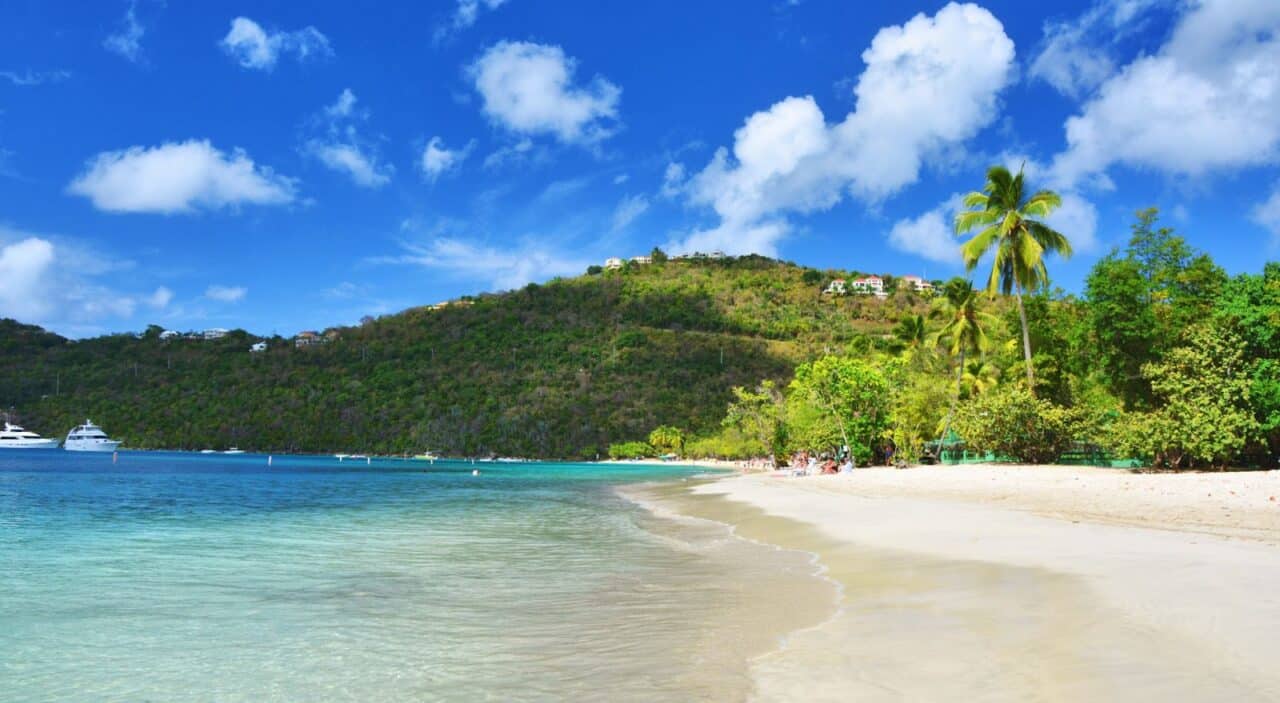 In a nutshell: The most popular beach in the US Virgin Islands is both beautiful and easy to access.
Who it's for: Everyone
Drawbacks: Crowds and a $5 entry fee
If you've heard of one beach on the US Virgin Islands, there's little doubt it's Magens Bay Beach that has your ears ringing. The most popular beach on the most popular US Virgin Island, it's inarguably the crown jewel of St. Thomas. And it's not just the jewel-toned waters that make this beach shine. Magens Bay is a picturesque escape characterized by lush greenery, soft white sand, and towering palms. Beach lovers can relax on the shore while soaking up the sun. Children splash and play in the shallow waters. And attentive lifeguards promise peace of mind.
Magen's Bay Beach has a little something for everyone. The calm waves make it an ideal spot for a relaxed swim. However, visitors can rent kayaks and paddleboards to hit the water or beach chairs and umbrellas to relax. With snack vendors and convenient facilities nearby, Magens Bay is perfect, all-day beach day material.
Next Vacay Travel Tip: Venture down the shore and away from the vendors to find a more relaxed and less crowded area to enjoy the sun and sand.
Coki Point Beach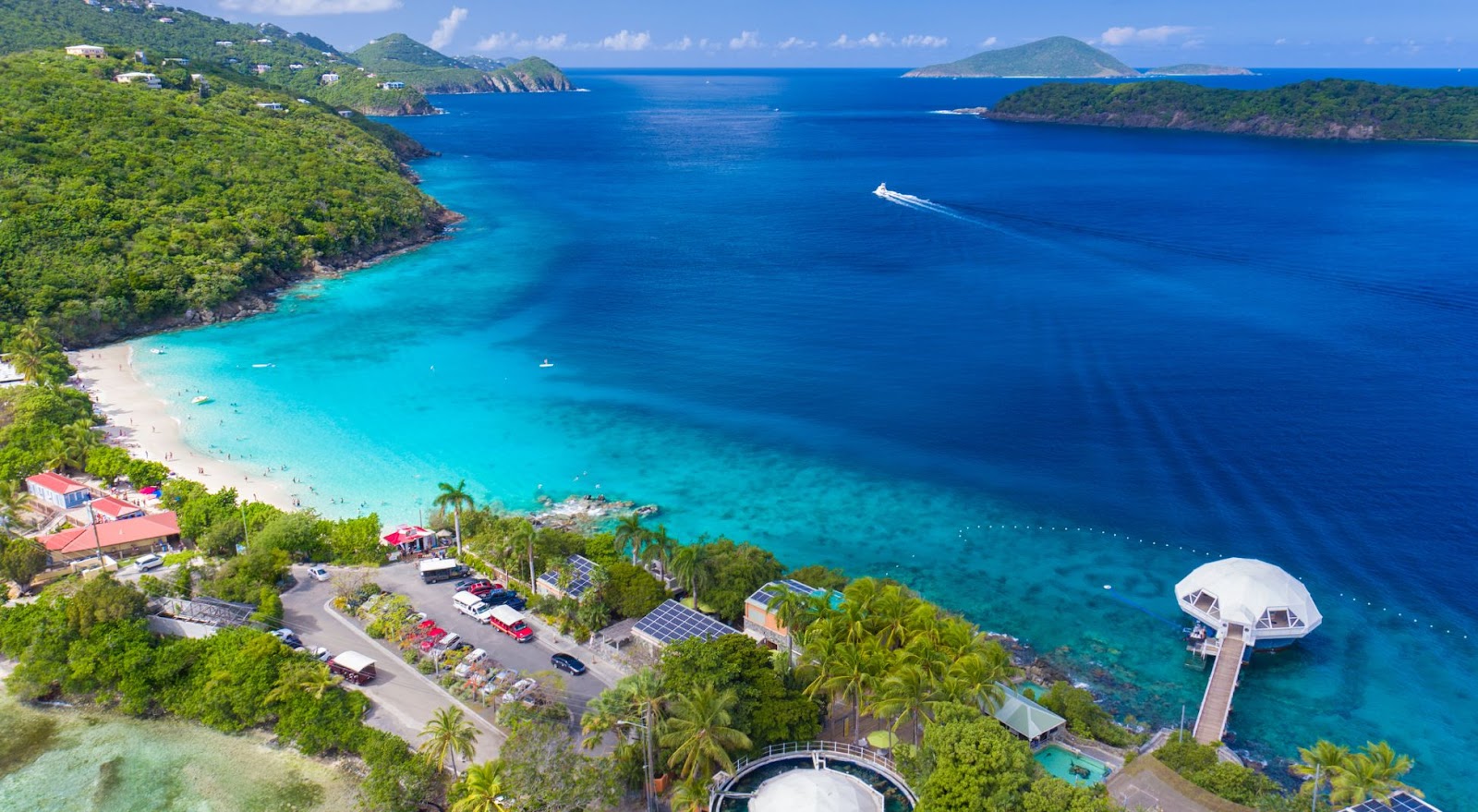 In a nutshell: Favored by locals for its upbeat vibe, this beach is excellent for snorkeling thanks to its vibrant coral reefs and colorful tropical fish.
Who it's for: Water sports enthusiasts
Drawbacks: $5 fee for parking
It's always sunny at Coki Point Beach—and we mean that quite literally. But it's the atmosphere that truly makes Coki Point shine. The lively setting calls to those looking for a good time and plenty of fun and games.
Jet skis bob on the waves, scuba divers travel into the deep, and snorkelers make friends with the fishes that crowd close to the shore.
While the play is good, the beachside lounging is too. Vendors line the shore, selling everything from tasty bites to colorful souvenirs. Drinks are served right on the beach, adding to Coki Point's effortless cool.
Located near other popular St. Thomas attractions, Coki Point Beach promises endless fun wherever you roam.
Next Vacay Travel Tip: Plan your beach visit early to avoid the crowds.
US Virgin Islands Beaches in St. Croix
The largest US Virgin Island isn't to be outdone in beauty or adventure. St. Croix gives visitors a taste of the unspoiled wild and pristine island living, from sea turtle sightings to private island getaways.
Sandy Point Beach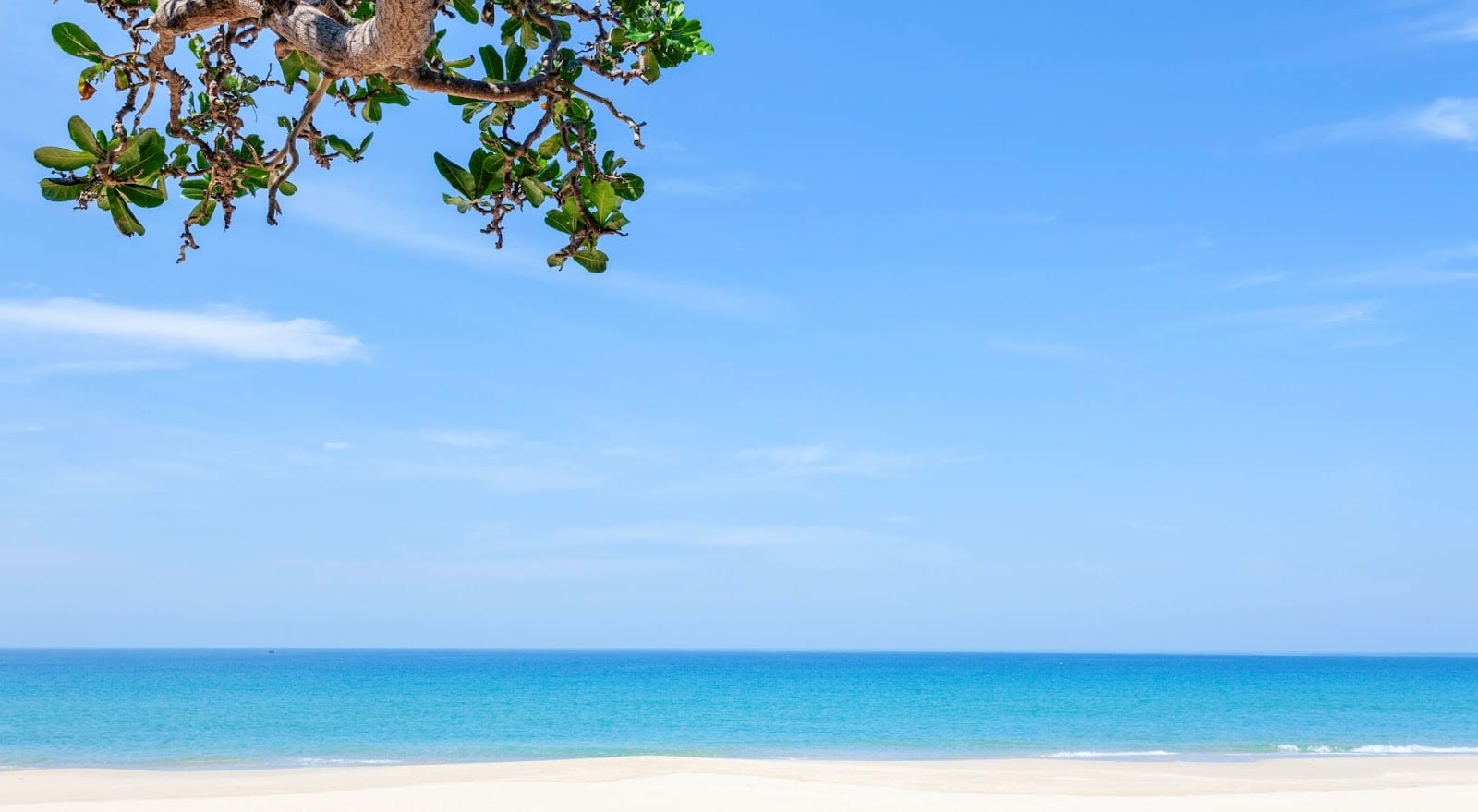 In a nutshell: It's one of the most unique and hardest-to-access beaches in the US Virgin Islands, all for the same reason: It's a nesting site for three different sea turtle species.
Who it's for: Marine life enthusiasts
Drawbacks: It lacks facilities and is only open two days a week.
At three miles long, Sandy Point Beach is the longest beach in the US Virgin Islands. But that's not what makes it one of the best. Three sea turtle species nest on the sandy shores of Sandy Point Beach, including the largest species in the world, the leatherback turtle. Because of this, Sandy Point Beach is a protected area, with beach access restricted to weekends.
Outside the turtle nesting season of March through August, it's open to the public and free to enjoy, providing a haven of beautiful sights and unique experiences. The sprawling white sand shore is ideal for a stroll to take in the beach's unspoiled beauty. Azure waves lap gently at your ankles, so clear you see your feet through the water. Prepare to soak up the sun here, as beach umbrellas aren't allowed due to the disturbance to nesting turtles. But sunbathing is still a popular pastime, and you might even spot some turtles nesting their eggs along the shore.
Next Vacay Travel Tip: Before you go, check out the St. Croix Sea Turtle Project's free resources for tips on safely enjoying Sandy Point Beach's beautiful sea turtles.
Turtle Beach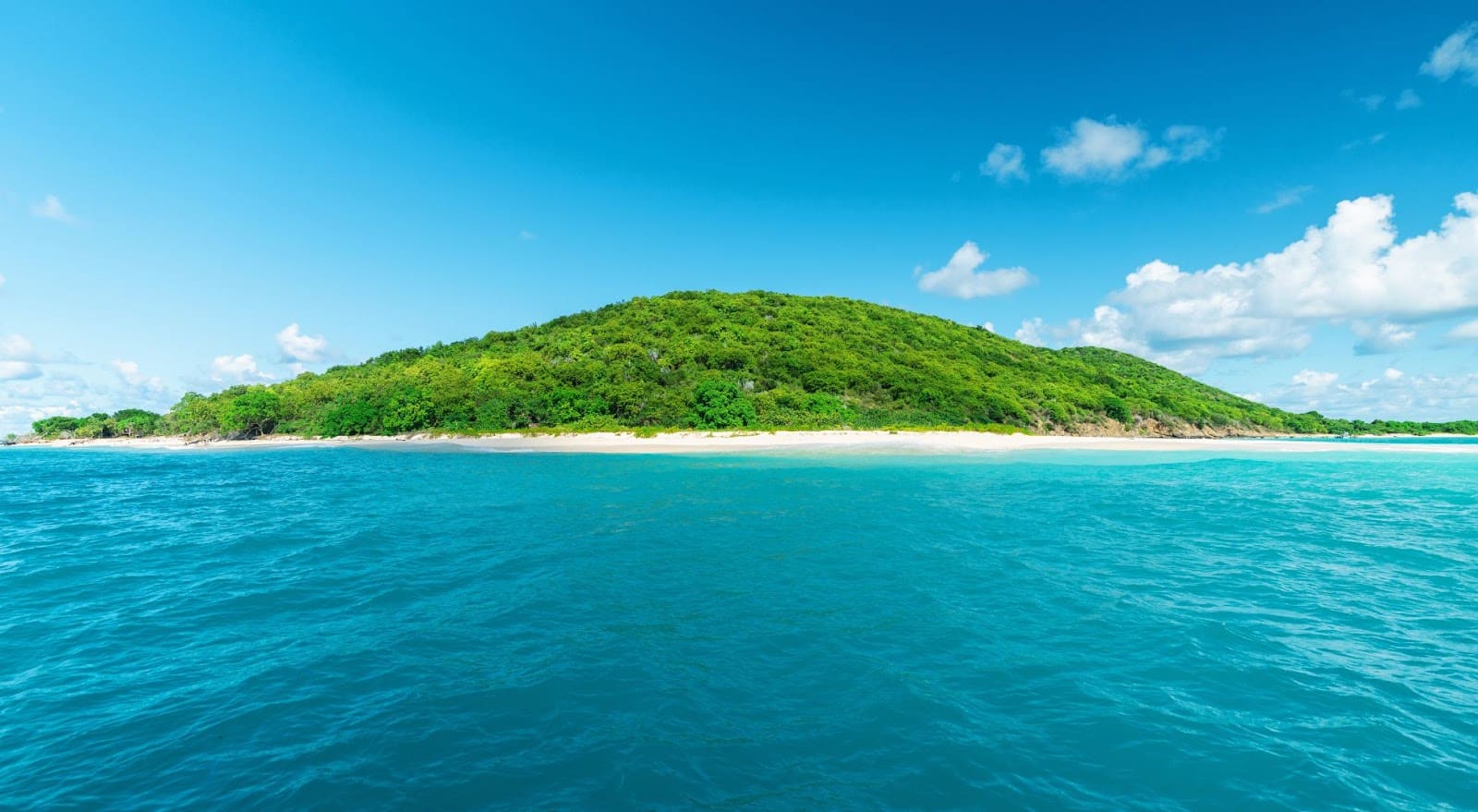 In a nutshell: A gorgeous beach and one of the best spots to swim with green sea turtles in the US Virgin Islands.
Who it's for: Beach loungers and snorkelers
Drawbacks: Only accessible by boat
Sail away to a private island paradise on Turtle Beach. This spectacular shore is located on Buck Island, a small isle off the northeast coast of St. Croix. Stunning blue waters and sun-kissed shores make for the picture-perfect oasis one dreams about when the words "beach getaway" come to mind.
Sugar-white sands and calm ocean currents promise a relaxing scene. Kick back on the sand or dip your toes in the sea. The serene conditions at Turtle Beach make it the perfect place to test out your snorkeling prowess.
Just on the other side of Buck Island, the Buck Island Reef National Monument sports an impressive coral reef with a breathtaking underwater trail that takes visitors on a journey through impressive coral heads that come just shy of kissing the surface.
But if that sounds like too much adventure, you can take it easy on Turtle Beach, strolling along the sand or swimming with turtles under the sea.
Next Vacay Travel Tip: With no amenities and little shade, be sure to pack food and sun protection to enjoy a long day at this beach.
US Virgin Islands Beaches in St. John
If you're saving the best for last, prepare to be blown away by the most beautiful beaches in the US Virgin Islands. For breathtaking views above and below sea level, no island does it quite like St. John.
Maho Bay Beach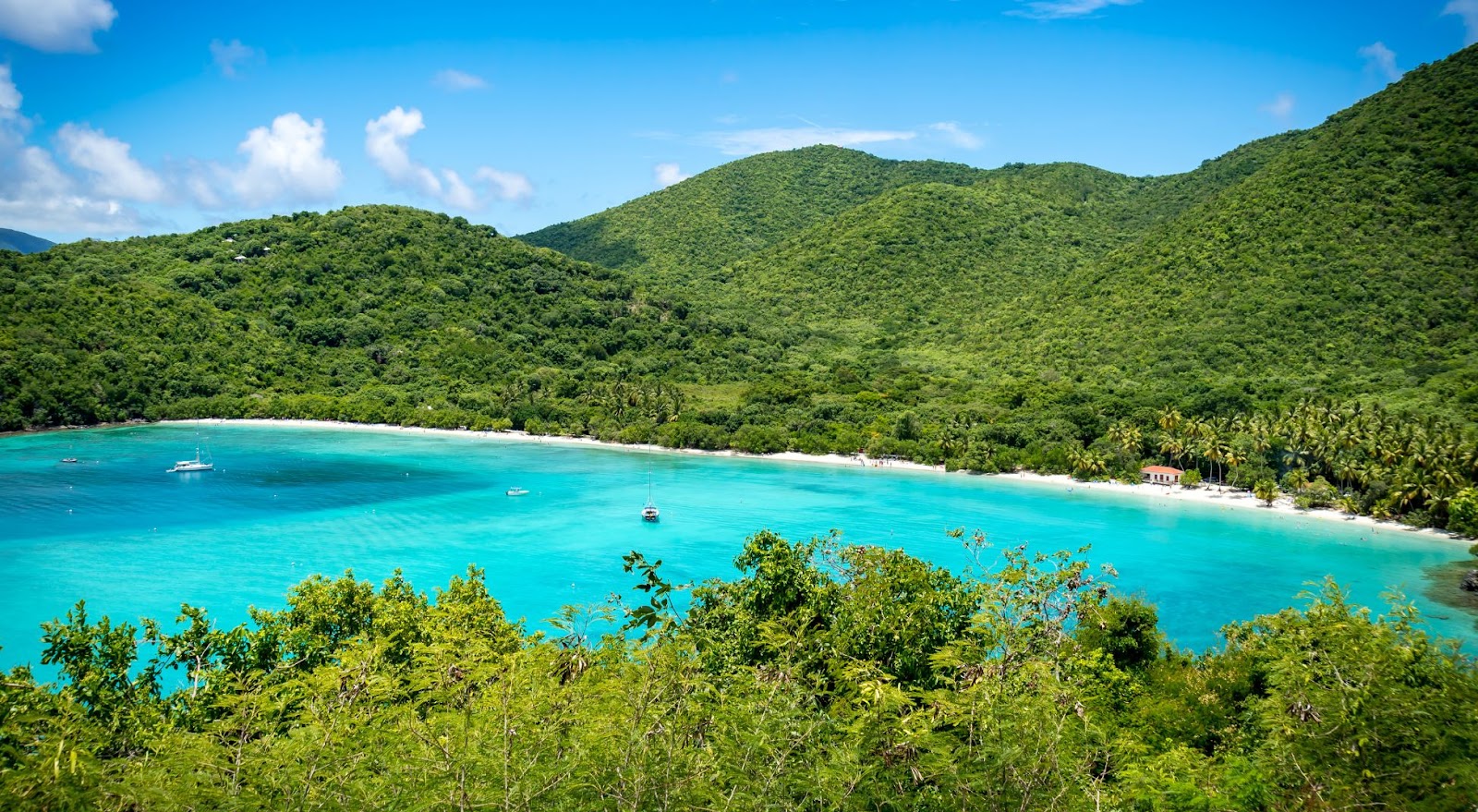 In a nutshell: The best beach in the US Virgin Islands to swim with green sea turtles, it's also an excellent spot for families.
Who it's for: Families and snorkelers
Drawbacks: Crowds
Powdery white sand and coconut palms set the scene for this dreamy beach on the island of St. John.
Calm waves and shallow depths near the shore of Maho Bay make it the perfect child-friendly beach for a fun family outing. Diving under the waters will quickly reveal a hidden paradise, bringing you face to face with Maho Bay's beautiful aquatic life, from tropical fish to rays. But the standout stars are the sea turtles. These special creatures love to snack on Maho Bay's seagrass and are often visible within minutes of entering the bay. Consequently, Maho Bay is the perfect spot to join them for a swim—just remember to keep a safe distance!
With a convenient collection of shops and food trucks located nearby at Maho Crossroads, it'll be hard to find a reason to leave the beauty that is Maho Bay.
Next Vacay Travel Tip: Arrive before 10 AM to beat the crowds.
Trunk Bay Beach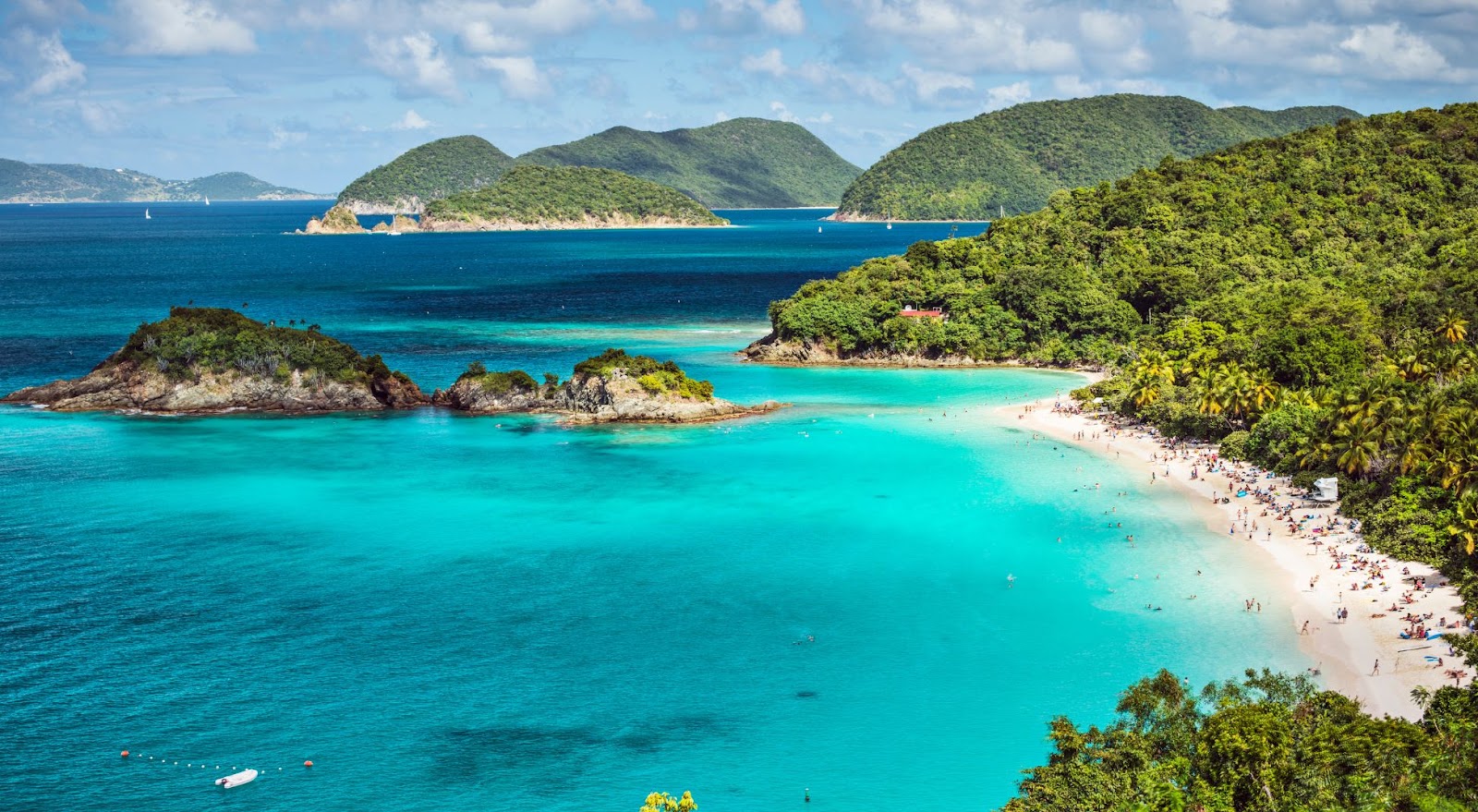 In a nutshell: Arguably offering the best view in the US Virgin Islands, Trunk Bay Beach is the place to go for breathtaking panoramas and fun adventures.
Who it's for: Everyone
Drawbacks: $5 entry fee
A trip to St. John's isn't complete without planning a stop or a day at Trunk Bay Beach. Nestled within the Virgin Islands National Park, the lush green foliage, sugary white sand, and turquoise blue waters only scratch the surface of what's on offer. Trunk Bay has it all.
Below the waves lies abundant marine life, including the leatherback turtles the beach is named after. An underwater snorkeling trail leads adventurers on a path through spectacular coral reefs and sea creatures for a look at life under the sea on St. John. Back above sea level, nothing can beat the views Trunk Bay promises from the shore, from the rocky cay to the gorgeous horizon line.
With helpful amenities like showers and restrooms, lifeguards on duty every day, and a snack shack by the beach, you never have to leave paradise.
Next Vacay Travel Tip: Plan a trip outside peak season to avoid the worst of the crowds. Parking is limited, so head to the beach early to snag a parking space.
Join Next Vacay: Start Planning Your Beach Adventure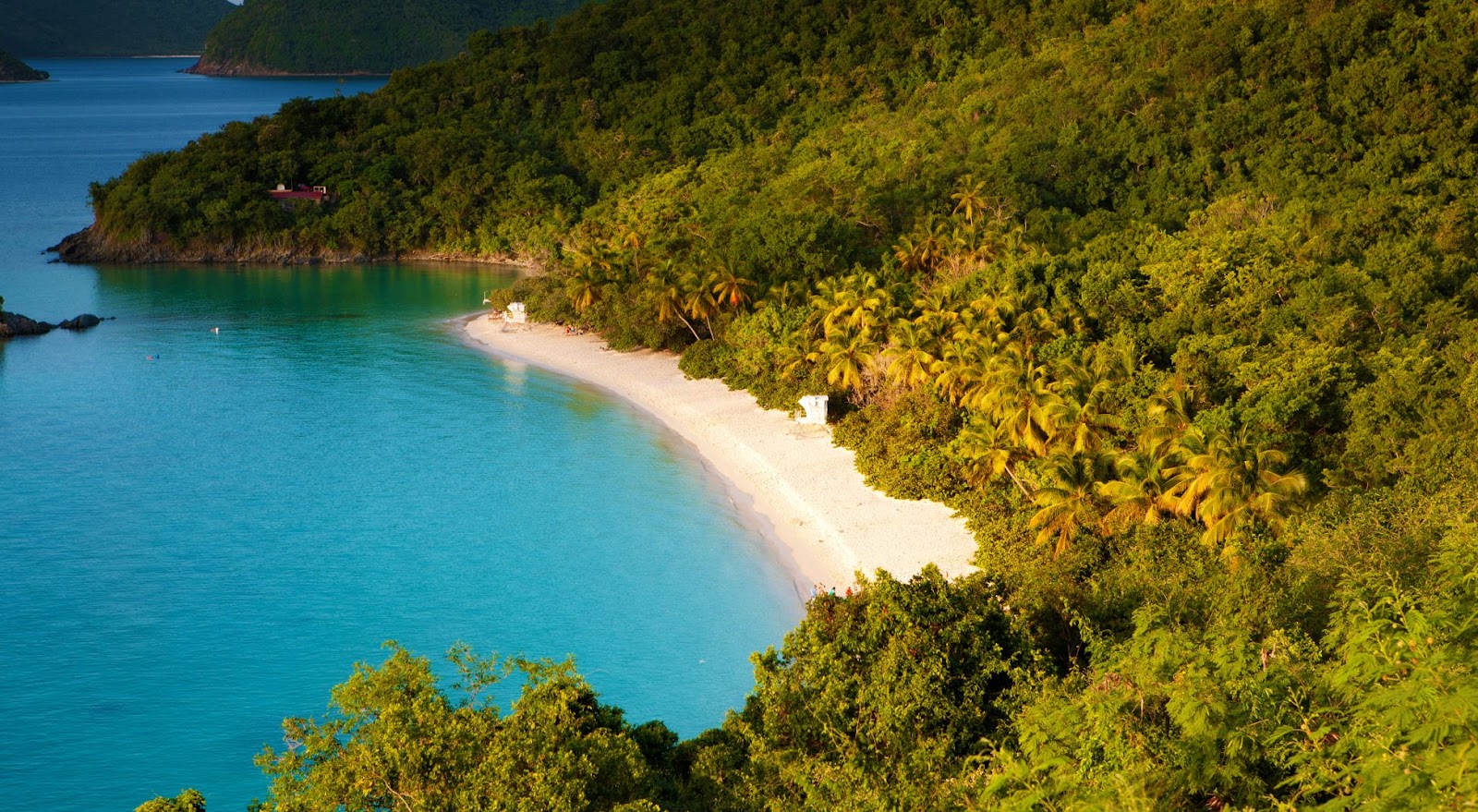 No two beaches are the same. That's what makes discovering a new one as special as discovering the last one was. And with Next Vacay, finding your next favorite beach destination just got as easy as visiting your favorite passport-free destinations.
Instead of putting in hours endlessly searching for the perfect deal, you can let it come to you. Next Vacay's team of savvy deal hunters does all the searching and vetting to deliver real, verified deals to your inbox to help you save hundreds. So, if you want to visit all the best beaches of the US Virgin Islands, swim with sea turtles in sapphire-colored bays, and kick back on unspoiled shores, let Next Vacay help you fly to paradise.
Related Posts