Ready to descend onto an isle of sunny coasts, crystal-clear waters, and magic? The official statement is in and has been since 2016: Isla Mujeres is a "pueblo mágico." A town recognized for its one-of-a-kind charms, vibrant calles, and, of course, unmatched natural beauty, Isla Mujeres is a place unlike any other. And its beaches are no different. From family-friendly sands to some of the best beaches in the world, we'll take you through the most enchanting shores of Isla Mujeres for some can't-miss magic on the Island of Women.
Table of Contents
The 6 Most Beautiful Beaches in Isla Mujeres Plus One You Can't Miss
Get swept away into paradise on these mind-blowing shores, courtesy of one of Mexico's most popular Magic Towns. Isla Mujeres promises sunny skies, the perfect vibes, and the best beaches to lounge, play, and swim.
1. Playa Norte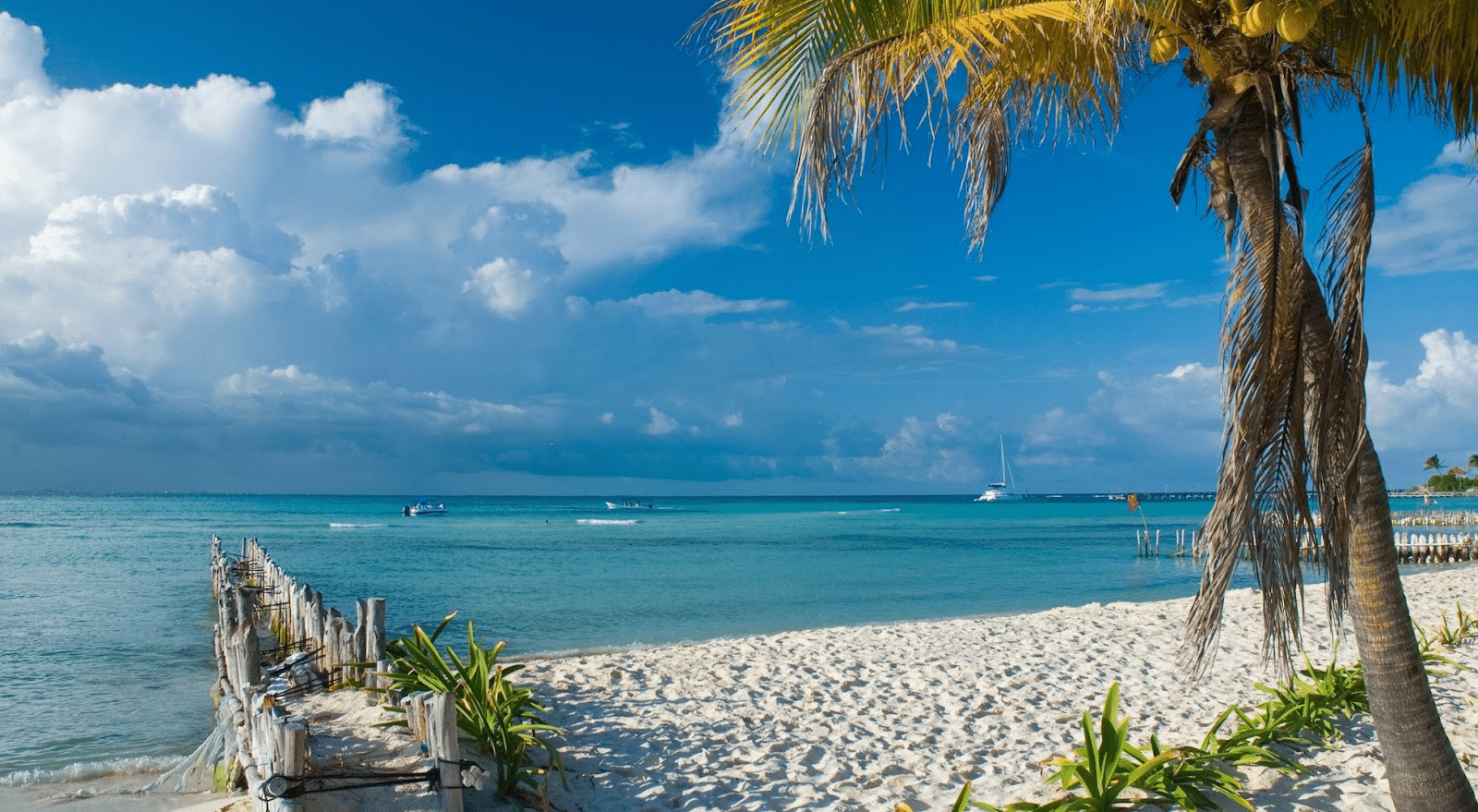 Among the best beaches in Isla Mujeres, Playa Norte is a standout star. Touted as the most popular beach on the whole island, visitors flock to this beautiful stretch of sand on the north shore of Isla Mujeres, hence the name North Beach. Travelers can relax under warm, sunny skies, retreat under the cool shade of the palm trees clustering the white sand beach, or take a dip in the crystal-clear aqua waters.
While Playa Norte is tailor-made for relaxing, it's also perfect for those seeking a more adventurous beach day. Shallow water, calm waves, and snorkel gear for rent make exploring the sea life easy. The tranquil waters also make it a fan favorite for many visitors hoping to kayak across Mexico's signature blue waters.
After a day relaxing on the beach or exploring marine life beneath the gentle waves, head to one of Playa Norte's many beach clubs to sip on a refreshing drink and enjoy true paradise.
2. Playa Lancheros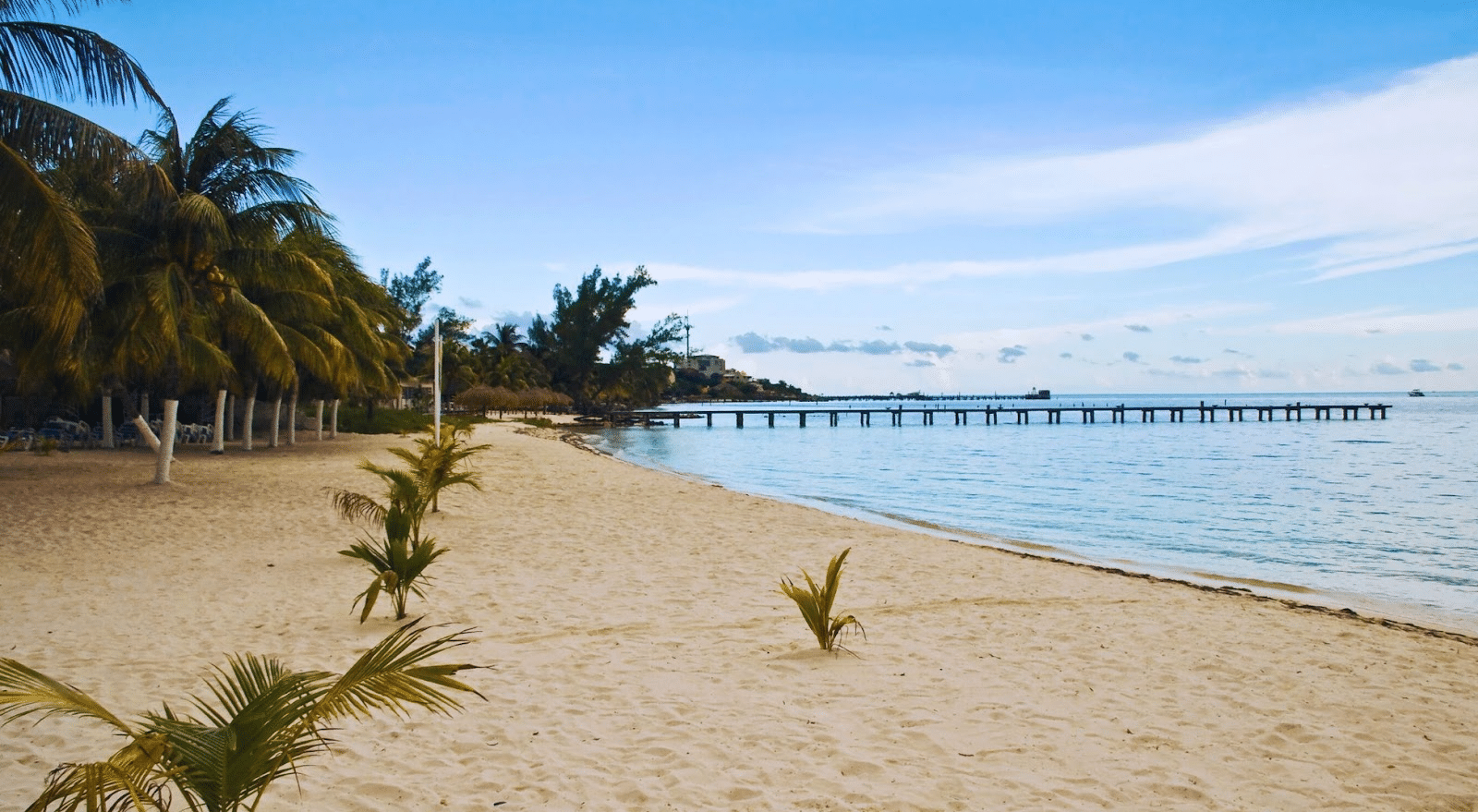 Located at the southern tip of Isla Mujeres is Playa Lancheros. This beach is quieter than others on the island, but that just means you have more of one of the best beaches in Isla Mujeres to yourself. The calm waters make it a great snorkeling destination and perfect for kids who want their turn in the sea.
Though other beaches like Playa Norte might be more popular and offer more activities, Playa Lancheros has an ace up its sleeve: unmatched Mexican cuisine. If you're looking for mouth-watering food, look no further than the local Tikin Xic Fish, also known as Tikinxic. A large white fish is rubbed in delicious spices, soaked in a marinade made of adobo de achiote and sour oranges, covered with a banana leaf, and cooked over a flaming grill. Paired with the white sand, leafy palms, and stunning views of Playa Lancheros, this unassuming beach satisfies your stomach and your eyes to steal your heart.
3. Arrecifes Beach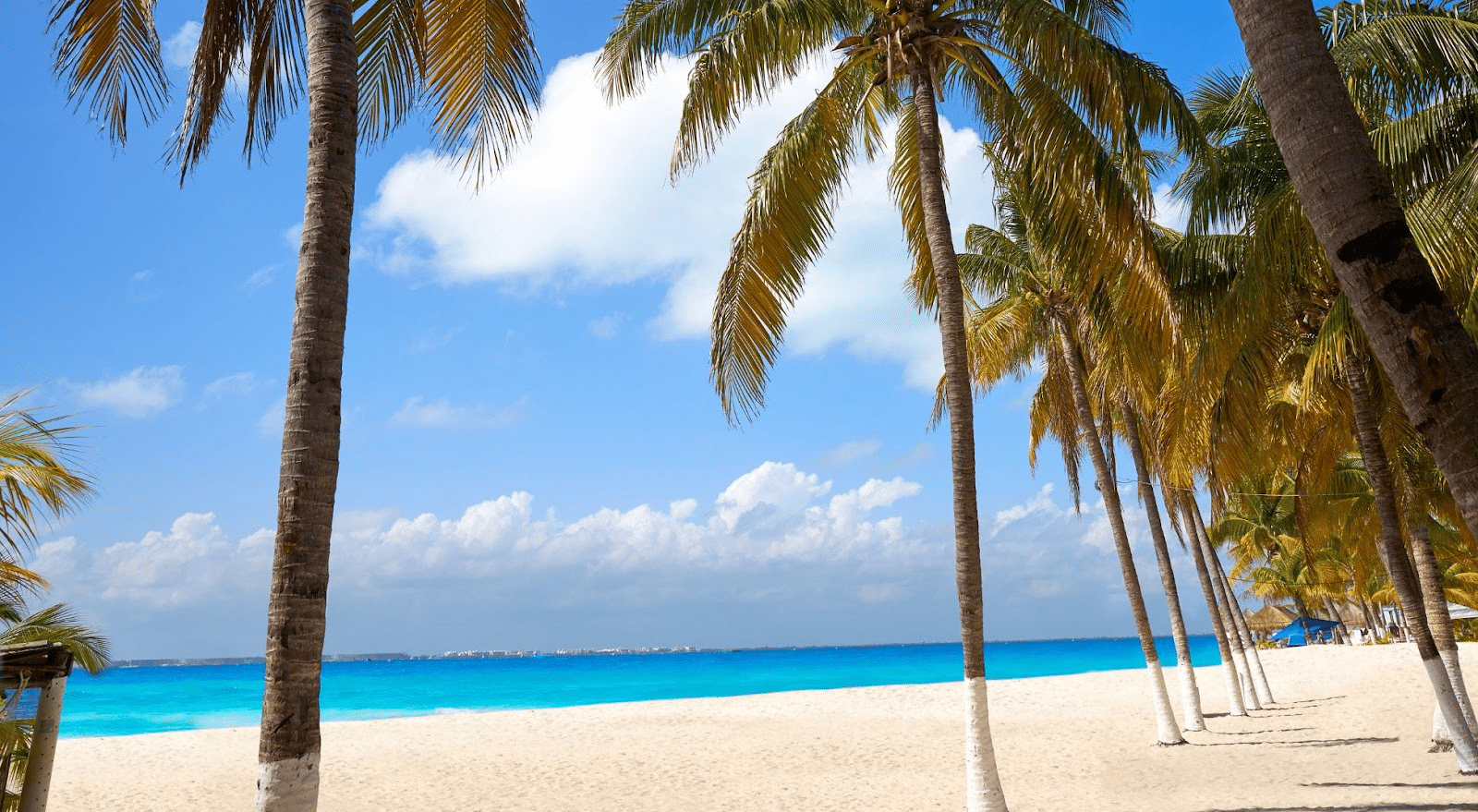 Arrecifes Beach offers gorgeous coasts and rocky bluffs for beautiful panoramas of the Caribbean Sea.
Long sandy trails lead to small bluffs overlooking the striking blue waters for some breathtaking views. Visitors who keep their eyes peeled along the way will spot interesting industrial sculptures dotting the grassy knolls around the beach or, even better, a lone iguana roaming the island.
Back on the beach, you can snag a coveted spot beneath the swaying palm trees to set up your lounge chair for a nice bit of rest and relaxation. But, you might just be tempted away from the shade to cool off in the ocean. Beyond the sand, clear and tranquil waters serve as the perfect playground for everyone from children to adults to go for a swim. There's little doubt picture-perfect Arrecifes Beach is one of the best beaches in Isla Mujeres.
4. Playa Centro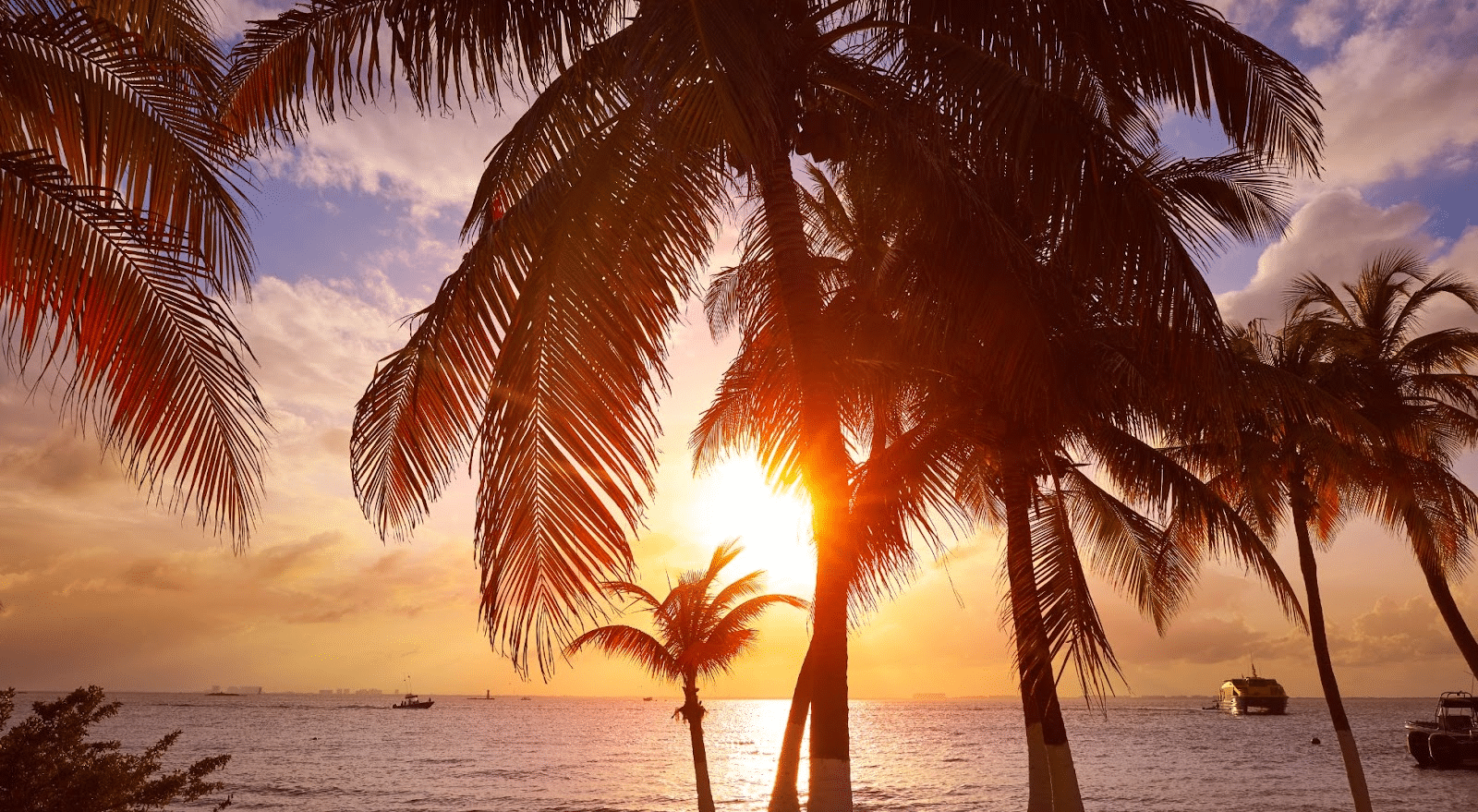 What's better than dazzling turquoise waters, swaying palm trees, and a stunning white sand beach nestled up to the beautiful Mexican Caribbean? Very little, in our opinion.
Playa Centro is less crowded than its more famous counterpart, Playa Norte. This gives visitors a better chance to enjoy the large stretch of sand and the calm waves. In addition, Playa Centro serves up spectacular views of the breathtaking sunsets that are a common occurrence on Isla Mujeres. Catch the golden yellows and striking oranges streaking across the sky from a spot on the beach, or take a short walk to Playa Norte for even more dazzling sunset views.
5. Playa Albatros
Playa Albatros isn't like the other white sand beaches on Isla Mujeres, mostly because it's not technically a white sand beach. Instead, Playa Albatros is yellowish-brown thanks to iron oxides caused by limestone cliffs located near the beach. That said, it still delivers on the crystal-clear waters that characterize beaches on the island, offering visitors spectacular views of the underwater sea life.
Of all the beaches in Isla Mujeres, Playa Albatros might just be the best beach for activities. Gentle waves make swimming easy for all ages, while those looking for more adventure will likely find it beneath the waves or up in the clouds. On top of snorkeling and scuba diving, parasailing is also a much-beloved way to take in the beauty of Playa Albatros.
6. Playa Garrafon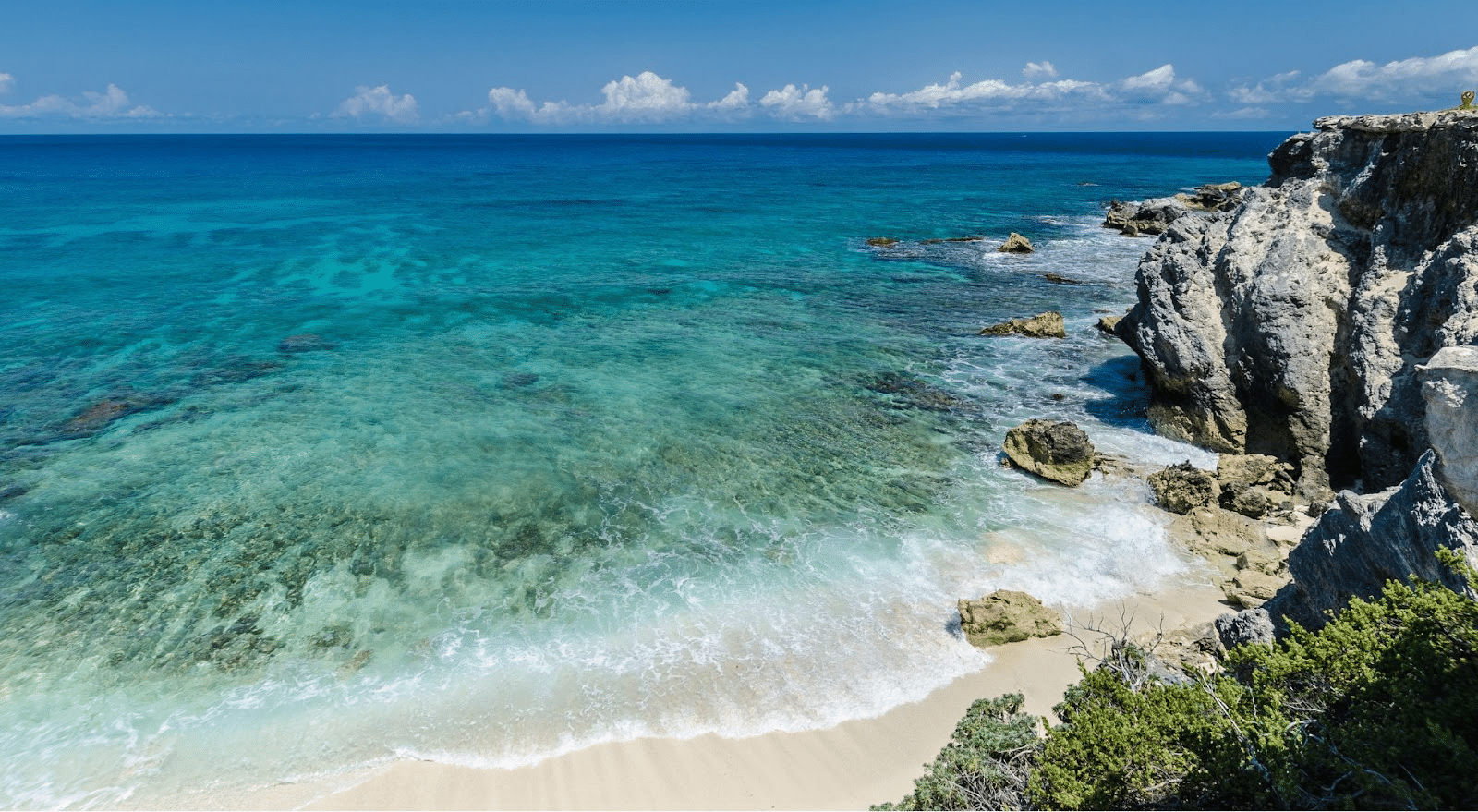 Grab your snorkel gear and get ready to discover the beach's reef and marine life. Located near the southern tip of Isla Mujeres, Play Garrafon is undoubtedly smaller than Playa Norte and other beaches on the island, but that doesn't mean it should be overlooked.
This beach offers stunning views of the gorgeous blue waters and rocky bluffs. Between the sandy shores and kayaking fun, what more could you ask for? The answer is very little.
7. Isla Contoy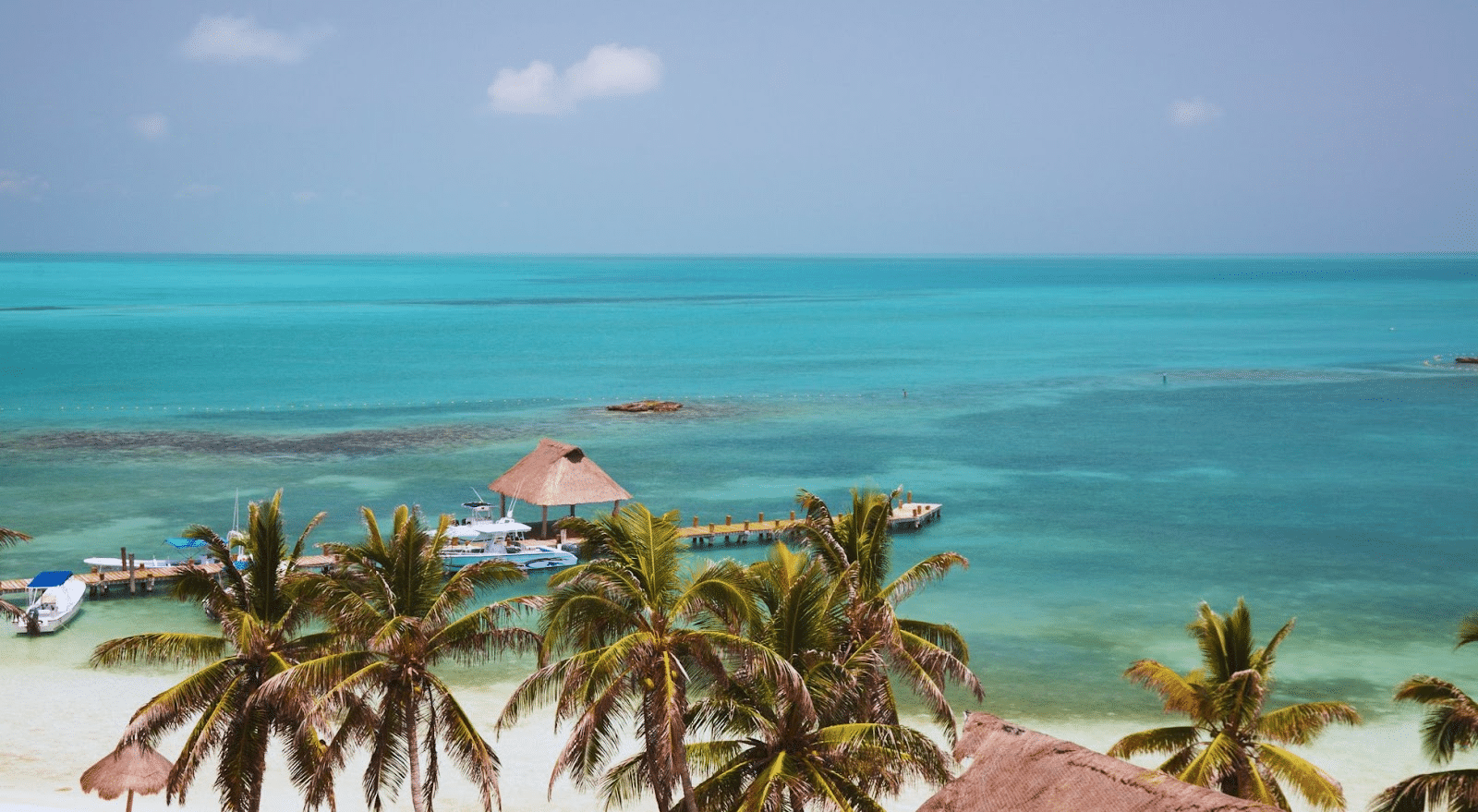 Isla Contoy may not technically be one of the best beaches in Isla Mujeres, but that's only because it's not a part of Isla Mujeres. However, that hasn't stopped many from departing from the Island of Women to travel eighteen miles north for a magical day trip to this paradisiacal island.
Located off the coast of Cancun, visitors can enjoy the enchanting wonders of the Mexican Caribbean at Isla Contoy. A national park on the island is home to sea turtles, over 150 bird species, and a verdant natural habitat. With no roads or cars to speak of, just sun and sea, this is quintessential island life at its finest.
On your journey to discover the best beaches in Isla Mujeres, Isla Contoy is a worthy distraction and a fun destination you won't regret adding to your itinerary of beaches and sun.
What Part of Isla Mujeres Has the Best Beaches?
White sand and every hue of blue water combined to put Playa Norte on the map as one of the best beaches in the world. With a beach like that, there was never any doubt that the northern tip of Isla Mujeres would come away with the crown.
While you can visit all of Isla Mujeres' coasts for some fun in the sun, visitors always return to the dazzling north shore and Playa Norte in particular, for the best sand and best views on the isle.
Which Side of Isla Mujeres Is Better?
The north end of Isla Mujeres shines spectacularly bright, thanks not only to Playa Norte but also a slew of restaurants, bars, and hotels that keep the air lively. However, for those looking for a quieter island getaway, the south end, Punta Sur, delivers serene beaches and more family-centered attractions.
Next Vacay Finds the Cheapest Flights to the Beaches of Isla Mujeres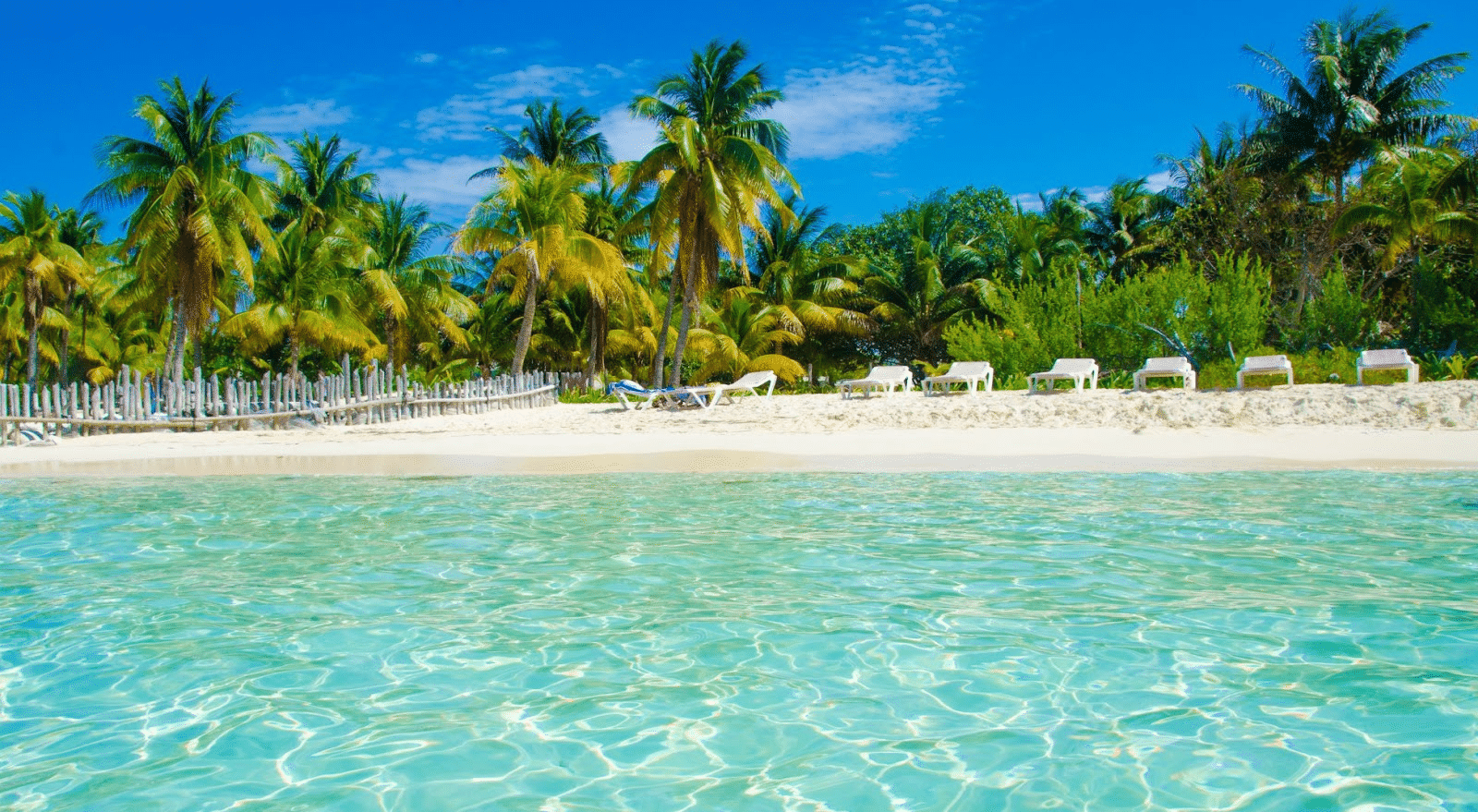 Beautiful beaches? Mexico delivers time and again. And while you can trust the Island of Women to deliver more of the same, you can trust Next Vacay to help you get there.
Our deal hunters are always on the lookout for the best flights to Mexico. So start your no-worries vacation early and relax. Let Next Vacay handle the heavy lifting by discovering the best deals for the quickest flights and most savings. Whether you dream of dreamy Cozumel or magical Isla Mujeres, Next Vacay can help you find your paradise. Go from stateside to beach vibes just like that with Next Vacay.
Related Posts