A place of rich cultures, enchanting waterfalls, and stunning blue pools, Guatemala isn't exactly known for its must-see shores. But it does have its fair share of unique and captivating sands between Pacific coast beaches, Caribbean getaway destinations, and lakeside shores. And even in a land known for its other attractions, it's hard to ignore the call of the water. So, for those beach lovers who can't get enough of the coast or lakeside sands, here's where you can find the absolute best beaches in Guatemala.
Table of Contents
Does Guatemala Have White Sand Beaches?
Guatemala does have several white sand beaches, and while its neighbors may have more to boast about, Guatemala isn't to be outdone in terms of quality. Playa Blanca on Guatemala's Caribbean coast awaits those searching for a postcard-perfect white sand beach.
But the promise of a classic Caribbean coast getaway is only some of what Guatemala offers. Travelers eager to see it all will delight in dark black sand beaches, chocolate-shaded shores, and shimmering golden coasts for a trip full of adventure and wonders.
The 12 Best Guatemalan Beaches
While not exactly known worldwide, Guatemala beaches are full of character and endless charms that make them an unforgettable experience for all who visit. So get ready to kick up some sand and enjoy epic views on the coasts of these 12 best beaches in Guatemala.
1. Monterrico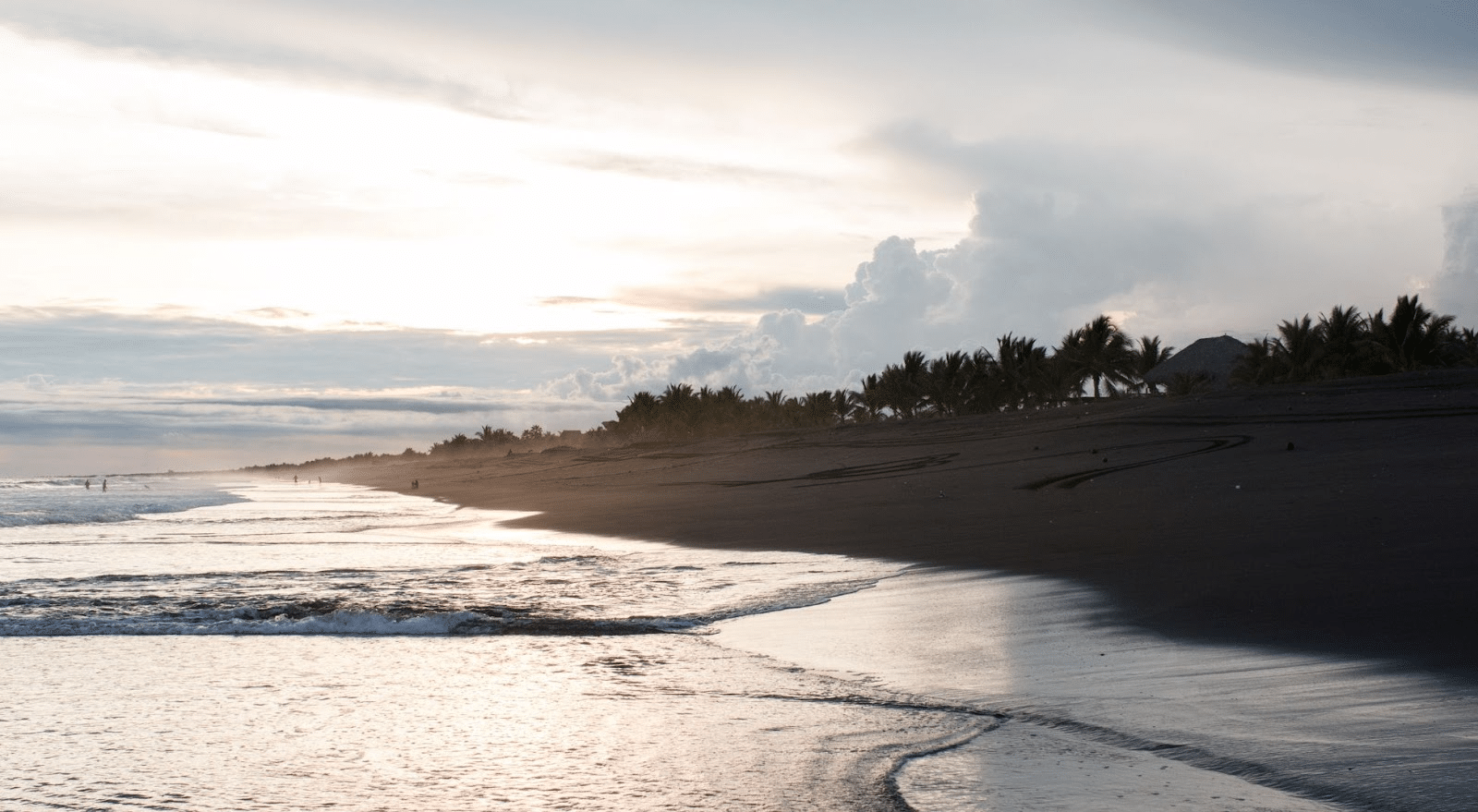 Guatemala's Pacific coast holds many wonders, but perhaps none more eye-catching and captivating than Monterrico. If you're looking for the best beaches in Guatemala, congratulations, you need look no further. Monterrico is arguably the most popular beach in the entire country. Once you arrive, you'll understand why.
Dark volcanic sand sprawls across the shore, creating a dramatic and dazzling display. The picture is even more breathtaking with the wild Pacific Ocean at its back. Frothy waves kick up on the shore, highlighting the sand's jet-black or chocolate-brown coloring, depending on the light. And when the sun sinks below the horizon, visitors are in for an unforgettable display.
As if you needed more reasons to catch the next bus leaving from Guatemala City, the beach's biggest draw comes in the latter half of the year. Say hello to turtle season. Between July and December, turtles populate the shoreline; adults lay their eggs while later in the season, baby turtles make their way back to the sea. Tortugario Monterrico is a turtle hatchery that often releases hatchlings into the sea at sunset, another mesmerizing reason to greet the dusk at Monterrico.
2. Playa Las Christalinas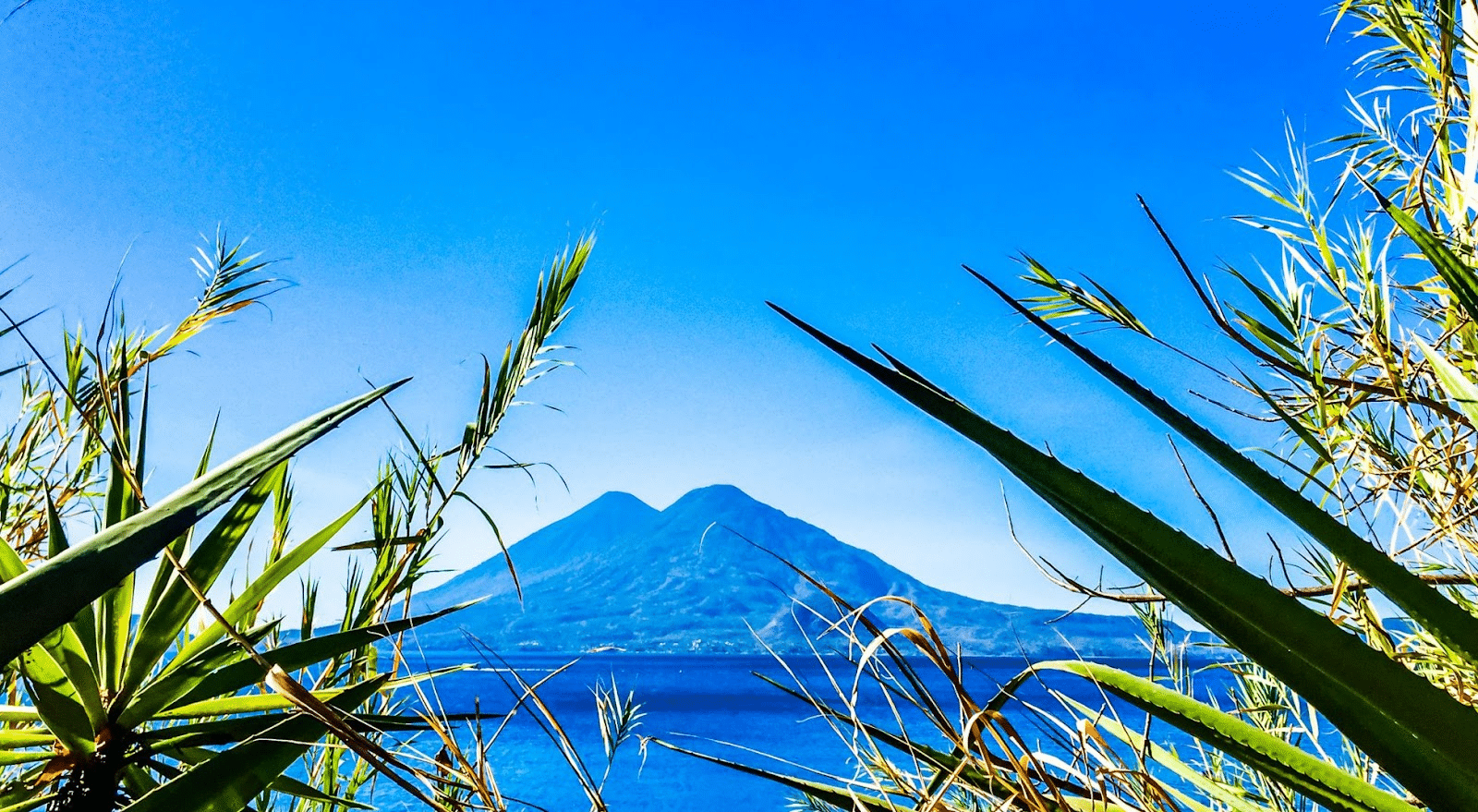 While you can't judge every book by its cover, sometimes the name says it all. In this case, Playa Las Cristalinas, or "crystal clear beach", hits the nail right on the head. Sat on the shore of Lake Atitlán, water as clear as crystals and just as brilliant greets visitors, inviting them to dip their toes because the water is more than fine. As if the swimming conditions weren't picture-perfect enough, the views will sweep you away, with three gorgeous volcanoes visible in the distance.
Thanks to its location in the Guatemalan Highlands, Playa Las Cristalinas is free from the heat and humidity many coastal beaches suffer from.
Whether you kayak along the serene lake or dive in for a refreshing swim, Playa Las Cristalinas is clearly one of Guatemala's best beaches.
3. Playa Tilapa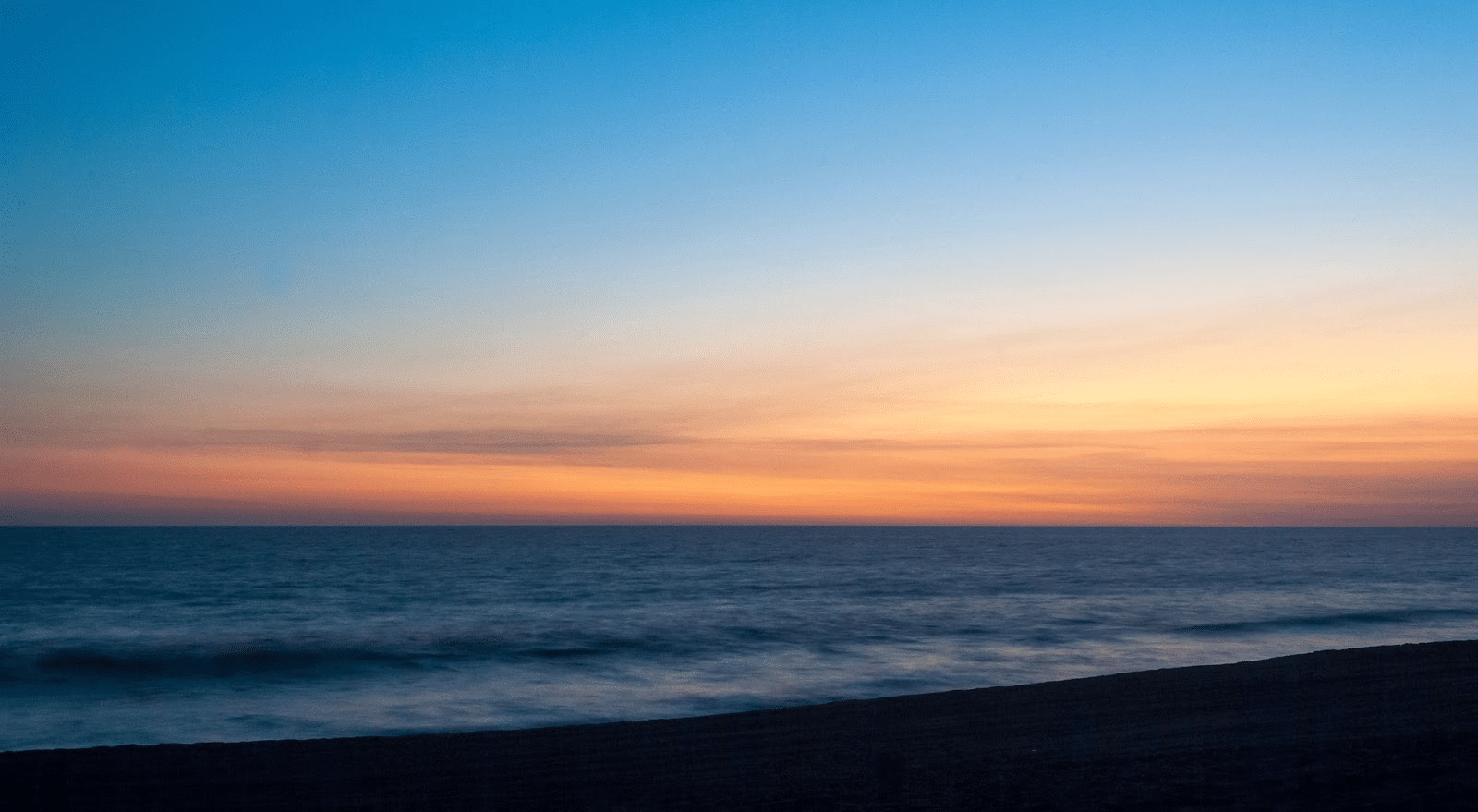 Ten miles south of the Mexican border, travelers will find the most remote shore among Guatemala's beaches. Playa Tilapa is just a 10-minute boat ride from the fishing village of Tilapita, but separated by canals and the Río Naranjo, it feels oceans away from the rest of the world. Upon arriving, you may find you have the whole place to yourself. This feels special with any beach, but with Playa Tilapa, it feels truly sublime.
A black sand beach awaits visitors who go the distance for this off-the-beaten-path shore. Surfers looking for a great wave will love the surf here. Meanwhile, travelers searching for a more local experience will enjoy Playa Tilapa's rural roots. While accommodations are sparse, places to eat aren't nearly so limited, and some local fishermen are happy to part with their fresh catch for a fair price.
Amid the quiet beach, crashing waves, and beautiful sunsets painted across the sky, you're unlikely to find a more relaxing beach or a more unique vision of paradise.
4. Champerico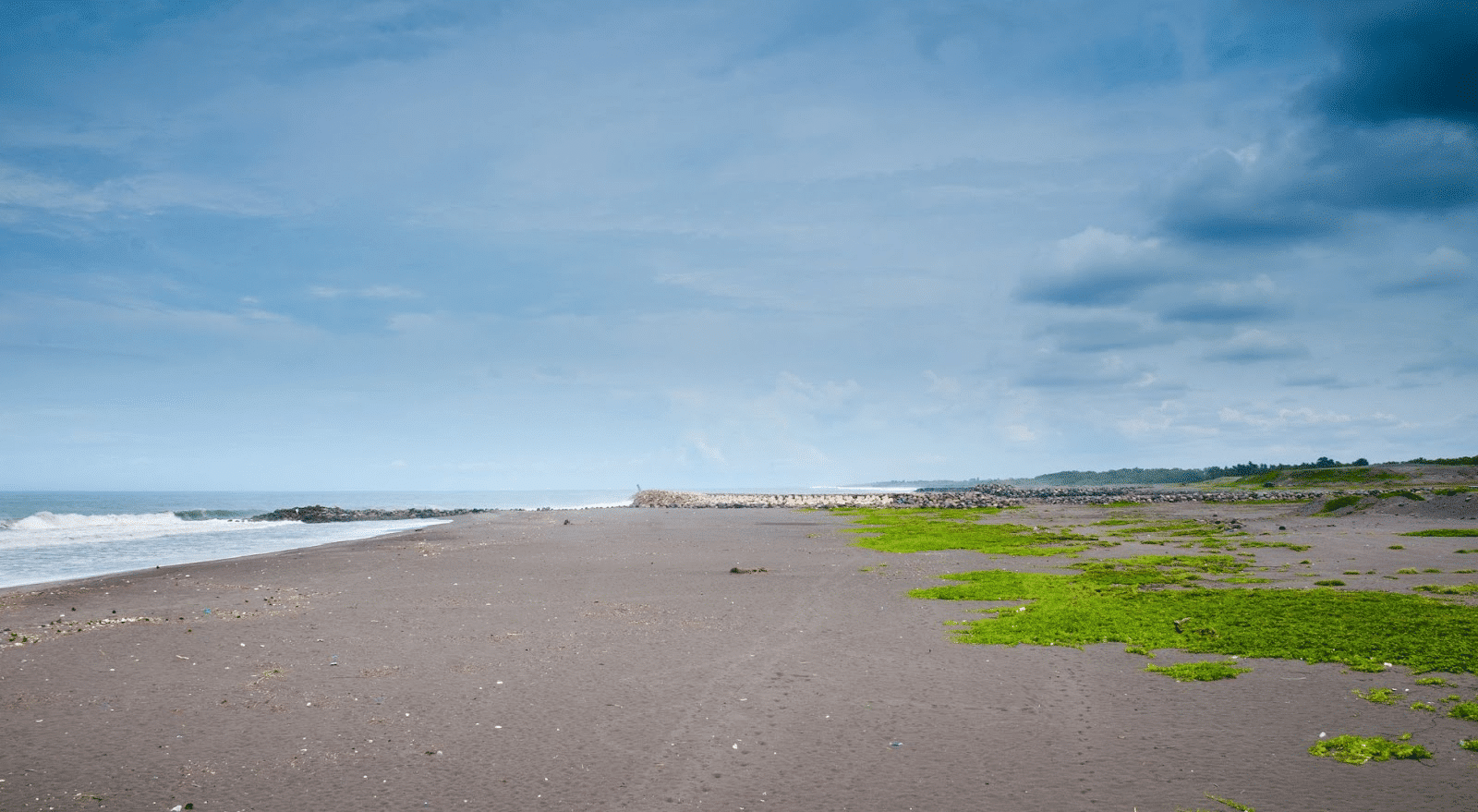 Champerico may be a hot vacation spot for Guatemalans, but this sleepy port town doesn't see much activity from the tourist crowd, which is what makes it perfect for laid-back getaways.
Another black sand beach on Guatemala's Pacific coast, the sheer sprawling size of the beach isn't the only eye-catching feature. That honor is shared with the massive, 19th-century pier jutting out from the beach and into the crashing sea.
Speaking of the sea, Champerico is a delightful beach destination for surfers hoping to catch some decent waves. Even if you're not an avid surfer, nearby surf shops offer lessons and gear so you can catch your first wave.
Because Champerico is a major port town, you'll find plenty of shops to explore and restaurants situated along the shore, offering fresh seafood and delicious meals alongside pleasant ocean breezes and captivating sea views.
5. Iztapa
Guatemala's Pacific coast is dotted with black sand beaches, and another to top the list of its best is Iztapa. Once Guatemala's main port, now thrilling attractions take center stage. Crashing waves ridden by eager surfers bash the shore. Humpback whales migrate through the waters every mating season, treating visitors to a spectacular sight. But while whale-watching tours are seasonal, Iztapa's true highlight is year-round.
People travel from all over to sailfish at one of the best beaches in Guatemala. On average, those fishing can expect to catch over ten sailfish a day, and during the season, it's not uncommon to get up to 40 or more bites!
It's not an exaggeration to say that the sailfishing at Iztapa is legendary. And it doesn't get much better than ending the day with a fresh catch, enjoying the views from one of Guatemala's picture-perfect beaches.
6. Playa Blanca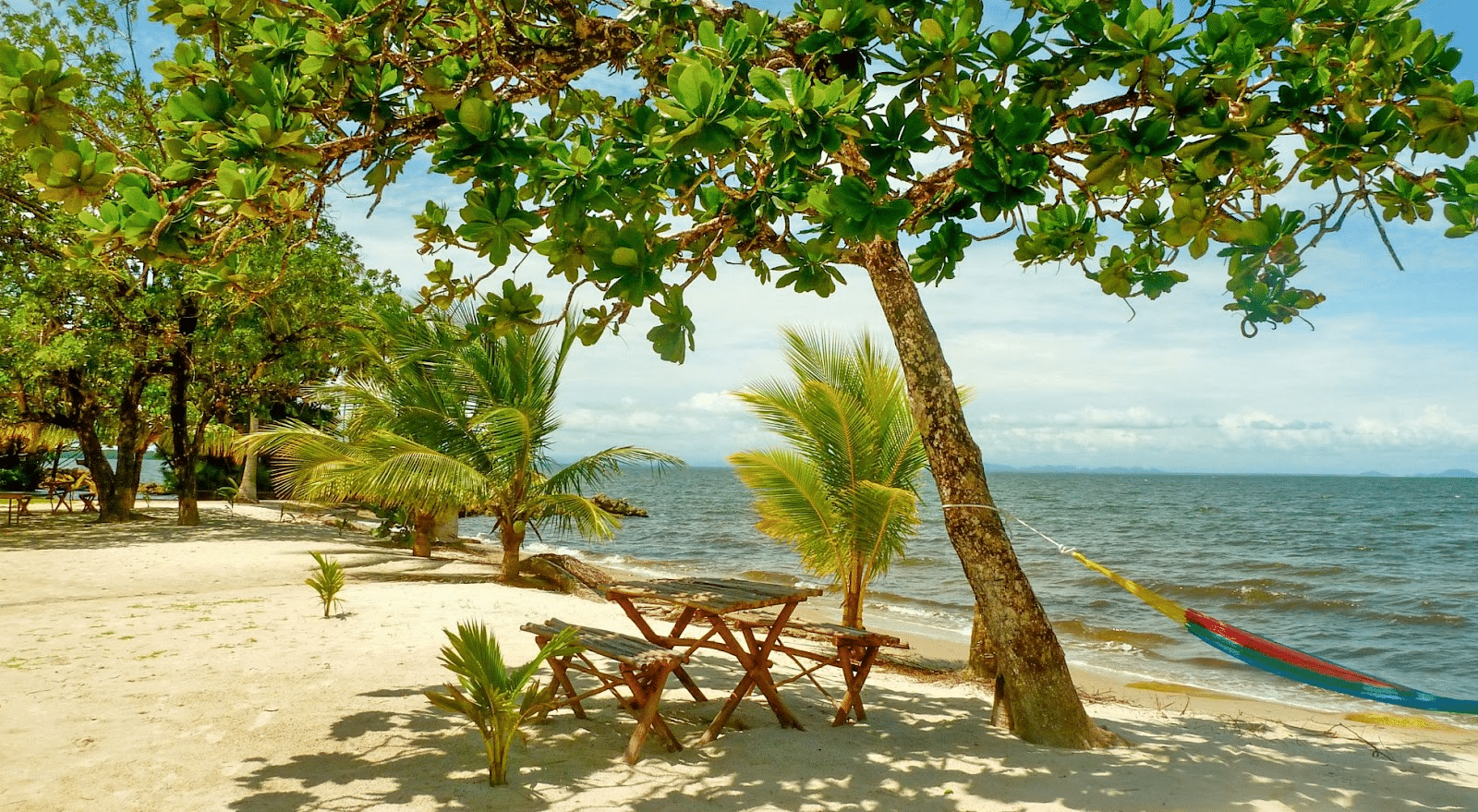 Black sand beaches aren't all Guatemala has to offer, and nowhere is there a better reminder of that than Playa Blanca. Playa Blanca is the opposite of a black sand beach, characterized by idyllic white sands and stunningly blue waters.
Despite its popularity, it's rarely crowded, so you can claim a patch of sand and soak in the peaceful scenes while pretending you're on your own private beach. But maybe that's because Playa Blanca is technically a private beach. Visitors must pay a small entrance fee, which helps preserve the pristine quality of this beautiful beach. But the price is worth it to take in the gentle waves and classically gorgeous views that make this a Caribbean coast staple and one of the best beaches in Guatemala.
7. El Paredon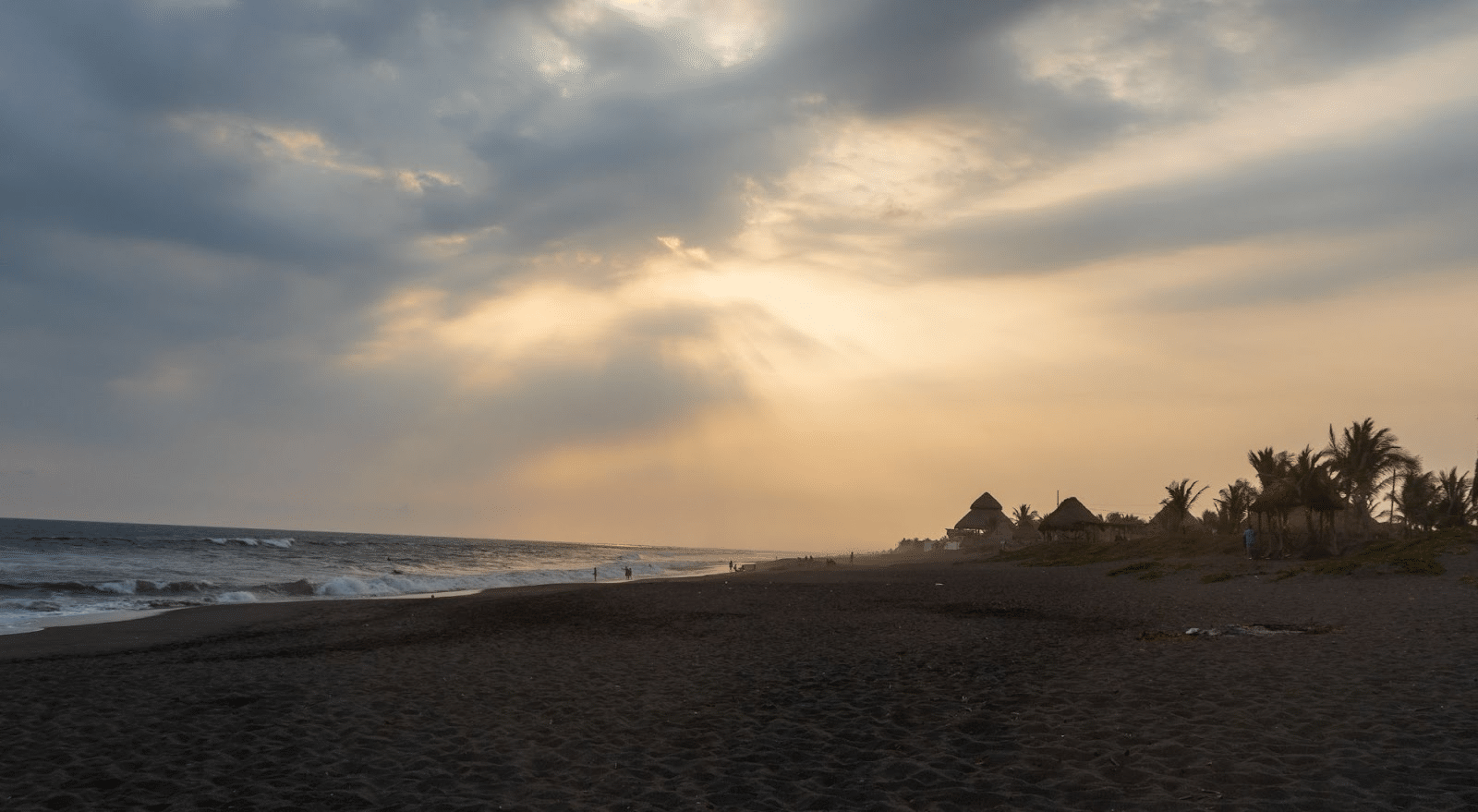 El Paredon isn't just one of the best surfing beaches in Guatemala; it's one of the best surfing beaches in Central America. Surfers searching for paradise will find what they seek on the shores of El Paredon, or perhaps it'd be more accurate to say they'll find it on the waves. Though surf shops and schools like El Paredon Surf Camp and Surf House at El Paredon will supply surfers with all they need, the waters bring true bliss. Whether you're an expert or a beginner, El Paredon is for everyone.
Of course, if you're not interested in riding the waves, this laid-back beach town still has more to offer. Nesting sea turtles and migrating humpback whales make for a singular experience, even just watching from the shore. Take a boat tour out on the water, and you may just be treated to scenes of frolicking dolphins.
With great waves, abundant wildlife, and unspoiled, dark sand beaches, it's no wonder this beach town is so popular.
8. Playa Dorada
Five hours from Guatemala City, perched on the edge of Lake Izabal, lies Playa Dorada. Visitors can expect golden sands, turquoise waters, shady palm trees, and stunning views. The sand underfoot is powdery-soft, perfect for laying out and soaking up those golden rays while enjoying a traditional drink.
Above the pillow-soft sands, visitors can cast their eyes to scenic views over Lake Izabal. But the true attention stealer is the water. For those who find sitting still a challenge, Playa Dorada's epic watersports will quickly cement its status as one of the best beaches in Guatemala.
Avid swimmers can dive in for a refreshing dip among the cool waters. Colorful snorkeling spots will quickly capture your attention underwater. And everything from kayaking and banana boats to water bikes and paddleboarding will keep you glued to the water's surface.
Bordered by exclusive resorts, thatched palapas, and a gorgeous lake, visitors will be swept away by the charms of this golden beach.
9. Puerto San Jose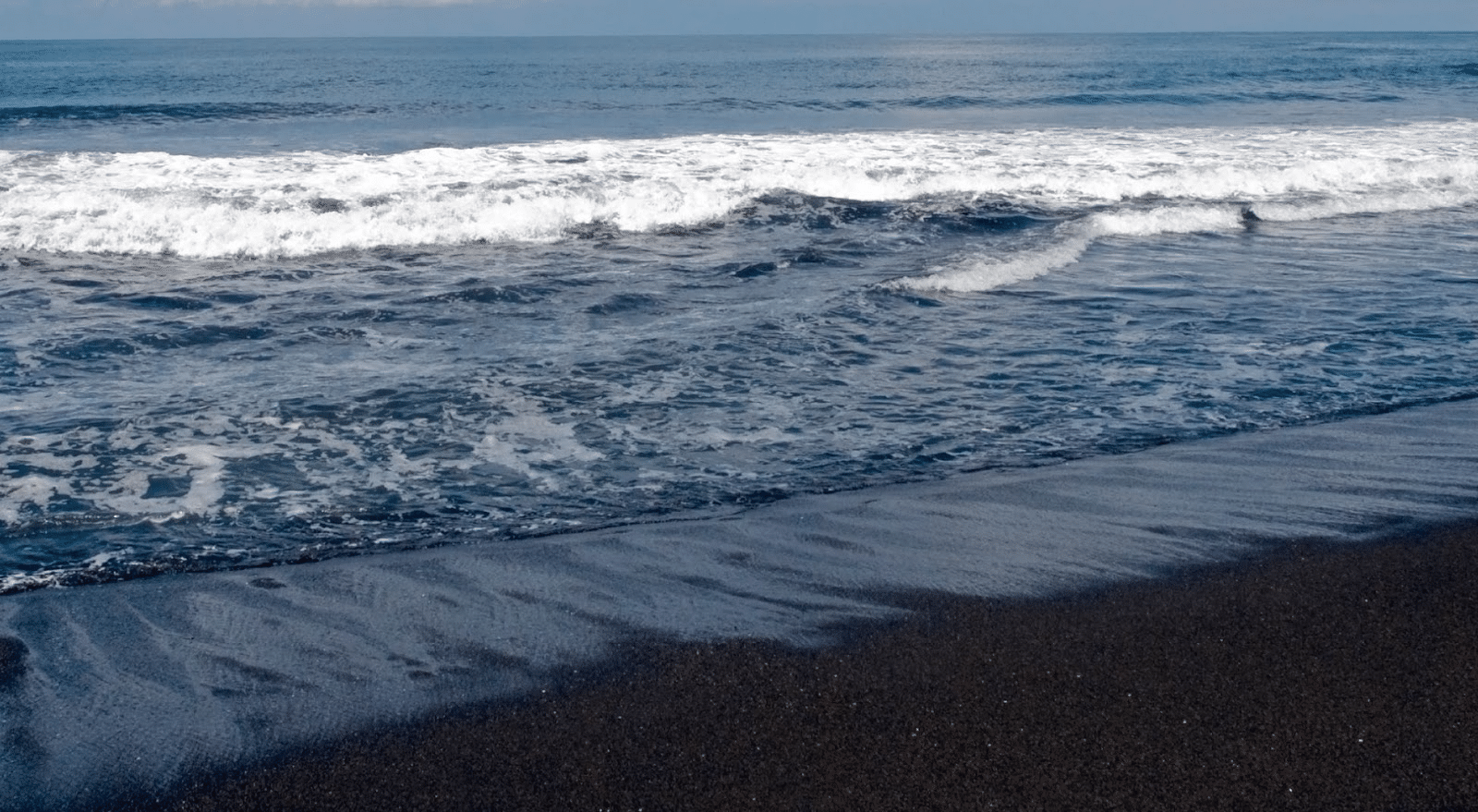 Dramatic volcanoes set the scene of Guatemala's most populated coastal town. Puerto San Jose is home to over 20,000 Guatemalans and is the biggest fishing town along the country's Pacific coast.
In truth, it's not the beaches that lure travelers to the shores of Puerto San Jose; it's the sailfishing. Touted as some of the best in the world, people come from all over to catch a bite or several.
And while many don't come for the beach, the scenic backdrops and serene views make it a perfect spot to lay out and get in some much-needed R&R between all of Guatemala's many adventures. With plenty of nearby accommodations, you may just get swept up in the sand and sea enough to stay longer than you planned.
10. Sipacate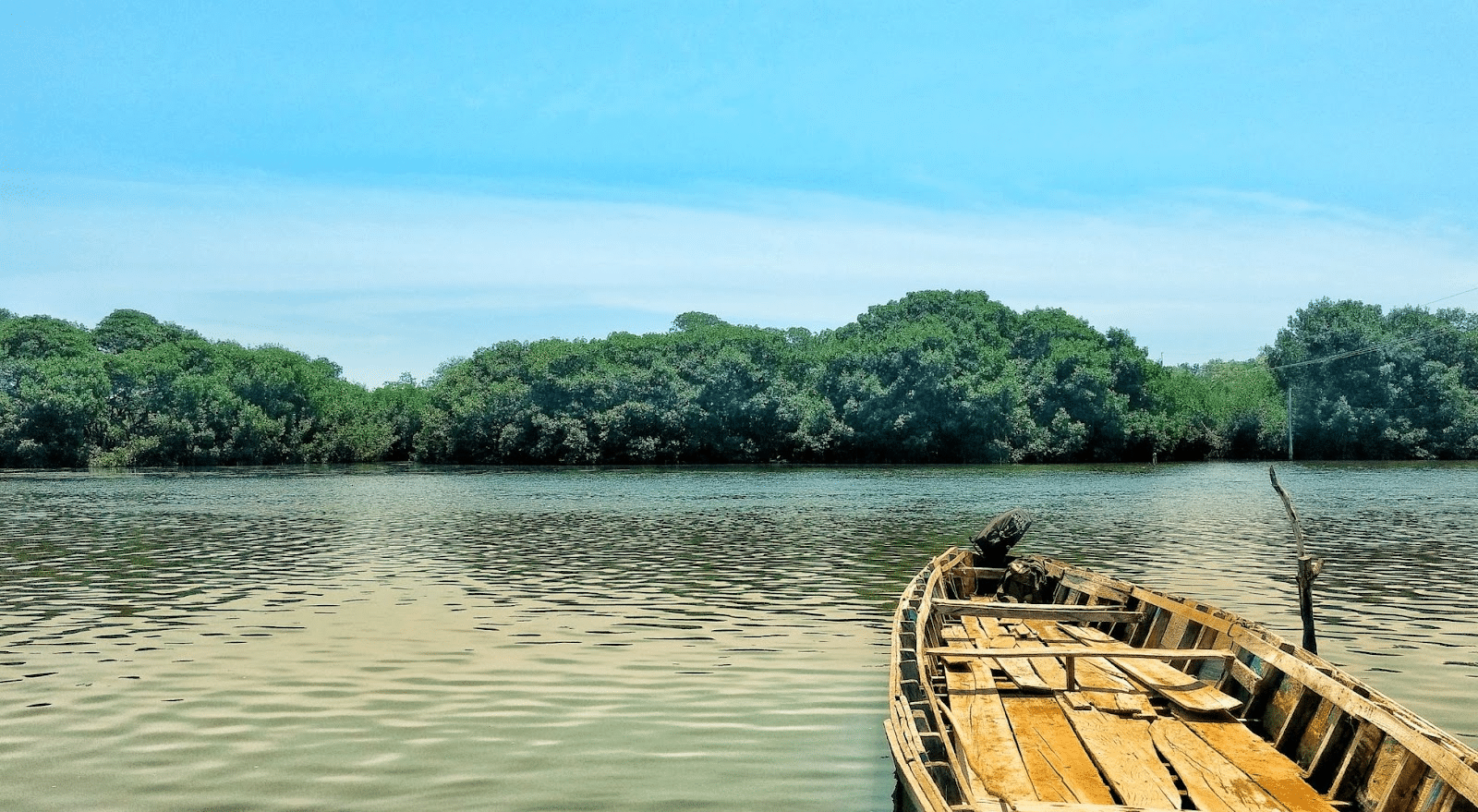 Not too far from El Paredon lies another great beach destination for surfers: Sipacate. Quieter than El Paredon, the waves here are no less magnificent, making it perfect for those who want the action of El Paredon without the hype and noise accompanying it. So visitors are left to enjoy what they love best in peace.
As for land lovers, prepare to dive into the thick of Sipacate Naranjo National Park. Mangrove forests teem behind the beach, hiding lagoons and canals perfect for kayaking. In the trees above, it's almost guaranteed you'll catch a colorful glimpse of the park's impressive wildlife, with over 90 bird species populating the area.
At Sipacate, die-hard surfers and avid nature lovers can find their separate versions of paradise and connect where the two meet, where else but the shore.
11. Playa Punta de Manabique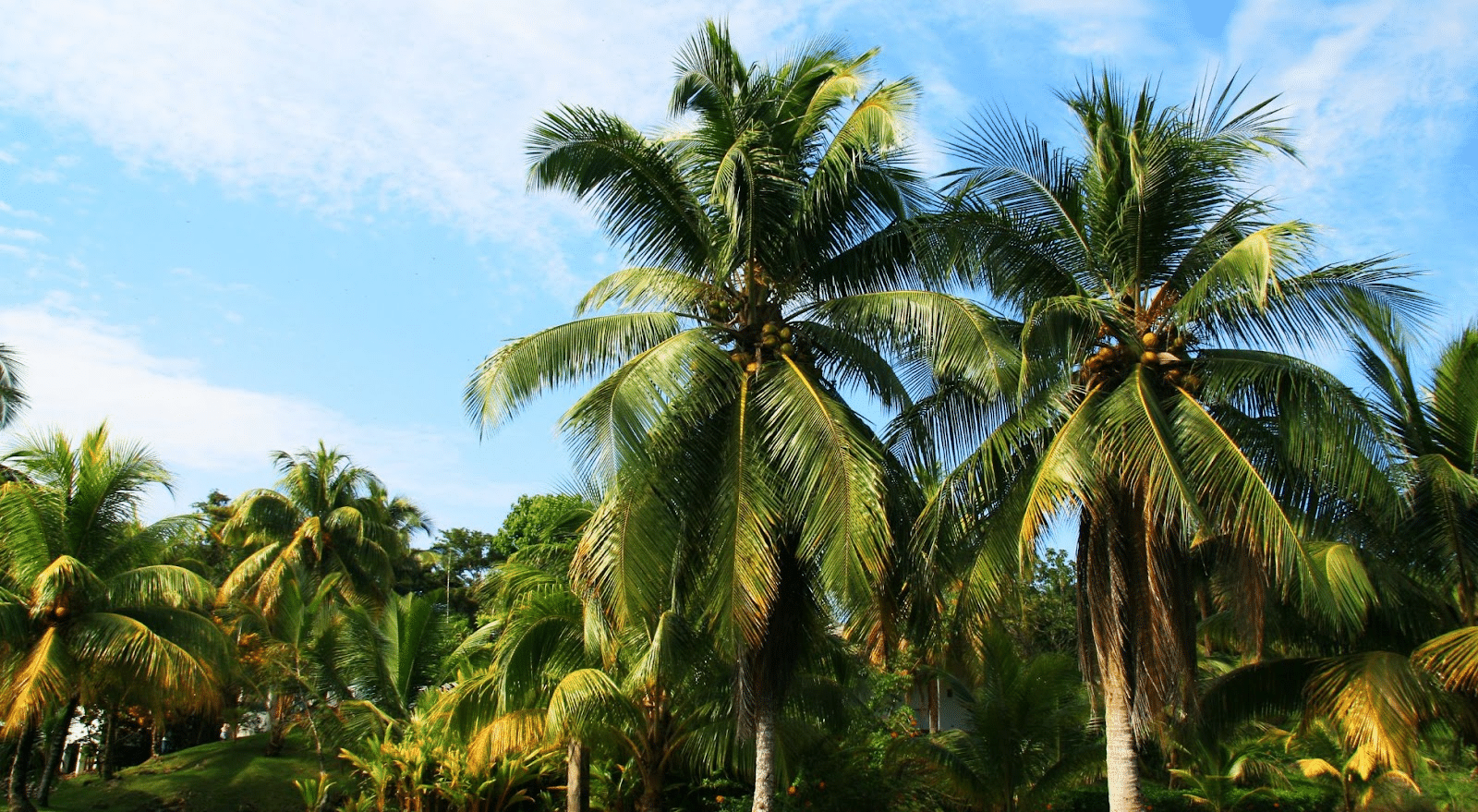 Less than 15 miles north of Puerto Barrios, a famous jumping-off point for beach getaways in Guatemala, lies this stunning wildlife reserve along the Caribbean Sea. Playa Punta de Manabique offers much more than a sandy beach but thick and verdant mangrove forests alongside tropical rainforests. Crocodiles prowl the waters while jaguars hide in trees, and spider monkeys leap from branch to branch. Overhead, more than 300 bird species populate the wildlife reserve, creating captivating sights and sounds.
But outside the reserve, visitors can't miss gaining another perspective from the playa. Here, the wonders of land contend with those of the sea, as coral reefs sit just below the water's surface.
It's worth bringing your mosquito repellent and underwater gear to experience the two dazzling halves of Playa Punta de Manabique side by side.
12. Livingston
This colorful town boasts a vibrant mix of cultures and sights for a unique experience among the many Guatemala beaches. Located between the rainforest and the Caribbean Sea, Livingston can only be reached by boat from Puerto Barrios or the Río Dulce. The town is cozy and rustic, with accommodations and refreshments to feed your stomach and whet your appetite. However, the true jewels require a bit more exploration.
Livingston may not have beaches to write home about, but a thirty-minute coastal hike will take visitors to Playa Quehueche to relax on white sand under the shade of waving palms.
However, those up for even more adventure can head for the trees. A mile into the rainforest lies Los Siete Altares, or the Seven Altars. Upon arriving at this beautiful place, travelers can appreciate the views of the seven waterfalls and take a dip in the stunning pool for an unforgettable experience.
Is There a Beach Near Guatemala City?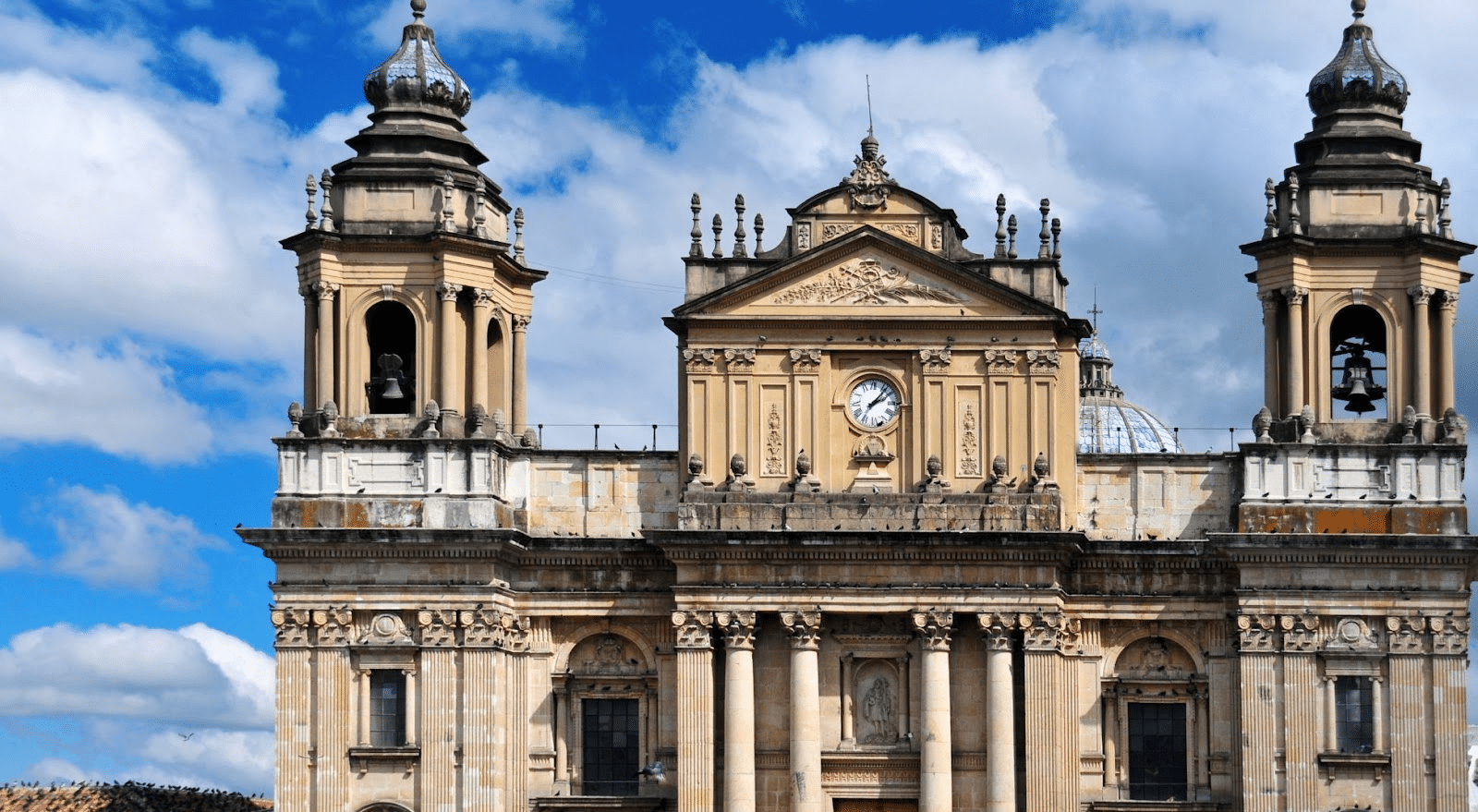 Guatemala City is landlocked, but that doesn't mean you have to travel far to the coast. A quick 90-minute ride takes travelers from the hustle and bustle of the city to the black sand and crashing waves of Monterrico Beach.
Thanks to its location near both Guatemala City and Antigua, it's little wonder that Monterrico is one of the most popular Guatemala beaches, while its gorgeous black sand and infinite charms make it one of the best.
Find Your Way to the Best Beaches in Guatemala with Next Vacay
Ready to explore the beaches of Guatemala? From kicking back on the white sand beaches of the Caribbean coast to hanging ten off the black sand beaches of the Pacific coast, adventure awaits wherever you go. And to make sure you get there, there's Next Vacay.
Next Vacay takes all the chore out of finding the perfect deal, so you can sit back and let them come to you. Our team of deal hunters does all the searching and vetting to deliver tried-and-true deals straight to your inbox.
So instead of worrying about finding the perfect flight, you can focus on finding the perfect beach to while away your days. Get ready for your next vacation with Next Vacay.
Related Posts