El Salvador is the only country in Central America without a Caribbean coast. But we're not sure you'll notice when presented with the gorgeous beaches crowding El Salvador's shore. With over 190 miles of coastline along the Pacific Ocean and Gulf of Fonseca, El Salvador treats visitors to a plethora of beautiful beaches, and if you're looking for the best, look no further. Here's your guide to the best beaches in the Land of Volcanoes.
Table of Contents
Does El Salvador Have Black Sand Beaches?
You may be surprised to discover that most El Salvador beaches are black sand beaches! Called the Land of Volcanoes, El Salvador's volcanic activity is to thank for some of the country's best beaches, promising images of rich black sand backed by picturesque palms and massive sea caves.
What Are the Best El Salvador Beaches?
Thankfully, the best El Salvador beaches are many, so visitors have their pick of sandy shores based on their travel appetite. So whether you're looking for pretty white sand beaches or gorgeous black sands and perfect surf, here are 13 must-see beaches in El Salvador.
1. Playa Costa del Sol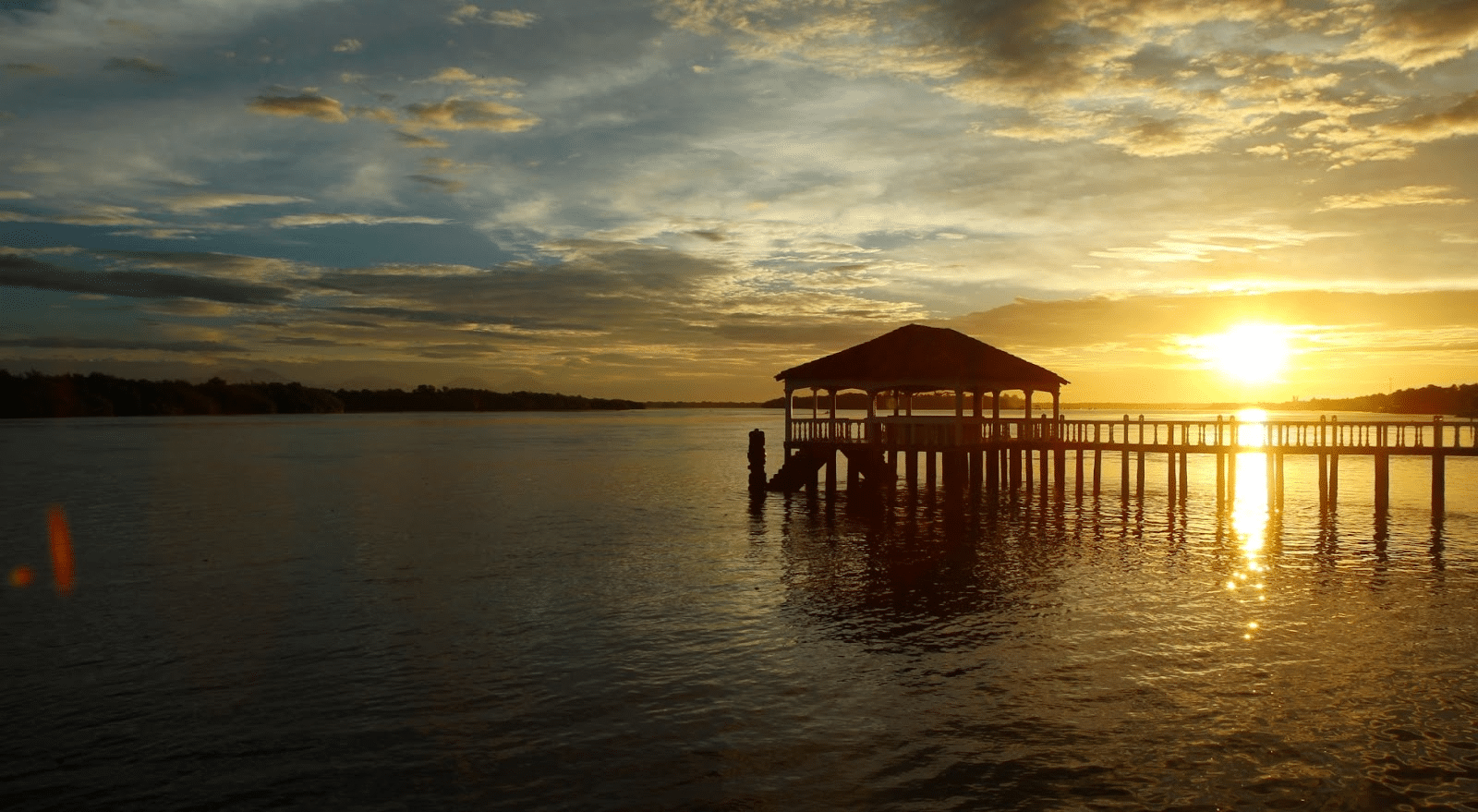 La Costa del Sol may be the antithesis of a remote hideaway beach. Still, this natural gem is a must-see for visitors to El Salvador. Located inside a tourist area of the same name, Playa Costa del Sol is one of three beaches, including San Marcelino and Los Blancos. While the others deserve a visit, Costa del Sol demands your attention as one of the best beaches in El Salvador.
The white sand beach stretches over nine miles long, offering plenty of space to lay out or launch you into an adventure. Boating, sailing, and water skiing are all popular activities. However, if you're looking for a little luxury, big spenders can rent a yacht and cruise the picture-perfect blue sea, enjoying a day filled with scenic sights or even fishing for a fresh catch.
Your fun isn't glued to the water, either. La Costa del Sol is a mecca of seaside activities, with great shopping destinations, international cuisine, and oceanfront villas promising privacy and stunning views.
2. Los Cobanos Beach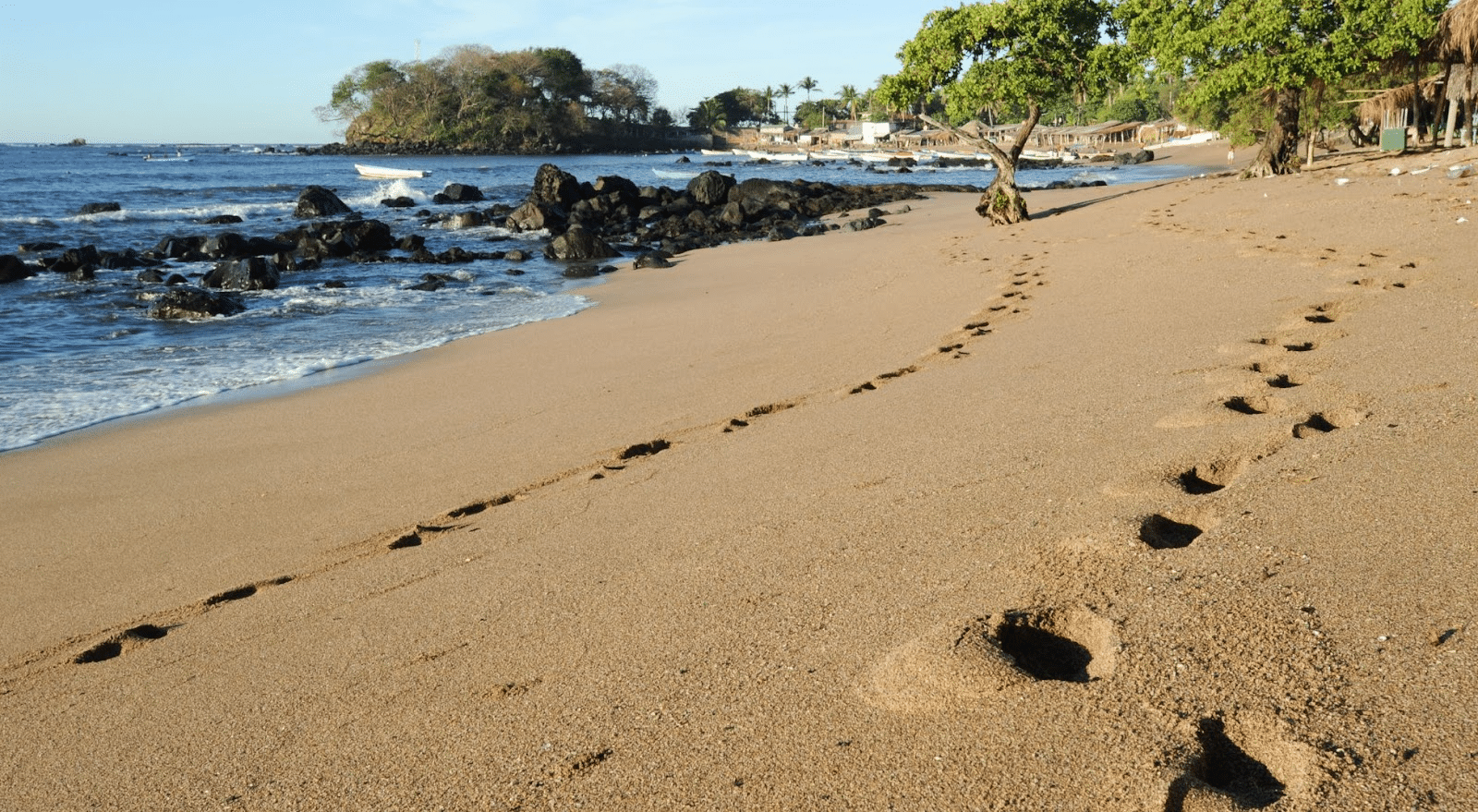 Head to the west coast—of El Salvador, that is—for a relaxing beach day at one of the country's best beaches! If forced to describe Los Cobanos in one word, that word would likely be picturesque. The golden shores see no waves, just endless miles of deep blue sea. Of course, that makes it the perfect destination for families hoping to enjoy a fun day at the beach, whether sitting beachside sunbathing, splashing in the water, or swimming and snorkeling along the shore.
On top of the fun visitors can have topside, a whole new world awaits under the sea. Los Cobanos boasts the only reef in El Salvador and the longest reef on the Pacific Coast in Central America. The reef is almost 100 miles long and home to incredible marine life, from beautiful coral reefs to vibrantly colored fish. So, it's no wonder Los Cobanos is a cherished scuba diving spot. Between boat tours on the water, deep-sea adventures, and postcard scenery, Los Cobanos makes it feel like you're living the island life.
3. Puerto de La Libertad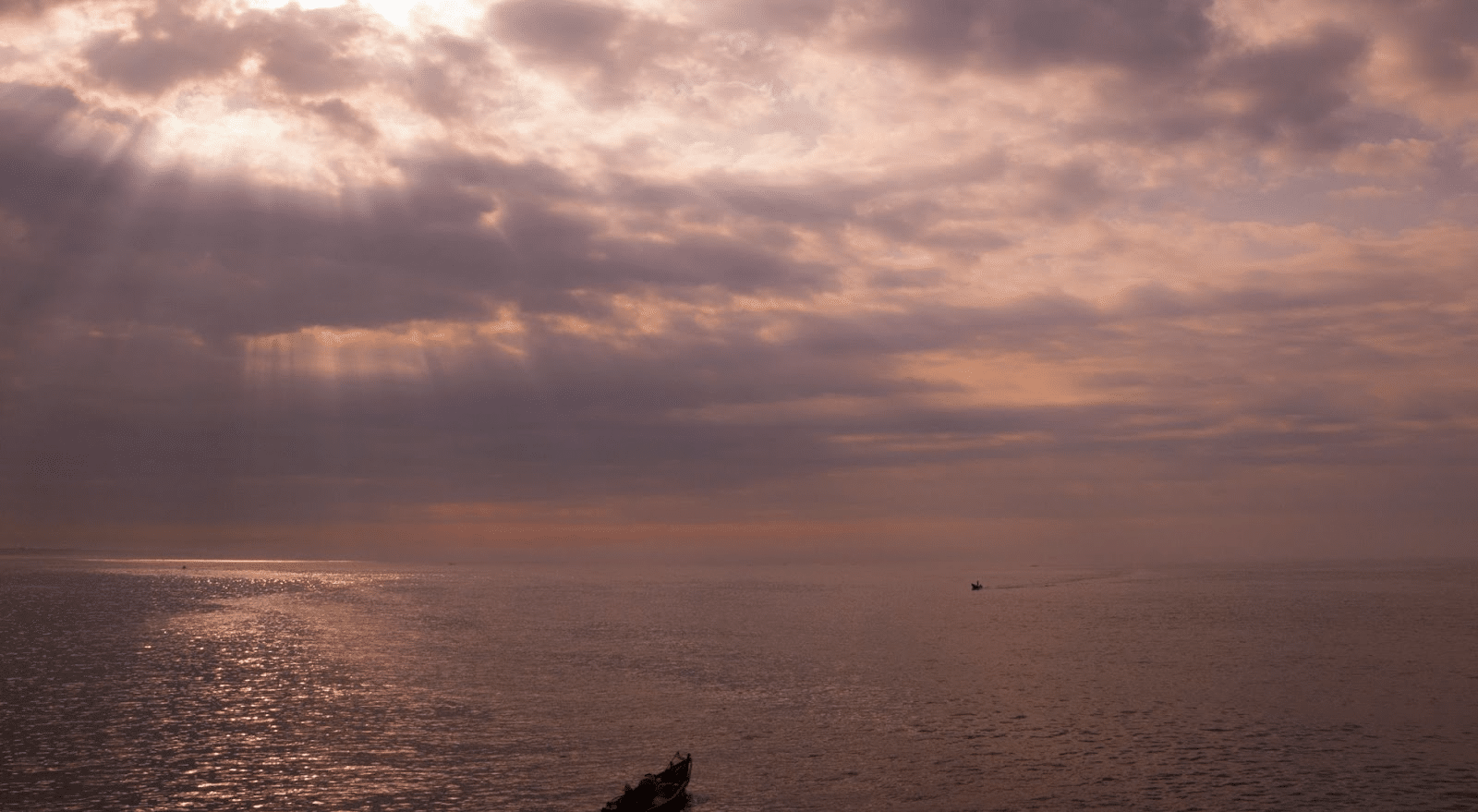 The department of La Libertad is home to many of El Salvador's best beaches, including the area's namesake Puerto de La Libertad, or simply La Libertad Beach. Epic waves, delicious seafood restaurants, and a scenic pier set the scene for the perfect beach hangout. During the wet season, the waves can climb as high as 10 feet, while during the off-season, they're much tamer, providing a much more manageable crest for beginners to conquer.
When they're not on the water, most people make their way to the Malecon (boardwalk). The area teems with fun souvenir shops, but the real treat—quite literally—is the restaurants serving up fresh seafood. Fishmongers will cut the fish right in front of you at the open-air fish markets. The most popular seafood items are shellfish stew, shrimp, black clams, and octopus.
La Libertad Beach has everything that a place considered to be one of El Salvador's best beaches should. So if you want to stroll along a scenic pier, take idyllic photos, and enjoy authentic El Salvadoran cuisine, prepare to make your favorite pitstop at La Libertad.
4. Playa El Tunco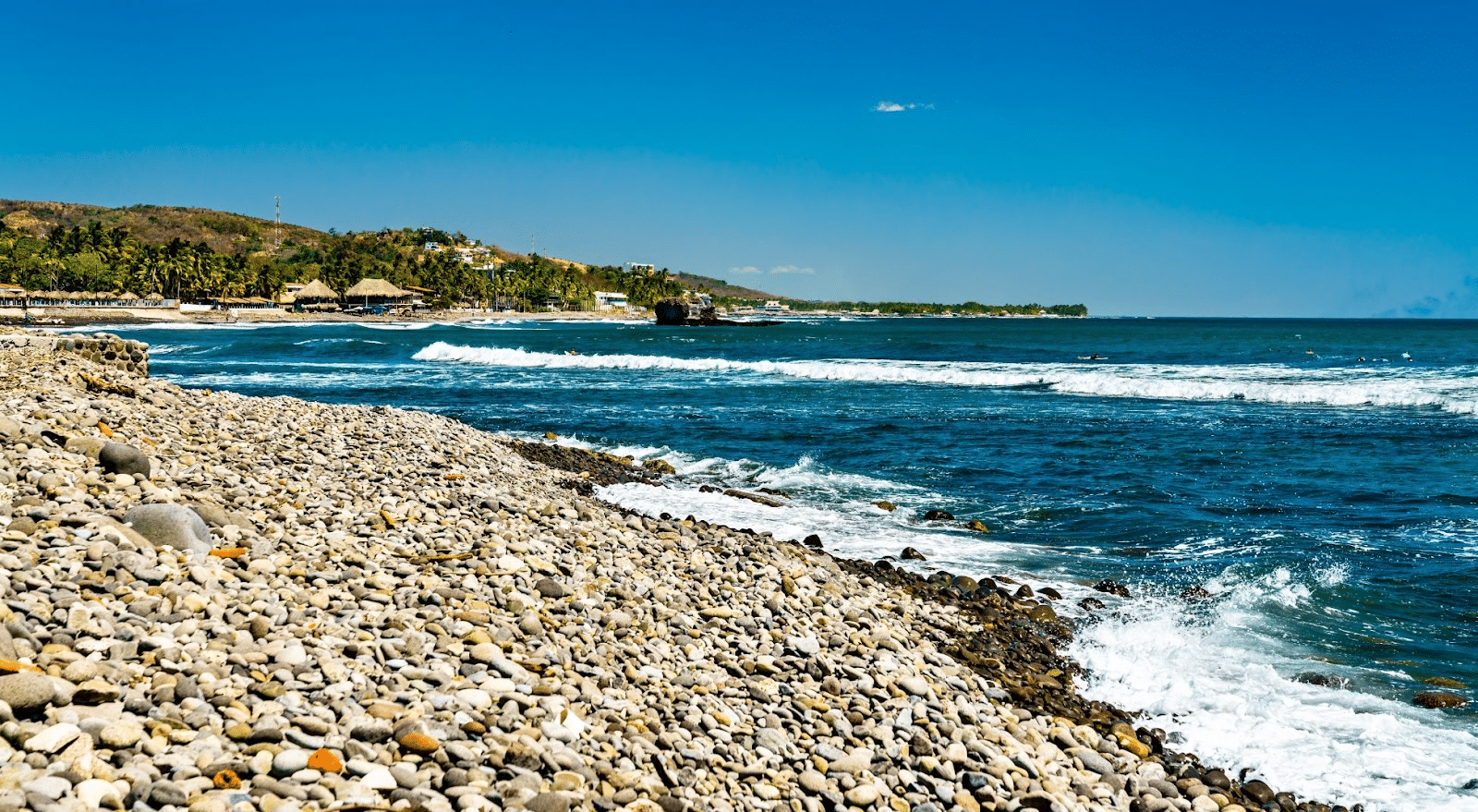 Supreme surfing and striking sunsets. You're guaranteed to find both when visiting the famous El Tunco beach. Known as a haven for budget backpackers, El Tunco feels anything but cheap. Rich black sand lines the shore. Sea stones smoothed by the waves jut out of the water. And backing the beach lay massive caves you can only explore during low tide.
But it's not just budget travelers that find their way to El Tunco; the surfers do, too. Powerful breaks lure surfers and adrenaline seekers out on the water to test their skills against Mother Nature. For surfers, there's no question. El Tunco is one of the best beaches in El Salvador.
However, that's not to say El Tunco will be a disappointment for others. On the contrary, gorgeous sunsets light up the sky at dusk, creating picture-perfect moments to capture for your socials or just appreciate the beautiful vistas.
5. Playa El Sunzal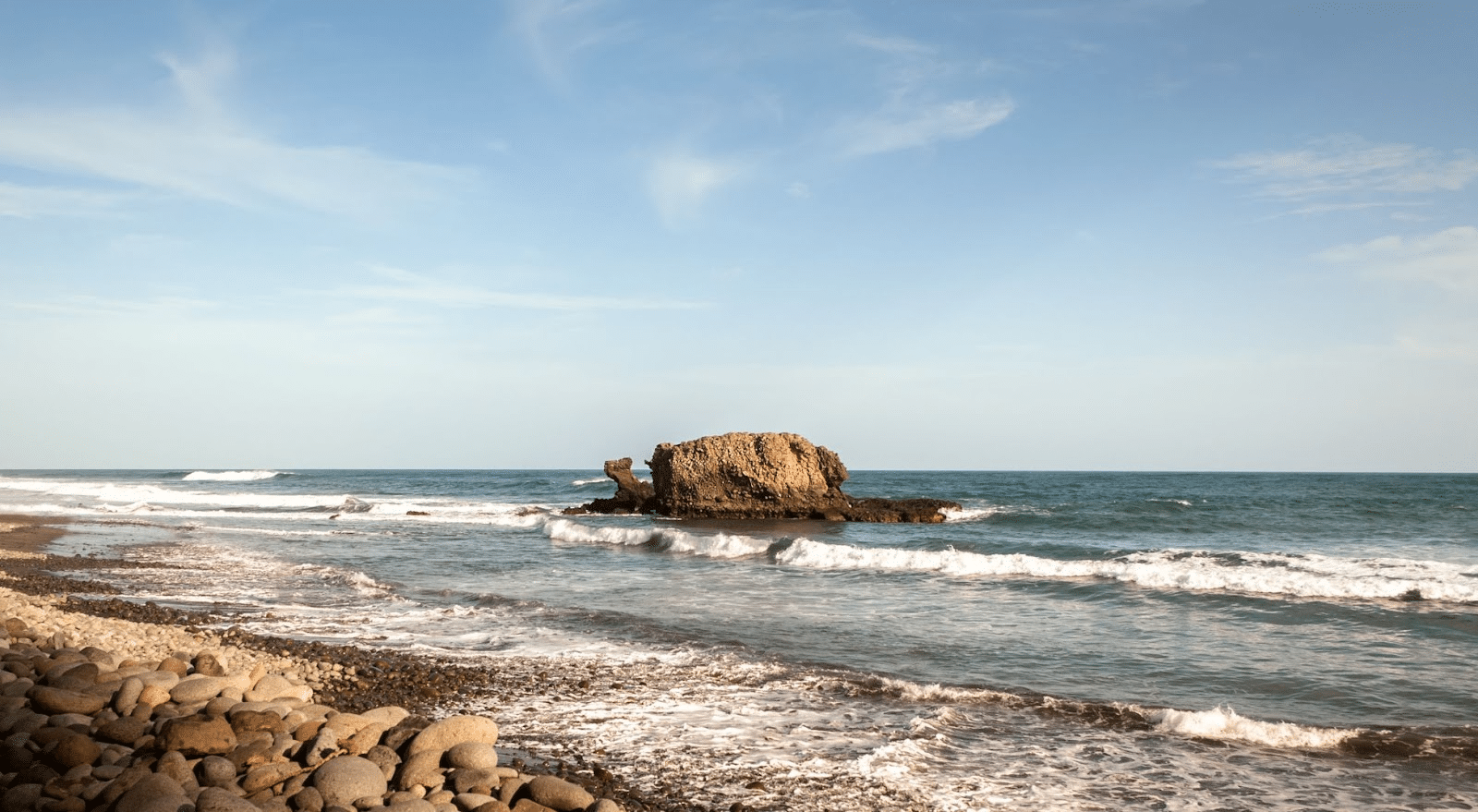 Located just half a mile from the famous El Tunco lies another beach with a pretty big name, Playa El Sunzal. While it can't be said with absolute certainty, many believe that Playa El Sunzal was the site of the first surfed wave in the whole country. With consistent waves that never stop breaking and enough space to host dozens of surfers at a time, it's little wonder that Playa El Sunzal is considered a top surf beach and one of the best beaches in El Salvador. The surfing conditions are perfect for all levels of surfers, from the shy beginner to the experienced pro.
It's not uncommon to see surf competitions throughout the year here, offering an exciting spectacle for those kicking back on the shore.
With its enticing black sand and incredible surf, Playa El Sunzal is a must-visit spot for sporting enthusiasts.
6. El Espino Beach
Walk along six miles of gorgeous, uninterrupted sands on El Espino Beach. Lined with palm trees, mangroves, and seafood shacks, the views will surely be scenic and the journey sublime. Gentle waves, warm weather, and breathtaking sunsets set the scene for a truly memorable beach experience. Still, it's the people that make El Espino truly special.
If you're a traveler who loves chatting with the locals wherever you go, set your sights on El Espino. The beach stands out as one of the most welcoming in El Salvador, thanks to the warm locals and visiting Salvadorans who don't mind seeing new faces at one of their favorite beaches.
Part of Jiquilisco Bay Ramsar site, a protected wetland area, El Espino is a bit more remote than other beaches but a great place to escape the developed shores and enjoy a more laid-back and authentic El Salvadoran beach day.
7. Playa El Zonte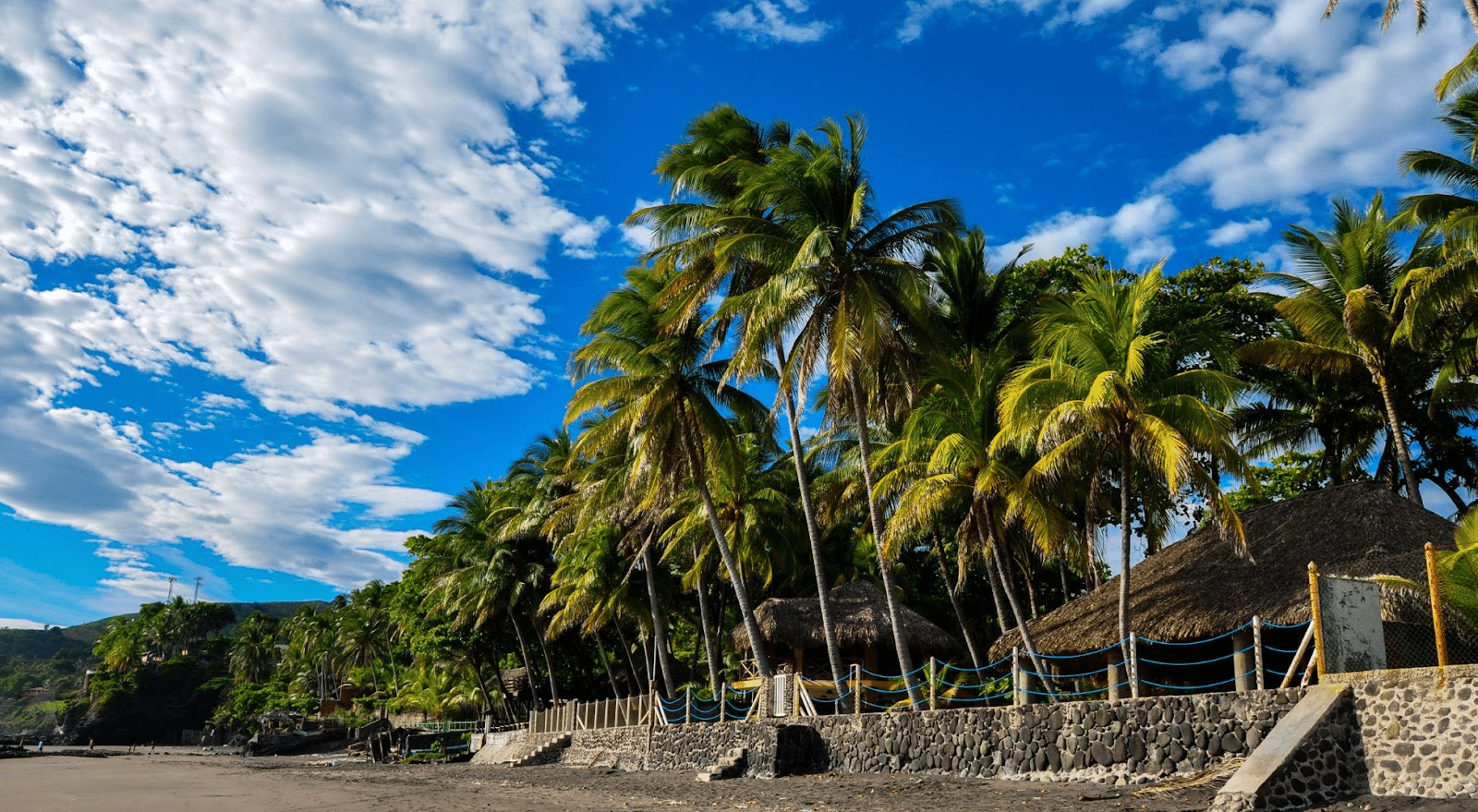 Characterized by its laid-back vibes, black volcanic sands, and stunning sea cliffs, El Zonte is a perfect alternative to Playa El Tunco if you want the surf without the crowds. With multiple point breaks featuring rocky or sandy bottoms, surfers won't have any trouble finding their favorite rippable wave.
While surfers like to claim El Zonte's breaks, its beach is often up for grabs. El Zonte has many dramatic and beautiful rock formations along its shores with explorable sea caves and tunnels off to the west side of the beach. An impressive sight to behold, watching a sunset from one of the caves offers a chance for an even more magical moment.
Of course, if surfing and exploring aren't high on your to-do list, don't worry. Playa El Zonte has something for everyone. Grab a bite at one of the restaurants and relax while watching others surf—or even skateboard. Hammocks dot the area behind the shore, strung up beneath swaying palms, so grab a book, slather on some sunscreen, and enjoy!
8. Barra de Santiago
Barra de Santiago is a peninsula with a beautiful beach of the same name. Because it's part of a protected wetland area, Barra de Santiago is one of the more secluded beaches in El Salvador and one of the best for wildlife lovers. Visitors can book a tour of the nearby mangroves to see large crocodiles and a variety of birds.
While El Salvador has plenty of remote beaches, Barra de Santiago is singularly stunning and unique because it's where the river mouth, estuary, and ocean meet. The calm waters make it a popular beach with watersport enthusiasts, as it's the perfect place to kayak or paddleboard.
Whether you head here with a plan or just show up looking for something different, Barra de Santiago won't disappoint.
9. Playa Las Flores
While there are technically two beaches named Playa Las Flores in El Salvador, the locals love and adore one in particular. Located right next to El Cuco in the department of San Miguel, Las Flores Beach is a black sand paradise and, like so many beaches on the eastern shore, a surfer's haven. The point break here is a seamless, powerful machine that nearly always breaks in the same spot.
Sunbathing on the warm black sand is almost as synonymous with Las Flores Beach as surfing. With towering cliffs providing shade and lush vegetation that gives a tropical feel, it'll be easy to kick your feet up and soak in the sun while you bask in the beautiful views of this stunning beach.
10. Playa San Diego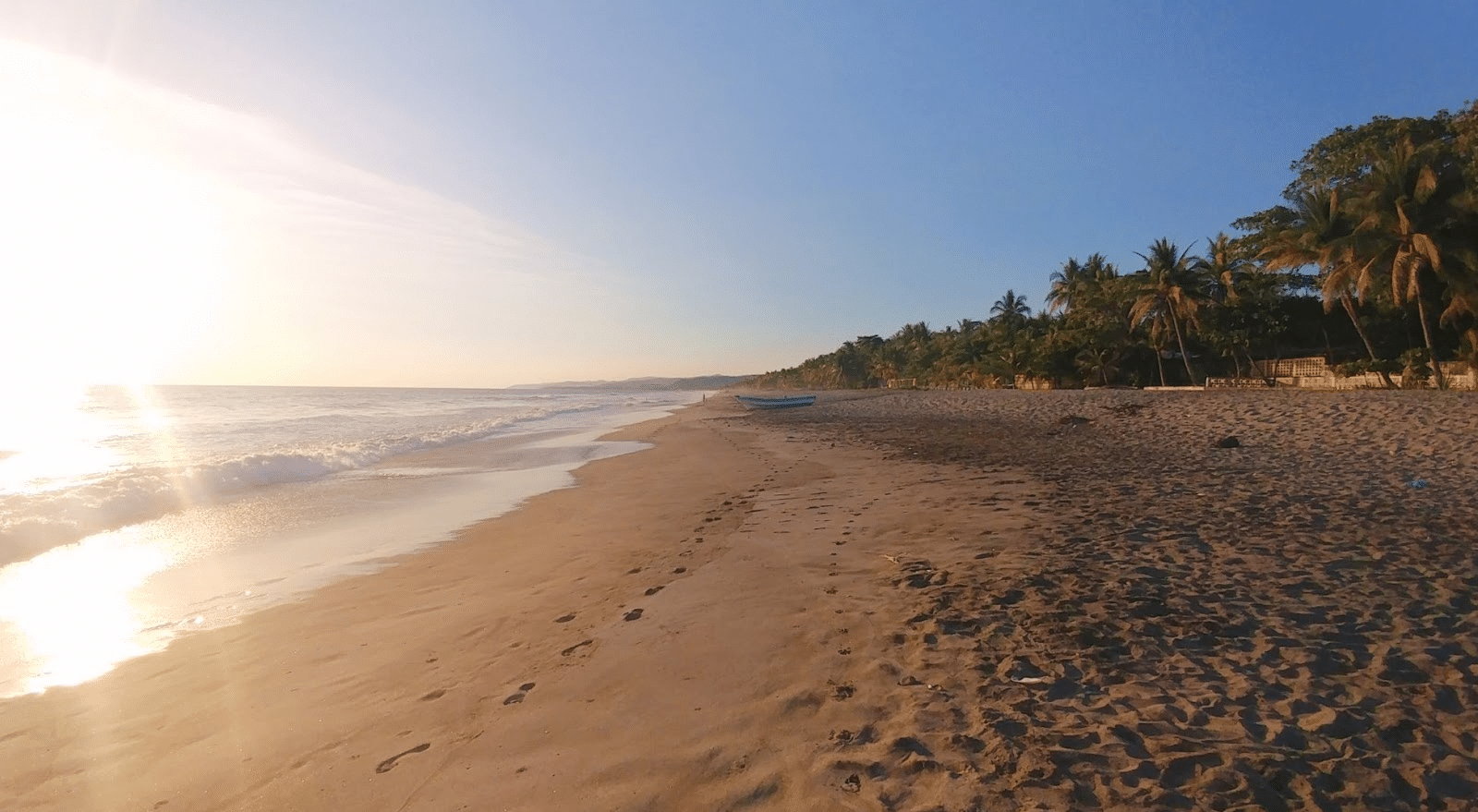 Relax. You haven't been magically transported to the shores of California. This San Diego Beach is located in the port of La Libertad. The appearance of a pretty white sandy beach is its biggest draw, but its size is a close second. Over four miles long, the beach's scale makes it popular for jogging, volleyball, and even football games—though not the American kind—on the sand.
Though it's lined by private ranches and properties, the coastline is open to everyone. That doesn't mean you'll find it crowded, though. On the contrary, Playa San Diego is a quieter beach that doesn't see swarms of people, making it one of the best beaches in El Salvador for those just looking for a quiet moment to themselves. With the beach's size, finding a tranquil spot to lay out or even set up camp for the night is easy!
11. Playa El Majahual
Playa El Majahual is known for its lively beach scene, thanks partly to its proximity to the nation's capital, San Salvador. If you don't mind crowds, plan to tour San Salvador and then head to the beach where blue waters and bright sun await. El Majahual is the perfect spot to dive into some fun.
The warm and friendly atmosphere is just the first of many reasons why people consider it to be one of the best beaches in El Salvador. With plenty of sand and warm ocean waters, there's always something to do at Playa El Majahual. Black sands lead gently into crystal-clear waters, perfect for swimming or surfing. On the sand, you might even see a few groups getting into fun beach soccer games among the families laid out and soaking up the sun. Top it off with cheap eats at restaurants serving fresh seafood and beachy cocktails, and Playa El Majahual becomes near irresistible.
12. Playa El Cuco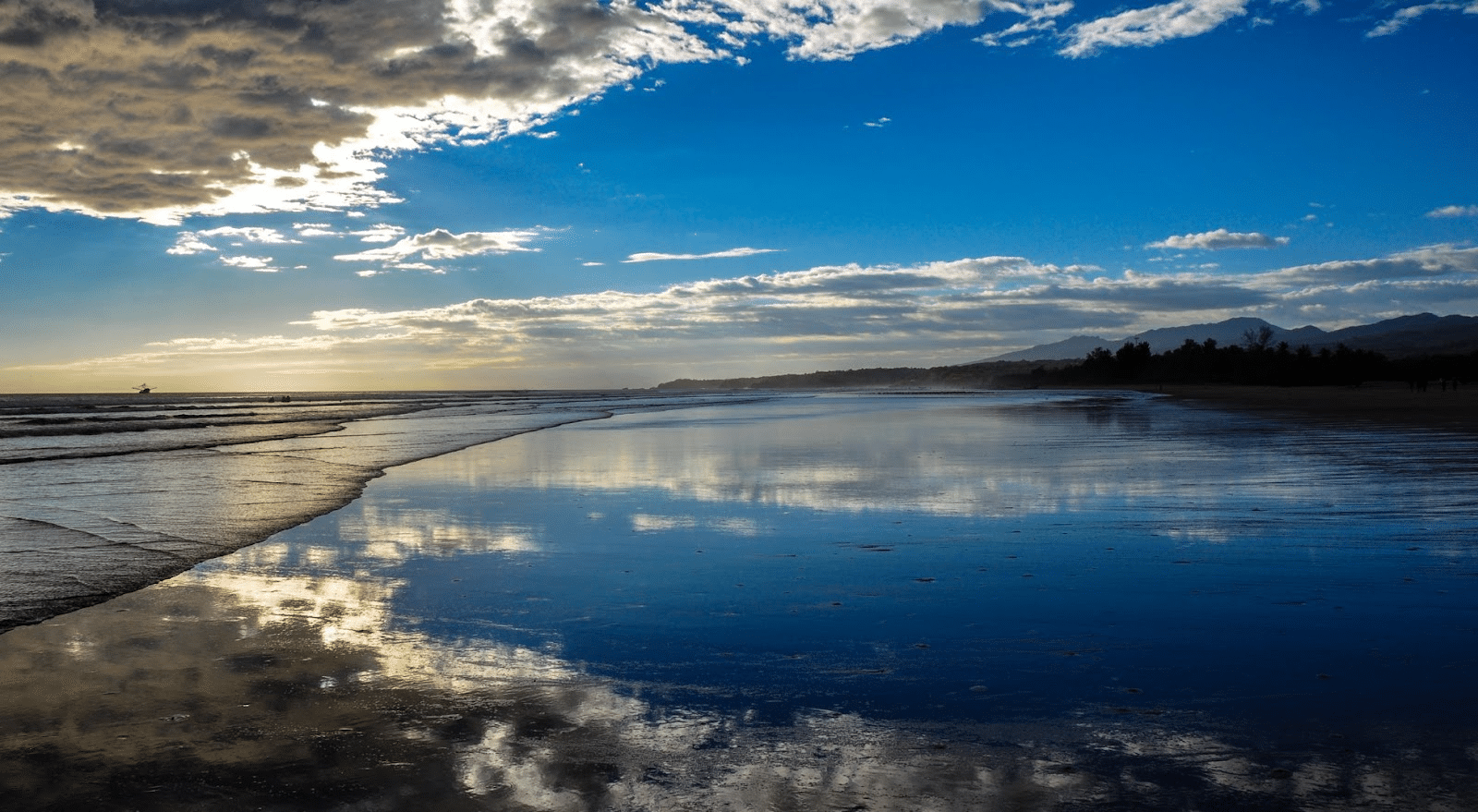 Volcanic sands, calm waters, and beach sports. Sound like your thing? Playa El Cuco is arguably one of the best beaches in El Salvador, as evidenced by the fact that it's popular with locals and tourists alike—the ones who make their way here, at least. El Cuco Beach would undoubtedly be even more popular if the surrounding area was more developed. But that's hardly a knock against the beach; it just adds to its rustic charm and natural beauty.
Facing the Gulf of Fonseca, the beach offers gorgeous views over gentle waters. This is by no means a surfing beach. Instead, visitors here delight in sinking their toes into soft sands and laying out. With only vendors and palm trees lining the beach, Playa El Cuco is the perfect spot to kick back and relax on this picturesque stretch of sand.
13. Mizata Beach
While the term two-faced isn't generally a good thing, visitors to Mizata Beach are bound to appreciate the different experiences to be had on this black sand shore. Thanks to a river mouth dividing the beach in two, Mizata Beach has a rocky surf side and a sandy, tranquil side. So whether you want to ride the waves or soak in the sun, you can do both, often with the whole place to yourself, at least for now.
While the beach is largely undeveloped, new restaurants have drawn in more visitors to the area. Thankfully, the beach retains its pristine condition, with year-round surf and tidepools dotted with starfish and other marine creatures. Secluded and peaceful, the black sands, dazzling sea, and delicious restaurants all do their part to highlight Mizata's status as one of the best ​​beaches in El Salvador.
How to Get to the Best Beaches in El Salvador with Next Vacay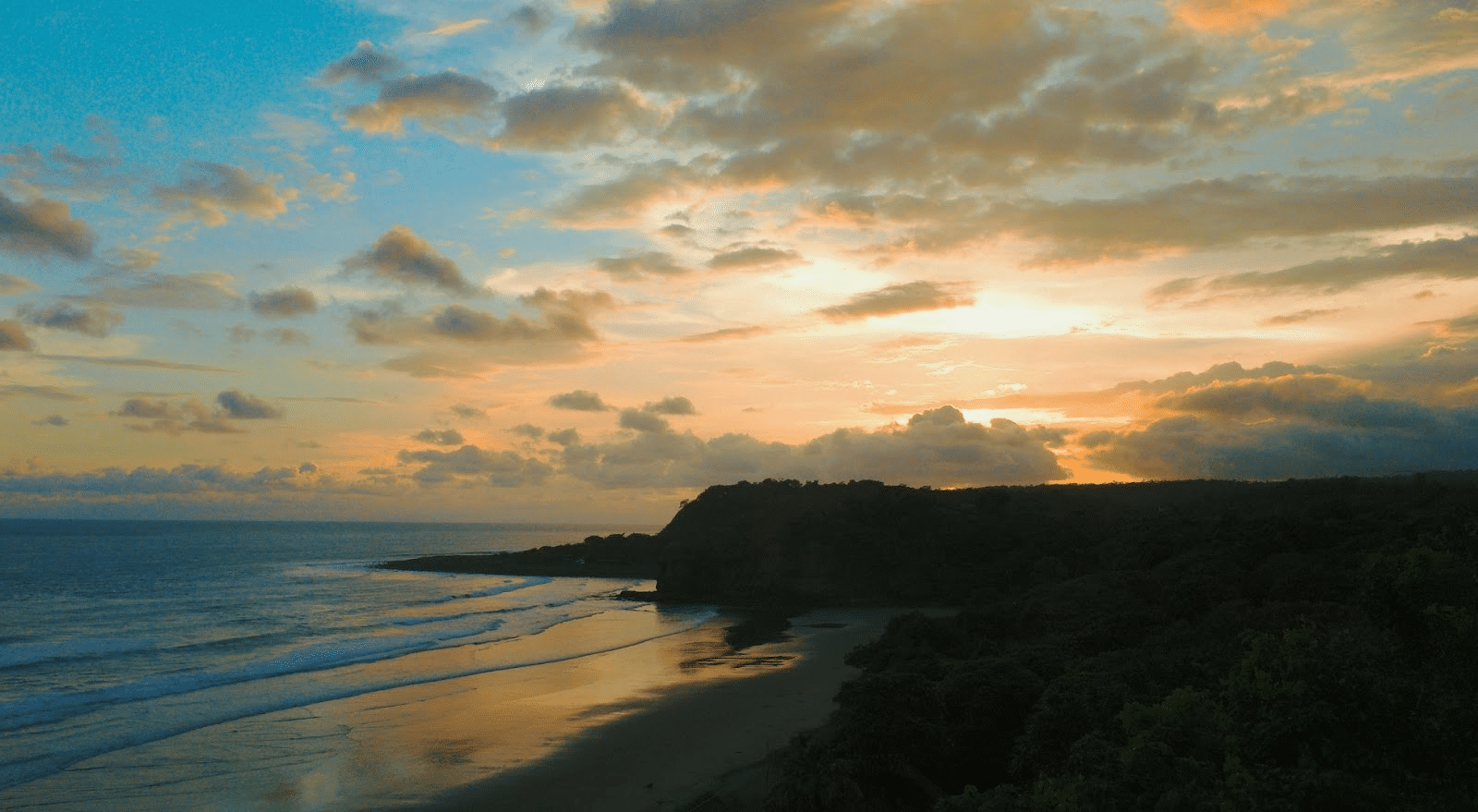 Whether you're ready to hang ten or stay dry on the beaches of El Salvador, the stunning coasts await. And the best way to get there is with a deal from Next Vacay.
Scoring big and saving bigger has never been easier. Next Vacay delivers tested deals to your inbox to destinations worldwide, from the Caribbean coast to the shores of El Salvador. You'll be discovering cities, sunning on beaches, and saving money in no time. Best of all, you don't have to do a thing.
Next Vacay searches for the best deals, vets each one, and delivers them directly to you. All you have to do is book. When you put it like that, it sounds simple. That's because it is. Fly the skies and discover your beach paradise with Next Vacay.
Related Posts